Not even five years ago, it was unusual to see a rapper with face tattoos. Only a handful of rappers had face tattoos, and even fewer of them had multiple tattoos. Over the years, face tattoos have become a norm for rappers. A lot of them don't even have many tattoos on the rest of their body. In today's world of social media impressions, the more extravagant your appearance is, the better chance you have standing out from the pack. In the past two years, there are more rappers with face tattoos than there were in the last 20 years.
History of Face Tattoos
Face tattoos have been a thing in many cultures around the world for a long time. Back in ancient Rome and China, convicts were punished with face tattoos to mark them for the rest of their lives. They weren't only for the bad guys. Religious tattoos have been around for just as long. Some extreme Roman Christians used to tattoo their faces to showcase their devotion to God.
When it comes to face tattoos and rap, it was a prison thing in America. Face tattoos were very common among the gangs that were operating in the prisons. The gang members had tattoos all over, including their faces representing the gang. It was also easy for them to recognize their gang members.
The same holds for one of the prison gangs called the Aryan Brotherhood. They are known for specific symbolism and having them tattooed on their bodies, faces, or heads and became a common thing for the gang members in LA to have their faces tattooed.
Face Tattoos and American Hip-hop Culture
When it comes to face tattoos, the first rappers I can remember were Lil Wayne and Birdman. They were heavily promoting that they were the Bloods. They probably weren't the only rappers who considered it, but that genre had a bad image at that time. There were numerous violent incidents with the rappers and gang members. Great examples are Tupac, Biggie, and recently Nipsey. The last thing that any rapper wanted to do was make it even worse and ruin their potential career in music with a face tattoo.
The game came from a gang and he covered up his tattoo. But Lil Wayne's success was proof that being in the gang or having face tattoos have no significance to be successful in the music industry. The funniest outbreak of news was when Gucci Mane had the ice cream cone tattoo on his face. Before this, the face tattoos were very serious and significant, like a teardrop that used to mean you killed someone or gang-related. Gucci Mane originally came from the streets, but Soulja boy was the first rapper who had face tattoos without being involved in any gang. That opened the door for the rest like Yelawolf, Rick Ross, Wiz Khalifa, Kid ink, Tyga, Young thug, Lil uzi vert, 21 savage, Kodak Black, Travis Scott, Lil peep, XXXTentacion, Lil Pump, Post Malone, Tekashi69, Lil skies, Trippy redd, Famous Dex, and probably many others to get face tattoos.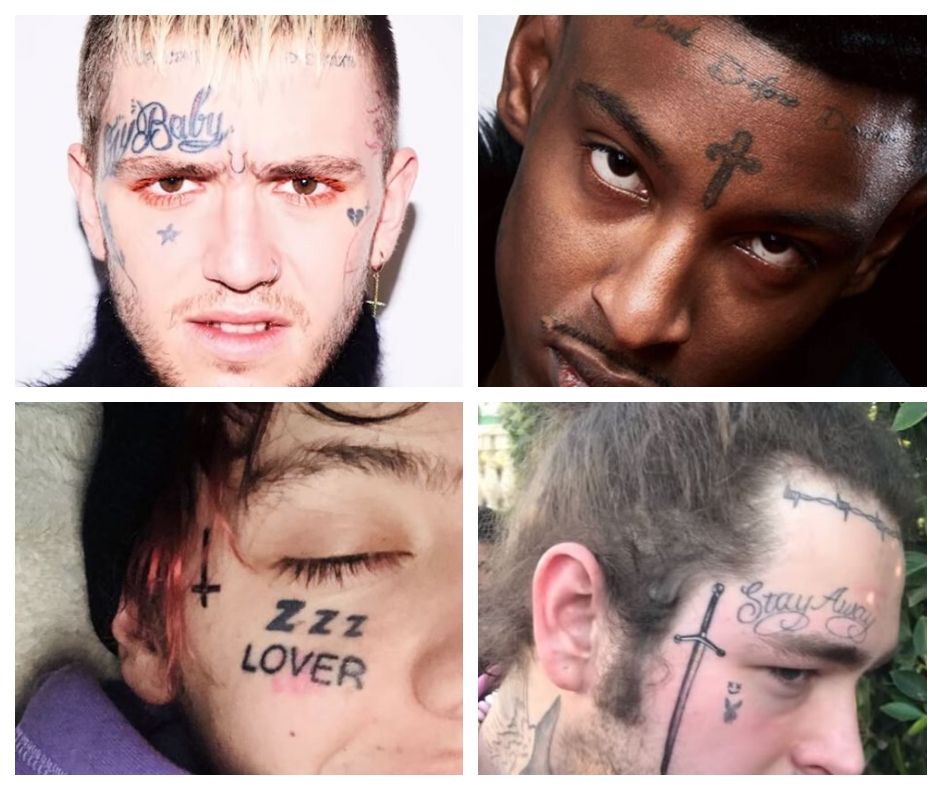 Why Do Rappers Get Face Tattoos?
I believe that Lil Wayne reached the highest levels of success, and that's not just rap but all of music, and it inspired other artists to realize that a face tattoo wasn't going to stop them from that. But there have to be other reasons for rappers to get face tattoos. Lil Skies have said that he got face tattoos so he could go all-in to his music career since he would never be able to get a regular job again with face tattoos. Others have said that they think it's cool, but let's be real here, one of the main reasons for getting a face tattoo is attention. There is nothing that Soundcloud rappers love more than attention. They try hard to one-up each other. It is like publicity stunts; who can get more face tattoos so people will talk about them. Back in the 2000s, all the rappers used to wear baggy clothes and sagging pants. It's the same thing with face tattoos. Rappers are just following the trend.
Not only the rappers, but I am also seeing regular people on social media getting face tattoos or considering it. It has almost become an accessory like jewelry or something people feel they need to do to be cool or hip.
Top 10 Rappers with Face Tattoos
Here is our list of top 10 famous rappers in the Hip-hop industry with face tattoos.
21 Savage
On our list of the top 10 rappers with face tattoos, we have 21 Savage. He has a knife tattoo on his forehead. It wasn't his first face tattoo, though. At the age of 16, 21 had his group name '21' tattooed on the side of his face. There is a sad story behind his knife tattoo. He and his brother agreed to get matching dagger tattoos between their thumbs and index finger just like Tony Montana from the famous Scarface movie. But 21's younger brother Tay-man rushed out and had it tatted on his forehead. All of a sudden, tragedy struck, and his little brother Tay-man got killed on March 19, 2014. 21 decided to get the knife tattoo between his eyes in tribute to his brother. Now it appears that 21 has added some additional lines in cursive to his forehead, which read "Death Before Dishonor." His knife tattoo became a popular trend online with people placing (photoshopped) the iconic dagger on their favorite celebrities like Millie Bobby Brown, Donald Trump, Taylor Swift, Adele, and plenty more.

Meanings and Stories Behind 21 Savage's Tattoos
Lil Xan
Next on our list, we have Lil Xan. Lil Xan dropped out of high school when he was a freshman, and he knew that he would never work a nine-to-five job, so he got his first tattoo at 17. Then at 18, he got his first face tattoo of "Candy". His mom's name is Candy. He knew that his mom would kill him for getting a face tattoo, so he opted for her name. Later he got more face tattoos. "1996" tattoo on the side of his face represents the year of his birth. He also got the word "XANARCHY" tattooed across his forehead. The triple Z tattoo under his eyes represents getting low on Xanax. In 2017 Lil Xan told in an interview that his manager wouldn't let him get any more face tattoos, but a couple of years later and he's added a whole bunch of tattoos including an upside-down cross and the text "YOU" and "LOVER" to his collection.
Meanings and Stories Behind Lil Xan's Tattoos
Trippie Redd
The next rapper on our list is Trippie Redd. Trippie said that his first tattoo was the number "14" between his eyes. Why number 14? He explained that he got it because it means a lot to him. It was the street number where he grew up, and he sees that number everywhere he goes. Trippie has few more face tattoos that he picked up recently, including "LOVE SCARS," "xoxo," and a tattoo of a scar.
Meanings and Stories Behind Trippie Redd's Tattoos
Gucci Mane
Gucci mane is number seven on our list. Even though he is a little old-school, but I have to mention him in this article. Gucci mane had several face tattoos, but in 2011 he got a large drawing of an ice cream cone on his face with the letters Brrr and a couple of lightning bolts to add the effect. It became a media sensation all over the world, and people were asking what the hell is wrong with the man. Although people ridiculed him for the ice cream cone tattoo at that time, he set a new bar for how visible a tattoo a rapper could have while still maintaining their mainstream appeal.
Soulja Boy
We have Soulja boy on the list next. He is one of the first rappers to use social media to boost his fame and make a fortune selling ringtones. He is one of the first artists who made face tattoos a trend. On the top of his left eyebrow, he has the word "SODMG" tattooed and a tattoo of Hundred Points Symbol Emoji. On the same side of his face, he has his mom's named Lisa. He also has a star and a palm tree tattoo on the other side of his face. However, the tattoo of a Gucci logo between his eyes is the most controversial one. He said in an interview that he spent way too much money on Gucci in his life, so he got the tattoo.
Lil Pump
Before the face tattoos and Yellow Pink dreads, little Gazi Garcia aka Lil Pump was just another Braceface kid posting songs to SoundCloud. He made it big before hitting the ripe old age of sixteen, and with all that success came the inevitable face tattoos. His first face tattoo was a star under his eye, followed by a second is star above the first one. His third face tattoo was a rocket emoji under his right eye. Following the rocket, he got an upside-down spade over the two stars on the left side of his face, but he didn't stop there. A few months later, he got an alien tattooed on the right side of his forehead, and then a UFO on the left.
TEKASHI 69
Next on our list is TEKASHI 69. Tekashi got the number 69 tattooed on his body over 200 times. He also got a giant 69 tattoo on his forehead. He has the word 69 inked on his forehead twice and once under the eye. Most of his tatts are either black or West Coast style black and gray, but he did opt for a pop of color on the jigsaw tattoo on his right cheek. Even the jigsaw has a 69 written on his forehead too.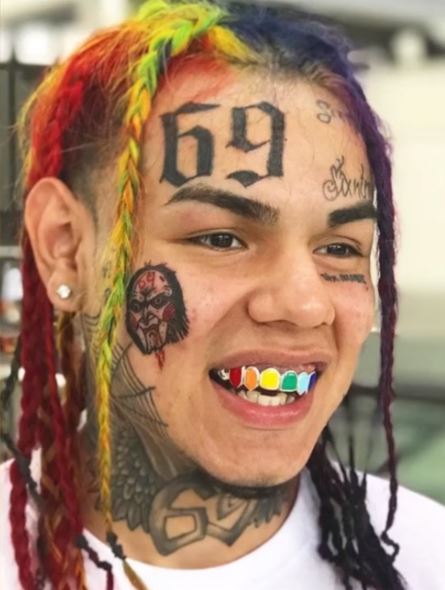 Meanings and Stories Behind Tekashi 69's Tattoos
Post Malone
Next, we have Post Malone. Post Malone is no stranger to getting some ink done and got his entire body covered in inks. Most of the tattoos he got on a whim but some of them with more meanings. He got a tattoo on his arm in honor of his friend Lil Peep, who was another face tattoo pioneer. Post Malone got a lot of face tattoos recently, and he is filling up his face very quickly. His recent tattoos include "Stay Away" and Barbed wire on his forehead, a sword on the right side of his face, and the words "Always" and "Tired" under both his eyes. He also got a little smiley face and a tiny playboy logo under one eye. He got the Stay away tattoo inspired by his favorite Nirvana song, "Stay Away."
Stories and Meanings Behind Post Malone's Tattoos
Lil Wayne
When it comes to face tattoos, Lil Wayne is one of the face tattoos pioneers. The list of rappers with face tattoos would be incomplete without him. Lil Wayne has the most face tattoos out of any rappers on this list. He has at least 25 tattoos on his face. He got "I AM MUSIC" tattooed over his eye, "Fear" and "God" over his eyelids. Lil Wayne has a number 17 tattoo on the side of his face, "BAKED" on his forehead, and some teardrops under both his eyes. He had so many teardrop tattoos that his mom made him cover some of them. He also has a flower tattoo on his ear and nine stars on the side of his face under the word "Misunderstood." His most recent addition is an Arabic scripture tattoo above his left eyebrow and a giant eye on his chin. The Arabic tattoo meant to read Momma's boy, but according to Arabic speakers, it reads Kid and my mother. Another Google translator FAIL.
Lil Peep
On the number one spot, we have the deceased rapper Lil Peep. One of his first facial tattoos was a broken heart, which he got in 2015. He also had two tattoos on his forehead, the one on the right reads get cake, and on the left, it reads die young. He told in an interview that he woke up with these two tats, and never knew how he got them. In the center of his forehead, he had a horseshoe tattoo for good luck. He also had an A of Anarchy to differentiate himself from the people that were trying to copy his style. On the right side of his face, he had a rose, a star, and a wave with a moon. On his right eyebrow, he had crybaby written in cursive. He had the tattoo as a reminder of how grateful he was for all that he had accomplished.