6ix9ine also known as Tekashi is probably the most controversial and talked about rapper of 2018. Daniel Hernandez (born May 8, 1996), known professionally as 6ix9ine (pronounced "six nine"), Tekashi69, or Tekashi 6ix9ine, is an American rapper, singer, songwriter, and Internet personality. He has completely dominated headlines for his distinctive rainbow-themed look, tattoos, aggressive style of rapping, public feuds with fellow celebrities, legal issues, controversial public persona and managed to constantly stay in the spotlight with his antics online.
When you mention 6ix9ine, one thing that comes to a lot of people's heads is tattoos. 6ix9ine has some of the craziest tattoos in the game right now. People are even selling temporary tattoo sets of his tattoos online to dress up as him on Halloween. Tekashi has '69' tattoos on his body over 200 times with other tattoos. So, a lot of people are curious about what his tattoos mean and that's what we'll talk about in this blog post.
Meaning of Tekashi's '69' tattoo
The tattoo that most people are probably curious about is Tekashi's '69' tattoo which he has multiple times all over his body. Some people have speculated that June 9th is a meaningful date to Tekashi, possibly that his father passed away on that day which would make sense because on his neck he has the sixty-nine tattoo with wings on it which is usually a tattoo people get to remember someone who passed away but that's not what he said. Some interviewers have questioned Tekashi on what six nine (69) means and he spoke about how it's a way of looking at the same thing from different perspectives and even though what someone is saying might look wrong us but in their eyes it could be right. If you draw a 6 between two people, one will see a 9 and the other will see 6 and both are right from their own perspective. So, in Takeshi's words "live life with an open mind and an open heart and understand the person you talk to".
Meaning of Tekashi's Spiderweb tattoos
Next tattoo we'll talk about is the spiderweb tattoo on both of his cheeks and also his elbow. This type of tattoo has a lot of meanings across the world but it's mostly associated with doing time in prison being trapped and tangled in the system or just sitting in a Cell and letting cobwebs form. 6ix9ine has done time in prison on at least one occasion. He was arrested as a minor for allegedly selling illegal substances (heroine) and second-degree assault for beating the store owner in the store that he was working that time. One thing is not clear why he has the spiderweb tattooed multiple times. It's possible he got each spiderweb for every stint in prison he has done but there is no record that he's been locked up three times.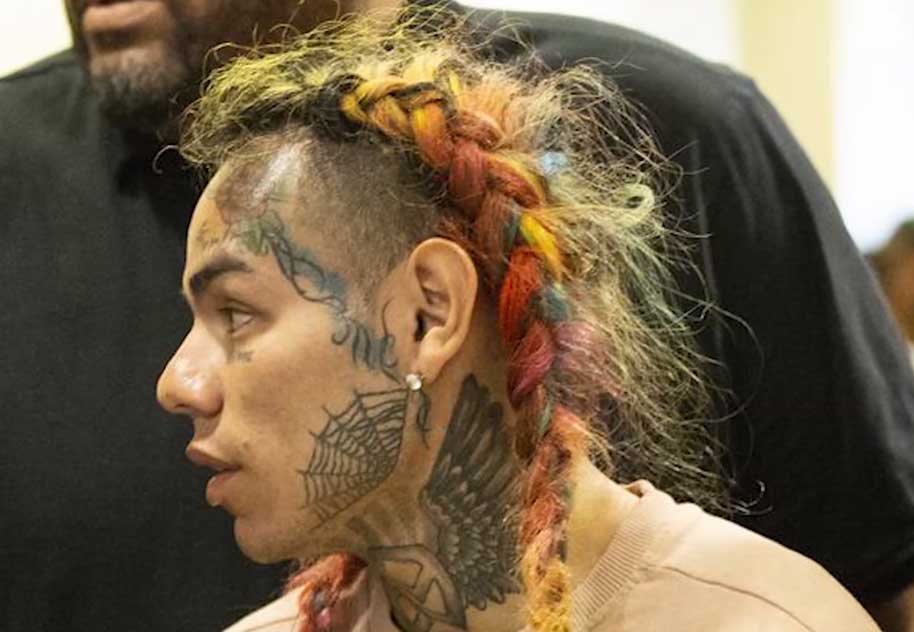 Meaning of 6ix9ine's SCUM Gang tattoo
The next tattoo we'll talk about is the 'SCUM' tattoo on his left arm. Scum gang is the crew Tekashi used to run with and represent and he would shout out "Scum Gang" in his every song. SCUM stands for Society Can't Understand Me and he talks about why he got that tattooed in an interview with No Jumper. This tattoo represents all the trouble kids and all the kids who live day by day just trying to get through their day.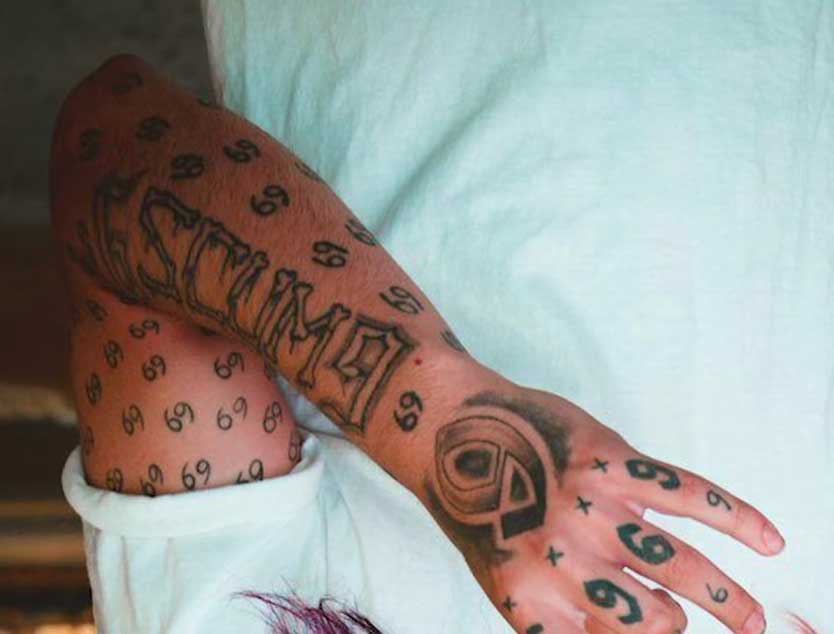 Meaning of 6ix9ine's Oscar tattoo
On to the next tattoo 6ix9ine has 'Oscar' tattooed down his face. Oscar is his elder brother. He was raised with his older brother Oscar by his parents until he was 13, when his father was shot dead steps away from the family home. He explained the meaning of his 'Oscar' tattoo in a Spanish interview.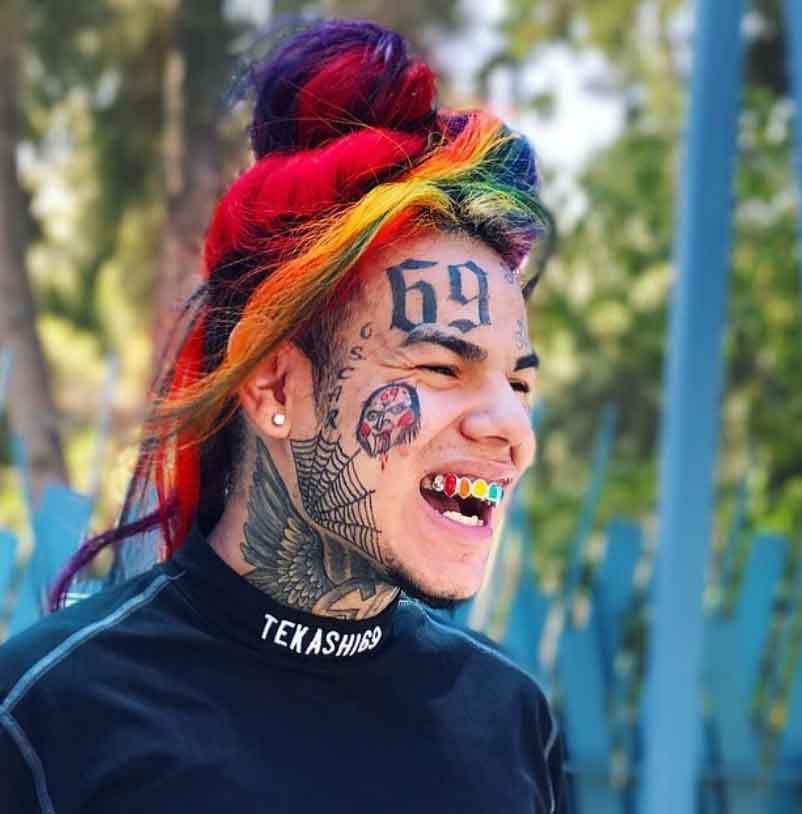 Meaning behind 6ix9ine's Billy the Puppet tattoo
The next tattoo we'll talk about is the Billy the Puppet from Jigsaw/SAW movie that he has on his cheek. Tekashi doesn't only have a tattoo of Billy the Puppet he also has a $150,000 iced out pendant. Why does jigsaw mean so much to him let's find out? Jigsaw is a fictional character from the Saw movie franchise that I'm pretty sure most people have watched or at least heard about it. In the movies Jigsaw killer is a mysterious person who kidnaps people that take their life for granted and subjects them to tests, testing whether they have the will to live or not. Jigsaw has no intentions to kill anyone he simply wants them to understand the value of life. I'm just speculating but I think Tekashi identifies himself with the character a lot because of the fact that he had to go through so much in his life being poor having his father passed away, doing time in prison and going through that stuff is what taught him to value and enjoy his life. Another part of this tattoo that some people haven't noticed is that Jigsaw is rocking a red bandanna around the neck. In the Bloods gang which Tekashi is allegedly affiliated with, members commonly sport a red bandanna to show their affiliation with the game.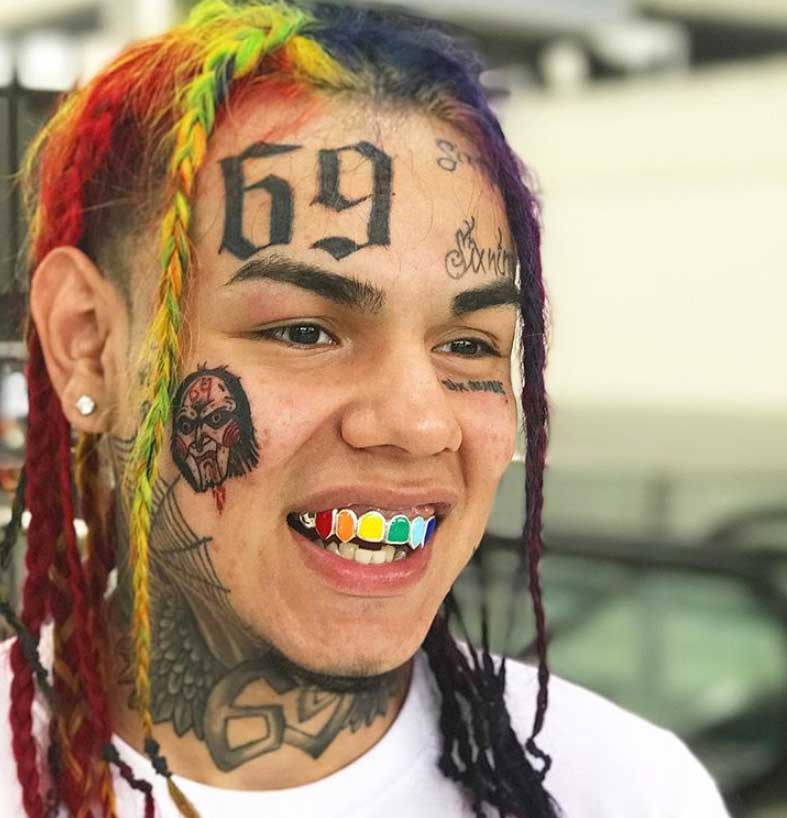 Meaning behind 6ix9ine's Flower tattoo
Tekashi got the Rose tattoo on his left forehead right after XXXTentation died and they were real good friends. The flower tattoo was a tribute to xxxtentacion.
6ix9ine's Neck tattoo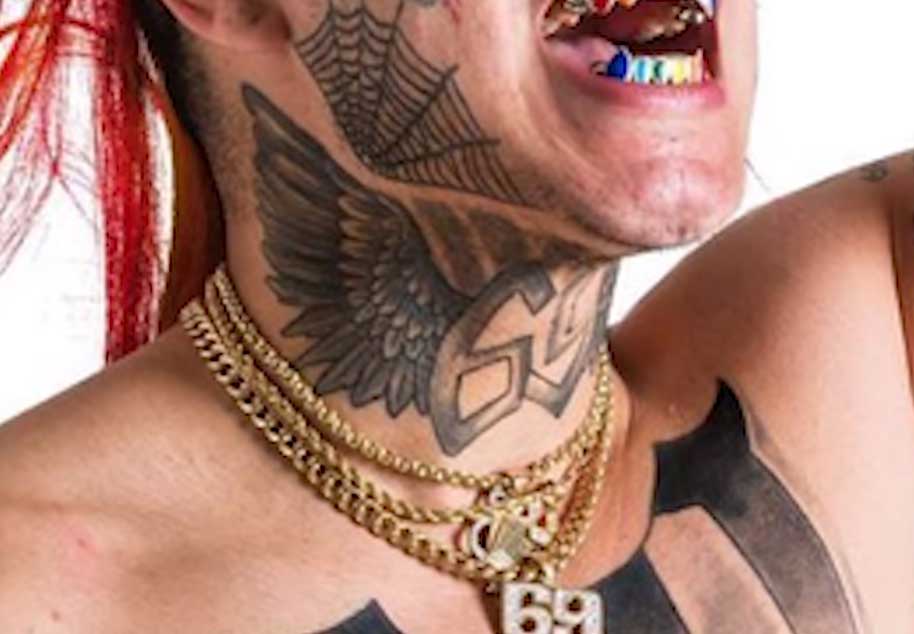 6ix9ine's Chest tattoo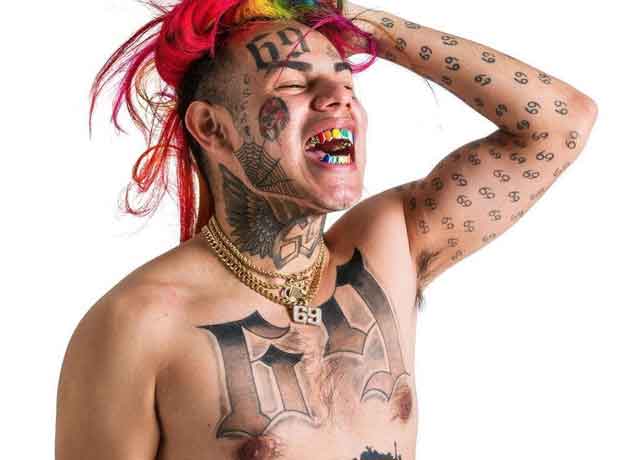 6ix9ine's Stomach tattoo
6ix9ine's Knuckle tattoos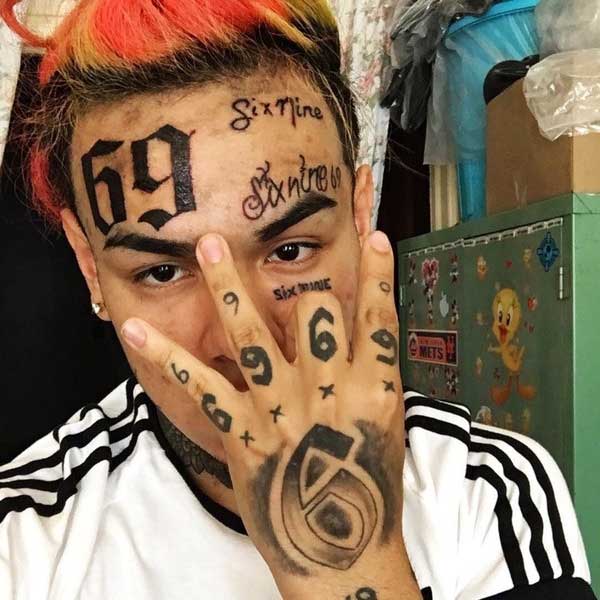 6ix9ine's Hand tattoos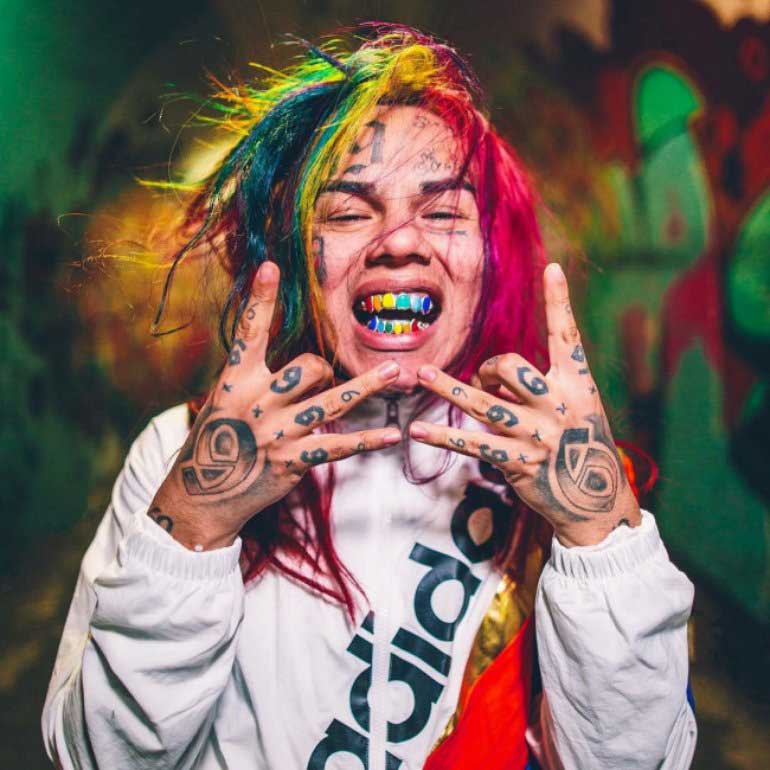 6ix9ine's Face tattoos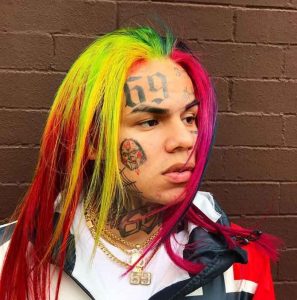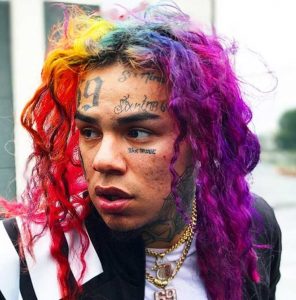 The 6IX9INE Interview with NO JUMPER