Austin Richard Post AKA Post Malone is an American Rapper, Singer, Songwriter and Music producer. He got his rapper name "Post Malone" from a Rap Name generator app. He is one of the most talented Rapper and Hip Hop artist in his generation. He has an obsession for tattoos. Anything that inspires and fascinates him, he gets them tattooed on himself.  He told GQ magazine on an interview that Justin Bieber inspired him to get tattoo. Over the past couple of years he got over 35 tattoos and his tattoo collection is growing.
Here is a list of Post Malone's ever growing tattoo collection.
Post Malone's Face Tattoos
Small Playboy logo tattoo under right eye
Smiley face tattoo under right eye
"Stay away" tattoo above right eye
Barbed wire tattoo on the forehead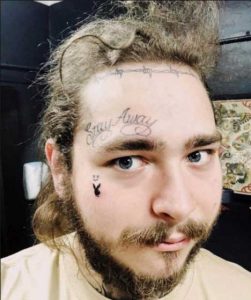 Post Malone's Hand Tattoos
Barbed wire tattoos on knuckles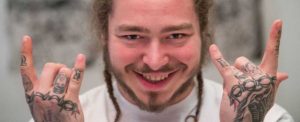 Finger Tattoos – Portraits of Elvis, Dimebag Darrell, Kurt Cobain, John Lennon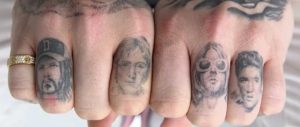 Bear tattoo on right hand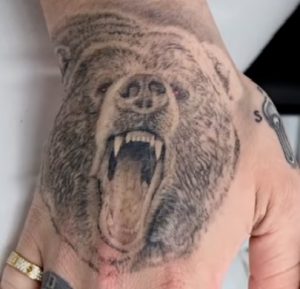 JFK Tattoo – Post Malone got his John F Kennedy tattoo on his left hand by the tattoo artist Victor Modafferi in New York.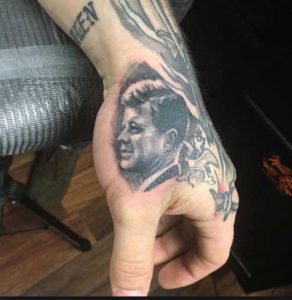 "REST EASY" tattoo on the fingers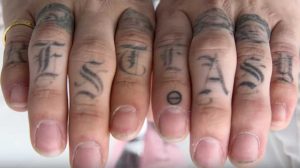 Saint Jude and his inner demon tattoo on his left hand done by the tattoo artist Kyle Hediger.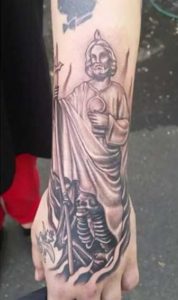 Knight fighting in a battle tattoo on the right hand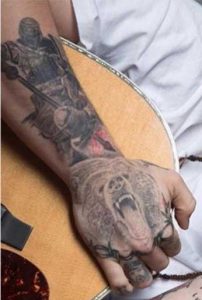 Post Malone's Arm Tattoos
Gun (M16) wrapped around by a snake tattoo on the left arm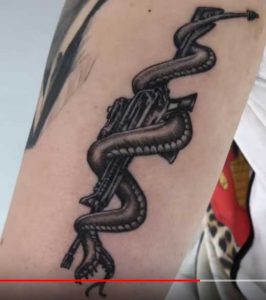 Lil Peep face tattoo on the left arm – Tribute to musician Lil Peep who passed away in 2017.
Johnny Cash tattoo on left arm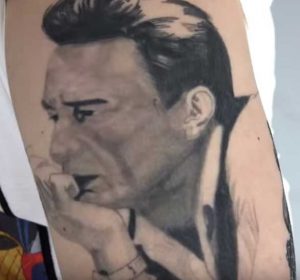 Praying hands with a gun tattoo on the right arm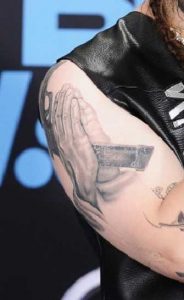 Post Malone's Forearm tattoos
Knight on a white horse tattoo on the right forearm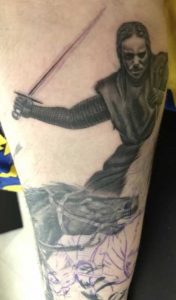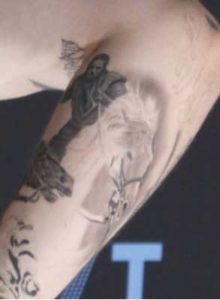 "so far, so good… so what" tattoo on left lower forearm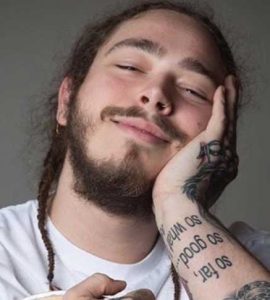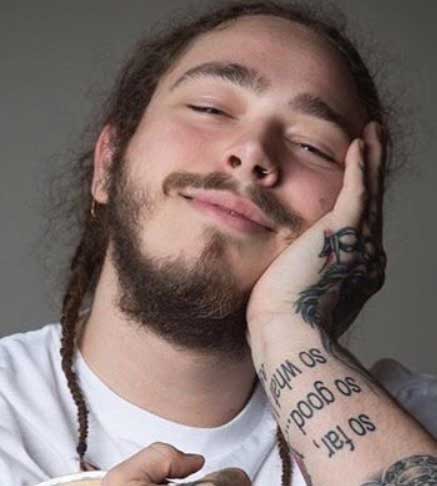 Skull Tattoo – Post Malone got a Stone cold skull tattoo with the Texas flag and a gold grill on his left inner forearm by Tattoo artist Yeyo Mondragon.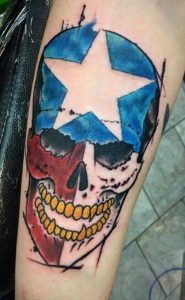 Gadsden snake tattoo on left forearm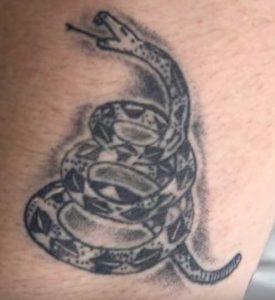 Big Playboy bunny tattoo on the left forearm – Post Malone's very first tattoo.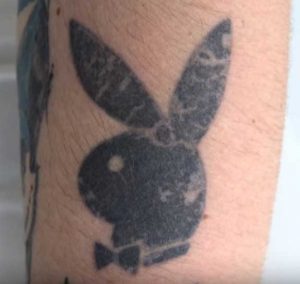 World War I soldier tattoo on the right forearm
Post Malone's Leg Tattoos
Fallout Vault Boy tattoo on the left leg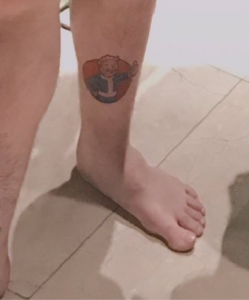 Skull tattoo with Cherokee Hat on the right leg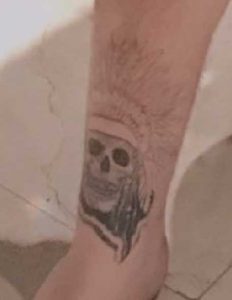 Post Malone's Neck and Throat Tattoos
Eagle tattoo on the neck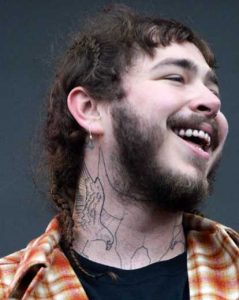 Bison skull tattoo on the throat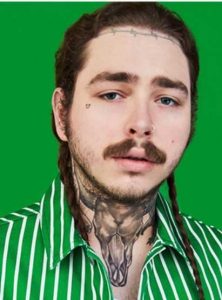 Post Malone talks about his Tattoos
Post Malone shows his Lil Peep Tattoo
Video of Post Malone getting JFK tattoo on his hand
Post Malone explains his face Tattoo