Michael Lamar White, known professionally as Trippie Redd, is an American rapper, singer, and songwriter. Trippie was born on June 18th, 1999, in Canton, Ohio. He is best known for his songs "Love Scars," "Poles1469" (featuring 6ix9ine), and "Dark Knight Dummo" (featuring Travis Scott).

Like other rappers in the industry, Trippie Redd has some controversial tattoos like "666" on his eyelid, a Demons at Play sign on his forearm, and upside-down Crosses on his fingers and entire left forearm. He tried to explain the meanings behind these tattoos in an interview with GQ recently, but they weren't well accepted by his fans.
He also mentioned in that interview that everyone should get tattoos only if they mean something to them. But when the interviewer asked him the reason behind his eyelid tattoos, he said: "because Wayne got them." Without any judgment, let's see what Trippie says about his tattoos.
Trippie Redd's Face Tattoos
Number "14" Tattoo
Trippie got his first tattoo when he was 16 years old. His first tattoo was the number "14" between his eyebrows. Number 14 is very significant in his life. He grew up on 14th street, he and his friends made a group called 1400. The number just stuck with him. He also believes that the number 14 is an angelic number. There is a very spiritual meaning behind it too. His grandma used to tell him stories about the 14 angels who guide and protect humans.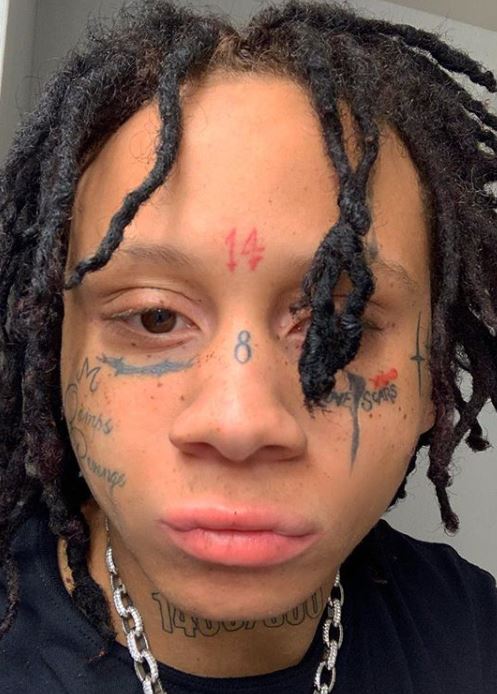 Number "8" Tattoo
On his nose, Trippie got the number "8" tattoo. This tattoo is dedicated to his gang, which calls his team now from shore block 800.
In his song Mac 10, he says
I'm from 800 block where we whack shit (Whack shit)
If I want it, I take that; we snatch shit (Snatch shit)
Like 14, number 8 holds a lot of meanings for him.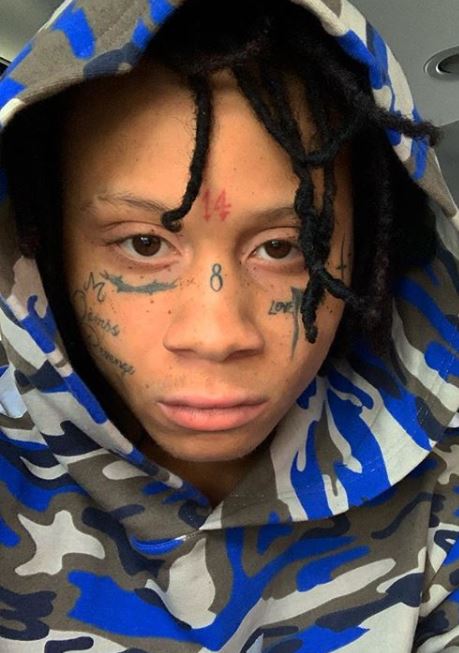 Barbed Wire Tattoo
Trippie got a barbed wire tattoo under his right eye.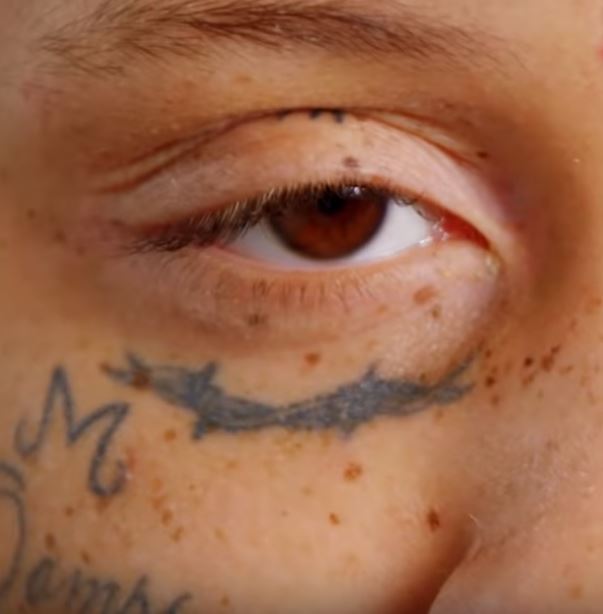 "LOVE SCARS" Tattoo
Under his left eye, Trippie got this "LOVE SCARS" tattoo. He was looking for a catchy name for a brand and came up with the name Love Scars. Then he made the song "Love Scars" with 6ix9ine. He had this tattoo before the song was even born.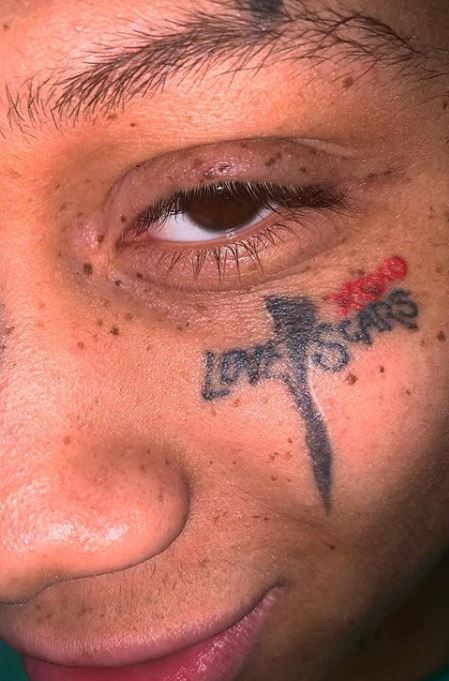 Scar Tattoo
There is a line (scar) that goes through the "LOVE SCARS" tattoo up to his forehead. It is for his brother who passed away in a car accident. The scar resembles the injury his brother suffered during his fatal crash.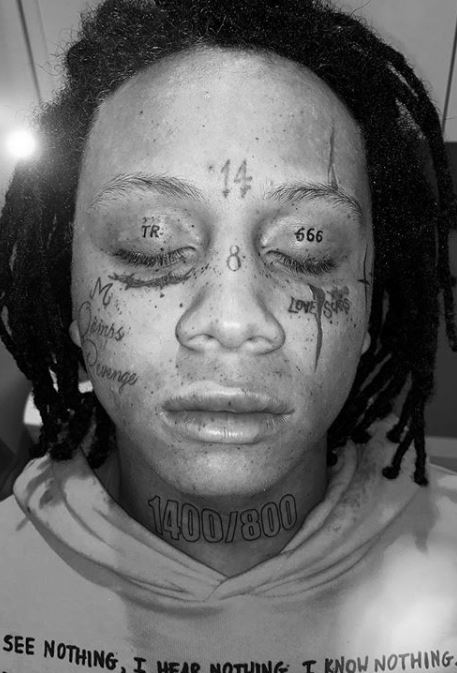 "TR" and "666" Tattoo
He told the interviewer that he got the eyelid tattoos because Wayne got them. TR stands for "Trippie Redd," but he didn't give any explanation for the "666" symbol. Many fans interpreted TR666 with Satanism and claimed that Trippie is a Devil worshiper. But Trippie shared a post on Instagram where he says 666 represents 6 protons, 6 electrons, and 6 neutrons found in black people's melanin.
This is what he exactly said about his "666" tattoo:
" They be telling you "666" is the mark of the beast, explaining it's a dark entity with woolly hair, and all this other s**t… N**ga, that's black people! Six protons, six neutrons, six electrons, N**GA! Do your research. Don't try to knock a black successful man and say I'm satanic or Illuminati. I be trolling, you know what I'm saying? But this is not no troll, this is black power s**t."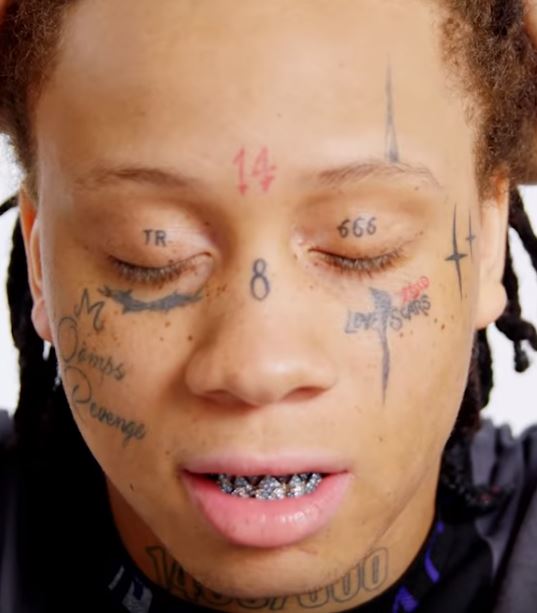 "Oomps Revenge" Tattoo
Trippie got "Oomps Revenge" tattoo on his right cheek. He got this tattoo to honor his brother, who passed away in a fatal car accident. Trippie said that he is his brother's revenge.
One of his tracks also has the same title. In the song he said:
"I used to feel alone, but I know my brother's soul is with me
I know Oompa's soul is with me."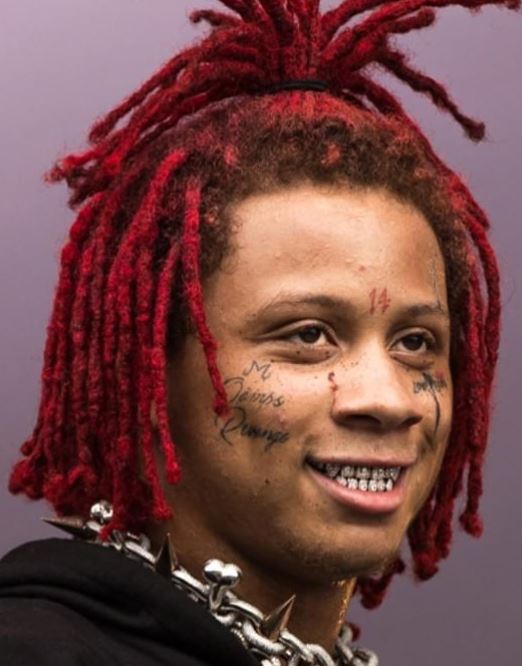 Letter "M" Tattoo
On his right cheek, right above "Oamps Revenge," Trippie got the letter "M" Tattooed. It stands for members only. He got this tattoo when he used to live with rapper XXXTentacion in Miami. His favorite anime character is Majin Buu from the Dragon Ball Z, so he got the letter "M" in that style.
His favorite anime shows are Berserk, Naruto, The seven deadly sins, and of course, The Dragon Ball Z.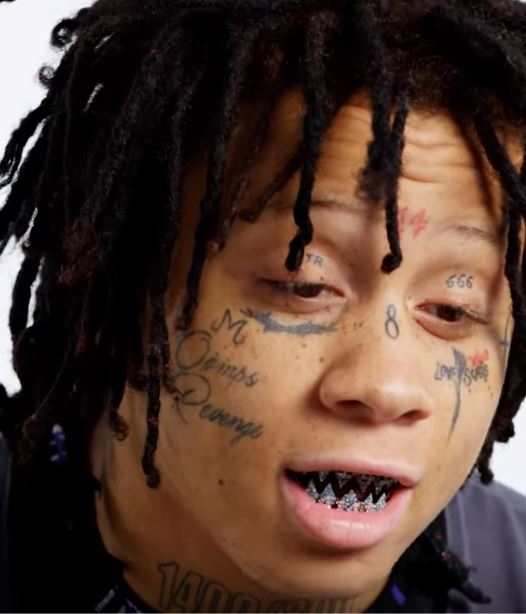 Star Tattoos
On the left cheek, Trippie got tattooed two stars right beside his left eye. The idea of the stars is taken from one of his favorite anime shows, Kill la Kill. In the anime, the warriors have stars on their suits. Each star makes them stronger, and the most powerful warriors have three stars. That is the reason Trippie got tattoos of 2 stars. He will get the third one when he shakes the industry, and that will make him feel like a true warrior.
Trippie Redd's Neck/Throat Tattoos
"1400/800" Tattoo
Tattoo on his throat reads "1400/800". Two of Trippie's special numbers, which also relates to the street he grew up in and his gang.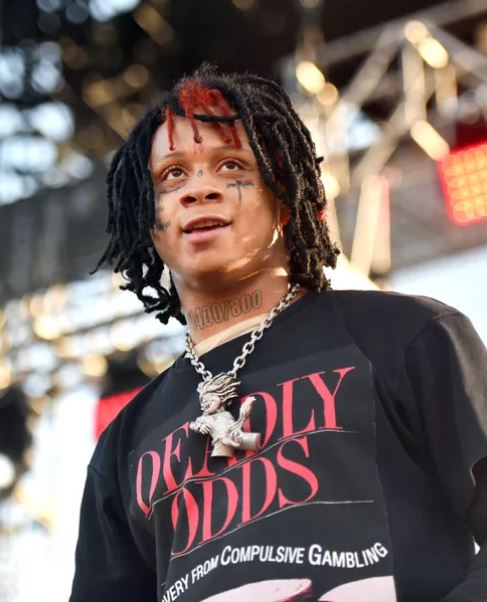 Trippie Redd's Finger Tattoos
Knife Tattoo
Trippie got this knife tattoo on his right index finger in Atlanta.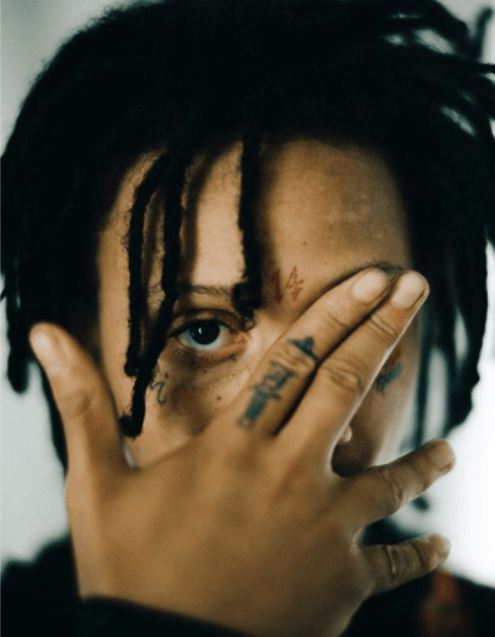 Number "14" Tattoos (Red & Black)
On his left knuckles, Trippie got the number "14" tattooed in red and black ink. He said red is negative energy, and the black is positive energy. So, two black and red "14" tattoos symbolize the positive and negative energies flowing towards or into the infinity (the tattoo that he got on the same hand).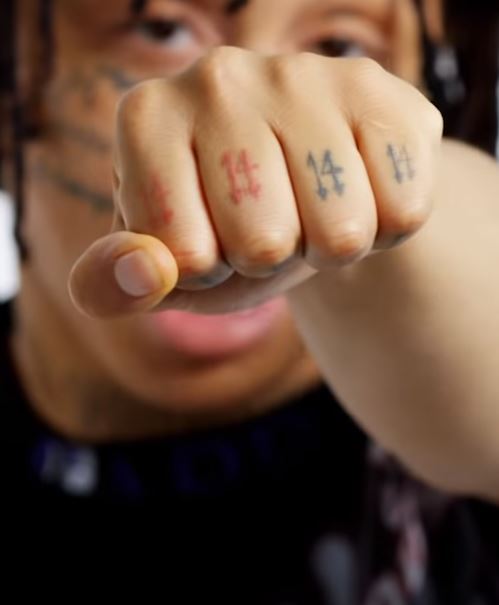 Trippie Redd's Hand Tattoos
Tattoo of Infinity Symbol
Trippie got an infinity symbol tattooed on his left hand. It represents the infinite loop of life and energy.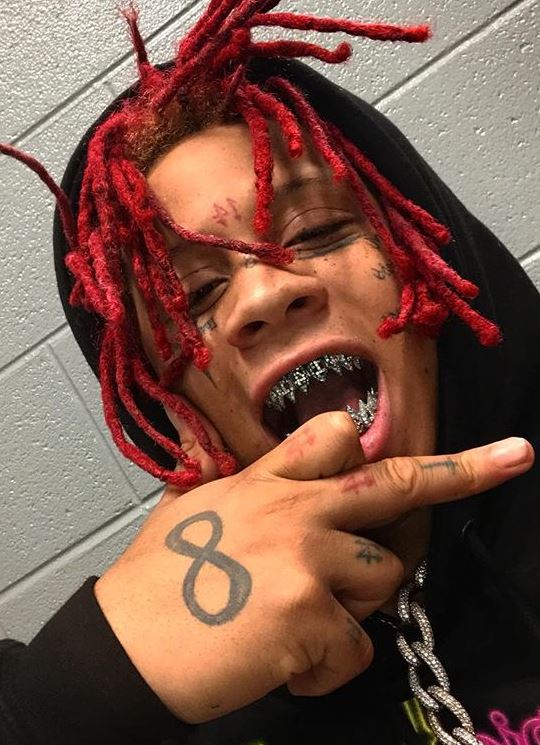 Trippie Redd's Forearm Tattoos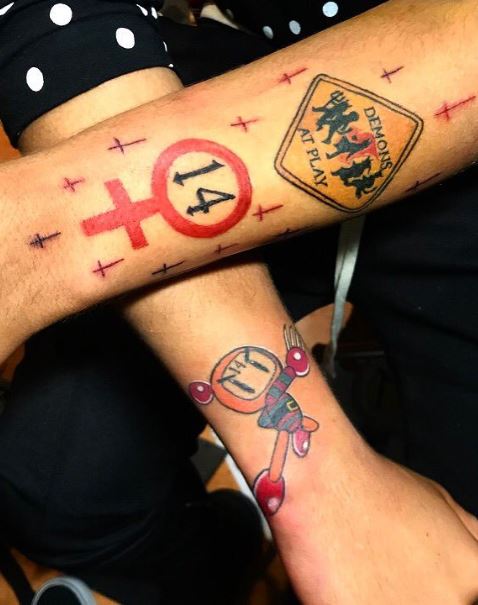 Upside down Crosses
On his left forearm, Trippie got upside-down crosses tattooed in red and black ink. He explained these represent positive and negative energies.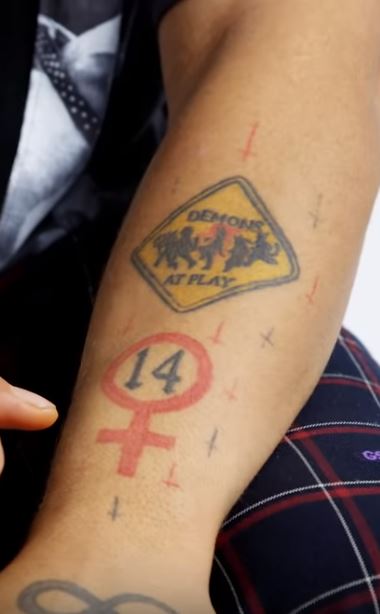 Female Symbol Tattoo
The large symbol on his left forearm is a gender symbol for females. He incorporated his favorite number "14" inside the symbol. The tattoo represents all the women who have been through love scars.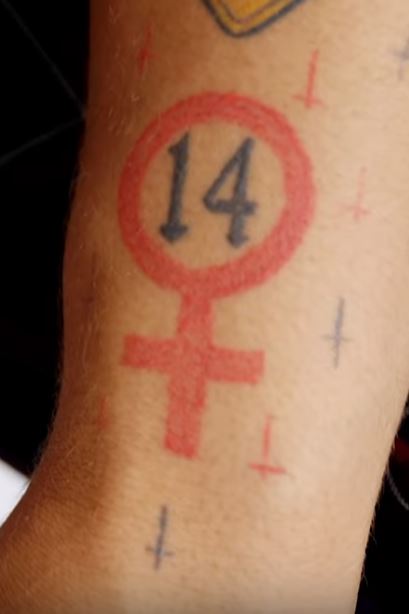 DEMONS AT PLAY Tattoo
On his left forearm, he got a tattoo that says DEMONS AT PLAY and the demons in the middle. He designed it like the caution road signs that say "Children at Play."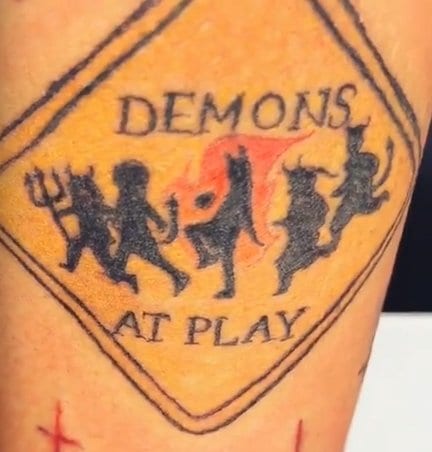 Bomberman Tattoo
On his right forearm, Trippie got a tattoo of Bomberman, a famous video game character dressed up as a Freddy Krueger. He used to play Bomberman as a kid.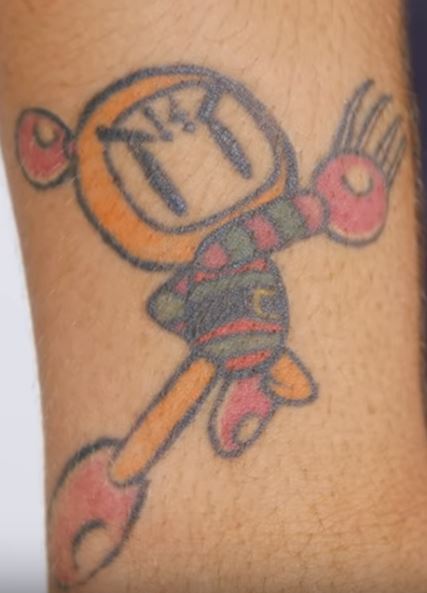 Tomahawk Tattoo
Trippie claims to be of Irish, Native American, and African American descent. In the tomahawk, he got the Irish flag incorporated in the handle, feathers, and his special number 14 with blood all over it.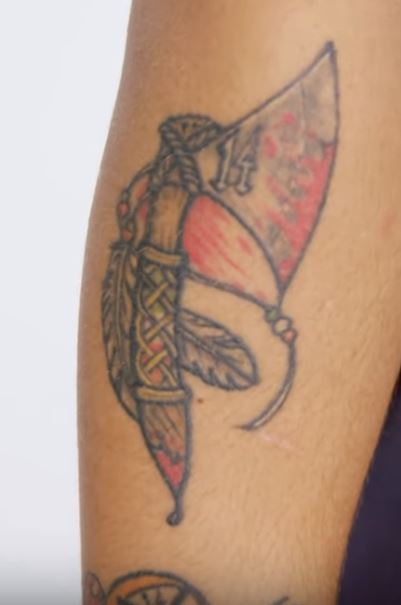 Trippie Red's Chest Tattoos
Tattoo of a Crown
Trippie got a tattoo of a crown on his sternum.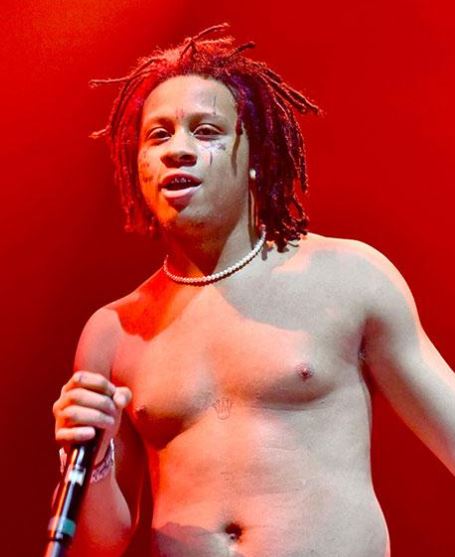 Trippie Red's Palm Tattoos
All Seeing Eye Tattoo
On his left palm, Trippie got a tattoo of All-seeing Eye and also TR 666 around it. He also explained what 666 represents — the electron, proton, and neutron count of melanin of those with dark skin.