Gustav Elijah Åhr aka Lil Peep was an American rapper, song writer and music producer. He was born in 1996 and died at a very early age of 21 in 2017 (Nov). He was part of the post-emo revival hip hop culture.
Lil Peep had over 30 tattoos and a big fan of Cholo Tattoo style.
Each and every tattoo on his body carried a special meaning and stories behind them.
Lil Peep's tattoos and their meanings
"PEEP" Tattoo on arm
Ever since he was a baby his mum used to call him Peep. So, he got PEEP tattooed on his left arm.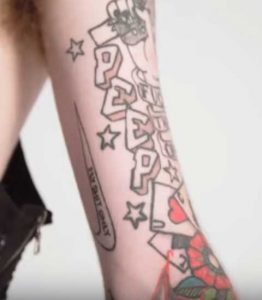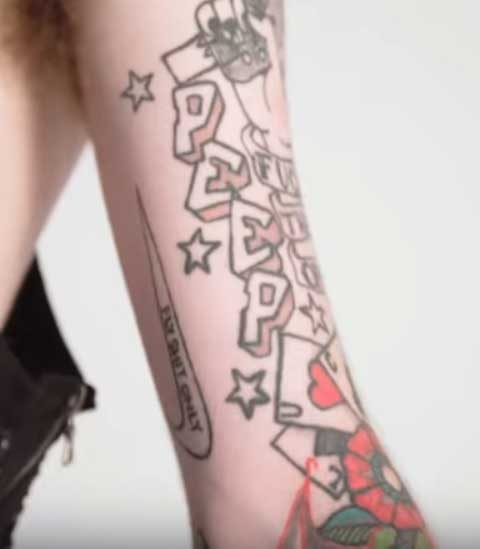 Halloween Pumpkin Tattoo on forearm
Lil Peep was born on 1st of November on the Halloween night. So, he got the Halloween pumpkin tattooed on his left forearm.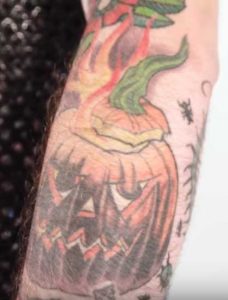 Halloween Bats Tattoo behind ear
Because he was born on the Halloween night he got Halloween bats and other spooky Halloween stuffs tattooed behind the back of his ear.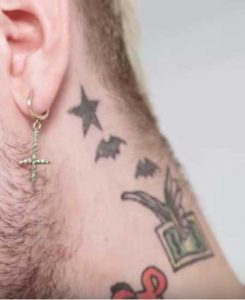 "11-1" Tattoo on stomach
Lil Peep got his date of birth 11-1 (First of November) tattooed on his stomach.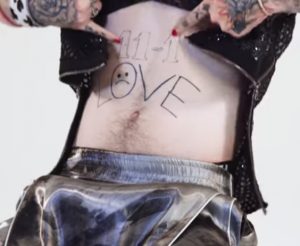 Centipede Tattoo on inner forearm
Lil Peep used to hate Centipede and he used to find them everywhere which bothered him so much that he got a Centipede tattooed on his inner forearm.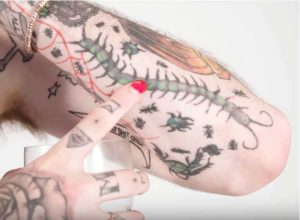 Mum's date of birth and her initials Tattoo on right forearm
Lil Peep got his first tattoo at the age of 14. He was scared that his mother will get angry with him for getting the tattoo so he got her date of birth and initials tattooed on his forearm on the main tattoo.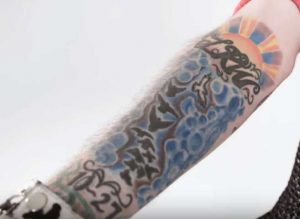 "Miss you" Tattoo on legs
One of Lil Peep's friends tattooed "Miss you" on his legs.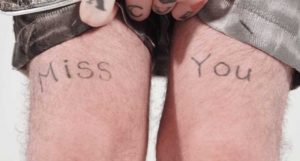 "MEEP" Tattoo on leg
Lil Peep and his girlfriend bought a dog together named MEEP. He was like their child so he got this tattooed on his leg for Meep.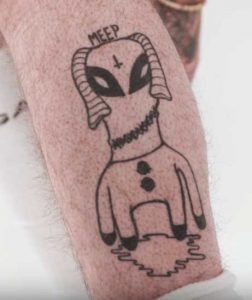 Lisa Simpsons Tattoo on throat
Lil Peep got Lisa from Simpsons screaming "MOM" tattooed on his throat because it reminded him that he used to call his my every time when things went wrong in his life and stressed his mum out.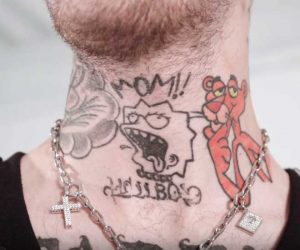 "Hellboy" Tattoo on throat
He got this tattoo after his first Mix Tape Hellboy was released in 2016. He was also a big fan of Hell Boy comics and movies.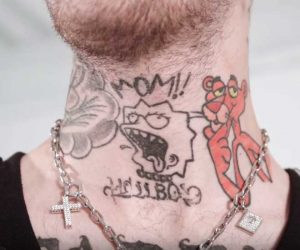 "Get Cake Die Young" Tattoo on Forehead
Lil Peep had no recollection of this tattoo. One morning he woke up and found "Get Cake Die Young" tattooed on his forehead.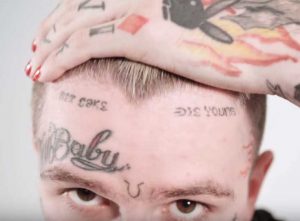 Pink Panther Tattoo on neck
One day Lil Peep was hanging out at the Venice beach and was so bored that he got himself the Pink Panther tattoo.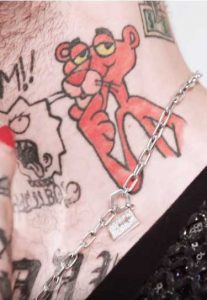 "Home Sick" Tattoo on knuckles
As being a musician he had to travel a lot and he missed his mum too much so he got "Home Sick" tattooed on his knuckles.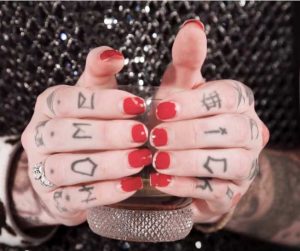 Red Anarchy Tattoo on face
He got this tattoo for no reason. For him it was just a random weird tattoo to have.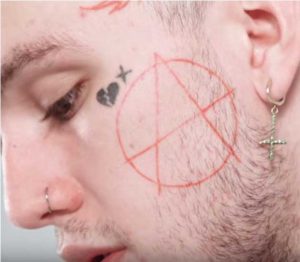 "Mood" Tattoo on right arm
Lil Peep described it as a very low quality tattoo just like his low quality mood. But it is one of his favorite tattoos too.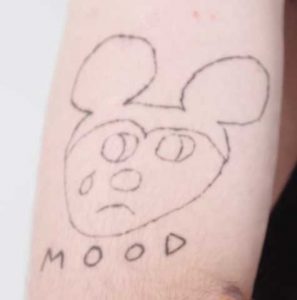 Broken Heart Tattoo under left eye
He got the broken heart tattoo in 2015 after feeling very sad and depressed.
Lucky Charm Horse Shoe Tattoo on forehead 
Lil Peep got this tattoo for good luck.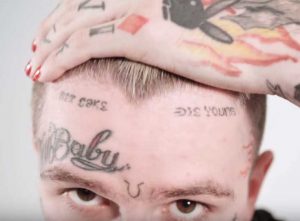 Skull Tattoo on head
Lil Peep got this tattoo when Tattoo artist Ed Hardy was touring London.
"Cry Baby" Tattoo on face
Lil Peep got this tattoo as a reminder that lot of people in this world are in worse situation than him so he should be always grateful and never complain.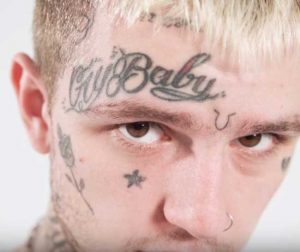 Racing Flag and Flames Tattoo on head
This is the most painful tattoo Lil Peep ever had.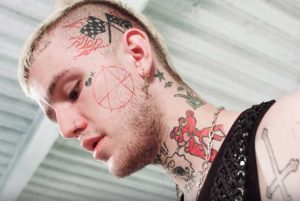 Other Tattoos of Lil Peep
"Fly Shit Only" Tattoo on arm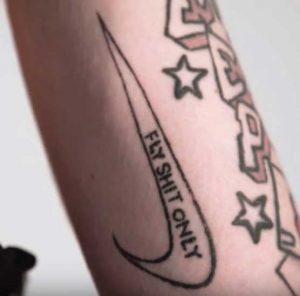 "LOVE" Tattoo on stomach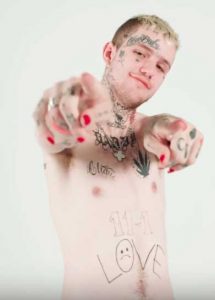 "DADDY" Tattoo on chest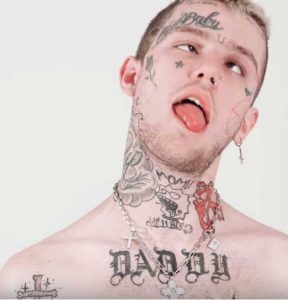 "RIP" Tattoo on neck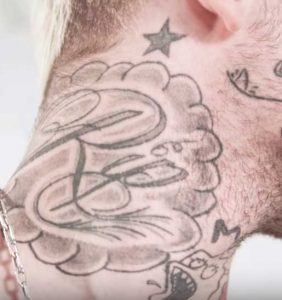 Star and Rose Tattoo on face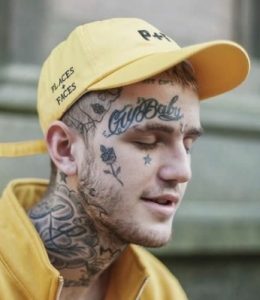 Cross Tattoos on right shoulder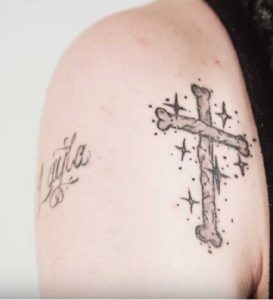 Upside down Cross Tattoo on left shoulder
Only two months before he passed away, Lil Peep appeared on a Video (below) by GQ Magazine to tell the stories about his tattoos.