The American rapper Shayaa Bin Abraham-Joseph aka 21 savage was born in Atlanta, Georgia in 1992 (Oct 22). Abraham-Joseph stage name 21 Savage had a very rough childhood, he got kicked out of a number of schools before he was placed in Juvenile detention and became a full-time drug dealer at an early age. He also took part in other criminal activities like robbery and carjacking. 21's rapping career started when he released his debut mixed tape "The Slaughter Tape" on May 2015.
21 doesn't think too much about the design, to him tattoos are art. Anything that comes in his mind he just gets them tattooed. Here is are the tattoo list of 21 Savage and stories behind them.
21 Savage's Face tattoos
Each and every tattoo on 21's face means something. For 21, if it is on his face then it has to be deep and must stand for something.
Knife Tattoo on the forehead
The knife tattoo on 21's face in the middle of his forehead is actually a tribute to his little brother Tayman. Before Tayman was killed in a drug deal gone wrong they were planning to get matching tattoos inspired by Tony Montana's blade tattoo in Scarface. But Tayman jumped the gun and got it tattooed on his forehead before 21.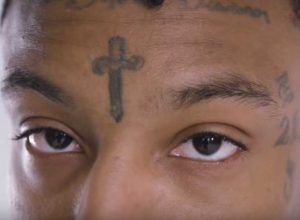 '21' and 'RIP Larry' tattoo on the left side of the face
21's first face tattoo is '21' on the left side of his face. His brother Larry was with him when he got the tattoo. When Larry died 21 got 'RIP' and 'Larry' tattooed around it. 'Rip' on top and 'Larry' on the bottom.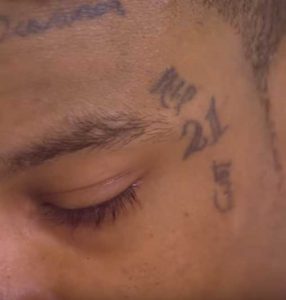 'BLOCK BOY' on the right side of the face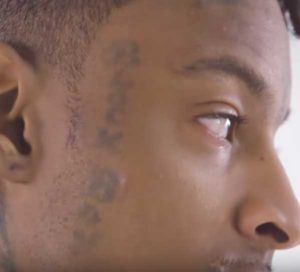 'Death before the sun rises' on the forehead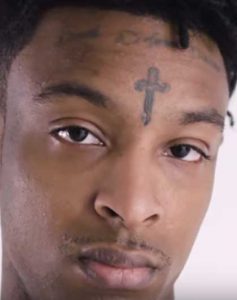 21 Savage's Neck tattoos
21 got his little sisters' names tattooed on the both side of his neck.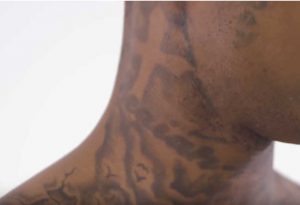 21 Savage's Chest tattoos
'Johnny B', 'Tamika' and 'Larry' tattooed on his chest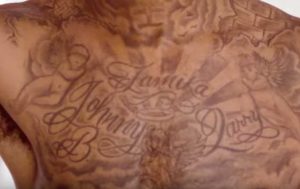 Angel tattoo on the chest
When 21 got shot Johnny B got killed, so he got the angel tattoo on the chest. He didn't get the tattoo for any religious reason. In 21's own words "Shit just looked cool".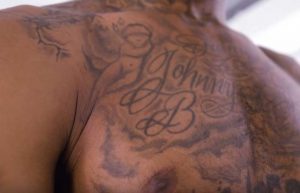 21 Savage's Arm tattoos
21's first tattoo is 'GRIND HARD' and 'SHINE HARD' on his arms.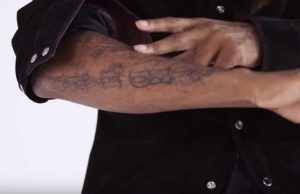 Bullet hole tattoo on the right arm
Bullet hole tattoo on 21's right arm is his jinxed tattoo. He got shot in his right arm after he got that tattoo. Nerves were damaged in his right arm because of the gun shots and he couldn't get any more tattoos on that arm later.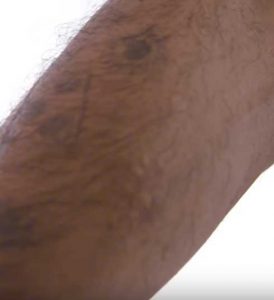 Ferrari, Maybach and Bentley symbols tattoos on the left arm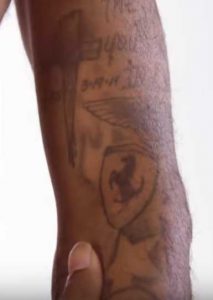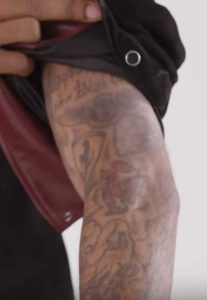 Stewy with guns tattoo on the left forearm
21 doesn't really like Family Guy but he loves Stewie for his big head.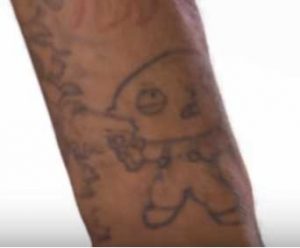 Cross tattoo on the left arm
Another tribute tattoo for his brother Tayman.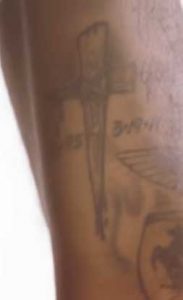 'Don't judge my story by the chapter you walked in only' tattoo on the upper left arm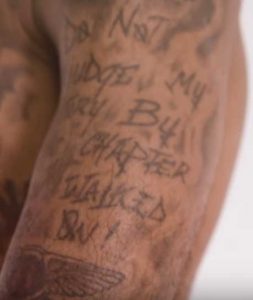 21 Savage's Hip tattoos
Gun tattoo "Glock" on the left hip
The Glock is 21's most favorite tattoo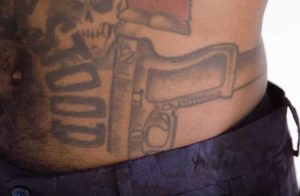 21 Savage's Stomach tattoos
Stewie tattoo on the left side of the stomach. This is 21's second Stewie tattoo.
'MISUNDERSTOOD' around the belly button
'Play Dirty' tattoo under the left rib cage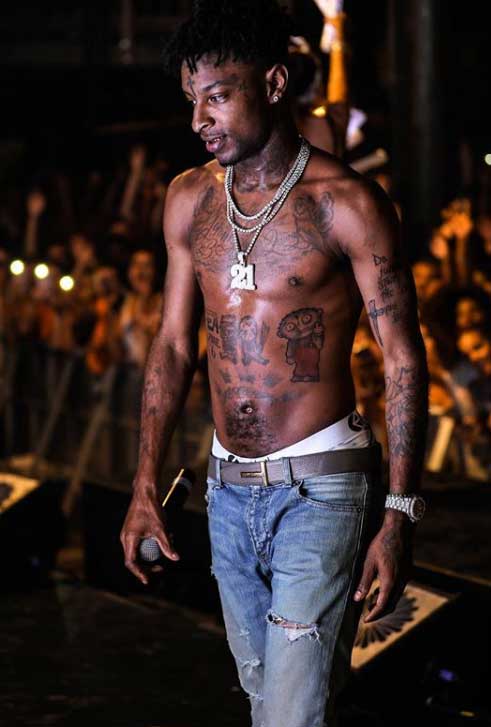 Baby Jason and Baby Freddy tattoo from Friday the 13th and Nightmare on Elm Street films. 21 doesn't like to watch horror movies but he likes what these characters represent.
'EA zone 6' tattoo represents East Atlanta. The tattoo looks like EA sports logo, but it actually represents east atlanta. Gucci mane has similar tattoo on his neck.
Saint Laurent 'Sweet dreams' shark tattoo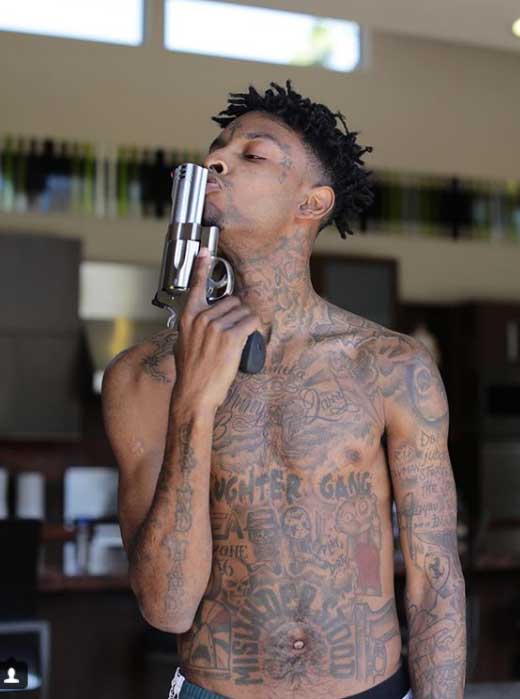 Baby riding bike tattoo form bebe's kids
'Slaughter Gang' tattoo right under the chest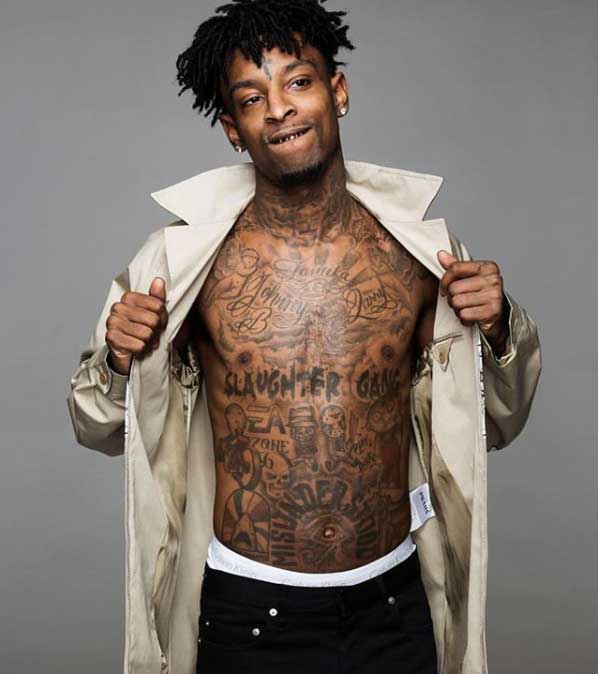 21 Savage Breaks Down His Tattoos
xc