Tupac Amaru Shakur also known by his stage names 2Pac and Makaveli was an American rapper and actor. He is considered to be one of the greatest hip hop artists of all time who influenced countless people even after his death. It's a trend in the industry to get tattoos these days but until the late 90's tattoos weren't very popular in the Hip-hop culture. Tupac actually started the trend by showcasing his body art to the world. He had almost 18 tattoos that are known to all and all of them had deeper meanings and strong messages. People are still fascinated by the meanings of Tupac's tattoos and what they represent till this day.
Tupac was born in East Harlem district of Manhattan in New York City on June 16, 1971 and relocated to Los Angeles in 1988. When he released his debut studio album "2Pacalypse Now" in 1991, immediately he became a central figure in the West Coast. He also introduced social issues in the Hip Hop genre at a time when Gangsta Rap was mainstream.
Unfortunately, he is not here with us to explain his tattoos but from his earlier interviews, music, lifestyle and fans assumptions we have summed up the meanings of Tupac's tattoos below.
Tupac's Tattoo and Their Meanings
Tupac's Back Tattoos
Cross (EXODUS 1831)
Tupac had a massive Cross tattoo on his whole back which has the shape of a Celtic cross. The tattoo artist Dennis "Dago" Coelho told in an interview that Tupac came to him and asked for a symbol on his back that he could take with him for the rest of his life and ended up having the cross tattoo which is often referred as Tupac cross. He had the words "Exodus 1831" tattooed inside the cross. Among the fans there are two possible meanings of Tupac's EXODUS 1831 tattoo. One group believes that it refers to a verse from the bible. But the problem with that theory is that in the bible, chapter 18 finishes with Verse 27 so Exodus verse 18:31 is non-existent.
The other group believes that Tupac was inspired by the heroic courage of Nat Turner an African-American slave who led a two-day rebellion of slaves and freed the blacks in Southampton County, Virginia on August 21, 1831. The rebellion caused the death of approximately sixty white men, women and children. Whites organized militias and called out regular troops to suppress the uprising. In addition, white militias and mobs attacked blacks in the area, killing an estimated 120, many of whom were not even involved in the revolt. Nat turner was later captured and hanged.
The meaning of Exodus is a mass departure of people. Tupac Cross represents many things like faith, god, injustice, fight against corruption and human rights.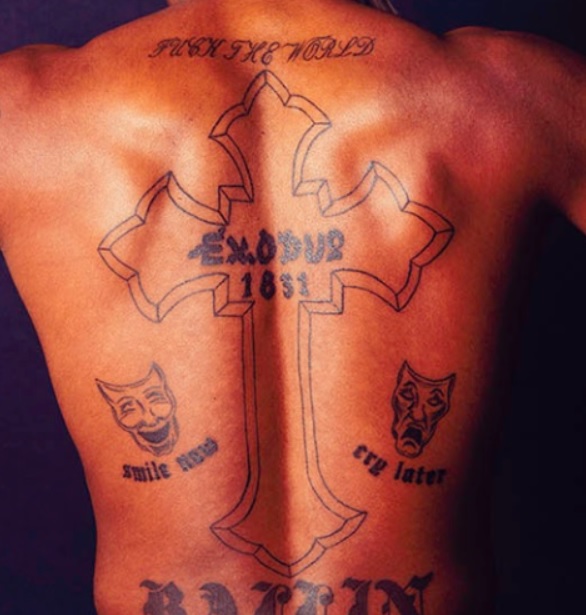 "FUCK THE WORLD"
Tattoo on the back of his shoulders read "Fuck the world", one of the tracks from his third studio album "Me against the world" released on March 1995. He expressed raw anger on "Fuck the World" and that was his message when he felt the whole world was conspiring against him.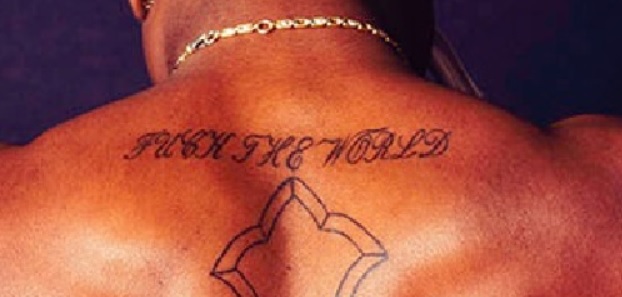 "smile now" and "cry later"
Tupac had a happy face mask tattoo on the left side of his back, under it says "smile now" and a sad face mask tattoo on the right side of his back, below it says "cry later". The masks are also known as the Comedy and the Tragedy masks derived from the symbols used in ancient Greek theater. The tattoos represent the good and bad times in life.

On Scarface's song "Smile", Tupac said: "There's gonna be some stuff that you're gonna see / That's gonna make it hard to smile in the future / But whatever you see / Through all the rain and pain / You gotta keep a sense of humor / Gotta be able to smile through all this bullshit. ".  
"BALLIN"
On his lower back Tupac got "BALLIN" tattoo. "Ballin'" is a term often heard as slang, especially in the black community. It means to live with affluence, to have wealth. The word originated from the term "having a ball".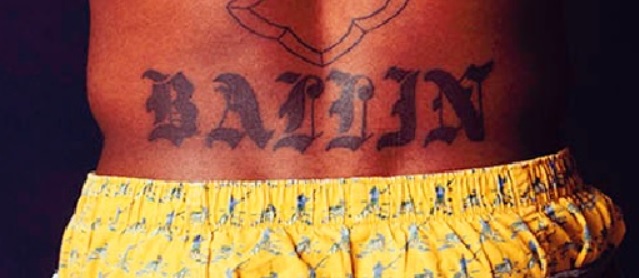 In his song Str8 Ballin' from Thug life Tupac said: "I would share the definition of ballin' / With you white folks, but no / The game is to be sold and not told.".
Tupac's Chest Tattoos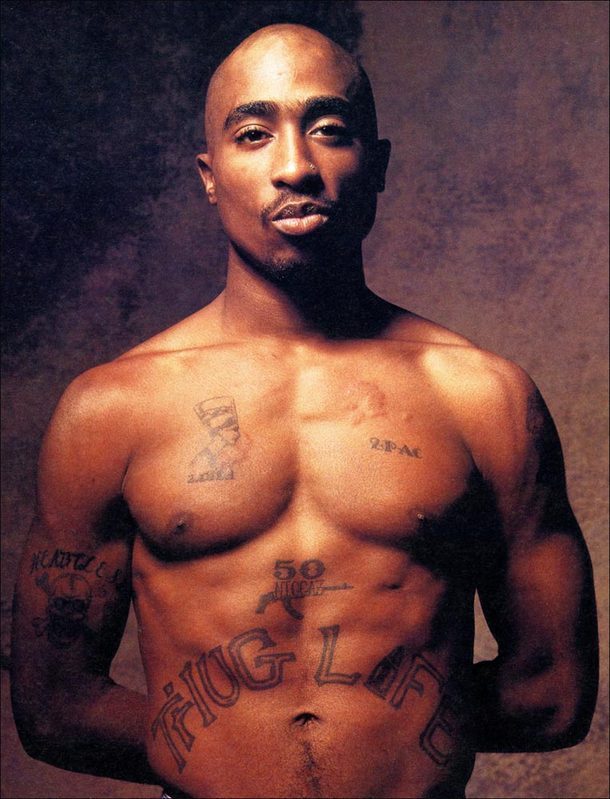 "2PAC"
He had one of his stage names "2PAC" tattooed on the left side of his chest.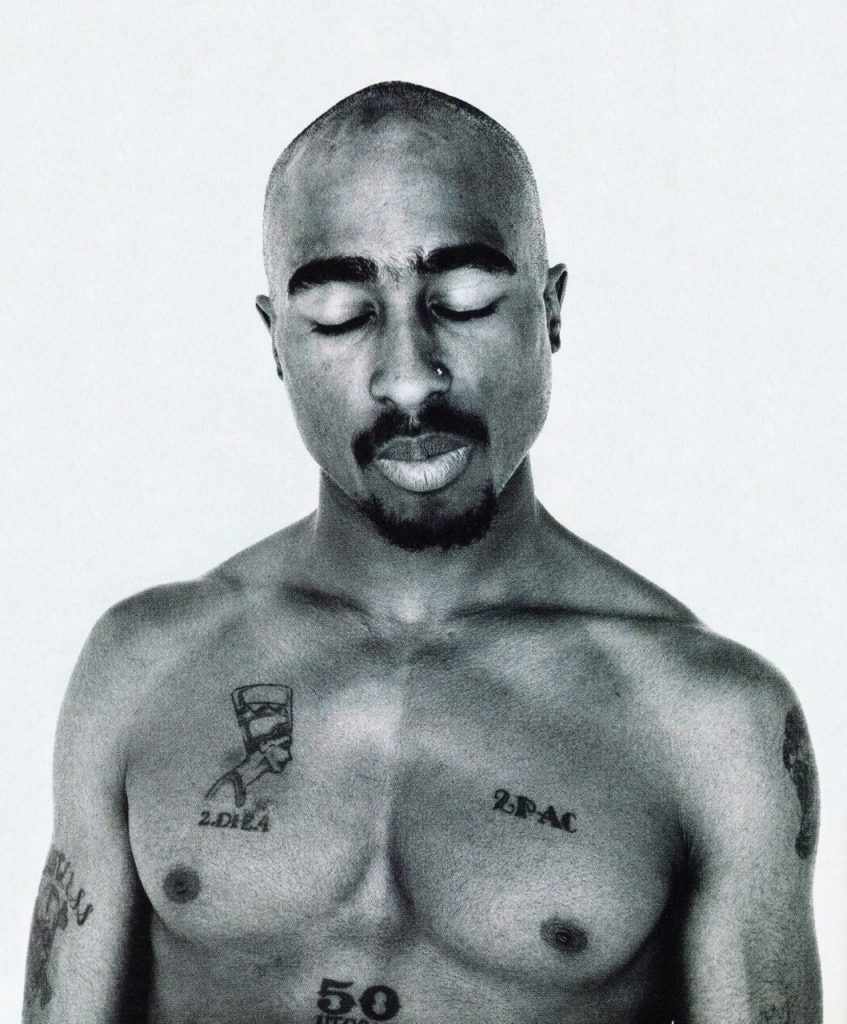 Head of Nefertiti and "2.DIE.4"
Tupac had a tattoo of Ancient Egyptian Queen Nefertiti's head on his chest with the words "2 Die 4". Queen Nefertiti is a symbol for strong women. Many fans believe that this tattoo was a tribute to his late mother as he often referred to her as a Black Queen.  In one of his songs, 'Something 2 Die 4' (Strictly 4 My N.I.G.G.A.Z…, 1993), he said: "You know what my momma used to tell me / If ya can't find something to live for / You best find something ta die for".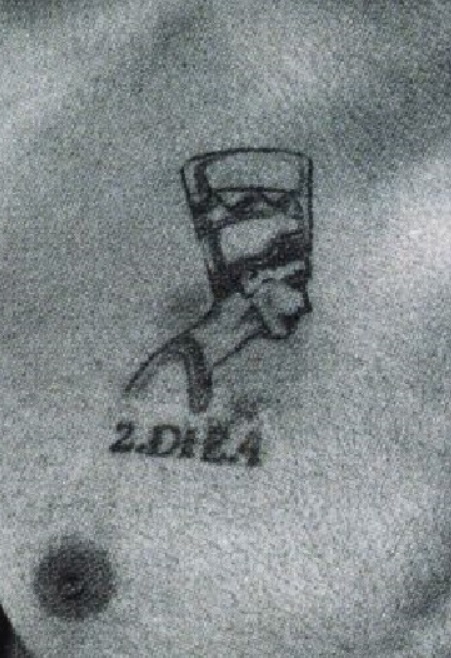 Tupac's Stomach Tattoos
"Thug Life"
He had the famous "Thug Life" tattoo across his stomach. The "I" in "Life" was replaced with a bullet. In late 1993, Tupac formed the group called Thug Life with a number of his friends, including Big Syke (Tyruss Himes), Macadoshis (Diron Rivers), his stepbrother Mopreme Shakur, and the Rated R (Walter Burns). The group released their only album Thug Life: Volume 1 on September 26, 1994, which went gold.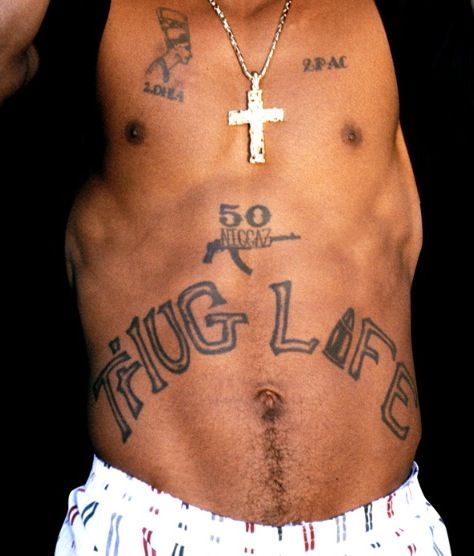 AK- 47 with "50 NIGGAZ" Tattoo
Tupac had a tattoo of an AK-47 and "50 Niggaz" written under it on his scrotum. AK 47 is a symbol for people rising against oppression and "50 NIGGAZ" represents black unity. If 1 black person from each state of the USA unite then they will be stronger than any weapon (metaphorically). In his song Hollar at me from "All eyes on me" album, Tupac sang "I want members across tha fifty states". He got this tattoo done with his stepbrother, Maurice "Mopreme" and Dana Smith aka Mouse Man.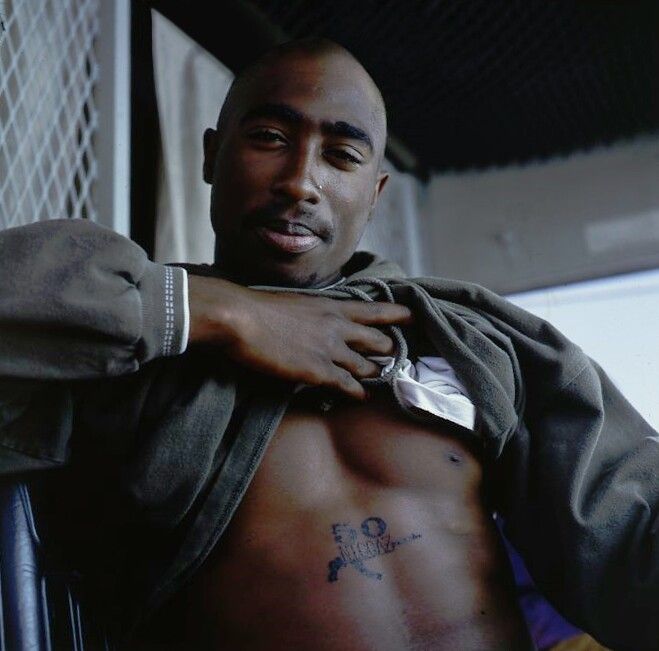 Tupac's Left arm Tattoos
Panther Head
Tupac had a Black Panther tattoo on his left shoulder. His parents, Afeni Shakur and Billy Garland, were active members of the Black Panther Party in New York in the late 1960s and early 1970s. Many people in Shakur's family were involved with the Black Liberation Army; some were convicted of serious criminal offenses and imprisoned, including his mother. His godfather, Elmer "Geronimo" Pratt was a high-ranking Black Panther.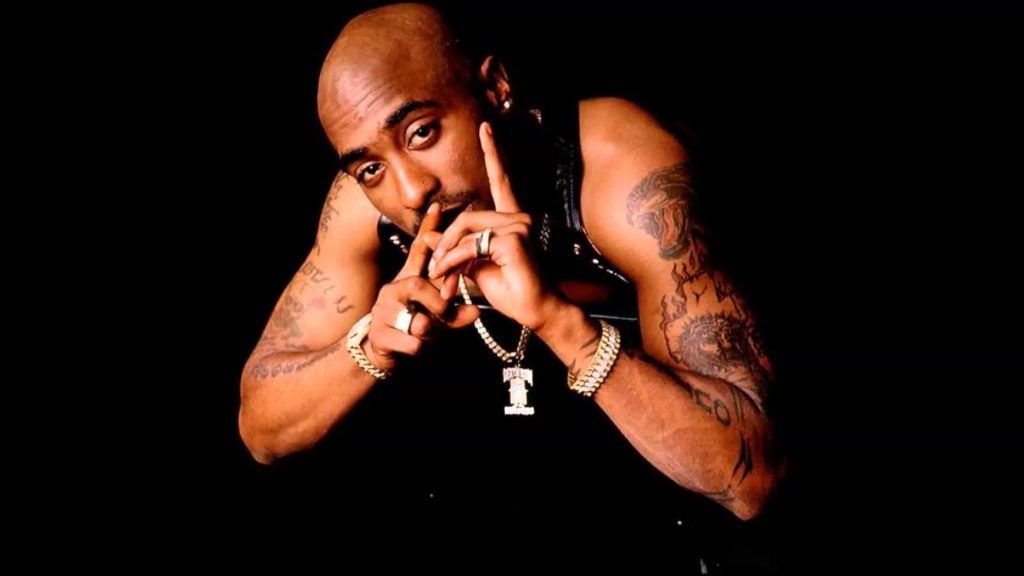 "Only god can judge me"
On his left arm he had the Tattoo of Jesus burning on cross in thorns crown and next to it reads "Only God Can Judge Me". Another one of his song titles 'Only God Can Judge Me' (All Eyez On Me, 1996) featuring Rappin' 4-Tay.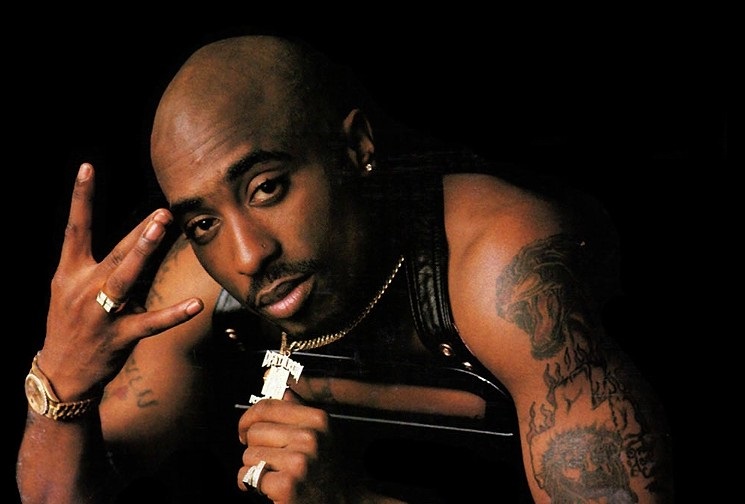 "OUTLAW"
This tattoo represented his group. Tupac founded the hip hop group called Outlawz (formerly known as Outlaw Immortalz and Dramacydal) in late 1995 right after he got released from the prison.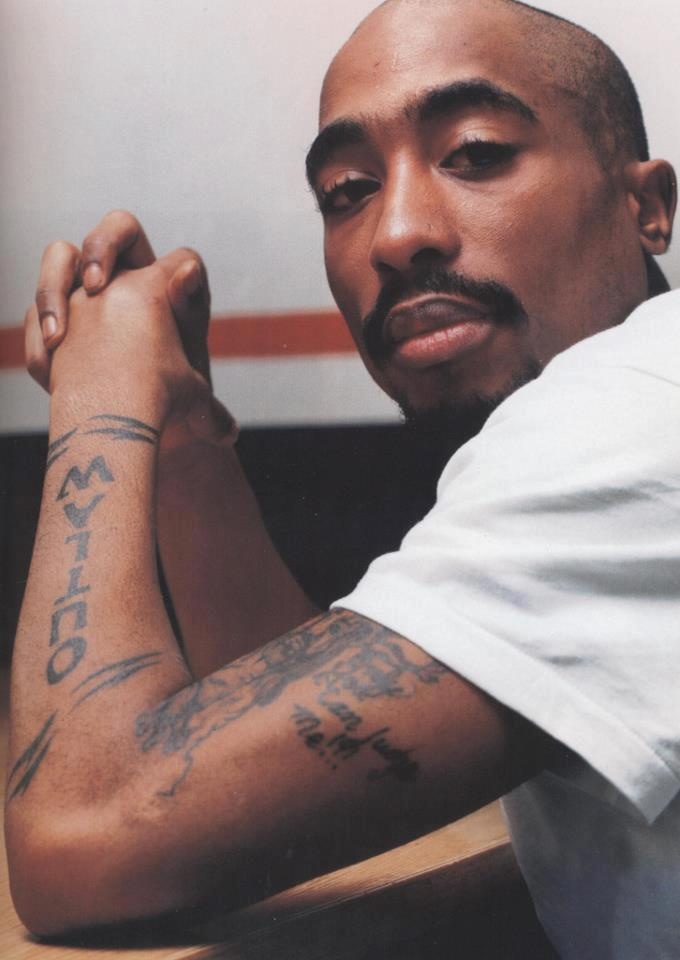 Tupac's Right arm Tattoos
Skull and Crossbones
Tupac had a Skull and Crossbones tattoo on his right shoulder.
"HEARTLESS"
Above the Skull and Crossbones tattoo he had "HEARTLESS" written in the memory of his late friend "Strech" from the Live Squad – HEARTLESS. Under the Skull and Crossbones, he had a tattoo that read "My only fear of death is coming back reincarnated".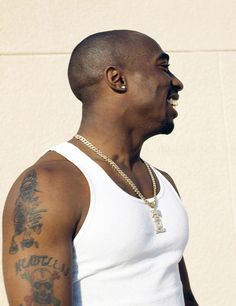 "NOTORIOUS"
On his right forearm Tupac had "NOTORIOUS" tattooed in Old English font in the memory of his best friend Big Kato who was murdered in 1993.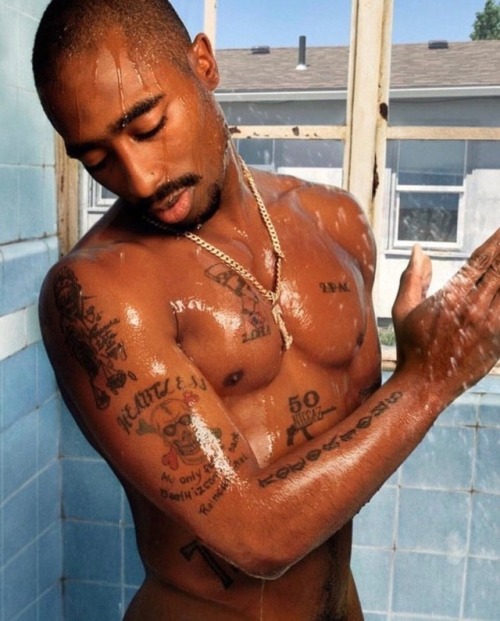 "MOB"
Tupac had "MOB" tattoo on the back of his right arm that stands for "Money over Bitches". This song (M.O.B.) appeared on his album "Until the End of Time" (2001).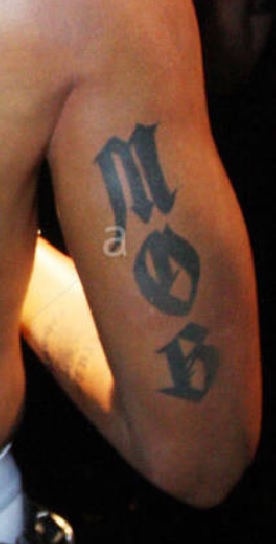 2Pac states the meaning of his MOB tattoo
"TRUST NOBODY"
Tupac had a 7-point crown tattoo on his right forearm that said "Trust Nobody". The crown is a traditional symbol of immortality. Tupac became quite paranoid, especially after being shot at the Quad Studios in New York in November 1994. He was convinced that it was a set-up by the people that were close to him. On All Eyez On Me's 'Holla at Me', he rapped: "When me and you was homies / No one informed me / It was all a scheme / You infiltrated my team / And sold a nigga dreams / How could you do me like that?".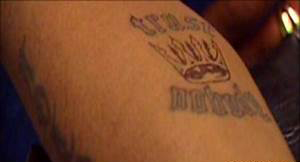 "Be Ambitious with Love While Young"
This is possibly one of his lesser known and lesser photographed tattoos, but at the same time one of the most complex. The tattoo had a skull with a bunch of cash and a scale balancing a baby on one side and bars of gold on the other. Next to it was written "Be Ambitious with Love While Young".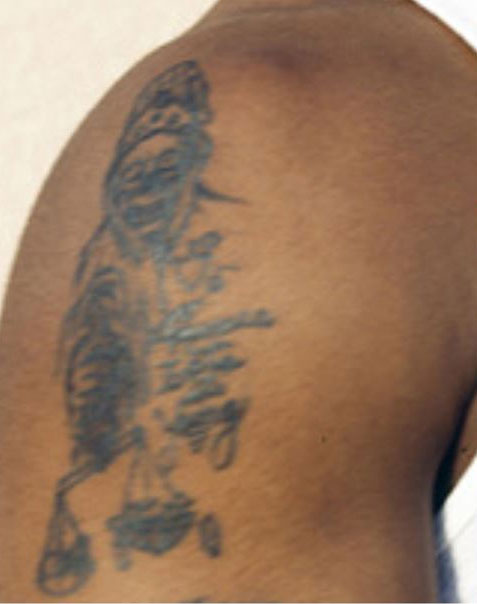 Tupac's Neck Tattoos
"Makaveli"
Tupac had "Makaveli" tattooed on his neck. Tupac released his 5th studio album "The Don Killuminati: The 7 Day Theory" under his alternative stage name Makaveli. Tupac created the alias "Makaveli" from Renaissance Italian philosopher and political theorist Niccolò Machiavelli, whose writings inspired him in the prison.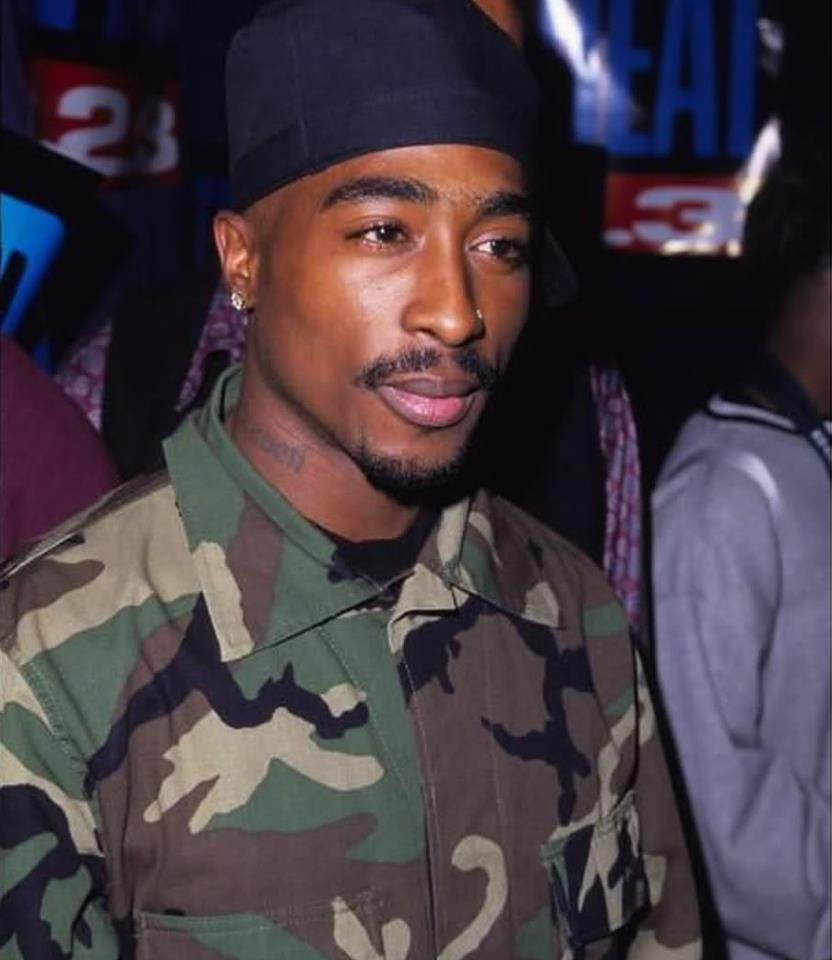 "BOSS PLAYAZ"
On the A three-point crown with the text "Boss Playaz". For Tupac, "boss playa" is the next level a "thug nigga" should try to reach. In an interview Tupac said, "Coming from the ghetto, our development as men begins with a dust kicker, a thug nigga then finally a boss playa. […] [Many] never survive the next level of Thug Life. […] A regular playa plays women; a Boss Playa plays life. A Boss Playa is a thinker, a leader, a builder, a moneymaker, a souljah, a teacher and most of all a Man!".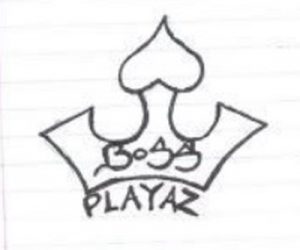 2Pac – BET Interview With Ed Gordon