When men get tattoos they often want something very manly, and they want everyone to see it at all times, so it's no surprise the arm tattoo is one of the most popular tattoos for men. Men like to be noticed and having a manly tattoo can be a great way to get noticed. There are many different manly tattoo designs out there, so there should be no reason why any man can't find the perfect tattoo to fit his taste.
If you have a professional career, opting for a tattoo on the back or leg might be the option for you. An easy to show off when needed, yet able to conceal tattoo is most convenient for those in a more professional work environment. A man can get any tattoo he desires, from a favorite sports team to a seductive looking woman. Just remember that even though there are ways of removing tattoos, they are often expensive, therefore, in most cases tattoos are with you for life.
Here's a list of 35 awesome and very manly tattoos for men
Weeping Angel Tattoo
A gray scale angel tattoo on the arm with her head upon her knees.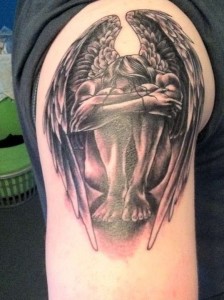 Dragon Viking Tattoo
A very manly dragon tattoo made up of dots in a viking design. Quick Fact: "Tattoo" in Norwegian (one of the Vikings' countries) is called "tatovering".
Sail Boat Tattoo
A colorful boat tattoo upon his upper arm.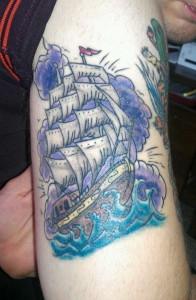 Pigeon Tattoo
A lovely scene upon this man's arm with a serene looking pigeon as the focus.
Samoan Tribal Tattoo
A nice arm tattoo that is usually only done with a sacred meaning.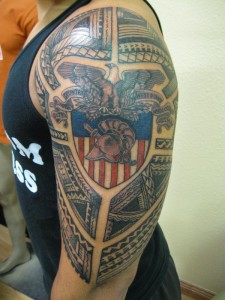 Tribal Woman Tattoo
A nice gray scale tribal woman tattooed upon this man's arm.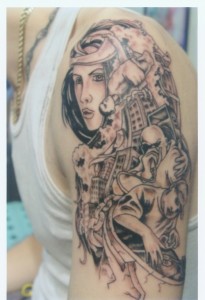 Tribal Tattoo
A very manly looking tribal tattoo with some red in the design that look like eyes.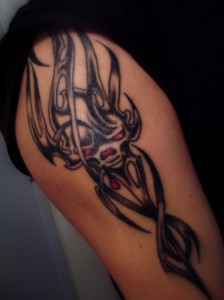 Tribal Wing Tattoo
This tribal design makes for an awesome wing tattoo upon this man's back.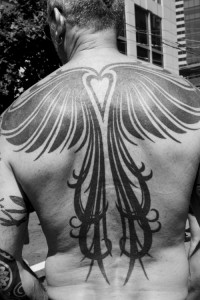 Tribal Tattoo with Color
A full back tattoo with black and red tribal designs.
Tribal Bird Tattoo
A nice bold tribal design in the form of a bird upon this man's chest.
Ying Yang Tattoo
A nice looking shoulder tattoo with Ying Yang and tribal looking designs coming out from them.
Neat Design
This man has a neat looking tattoo that looks like a tribal feather in nice soft colors.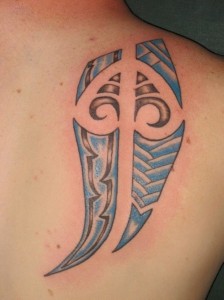 Lion Tattoo
This nice looking lion tattoo looks great upon this man's arm.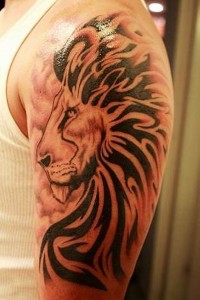 Men of Mayhem
A neat tattoo design with the words "Men of Mayhem" with it.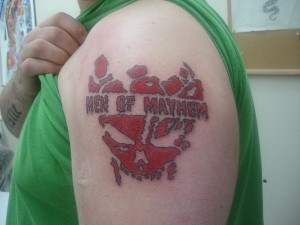 Playboy Bunny with Flames
This man got a bold black Playboy Bunny logo on his leg with flames around the logo.
Sun and the Moon
A nice chest tattoo where the sun and the moon are on either side of this man's chest.
Hourglass Tattoo
This is a symbol of how there's still time to do what this man wants but reminding him that time will run out eventually.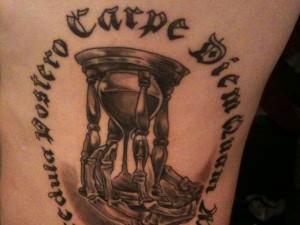 Gruesome Gremlin Tattoo
A very colorful gremlin tattoo on this man's rib cage.
Skeleton Tattoo
A manly looking skeleton tattoo upon this man's rib cage has nice shading and coloration.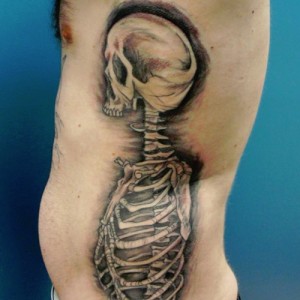 Nice Kio Tattoo
A nice looking Japanese Kio tattoo with little white flowers on this man's rib cage.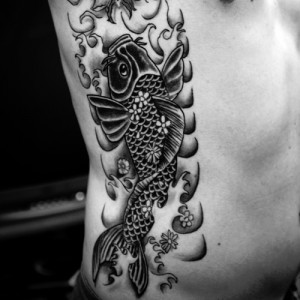 Life and Death Ambigram Tattoo
This awesome text can be facing right side up to say life and turned over to say death.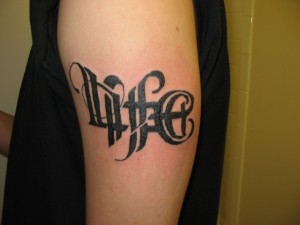 Life and Death Ambigram Tattoo
Made of Words
A cool looking moth that is made of black text.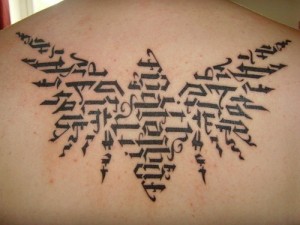 Dragon and Snake Tattoo
A cool back tattoo with a dragon and snake on either side with Chinese characters in the center.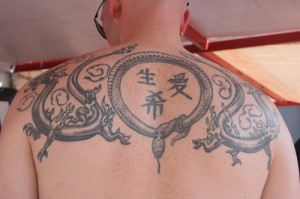 Be the Change
A cool wrist tattoo for men with a Chinese Character meaning "Be the Change".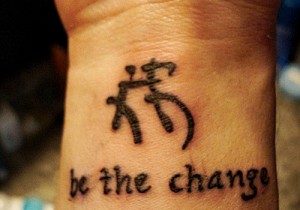 Horse Race Tattoo
This forearm tattoo for men has a nice very detailed horse race on it.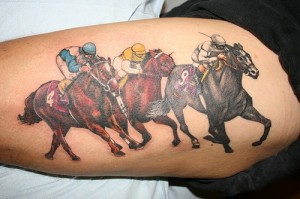 Neat Horse Tattoo
This is a very nice horse tattoo that has a lot of detail added to it.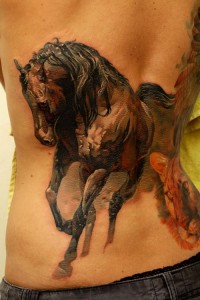 Mustang Emblem Tattoo
A tribute to the care company in color makes a great tattoo for men.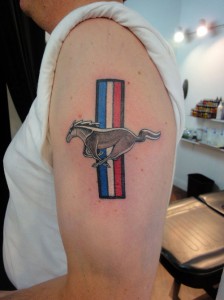 Tribal Horse Tattoo
This man has a nice looking tribal horse upon his chest in black ink.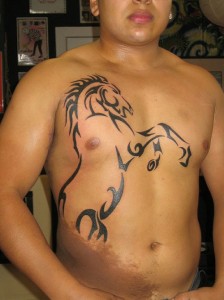 A Seductive Woman
A detailed scene of a woman in the wild with a wolf in the background.
Sun with Celtic Knot
This is a nice Celtic knot tattoo with the sun around it.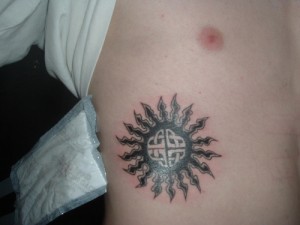 Celtic Knot Star
A nice tattoo for a man would have to be this amazing Celtic knot tattoo in the shape of a star.
Tribal Sun Tattoo
A nice tribal tattoo upon this man's neck and shoulders with a bluish green sun and a bold black tribal design.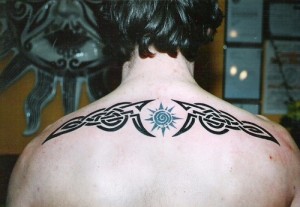 Angel Tattoo
This is a nice detailed gray scale angel tattoo upon this man's back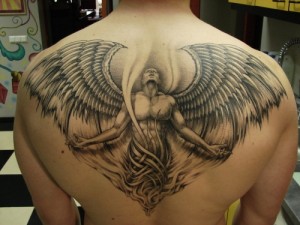 Eagle and Flag Tattoo
A patriotic tattoo can be a great idea for an American man.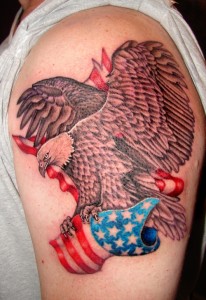 Patriotic Tattoo
A nice patriotic tattoo with a flag and star adorned on this man's arm.