Are you thinking about getting a Medusa tattoo or wondering why Medusa tattoos are so popular? In this blog post, we will talk about Medusa tattoos and their meanings.
The myth of Medusa has captivated us for almost 3,000 years. Today her images still command instant recognition around the world. Medusa is probably one of the most misunderstood characters in Greek mythology. People depict her as a cruel monster, but she was quite the opposite.
Story of Medusa
According to the myth, Medusa was once a ravishing woman with long flowing locks of hair. Even the goddess Athena was jealous of her beauty. Every man in Greece lusted for her. Thousands of men used to visit Athena's temple just for a glance at Medusa's beauty. But Medusa couldn't be with any man as she was a priestess of Athena, the goddess of war, and bound by an eternal vow of chastity.
One day when Medusa was walking along the shore, she caught the attention of Poseidon, the god of the sea. He was instantly infatuated with her. Poseidon was in the middle of a conflict of Athena, and he saw Medusa as a possession that he could take from the goddess. So, he decided that he will take her by force. Medusa ran into Athena's temple in fear for her life, hoping that the goddess would protect her, but Athena did not provide her any protection. Poseidon had his way with Medusa.
Athena was furious when she found out. As a male god, it was expected of Poseidon to do such an act. In Athena's eyes, it was Medusa who deserved the punishment. Athena turned Medusa's hair into a head of venomous snakes and cursed her that anyone who would look into her eyes will be petrified and turned to stone. The word spread quickly that Medusa had become a monster. She became the target of many warriors who wished to add her head to their list of trophies. But they all failed and turned into stone until the hero Perseus, son of Zeus, slain her for her head.
Meaning of Medusa Tattoos
Medusa had only the best intentions and placed her trust in the goddess Athena. But she failed her and punished her for the actions that she had no control. Her story shows us that even the gods are prone to the sins that they so heavily pride themselves on. Even in death, people saw her as a symbol of good and used her head as a protective amulet to keep evil away.
The ancient Greeks believed that her power could be used for good as well as evil. In Greek language, the name Medusa actually had a positive connotation. It meant Guardian and people often used her image to ward off danger. She even appeared on the armor of some of the world's most feared warriors.
At the end of the day, your tattoo represents what you want it to represent, but in general, the medusa tattoos symbolize:
Evil
Magic
Rebirth
Death
Transformation
Protection
Feminism
Seduction
Designs of Medusa Tattoos
If you are into ancient mythologies and looking for an interesting tattoo, then you will like the designs of medusa tattoos. You can incorporate different elements into the design.
There are many ways to portray Medusa. You can either go for a realistic look or cartoonish look. According to the legend, Medusa had a hideous face, so a lot of people portray her as a monster. However, some give her a face of an angel. So, the choice is totally up to you.
Placements
It all depends on the design and the size of the tattoos, and if you want it to be exposed or not. For larger designs, the best placements are arm, forearm, chest, and back. Small tattoos look pretty good on the wrist, neck, shoulder, and hand.
Images of Medusa Tattoos
Versace Medusa Tattoos
The Versace logo is the head of Medus. The logo came from the floor of ruins in the area of Reggio Calabria that the Versace siblings played in as children. Gianni Versace, the founder of Versace, chose Medusa head as the logo of his brand because she made people fall in love with her, and they had no way back. Many people get the Medusa tattoo the same as the Versace logo.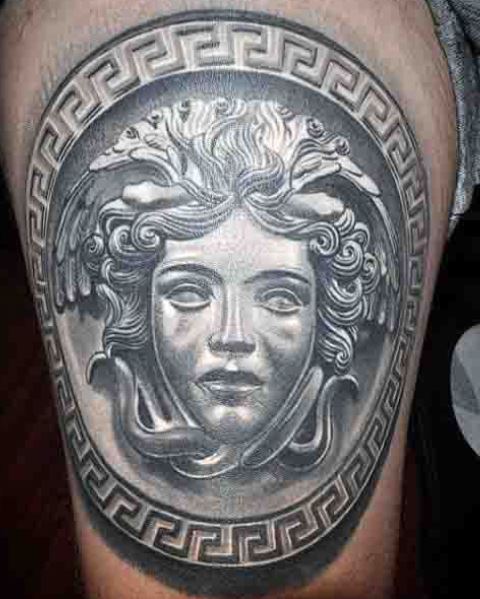 Medusa Tattoo on Hand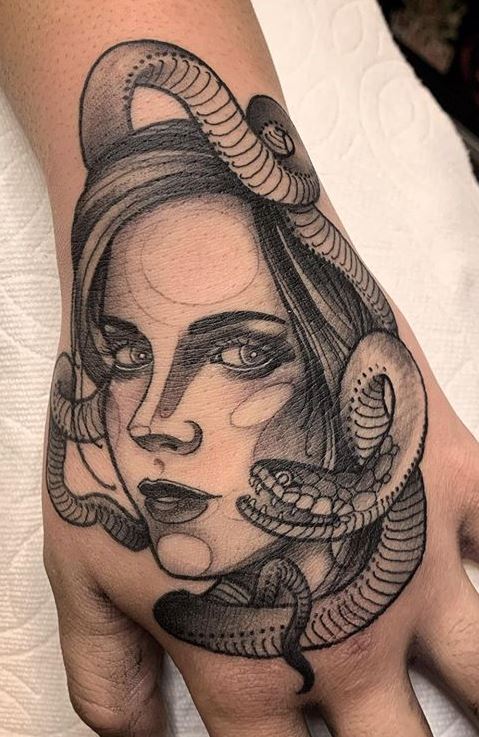 Medusa Tattoo on Arm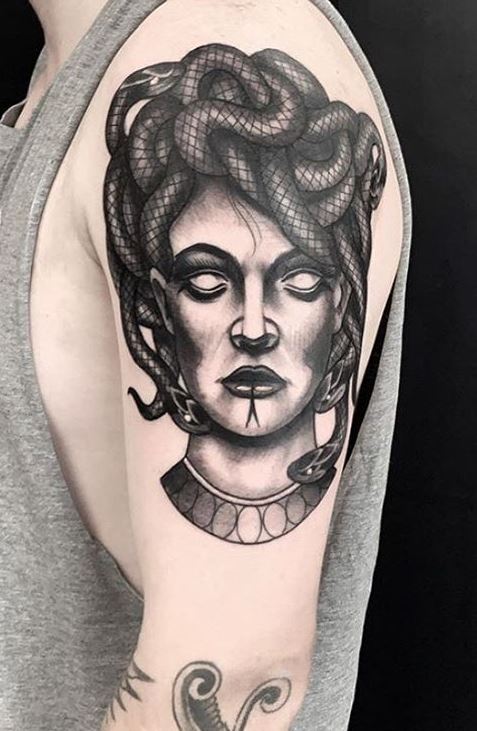 Colorful Medusa Tattoos
Medusa Tattoo on Back and Chest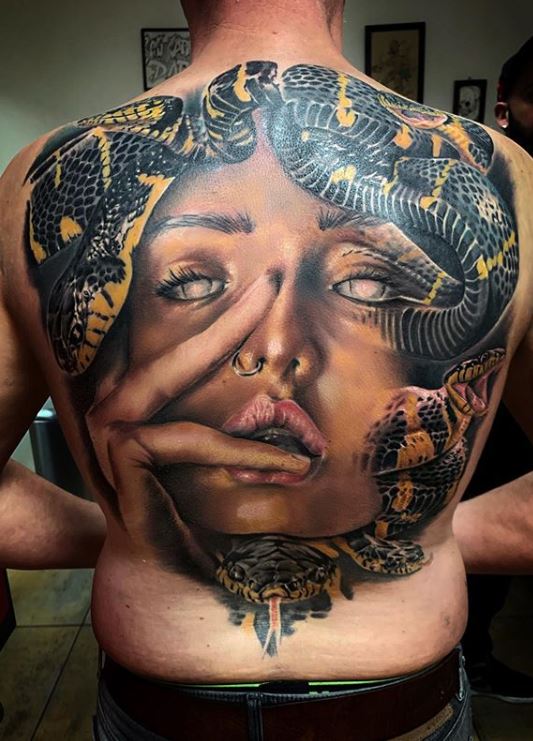 Medusa Tattoo on Leg (Thigh and Calf)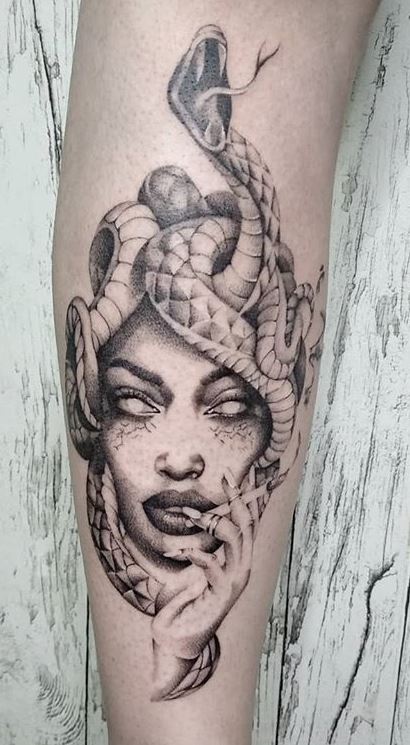 Forearm and Wrist Tattoos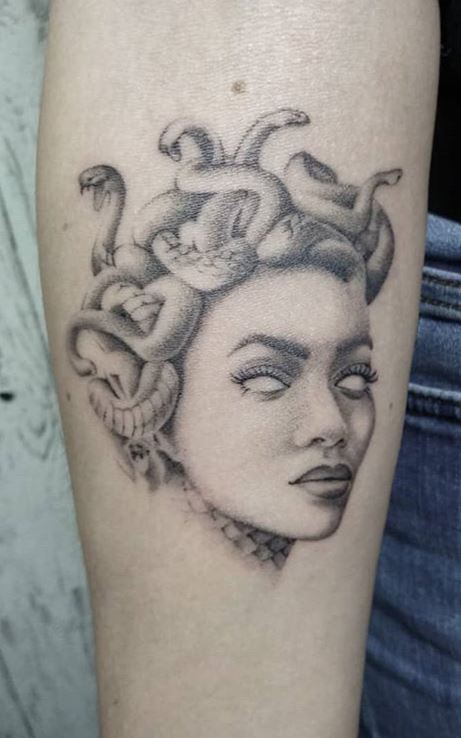 Medusa Tattoo Stomach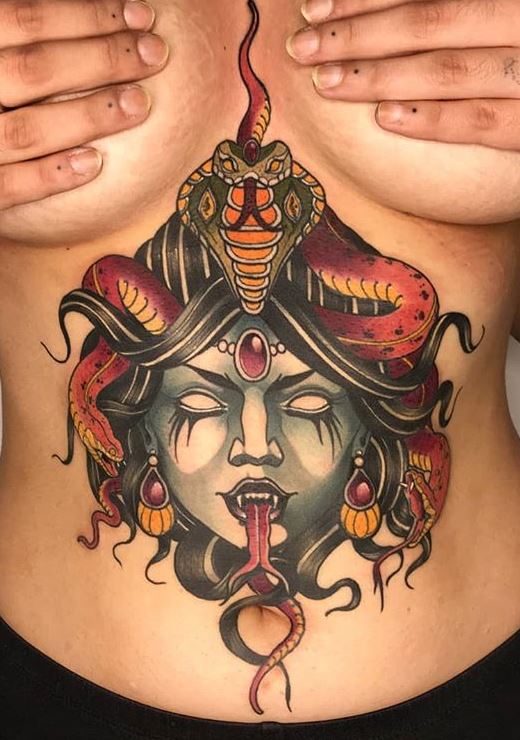 Cute Medusa Tattoo