The thought of getting a face tattoo could be an extreme thing for most people. Even if people are skeptical about it, we are seeing a lot of face tattoos these days. Face tattoos have become very popular and trendy now. In this blog post, we will talk about the most controversial "Face Tattoos". We have also collected hundreds of images of face tattoos to prove that they can be pretty cool too.
History of Face Tattoos
Face tattoos are becoming more prevalent and acceptable, especially in the music industry. However, a face tattoo is not something new. Throughout history, humans used their skin as a canvas to express their identity. In 1991 two German hikers found a body of a man frozen in a glacier for five thousand years. They found 57 tattoos on his body. The mummies from ancient Egypt and Nubia also have tattoos of dots, lines, and other markings.
In ancient China and Japan, it was a common practice to tattoo words such as "Criminal" or "Prisoner" on the convicts' faces. Although relatively rare, the slaves were also marked to display ownership.
Like many other cultures, Japan has a deep history of tattoos. Between 1603 and 1868, only the Ukiyo (floating world) subculture used to practice Japanese tattooing. Generally, the firemen, laborers, and prostitutes wore tattoos to show their status. However, in 1700, tattooing became unpopular when Japanese officials decided to use it as a way to punish criminals for their crimes.
Face tattooing didn't become popular in the west until Captain Cook discovered the Polynesian islands. The Polynesian people have a tradition of detailed facial tattoos. They are often related to their status in their tribes and their tribal history. Many people believe that modern face tattoo designs are originated from the Maori Polynesian culture. These tattoos hold great significance and meaning.
Did you know that New York City banned tattooing in 1961? The city declared it to be unlawful for any person to tattoo a human being. It remained illegal to tattoo anyone there until 1997. Since then, tattoos have become a part of mainstream American culture that was once a sign of defiance and now has become an acceptable form of expression.
Designing a Face Tattoo
Deciding the size of the tattoo is very important for a face tattoo. You can have a full facial, a semi-full, or a quarterly-covered face tattoo. For a full facial tattoo, you can choose one design like tribal or Maori tattoos. You can have several small tattoos to cover your face. If you are considering to get more tattoos later, then the position of the tattoo is very crucial. So, when you get more tattoos in the future, they all blend in perfectly. If covering your entire face with tattoos is a bit too much, then you may consider a tiny tattoo on your cheek, chin, forehead, or around the eyes. Just make sure that you go for a design that will complement your personality well.
Before Getting a Face Tattoo
Before getting a face tattoo, you should consider that it is forever. Getting a face tattoo is a big commitment, and it will definitely change your image and your life. So it would help if you put a whole lot of thought before getting your face tattooed.
It is your body, and you can do whatever you want to do with it. But a lot of people don't take into consideration the repercussions that it will have throughout their life. Your face is always going to be visible to the world. You can easily hide a tattoo on the back of your hands or neck if you are wearing a hoodie or a collar, but you cannot do that with your face. Once you get a face tattoo, you will be immediately relegating yourself to this lifestyle, whether you know it or not. So it is something that you need to consider as well.
A lot of tattoo artists will refuse to do face tattoos if you haven't had tattoos already. It is probably the best to tattoo your hands, necks, and other body parts before moving onto the face.
A lot of people also complain that they can't get a job and all the other stuff because of their face tattoos. Unfortunately, it's a fact, and you are always going to get judged for having tattoos on your face. So it's not a decision that you should take lightly if you are going to get face tattoos.
Face Tattoo Ideas
There are many popular face tattoo designs besides the old prison tattoos such as teardrops and three dots. You can have meaningful symbols that hold get significance to you. The general idea when using little, tiny symbols in face tattoos is to create a grouping of them on a section of your face, but you can also have them spread around the face.
The most popular face tattoo designs for both men and women are sacred geometry, mandala, flowers, lettering, tiny cross, tribal, dot work, and traditional styles.
Images of Face Tattoos
Small Face Tattoos
Tribal Face Tattoo
Lettering
Traditional Style
Face Tattoos for Men
Face Tattoos for Women
Rappers with Face Tattoos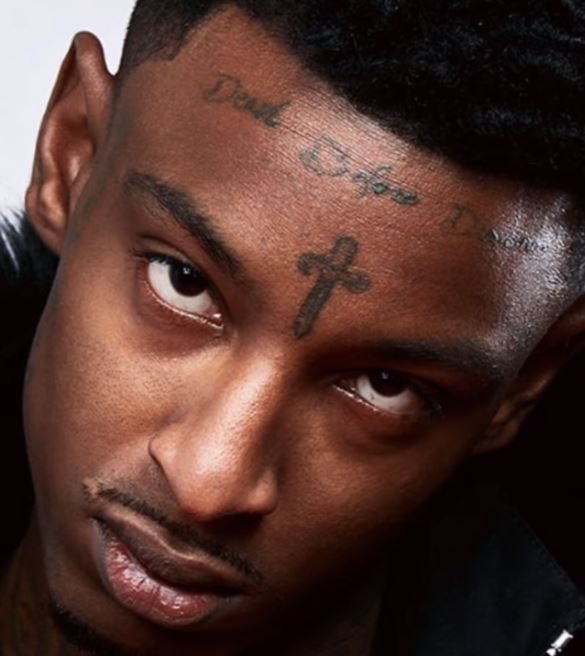 Top 10 Famous Rappers with Face Tattoos
Celebrities with Face Tattoos
Face Tattoo After Care
It is very important to take good care of face tattoo, as this is the most open part of the body. It is an open wound, so you don't want to get dirt and grime into your fresh tattoo. To clean your face tattoo rinse it down in a nice warm shower with regular soap. You will also need to keep it moisturized but don't over-moisturize. Allow your tattoo to breathe. If you are wrapping it during the day to protect it from the dirt, then make sure to take it off at night time. Do not expose it to the sun. Always wear a cap or a hat during the day to protect your face tattoo from the sun.
Conclusion
You have to be very committed if you are getting a face tattoo. The thing about commitment is that you can always make it work no matter what. Tattooing is all about yourself and expressing yourself. It doesn't matter what other people think, so if you want a face tattoo, then get one or many.