Are you thinking about getting a scorpion tattoo? In this article, we have gathered images of 65 trendy scorpion tattoos to inspire you for your next ink.
Though small, there is no doubt that scorpions are very intimidating creatures. They often go unnoticed until they have already struck out at their prey, making them skillful hunters and a silent threat to everything around them. Because of their iconic stance with their tails poised for striking, scorpions often represent defensiveness or protection. They are also symbolic of a person who likes to be in control, considering their formidable nature.
Scorpions also spend most of their lives alone, leading them to be associated with solitude and someone who can take care of themselves. However, this time of loneliness is interrupted by short and intense bursts of passion that come with mating. For this reason, scorpion tattoos also symbolize passion.
Because of all of these attributes associated with the scorpion, they are a trendy tattoo choice for strong and independent people. If you are considering getting a scorpion tattoo, check out some of these fantastic pictures for inspiration.
Scorpion Tattoo Ideas
Scorpion Tattoos for Men
There are various meanings of Men's Scorpion tattoos. Their popularity is so strong due to the scorpion's nasty well-known reputation. Men will ink the scorpion as a reminder to all that the sting is much worse than the bite. You could also try a side view of the scorpion with its back arched in a foreword stance, and its grasping claw held high in the air, and of course, it's tail forward in a stinging position. This design would illustrate the scorpion in their most menacing pose as well.
Scorpion Tattoos for Women
Women's scorpion tattoos are still just as popular as they have been for many years. The scorpion has many different meanings for the ladies. They do represent power, adaptability, and even sensuality and incorporated with other elements. To display power or strength, a two-dimensional view of the scorpion with its stinger high in the air and claws at the ready on the upper body, works just fine. For a sensual look, try a top view of the scorpion in a fully relaxed poise on a sensitive part of the body, like the wrist or ankle.
Black Scorpion Tattoos
Black scorpions tattoos are usually referring to one of the gigantic scorpions in the world. They are known as the Emperor Scorpion and are, on average, 8 inches long and black as the night sky. Emperor Scorpions are burrowers and will lie in wait for their next victim, and so for a quick tattoo idea; the front half of the body of the Emperor Scorpion and claws in a tattoo design that looks as if is coming out of your skin. Consider that this design will take a medium to a large amount of skin, but will be outstanding!
Scorpio Zodiac Tattoos
A Scorpio zodiac might be the perfect tattoo to describe yourself if you were born between October 24 and November 22. The Scorpio tattoo design looks good in many different styles. They look very bold in a tribal pattern and seem to look and fit Scorpios' personality.
Coloring and Placements of Scorpion Tattoos
Coloring for scorpion tattoos will vary. For a realistic look, you may use color. Most often, scorpion tattoos are inked in single dark-colored ink.
Placement and sizing for your scorpion tattoos depend entirely on your choice. Medium and large scorpion tattoos look great on the back, arm, shoulders, chest, and waist. Try the scorpion on the chest with the tail going over the shoulder, which looks very cool. Smaller scorpion tattoos look great behind the ear and on the hand, thigh, calf, and ankle. Some women are tattooing a tiny scorpion right below the bikini line.
Various Scorpion Tattoo Designs
Blue Scorpion Tattoo
Blue shading gives this simple scorpion tattoo an extra touch.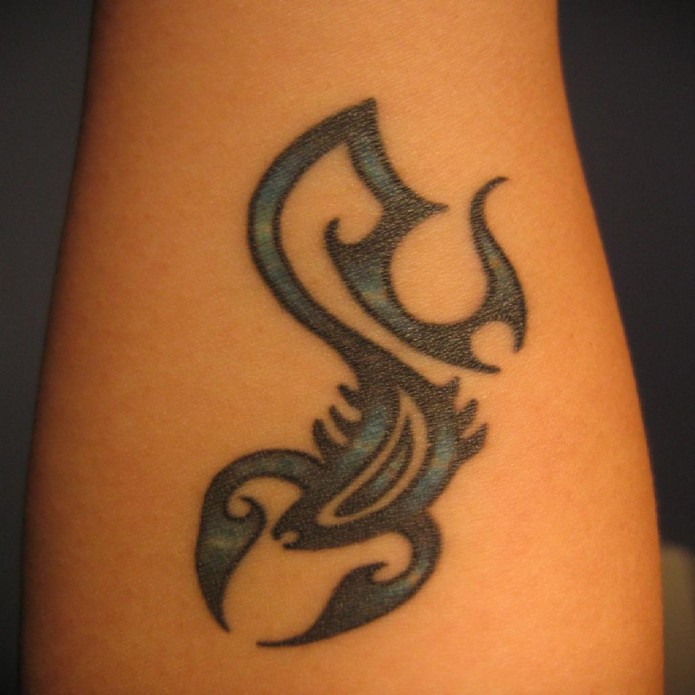 Tribal Scorpion Tattoo
Bold lines combine to form the shape of a scorpion on this shoulder tattoo.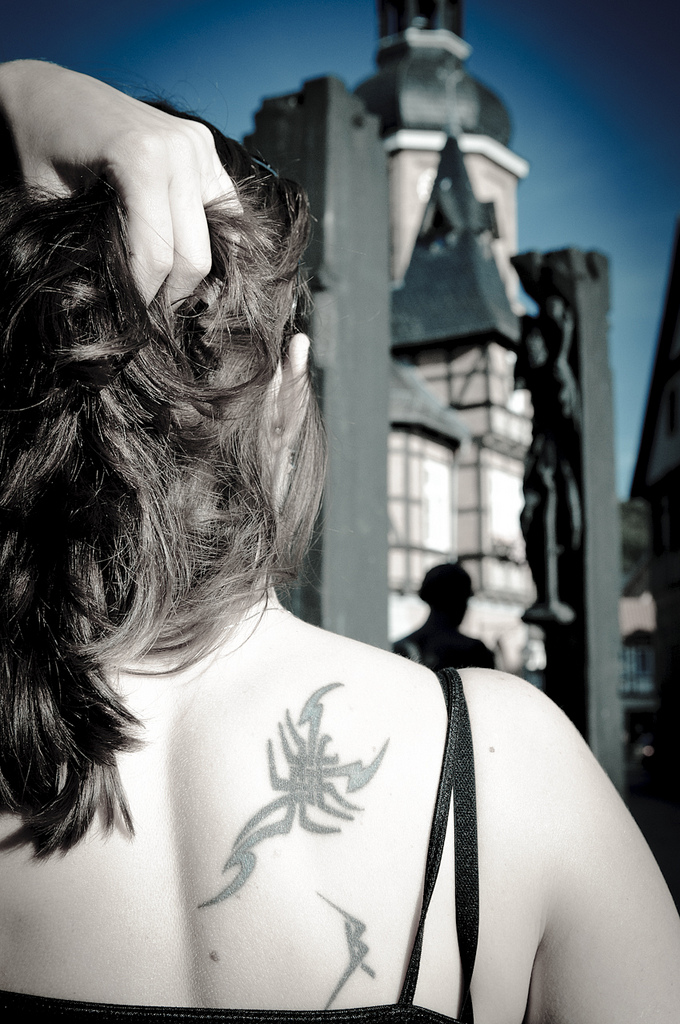 Scorpion Hip Tattoo
The hip bone is a perfect location for this deadly scorpion tattoo.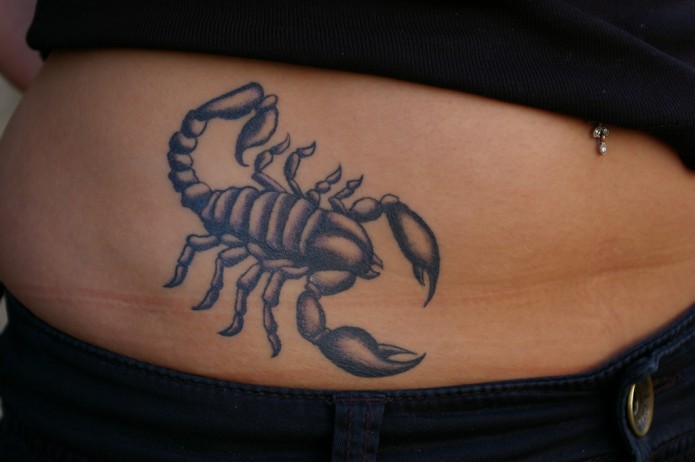 Scorpion Tattoo
This scorpion tattoo shows the lethal features of the feared scorpion.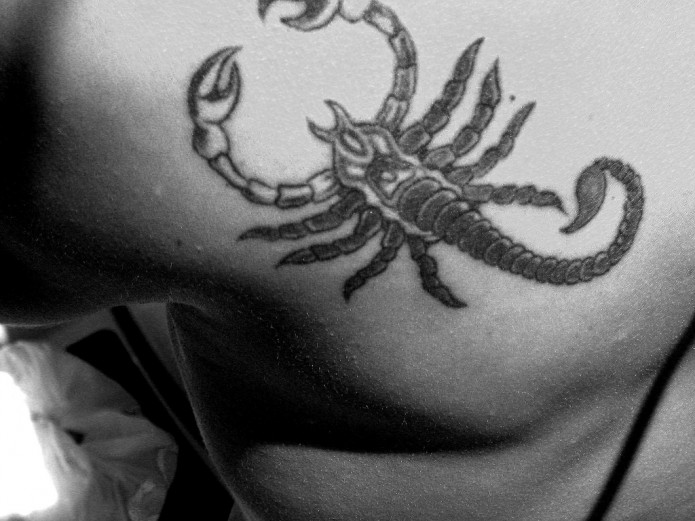 Three-Dimensional Scorpion Tattoo
The shading below the scorpion's body gives this tattoo a three-dimensional look.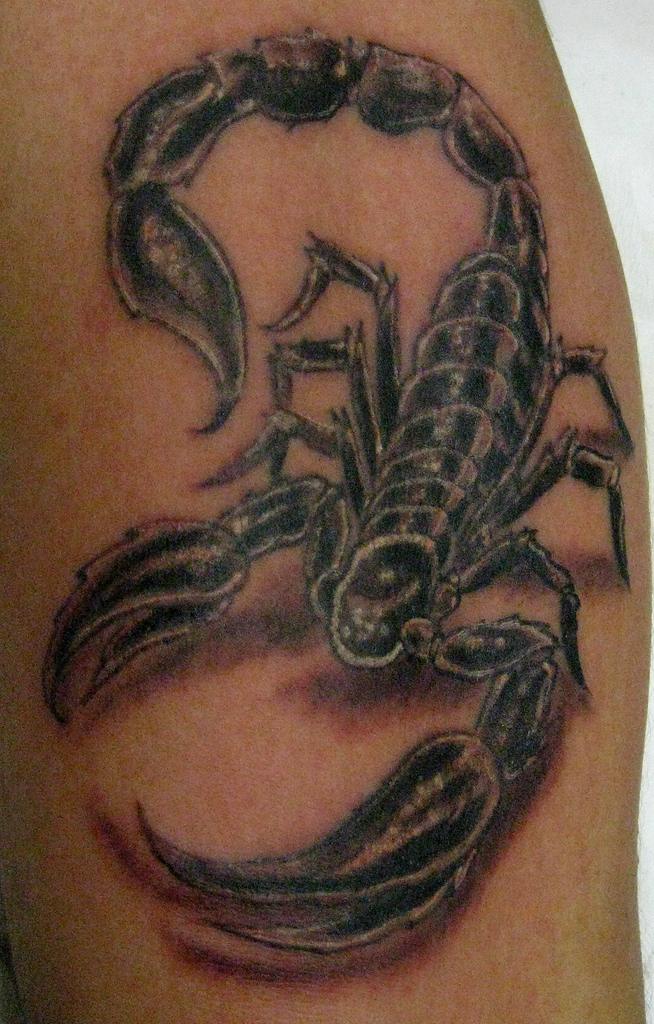 Colorful Scorpion Tattoo
Bright colors make this scorpion tattoo look especially intimidating.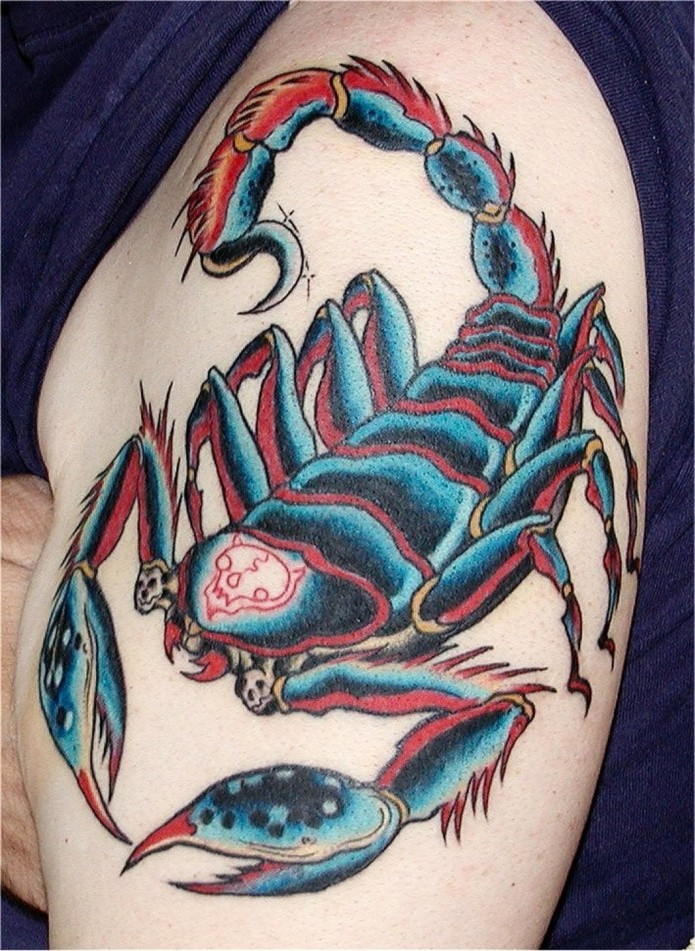 Scorpion with Rose
This black and grey scorpion tattoo is completed by a red and green rose.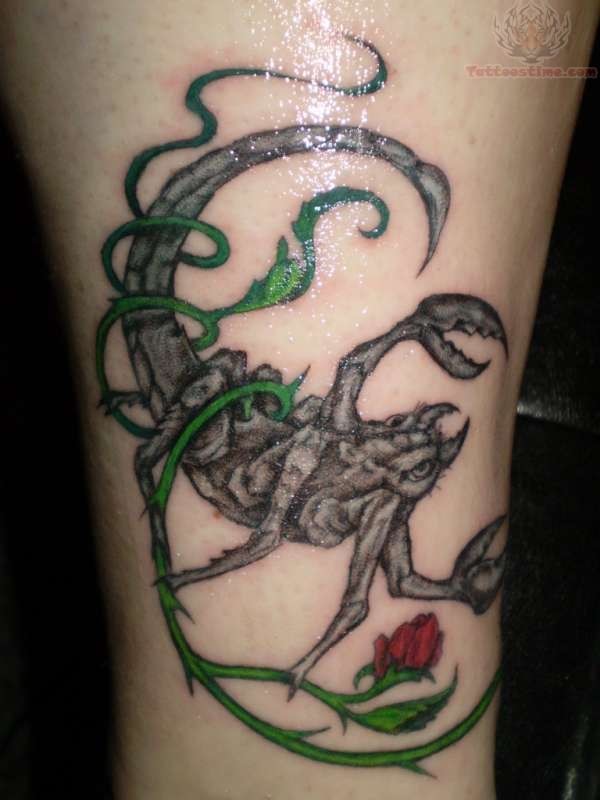 Purple Scorpion Tattoo
The purple ink of this scorpion tattoo gives it a feminine edge.
Red and Black Scorpion Tattoo
The most deadly parts of this scorpion are shaded in red ink.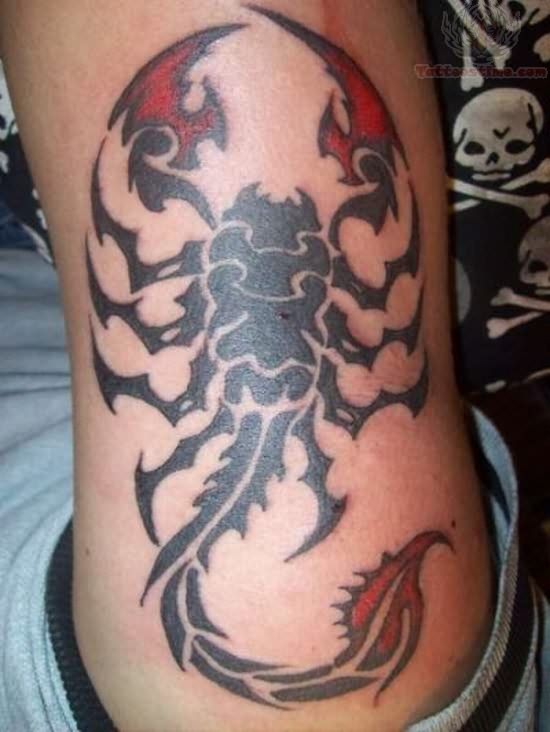 Metallic Scorpion Tattoo
This scorpion appears to be made out of metal, giving it a new and original appearance.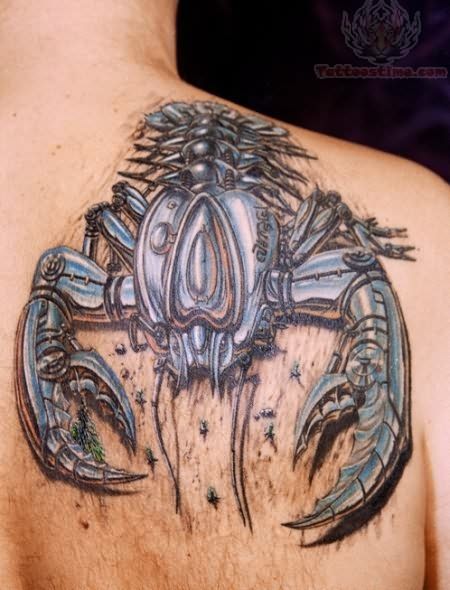 Black and Blue Scorpion Tattoo
Electric blue details shed new light on scorpion tattoos.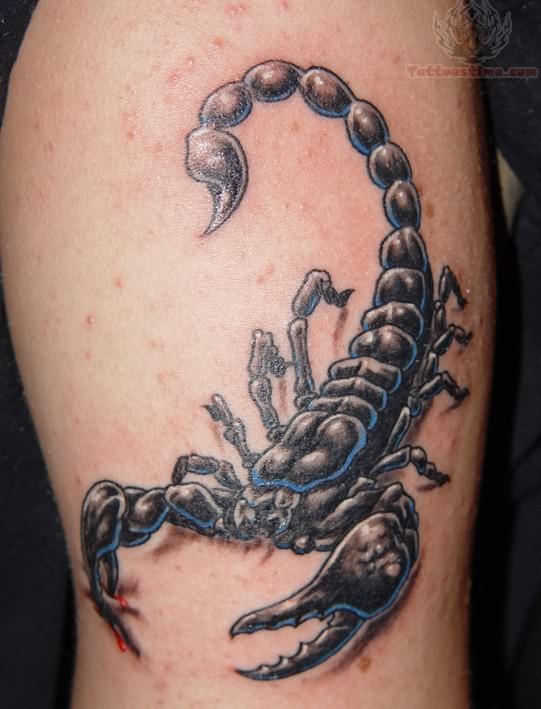 Large-Eyed Scorpion Tattoo
The eyes of this scorpion tattoo stand out from the others'.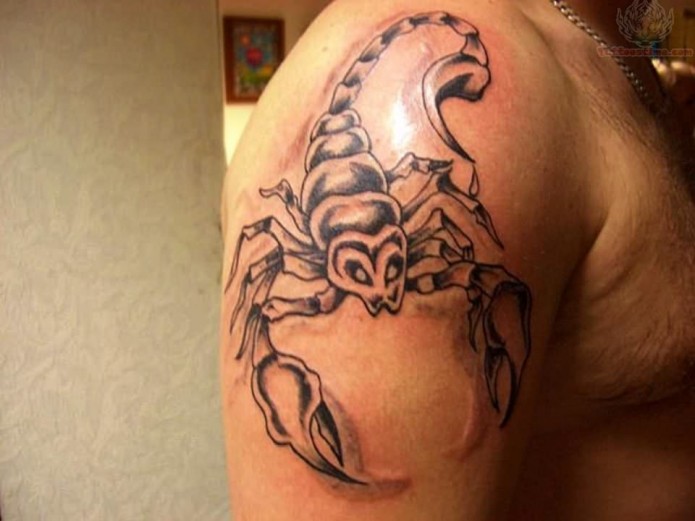 Poised to Strike Scorpion Tattoo
This scorpion tattoo could serve as an indicator about a person's personality; they could be ready to strike at a moment's notice.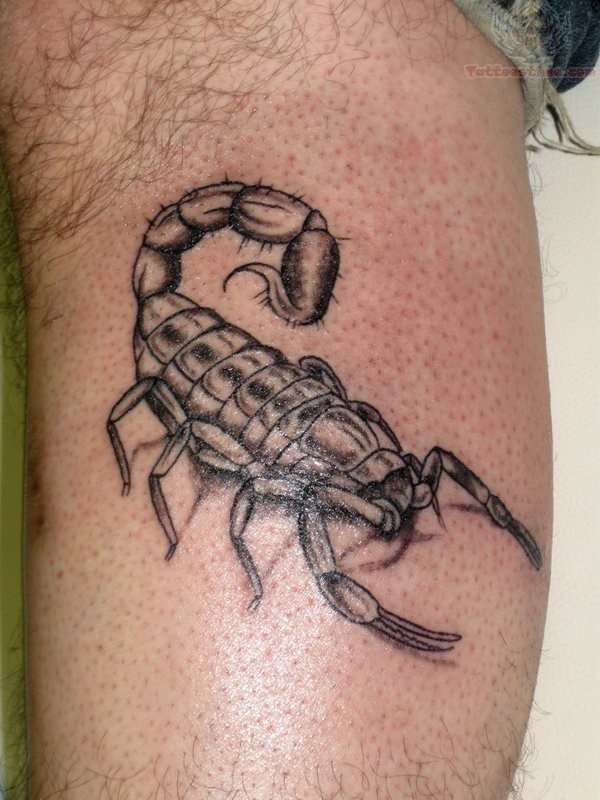 Screaming Scorpion Tattoo
This scorpion tattoo is nontraditional in the sense that it has an almost human face.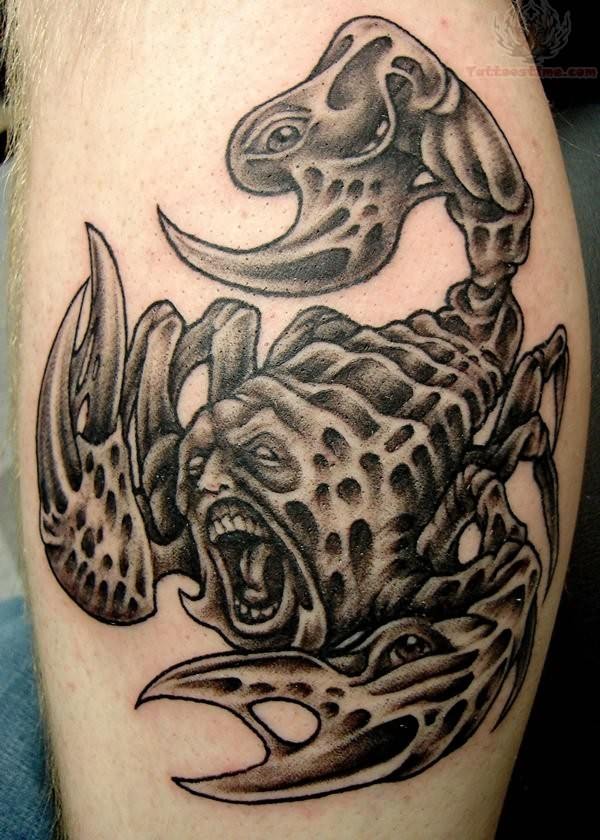 Black Scorpion Tattoo
This black scorpion tattoo is ready to strike.