Forearm tattoos are usually considered "manly" and only suitable for men but recently more and more women have become interested in getting them as well. While a lot of people opt out of getting a forearm tattoo for fear of not being able to find work, others embrace it. The people who choose to get forearm tattoos usually get bold and decorative designs that they are proud to show off.
These tattoos can be used to make a sleeve – a tattoo that covers the entire arm or just have a simple design such as a name or single piece of art that speaks to the wearer. Because they are not easily concealed or removed, it is important that the tattoo artist you choose produces quality work. Many designs can be found online to be used as examples to find one best suited for you. Below are a few examples of quality forearm tattoos you can choose from.
Forearm Text
Lettering or Test tattoos on forearm are very trendy among men and women. It could be an inspirational quote or just words to remind ourselves what is important in life.
Roses
A partial sleeve of white roses with black and grey scale shading surrounding the design.
Tribal Forearm Tattoo
Placing a bold tribal design in black can make for a nice looking forearm tattoo.
Forearm Stars
Bold black stars on the inner forearm.
US Marine 
A simplistic text to represent the branch of military the person served in.
Sailor Moon Forearm Tattoo
A colorful tattoo with a scepter and tiara  dedicated to Sailor Moon, a Japanese anime character.
Sweet Owl Tattoo
A serene looking colorful owl with a heart and a significant year on a banner tattooed the inner forearm.
Skull Forearm Tattoo
A bold skull on a red rose placed in the center of this forearm.
Birds
Bird silhouettes flying up the forearm.
The Sun and The Moon
A celestial design in soft colors display the sun, moon, stars and clouds on this forearm.
Long Feather Forearm Tattoo
A long feather in white etched in black that takes up the entire forearm with some text.
Phases of the Moon
Using both forearms to create an interesting design, in this case the phases of the moon.
Sheet Music on the Forearm
An interesting idea of placing a favorite song in sheet music form on the inner forearm.
Empowering Words on the Forearm
A significant quote or lyric can be placed on the forearm to remind the person to remain strong.
Tribal Text
A grey scale tribal text placed on the outer forearm.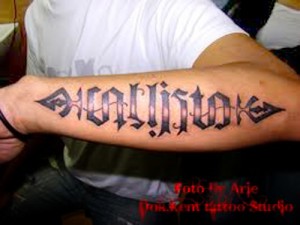 Unfinished Flower Sleeve
Bright bold flowers trailing up the forearm of this man's body.
Bold Sleeve
Bold blue flower sleeve splashed with yellow accents on the forearm.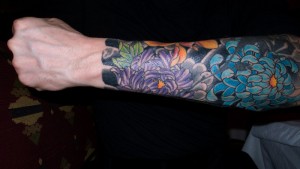 Celtic Knot Design
A Celtic knot design placed intricately on the forearm.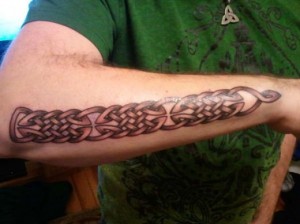 Set Free Dual Forearm Tattoo
An open cage with birds flying free into the tree from one forearm to the other.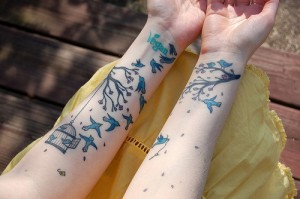 Small Star Forearm Tattoo
A blue swirled star accompanied by plain stars and bold black swirls make a unique forearm tattoo.
Truly Unique Forearm Tattoo
Using the same color scheme with different symbols that are personal to the wearer make for a truly unique forearm tattoo.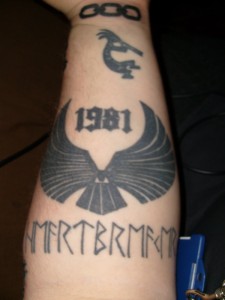 Small Simple Forearm Tattoos
Forearm tattoos don't always have to be bold and take up the whole arm, a small meaningful tattoo is sometimes desired.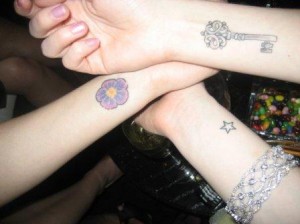 Cursive Script Forearm Tattoo
An encouraging message placed delicately on the forearm in black.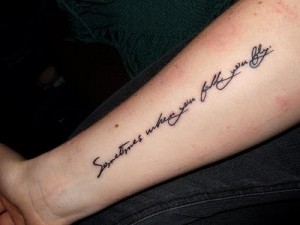 Pastel Flower Sleeve Tattoo
Pastel blue, pink and orange flowers adorn this person's forearm.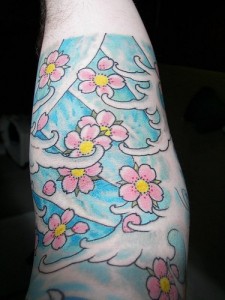 Simple Forearm Design
A word that has special meaning can be paired with a simple rose to make an elegant forearm tattoo.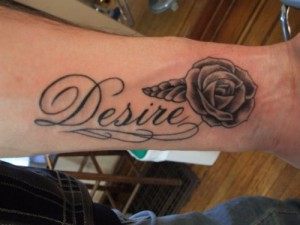 Simplistic Elegance
A yellow star with a pretty script adorns this forearm.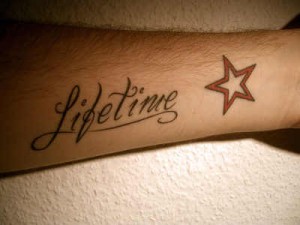 Spiritual Text Forearm Tattoo
A quote reminding the wearer to be strong in his or her faith.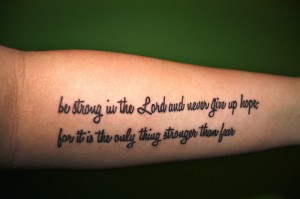 A Reminder of Home Forearm Tattoo
This colorful scene depicts the person's home town with a heart and hands at the bottom.