Trendy Arm Tattoos For Men
Arm tattoos for men are still just as popular as they have been for many years. The arm offers a great billboard for all to see. When we think of the arm, for tattoos keep in mind you have a forearm also, and some tattoo designs in a smaller scale that are long like a phoenix tattoo when colored look great and draw a lot of attention when placed on the forearm. As you can see there are a lot of advantages to arm tattoos. We will discuss a few Arm tattoos for men ideas here to help you form a picture in your head of what your arm tattoos for men may look like. These are just ideas and please custom tailor them to better fit your needs.
7 ideas for Arm Tattoos for Men
1. Tribal Arm Tattoos
Tribal arm tattoos for men are very popular at this time. The tribal designs are becoming an instant classic. The linear lines and no starting and no ending appearance in the art work are a big plus as well. For a tribal arm tattoos idea try a razor wire pattern starting at the top of the upper bicep and curving the tattoo downward and around ending a right above the elbow. By repeating this over, the upper arm will be full with only small gaps evenly spaced apart.
2. Favorite Band Arm Tattoos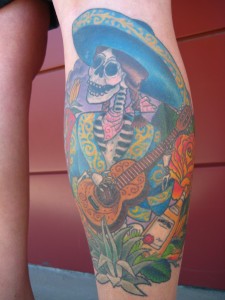 Favorite band arm tattoos for men are a fun pattern to place on the arm. We all listen and enjoy music and have a favorite band. If you are truly moved by a band and there music or a song's lyrics favorite, band arm tattoos may be a very good choice for you. For an idea, use the band Saving Abel. Try tattooing the name in the font off of their Addicted album cover. If you would rather add lyrics or a combo of band name and lyrics that's pretty cool as well. The forearm is perfect for the placement of favorite band arm tattoos for men.
3. Phoenix Arm Tattoos

Phoenix arm tattoos for men are great designs that look the best on the arm due to the length of the phoenix. A meaning for the phoenix in a general term is rebirth or surviving and long hard battle. As a phoenix arm tattoos for men idea try the phoenix with its head starting at the top of upper arm and its tail ends around the elbow. Keep the head up and wings in the middle of the stroke. Reds, Yellow, and orange work well in the design for the bird of fire.
4. Eagle Arm Tattoos

Eagle arm tattoos for men are by far one of the most requested tattoos out there. There are so many ways to tattoo the eagle they really are quite versatile. As an eagle arm tattoos for men idea let's try a patriotic eagle design. Try a Bald Eagle coming right at you with the wings at the top of their stroke, with the eagle's eyes fixed right at you. The Liberty Bell will be in between the wings with the crack visible and an outline of the United States colored in red and white stripes with only the lower half of the image showing. Versions of the design will make great tattoos for men.
5. Skull Arm Tattoos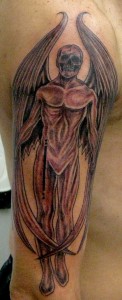 Skull arm tattoos for men are very popular at this time. Skull tattoos seem to fade a little in prominence but they always make a comeback. Skull arm tattoos for men look great in a menacing view and will draw plenty of attention. As a tattoo idea we will look a cartoonish skull. Try a skull with the normal top half of the skull looking right at you, and then drop the jaw bone several inches down with the tongue hanging out the open lower jaw. Add two small white dots to the bottom of the dark eye socket for the eyes. This tattoo image gives a glimpse of what you look like in the morning before your first coffee, when completed.
6. Motorcycle Arm Tattoos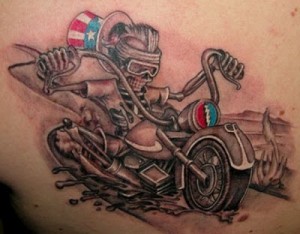 Motorcycle arm tattoos for men are in very high demand. Motorcycle riders love their bikes more than almost anything. There are many patterns to choose from Harleys to sport bikes and everything in between. For motorcycle arm tattoos for men idea we will use a Ducati monster 1100 evo in a side stance. The fuel tank and tail section in Rosso red, and everything else in black ink will make great motorcycle arm tattoos for men.
7. Angel wings arm tattoos

Angel wings arm tattoos for men are a classic design that looks great on the arm. Angel wings as a memorial are very common on the arms of men because they are easily seen. Try a pair of wings starting high on the upper arm this will give plenty of room for them to hang down. In the center of the wings tattoo a halo to connect the two. The name of the loved one and date of their death can be tattooed under the image.
Coloring of Arm Tattoos for men
Coloring for arm tattoos for men will be all over the color pallet. Tribal art looks great in dark ink or even blue and red. Band tattoos in your favorite color or album cover color. The Phoenix and eagle tattoos will have red, orange, yellow, white, blue, gold, black and purple and the skull tattoos white, grey, black, and red. Motorcycle tattoos will be the color of your bike or favorite color. Angel wings tattoos will have white, grey, black, red, blue, and green just to help you get going.
Arm tattoos for men are fun to design, and look great. The visibility the arm offers is second to none. There are many patterns for you to choose from and with your tattoo artist's experience you are sure to find the perfect arm tattoos for men. Spend time reviewing all of the galleries for themed ideas or simple add on items to complete your work of art.
Related Posts