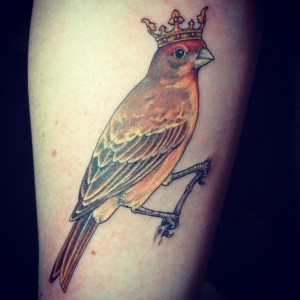 Bird tattoos are extremely popular for both women and for men. The bird itself stands for liberation of the soul and the mind. Many people see them as a victory of good against evil. They also play an important role in legends and culture, making them extremely respected in a vast majority of places throughout the world. However, even though the bird is highly regarded in many places, there are some areas in which it is a symbol of negativity. If a bird tattoo design is the thing for you, do some research and choose carefully. Even though birds are beautiful, you have to live with it forever so take the time to make the right choice for you!
Types of Bird Body Art
When someone is drawn to bird tattoos it is usually due to the fact that they are drawn to that bird for some reason. Maybe it is their favorite species or maybe the bird symbolizes something specific that they wish to convey through their body art. Here we will take a look at some of the most popular bird tattoos today.
Humming bird tattoos are popular with the ladies. Maybe this is because of the amazing colors that humming birds are adorned with. They usually are tattooed along with flowers with their wings spread but can stand on their own too. This amazing bird that can fly in all directions and flap its wings around 90 times each minute has symbolism that dates back to ancient Aztec times. In this culture the humming bird was known to stand for vigor, libido, luck and energy. In fact, one of the Aztec gods was a humming bird. When tattooed, the hummingbird can be all sorts of colors and is typically placed on the shoulder blade, lower back, foot and calf.
The eagle is most popular for the men. It is a sign of power, strength, loyalty and honor. It is also a symbol of patriotism, as well as wealth. Even though this is a bird worn more by men, this woman has one. I got it shortly after 9/11/2001 and placed it on my lower back. It is an eagle with its wings spread wide clutching an American flag in its talons. For me it was about patriotism and the attack on my country. See? Women can carry an eagle well! Though mine is brown and white, you can have them done in any color you wish and add some other details as well. (Flag, coat of armor, etc.) Many men place them on their back, calf and especially on their bicep area.
The dove is a sign of love for many people. For this reason it is tattooed on many women. (Doves are not greatly loved by men for body art.) Doves are done in many different color schemes. Some go for a natural look while others like vibrancy. The most popular places to put a dove tattoo are on the lower back, the breast area, the neck and the top of the foot. Some people get two doves to symbolize love birds nestling together.
Bunches of Birds
This is exactly what it sounds like; bunches of birds flying around on your skin. Typically this bird tattoo design is done in black ink with little detail aside from being the shape of a bird. This is a simple yet beautiful design and can be quite moving when done right. The most popular places to get bird tattoos are on the legs, arms, back and neck. Some people also put them around the wrists and ankles. Some turn their bunches of birds tattoos on their arm in the form of a sleeve. You can add a sunset or brightly lit moon for more affect as well.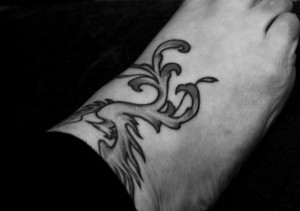 The phoenix is one of the most interesting bird tattoos for men. It is a bird of great legend that involves rebirth and resurrection. The phoenix is a creature that has big wings and is very well love and well known all across the world. It is found in many cultures, each of which has their own symbolism. For instance, in Greece the phoenix is a symbol of the sun going down for the day. The Chinese sees it as a symbol for gracefulness. The phoenix is also popular in the cultures of India, Rome and much of the Middle Eastern countries. It can be done in all different colors or in black ink with a tribal design. The tribal phoenix is the most popular design. This is a very large bird so most people (the majority being men) do not go small with it. The most popular places to put a large scale phoenix tattoo are on the back and on the chest.
Bird Tattoo Designs and Ideas
Bird Tattoos on Arm
Bird Tattoos on Back
Bird Tattoos on Forearm
Bird Tattoos on Rib
Bird Tattoos on Shoulder
Bird Tattoos on Leg
Bird Tattoos on Various Locations
More Bird Tattoos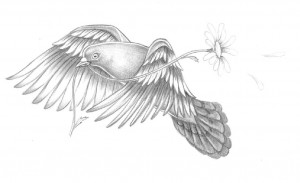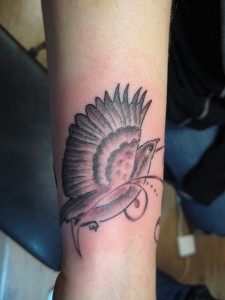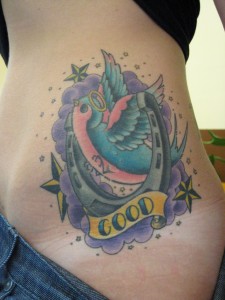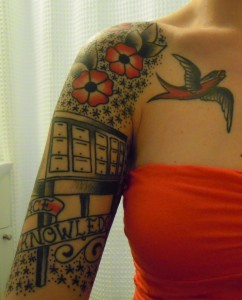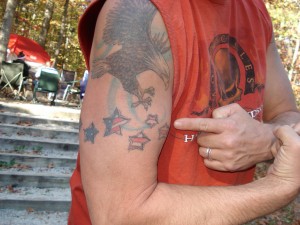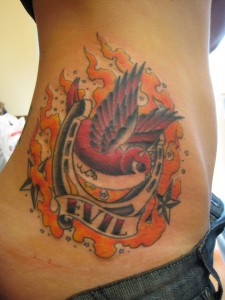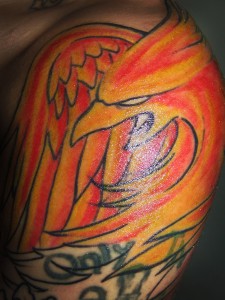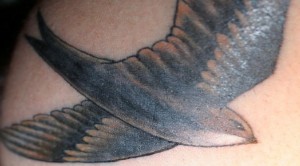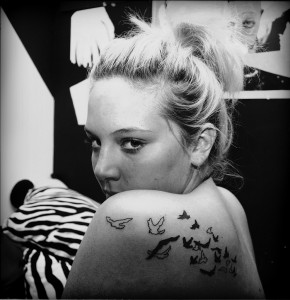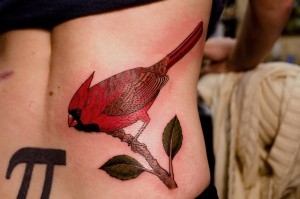 The Bird Tattoo Lovers of Hollywood
For all you Bieber lovers, here is a news flash; Justin has a tiny bird tattoo. Why a bird tattoo you may ask? The answer is that this particular design (not connected to any specific species) is a family tradition for the men in his family. He got it when he was 16 and now carries the same imprint that all the Bieber men do. Snaps to Justin for family pride!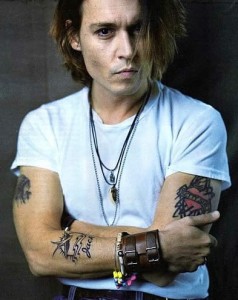 Johnny Depp has some awesome ink as well, including a bird tattoo that has an interesting history. During his Pirates of the Caribbean shoots he had a fake tattoo of a swallow (type of bird) hovering over a sunset with the name Jack at the bottom of the design. He loved this fake tattoo so much that once the movies were over he got this tattoo permanently put on his arm in the same the fake one was.
Cher Lloyd is an English born singer who has also stared in the television show The X Factor. She is also famous for her tattoos. The one I like the most is the one on her right and left forearms. On the right is a bird cage and on the left is a bird taking flight with the word Boo on its tail. Boo is her deceased Uncle. When she puts her forearms together you have the bird and cage side by side. It is a very moving piece and shows how you can use your body art to honor the memory of loved ones. Hopefully some of these ideas have helped inspire you on your hunt for the perfect bird tattoo.
More Bird Tattoos from the TattooMeNow Gallery
Related Articles
Photo by Shannon Archuleta