Drake's Tattoos are super controversial and very unique. Whether he is getting roasted for tattooing Lil Wayne on his arm or just for the actual placement of his tattoos, people seem to talk about his tattoos a lot.
For that reason, I have decided to write this article to explain what his tattoos mean so you guys can have a better understanding of why he got them. We will talk about his bizarre BBK tattoo, bottle of cologne on his shoulder and the mystery people that he has tattooed. I think you guys will definitely be surprised to hear the stories behind some of Drake's tattoos.
Stories and Meanings behind Drake's Tattoos
Drake's Shark Tattoo with Rihanna
The first tattoo we'll talk about is the matching tattoo Drake got with Rihanna. For the longest time there have been rumors about Rihanna and Drake dating. It was never been confirmed but they seem to have at least a good friendship. Back in 2016 they both got matching tattoos of a camouflage shark. Apparently, the shark is a toy that Drake gave to her as a gift and for whatever reason they both decided to get it tattooed. Though this isn't the only Rihanna tattoo Drake has. He also got a portrait of her tattooed on his arm before they both got the shark tattoo.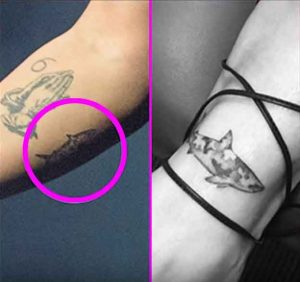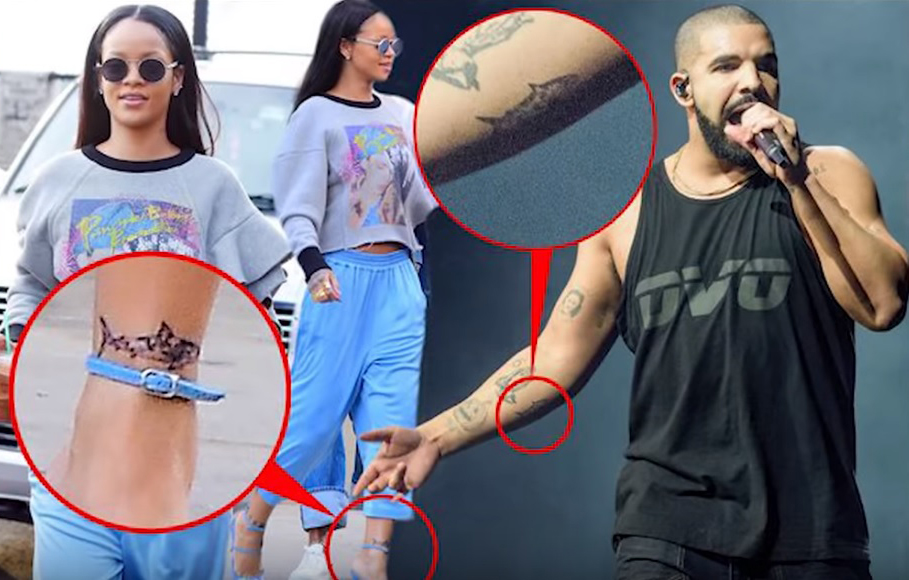 Drake Tattoo "BBK"
The next tattoo we'll talk about is Drake's BBK tattoo inked in medieval Gothic font on his shoulder. BBK actually stands for Boy Better Know, an English grime collective record label known for artists like Jamie and Joseph Adenuga, better known as Jme and Skepta. Skepta and Drake have become very close friends over the years and On February 2016, Drake confirmed that he was "The first Canadian signed to BBK."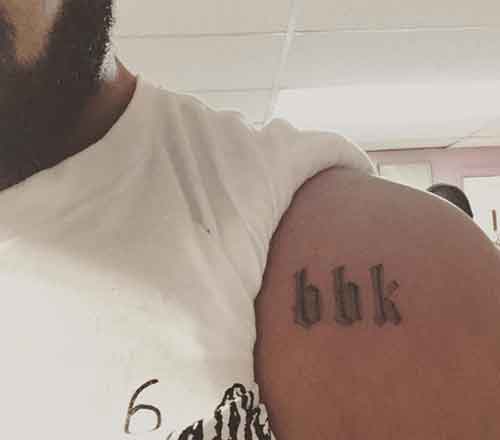 Drake's More Life Flower and Bee Tattoo
This is Drake's another music related tattoo. When Drake was working on his 2017 mixtape "More Life", a lot of promotional content for the album contained imagery with the Bee and a flower. So the rapper decided to get a tattoo to commemorate the moment. Swedish tattoo artist Niki Norberg shared a photo of the tattoo on Instagram on the same day Drake released his mixtape "More Life".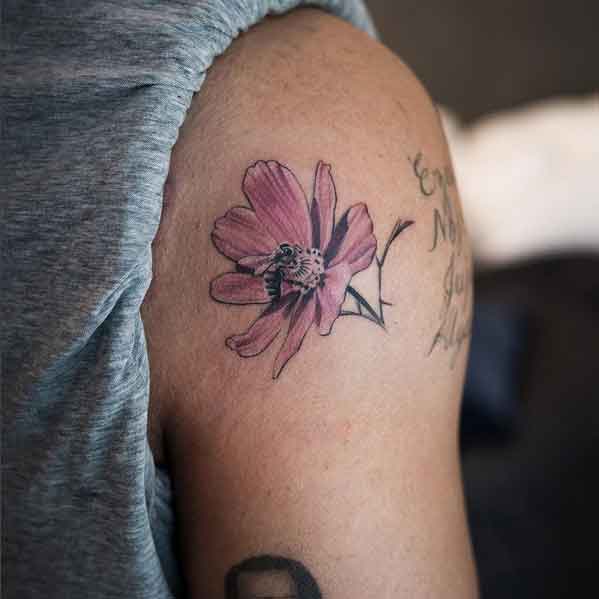 Drake's Back Tattoos
On Drake's back he has four portraits. Three of them are family oriented. Starting from the top, he has his uncle who he credits for his success in music and next to him its Drake's grandmother who he named his Toronto nightclub "The Sher" after. Next to his grandmother Drake got his mother's portrait and then on the opposite side he has a portrait of Aaliyah. If you don't know Aaliyah, she aware was a very influential singer who passed away in 2001.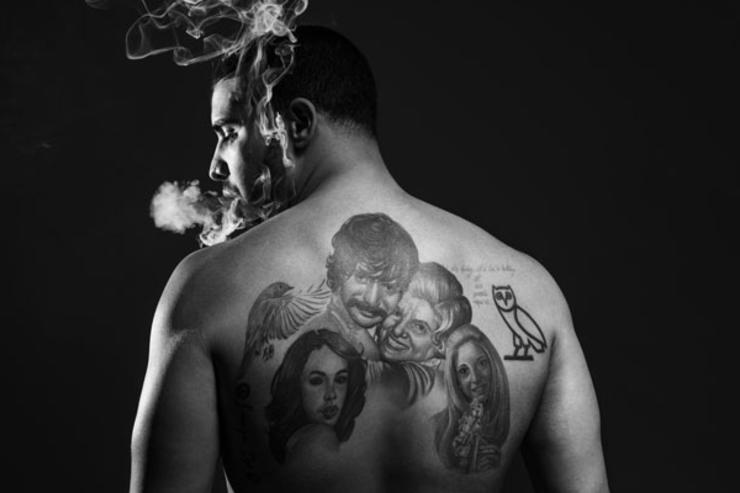 Sade Tattoos
Aaliyah and Rihanna aren't the only singers who Drake has tattooed though. In 2017 Drake got not just one but two tattoos of Sade right next to each other on his rib. Drake posted an image of himself standing in between his mother and R&B songstress Sade and captioned the photo "Two very important ladies in my life." Just a few days after posting the photo, a European tattoo artist named Niki Norberg shared a photo of the rapper's new tattoo, which happened to be a portrait of Sade and a handwritten note underneath that read "with love, Sade x".
Drake took his admiration for Sade to new heights and few months he added another portrait of the singer right next to her first portrait with a backdrop of palm trees clouds and ocean. After Drake showed so much love for Sade, some people speculated that they had a romantic relationship but her son took to Instagram to assure everyone that they weren't in fact dating.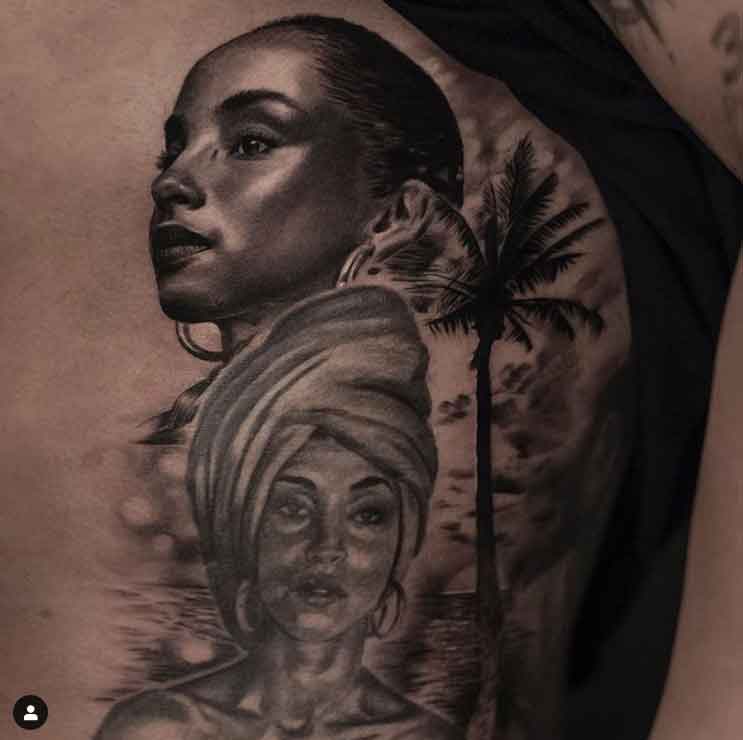 Tattoo of Drake's Father's Mugshot
Besides his mother, grandmother and uncle, another family member Drake has tattooed is his dad but it isn't just any ordinary picture. He actually got his dad's mugshot tattooed on his arm. Drake and his father haven't had the greatest relationship in the past and his parents got divorced when he was just 5. Drake's father spent time in prison when he was growing up.
Drake's Drakkar Noir Tattoo
One of the most confusing tattoos that Drake has is his tattoo of a bottle of Drakkar Noir cologne. Drake has some kind of weird long-running affinity for this Cologne. He's been seen wearing t-shirts with the Drakkar Noir logo on it. His old Twitter handle used to be called Drakkar de Noir. Drakkar Noir is a guy's cologne that was released in 1982. It once won the Canadian Hall of Fame Award for best Cologne. But no one really knows why he got this tattoo. It must be linked to many old memories of him.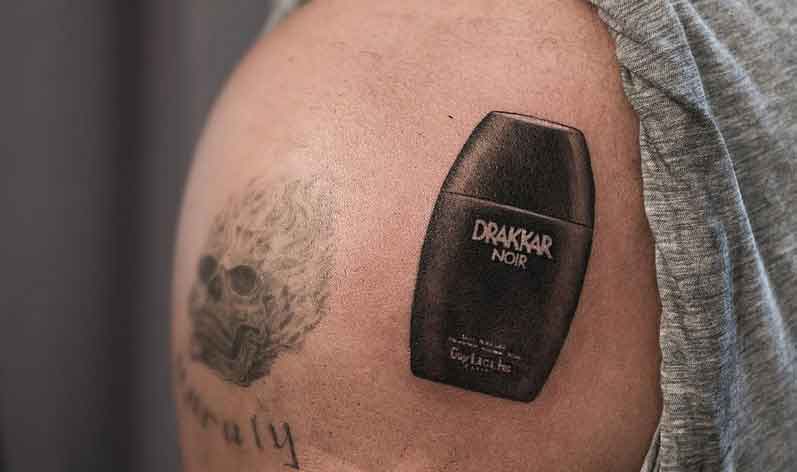 Drake Lil Wayne Tattoo
Lil Wayne was one of the first rappers to take notice of Drake's talent, and signed him to his Young Money Entertainment in 2009. Back in July, Drake posted a photo of himself on his Instagram, which showed a Lil Wayne portrait on the back of his left arm. TMZ reported that sources close to Wayne said the rapper was "floored and honored" when he saw Drake's tattoo. Over the years, the duo has released loads of hit songs together, including "Right Above It," "Love Me" featuring Future, "Miss Me," and "Believe Me."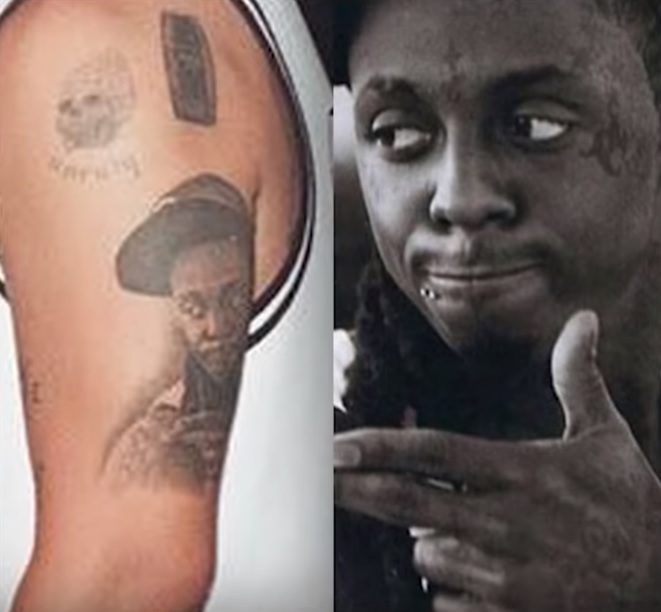 Drake's Denzel Washington Tattoo
Lil Wayne isn't the only famous man Drake has tattooed, in 2017 Drake got a tattoo of Bleek Gilliam a character played by Denzel Washington and Spike Lee's 1990 film "Mo' better Blues". It was a movie about a jazz musician and his decisions that jeopardize both his relationships and his music career. Drake loved the movie so much that he asked Toronto artist Inal Bersekov to create a tribute tattoo to Denzel Washington.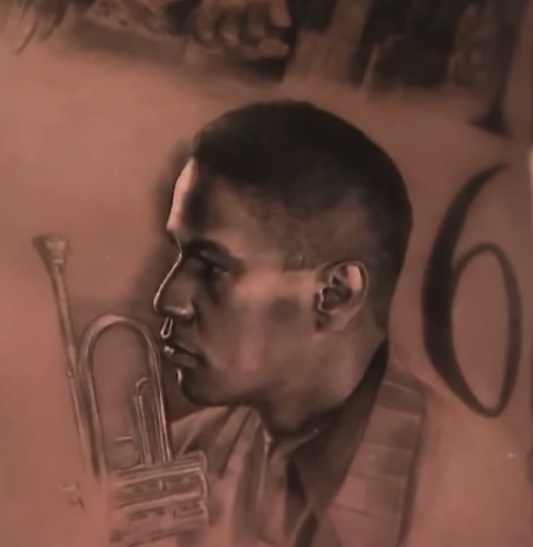 Drake's FIF Tattoo
Drake got this tattoo in the memory of his late friend Anthony "Fif" Soares who was murdered back in 2017. Fif was the head honcho of OVO. The tattoo reads "Forever FIF" above an image of Fif.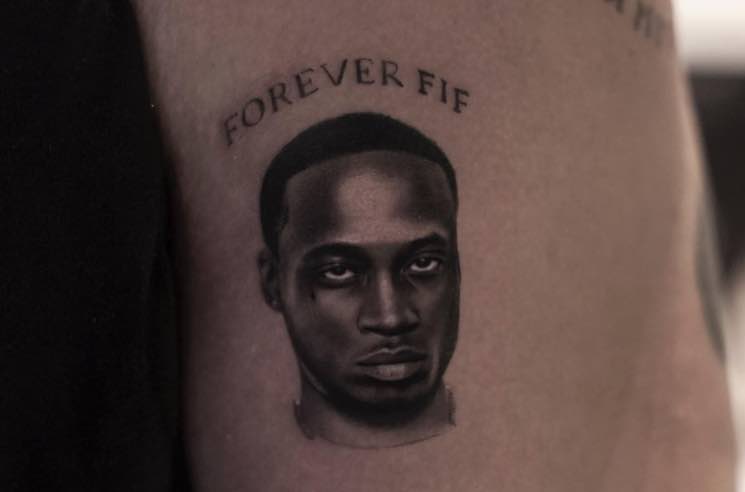 Drake Flaming Skull Tattoo "Unruly"
Drake teamed up with Jamaican dancehall artist Popcaan for his hit single "Controlla," and although Popcaan's verse was cut from the Views version of the track, the two artists paid tribute to each other by getting matching tattoos. Drake tattooed Popcaan's popular tag "Unruly" on his arm under a flaming skull, while Popcaan responded by etching the OVO owl on his forearm.
Drake's Eye of Horus Tattoo
Drake got this tattoo to cover up some old ink he had that he didn't like. Before it was the tattoo of Toronto's CN tower the same Tower Drake was sitting on in the "Views" album art. Eye of Horus is actually an Egyptian symbol of protection, royal power and good health. some people speculate Drake is of Egyptian descent though he's never confirmed it but he uses a lot of Egyptian imagery like this tattoo and the OVO owl logo was actually based on Egyptian hieroglyphs.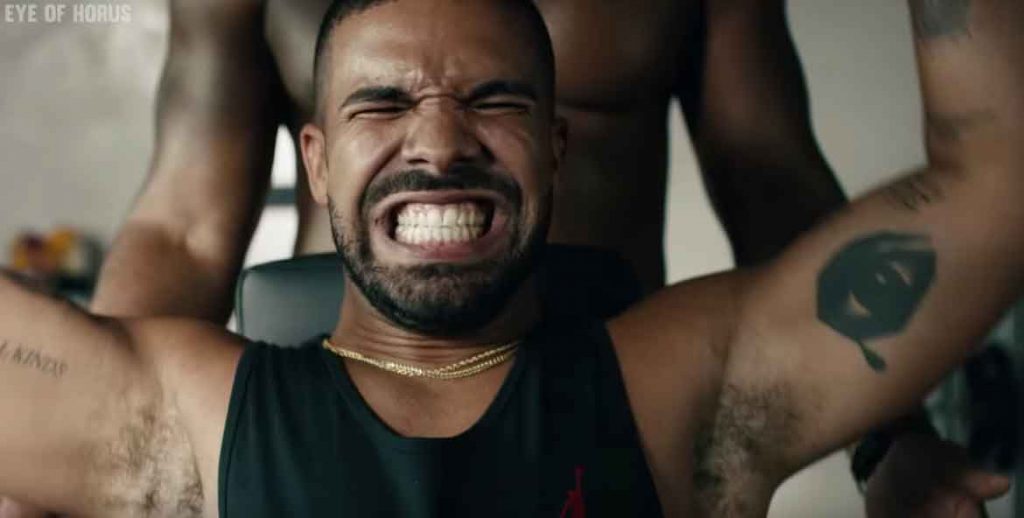 Drake's Tattoos Praying Hands
Drake has a praying hands tattoo on his right forearm next to the number 6 tattoo. 6 is the nickname for the city of Toronto, Canada. Drake talks about "The 6" a lot. The 6 comes from Toronto's area code; 416.
Drake's Pumpkin Tattoo (Jack-o-Lantern)
Drake has a Jack-o-lantern tattoo on his right wrist. A jack-o'-lantern (or jack o'lantern) is a carved pumpkin lantern associated with Halloween. Drake was born in October and it is the symbol of Halloween which is in October too.
Drake's Tattoos East Side Compass
Drake has a East side compass tattoo on his left arm. The east represents his favourite city Toronto, where he has been born and brought up.
Drake's Tattoos "All Kinds"
Tattoo on Drake's right Bicep says "All Kinds". Its was a common phrase among his circle of friends. So he got this tattoo to show his love and bond with his friends.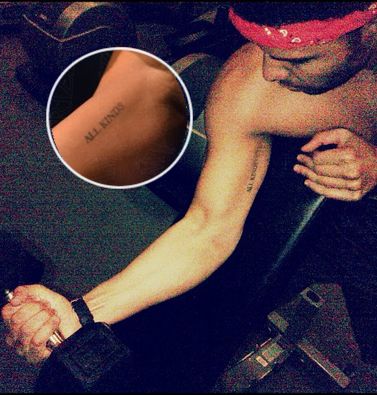 Drake's Owl Tattoos
Drake has two Owl Tattoos. One on his back and the other one on his chest.
Drake has the OVO Owl tattooed on his back. It's a symbol of Drake's company October's Very Own and record label OVO Sound.
On his chest he has a massive Owl tattoo catching a mouse.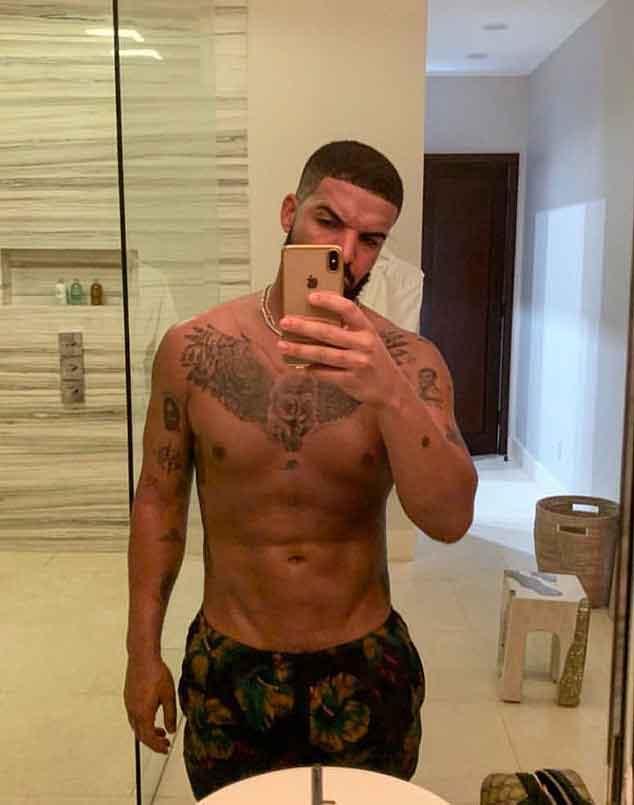 Drake's Rihanna Tattoo
Drake has a tattoo of Rihanna eating ice cream on his right bicep.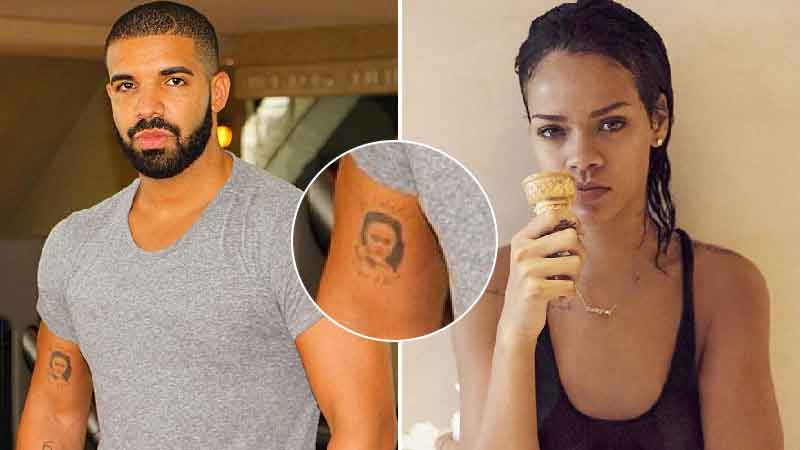 Drake's Tattoos "Oktober Lejonhjärta" Lion
"Oktober Lejonhjärta" is Swedish for "October lionhearted," a tribute to courage and Drake's birth month. There's also an unconfirmed Internet rumor that Lejonhjärta is the surname of Elizabeth and Victoria, two Swedish models who spent the night of December 22, 2015, drinking with Drake. The sisters claim they convinced a drunk Drake to get this tattoo.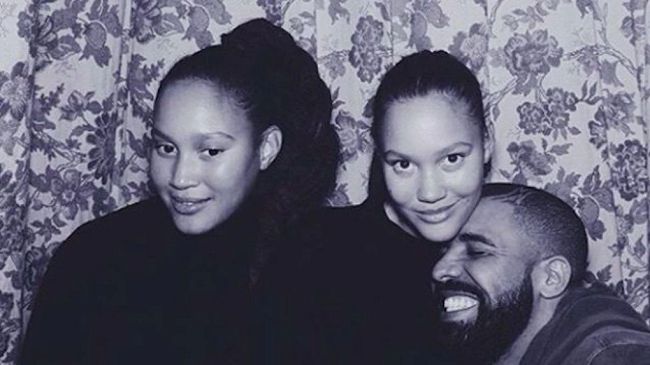 Tattoo of Kevin Durant and Stephen Curry's Jersey Numbers
In 2018 Drake got Stephen Curry and Kevin Durant's jersey numbers tattooed on his left arm. The Curry tattoo is accompanied by the word "gifted," a nod to the Curry reference on Drake's song "Still Here." The Durant one has "snipe" written below it, a reference to his "Easy Money Sniper" nickname.
The media went crazy when he covered the Golden State Warriors players' tattoos during a Raptor game recently.
Drake's Tattoos '416'
Drake got the number 416 tattooed on his right rib which is the area code for Toronto.