Tremaine Aldon Neverson (born November 28, 1984), known professionally as Trey Songz, is an American singer, songwriter, rapper and actor. His debut album, "I Gotta Make It", was released in 2005 through Atlantic Records. His follow-up album, "Trey Day", spawned his first top 20 single, "Can't Help but Wait". Songz released his third album "Ready" in 2009 and a single from the album, "Say Aah", peaked at No. 9 on the Billboard Hot 100 making it Songz's first top 10 hit. "Ready" was nominated for Best Male R&B Vocal Performance at the 2008 Grammy Awards.
Trey loves to draw and creative expressions. He drew or sketched almost every tattoo that he has got except for the tattoo on his right arm which he picked out of a book.
Meanings behind Trey Songz's Tattoos
Cross Tattoo
The first tattoo Trey got was a cross on his right arm and it reads "Only god can judge me" inspired by Tupac. Tupac had a tattoo that said "Only god can judge me" too and he was a big influence in Trey's life. So he thought if he get a Cross tattoo then his mom wouldn't be mad at him. He got this tattoo when he was only 16 or 17.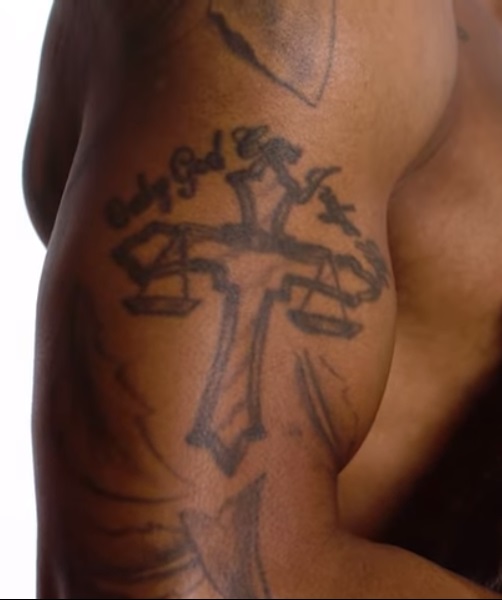 Prayer Tattoo
His favourite tattoo is the tattoo on his chest of a prayer that he wrote. It reads
"To God I pray
may April's showers
rain on her Forrest
and grow the strength
that started with
one Rose…"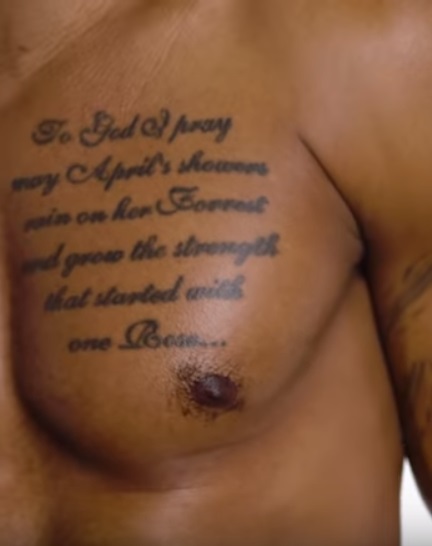 Rose is his grandmother, Forrest is his younger brother and April is his mom. The meaning behind this payer is inspired by the strength of the women in his family and how they raise all the kids to be strong which continues through generations.
Baby Trey Tattoo
Trey got this tattoo on his left forearm when he was 18, it's the child version of himself sitting in diapers wearing a hat that had Virginia on it and sitting on top of the world. He had big dreams for himself and always felt that he would accomplish great things in life and sit on top of the world one day even at his young age . There is a tattoo says "April's boy" on the top of this tattoo. "April's boy" is actually the name of one of his companies.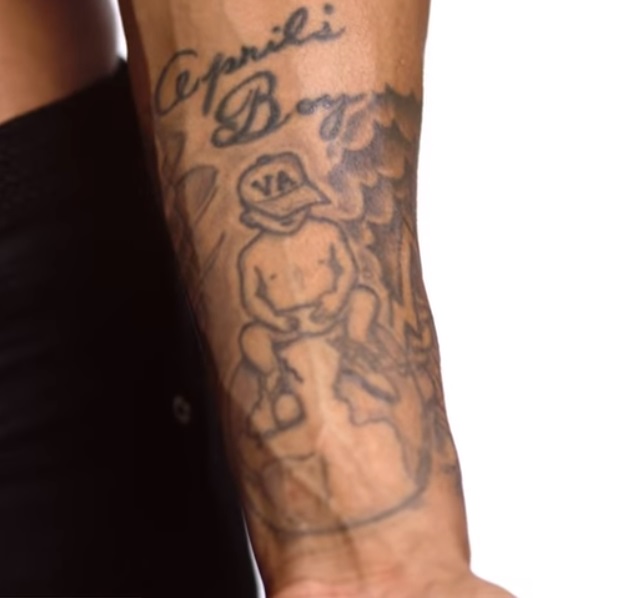 Storm Tattoo
There is a storm tattoo on the other side of his left forearm and the sun is shining at the end of the storm. It means that if you can make it through the storm the Sun will shine for you.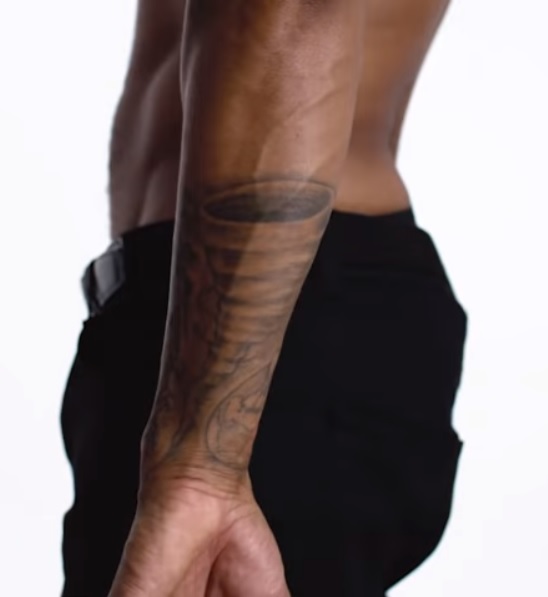 Infinity Sign with Initials
Trey has initials of his and his ex girlfriends with an infinity sign tattooed on his right wrist. He got this tattoo with his girlfriend at that time and hasn't covered it up yet. They are not together at the moment but to cover it up, he will need to feel more strong about something else than the love that they shared at that moment.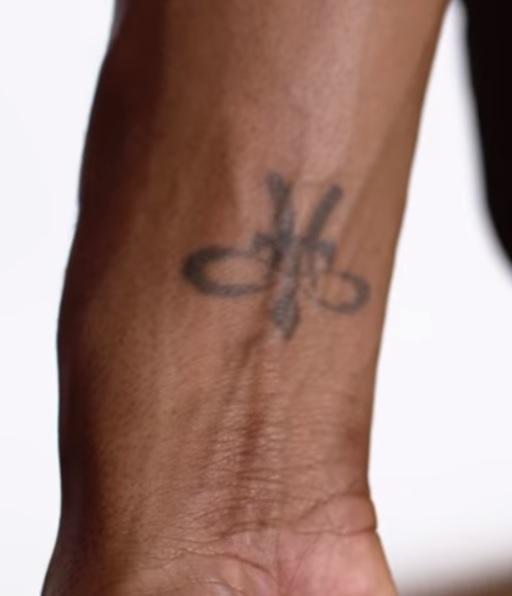 Angel Tattoos
Trey got tattoos of angels on his back. This is probably the most recognizable tattoo by his fans. Trey got this tattoo in 2008 shortly after he cut his braids off.  Every time he used to leave the house his grandma would say to him "watch your back" and because of that he got the angels tattooed on his back. The wings of the angels are all weathered from fighting off so many storms and feathers are falling off but they are still watching his back. Trey believes that angels fight many storms and many battles for us that we don't see.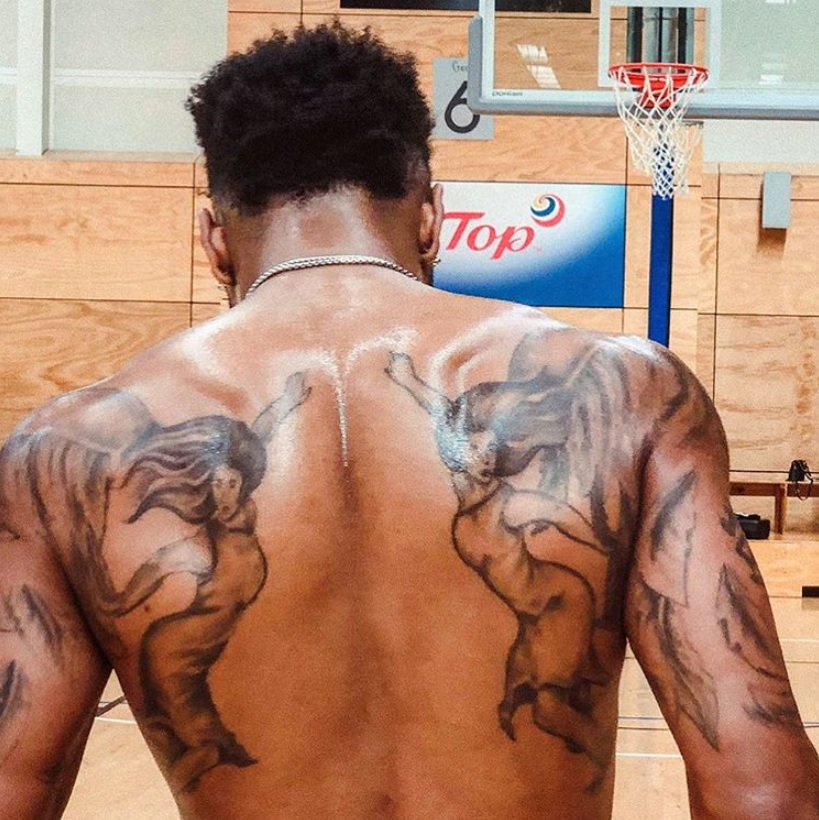 Initials Tattoo
Trey was raised mostly by women as there weren't many men in his family. So, he got the initials of all the women that raised his, from his grandmother to other grandmother to all his aunts tattooed on his chest.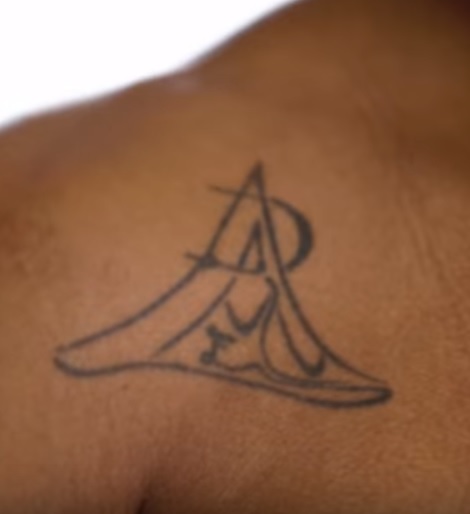 Trey Songz Breaks Down His Tattoos (Video)