Kimetrius Foose professionally known as Lil Skies is an American Rapper. He was born in August 4, 1998 in Waynesboro, Pennsylvania.
His three top singles have appeared on the Billboard Hot 100: "I" (#35), "Nowadays" (#55), and "Red Roses" (#69). His major label debut mixtape, Life of a Dark Rose, was released on January 10, 2018 and peaked at #10 on the Billboard 200 chart.
Lil Skies grew up watching Wiz Khalifa. Wiz was his hero and inspiration for getting tattoos as Wiz's whole body is covered in tattoos and they all tell stories of his life.
When it's about getting tattoos, Lil Skies got them all in backwards. Instead of starting from his arms Lil Skies got tattoos on his hands and face first.
Lil Skies's Tattoos and their Meanings
Lil Skies's first Tattoo
Lil Skies got his first tattoo when he was 16. One of his friends got very sick and ended up losing his leg. When his friend was in the hospital fighting for his life, before going in comma he said to Skies that "tomorrow is another day but it's not promised". These words got stuck in his head so, he got them tattooed on his right shoulder and added some clouds around the letters.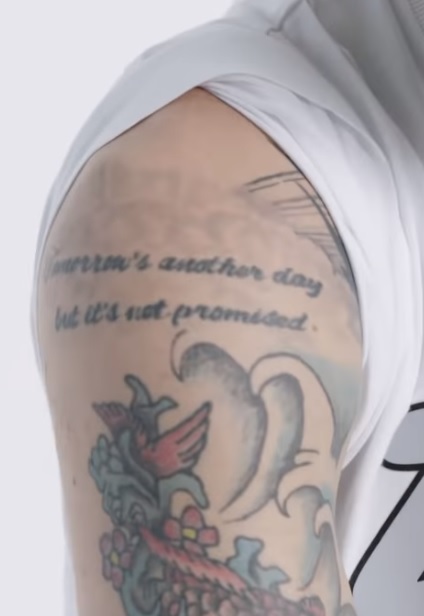 Lil Skies's Face Tattoos
Lil Skies first face tattoos were number 9 and 8 on his eyelids and an anchor on the corner of his right eye. He ended up getting more face tattoos because they didn't hurt as much as his hand tattoos.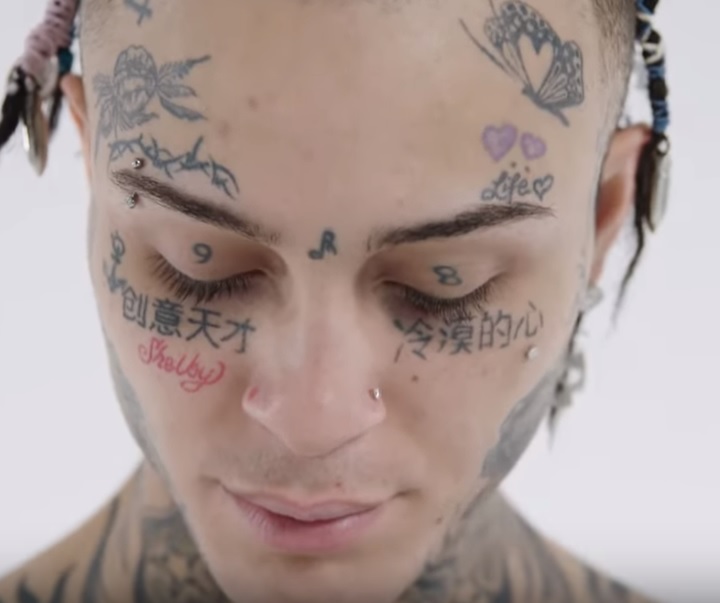 "Shelby"
He got his mom's name "Shelby" tattooed on his face, which is one of his favorites.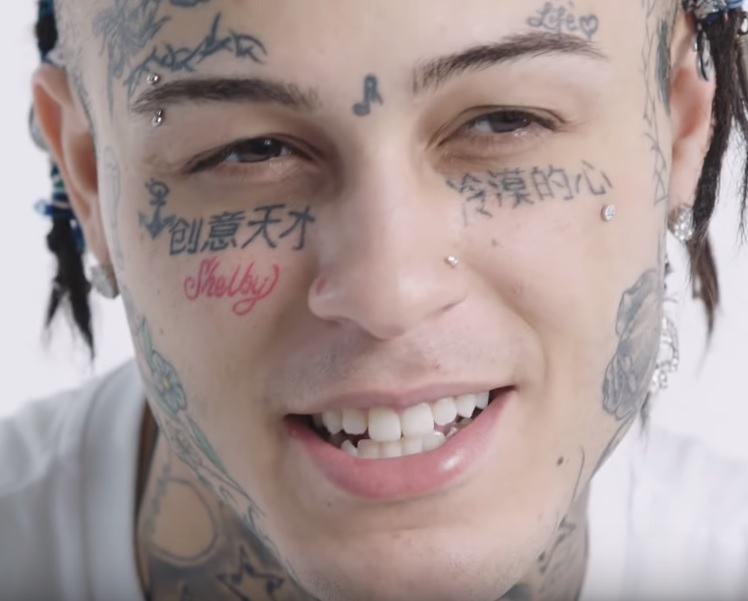 "Creative Genius" and "Cold Heart"
He got the words "Creative Genius" and "Cold Heart" tattooed in Japanese lettering under his eyes. He likes to call them Japanese but they are actually Chinese letters. He got the letters tattooed backwards so no one can read them.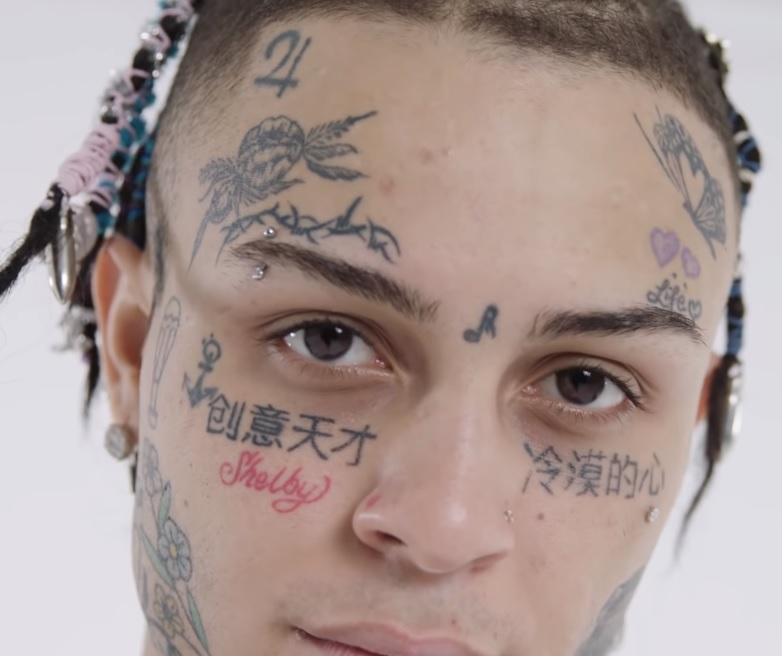 Rose Tattoo
Lil Skies got The Rose tattoo right after he finished the album "life of a dark rose". He got the rose tattoo done to use it on the cover of his Mix tape. So the tattoo was very fresh when he did the mix tape cover.
Lil Skies's Hand Tattoos
Lil Skies got a lot of tattoos on his hands. They read as sacrifice, pain, "music-love life-me". When he looks at them the tattoos remind him to learn always, love the life and love himself more.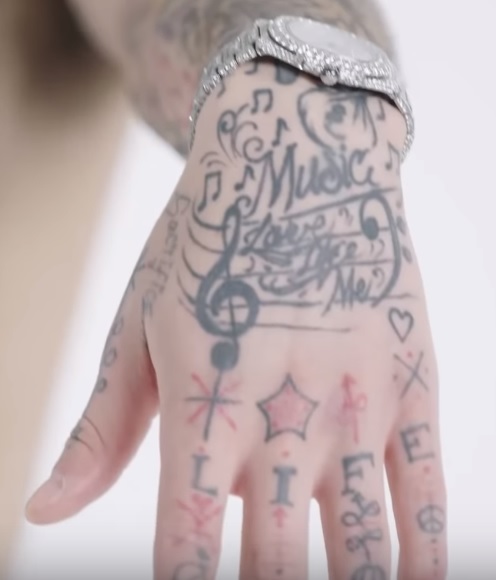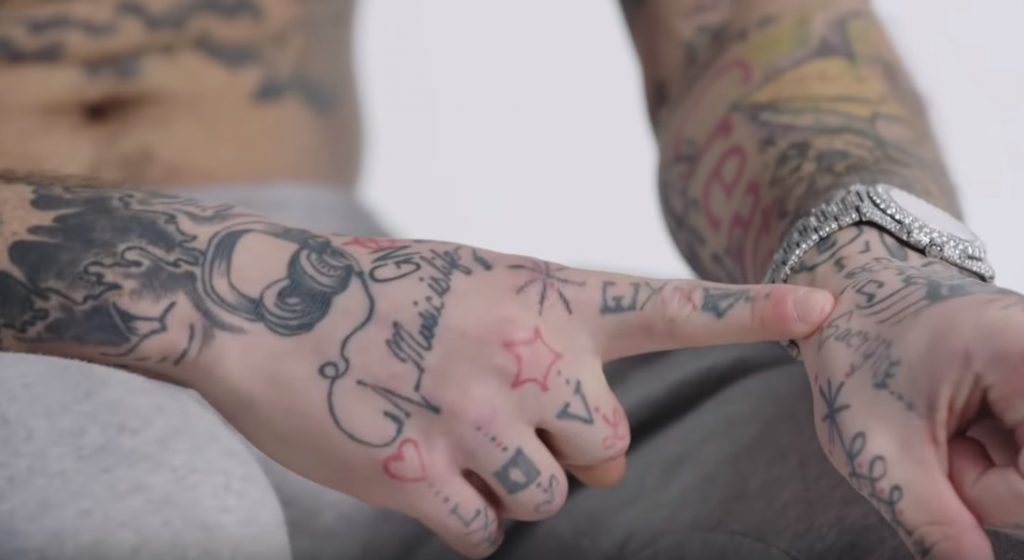 Lil Skies's Chest Tattoos
Lil Skies got music notes tattooed on his chest and tattoo of an ancient buildings in the background.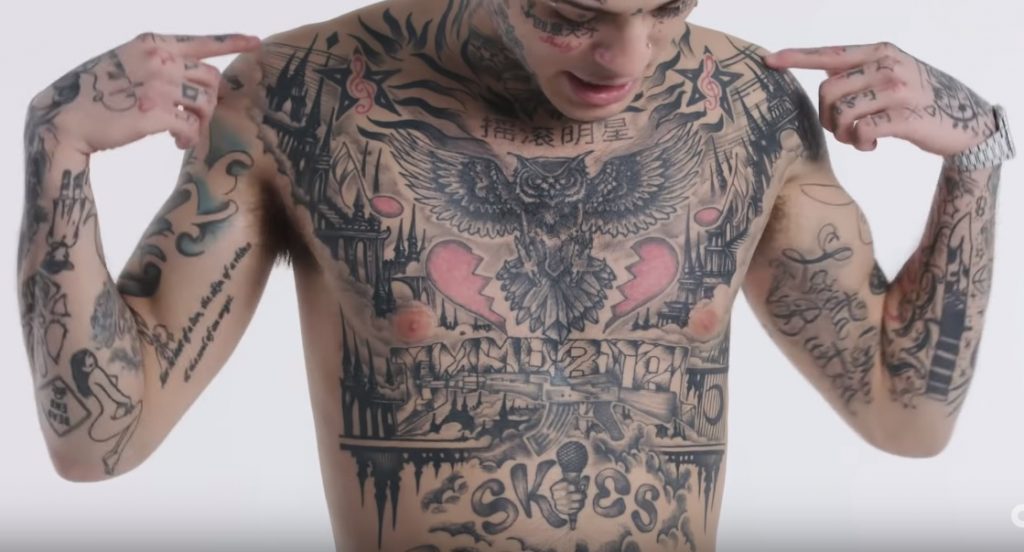 Lil Skies's Stomach Tattoos
Lil Skies got the word "IMMORTAL" tattooed on his stomach, he said "I be feeling like niggas not from this planet".

His favourite number is 16. So, he got number 16 tattooed on the left side of his stomach in a race car style number. He loves fast cars.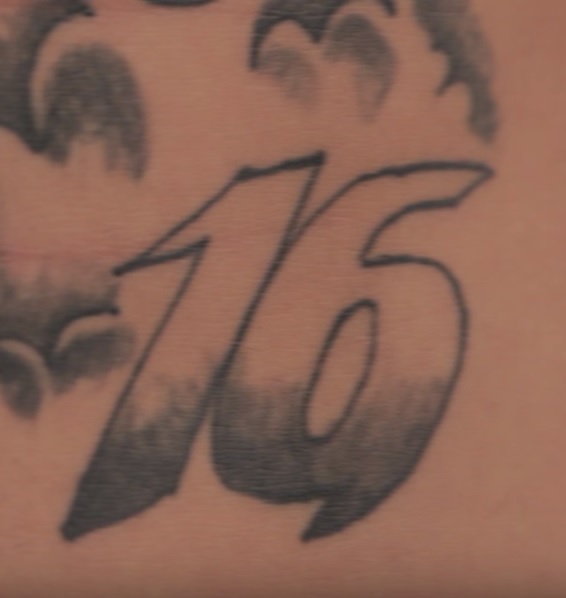 Most of his stomach tattoos are inspired by Tupac's Tattoos. He saw Tupac wearing a Nefertiti necklace so he got the Nefertiti tattoo on the right side of his stomach. He wanted to get Tupac's famous thug life tattoo but instead he got the AK 47 a little different than Tupac's AK 47 tattoo.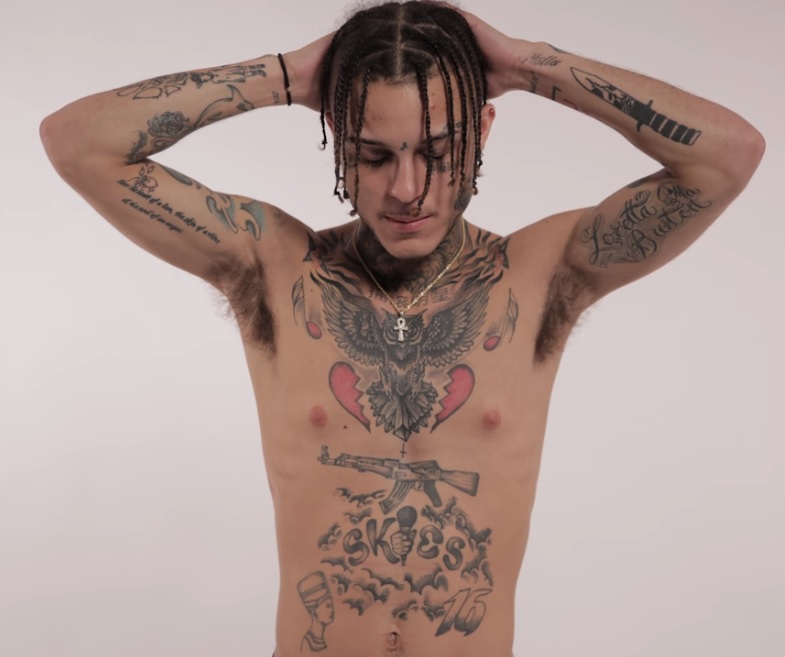 Lil Skies's Forearm Tattoos
Lil Skies got his favorite curse word "fuck" tattooed on his left forearm.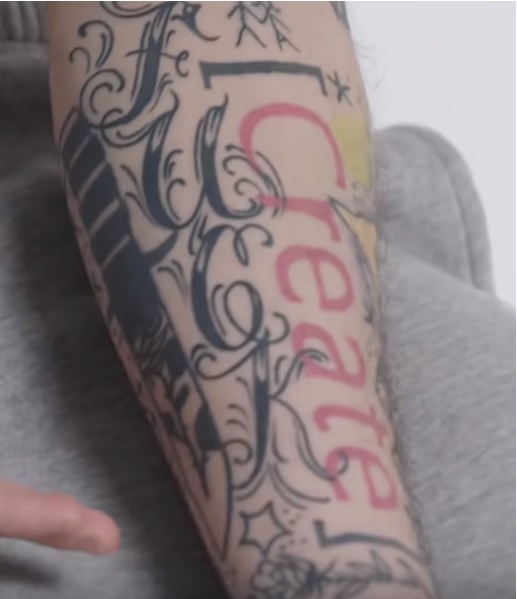 Lil Skies got a very colorful Japanese Koi fish tattoo on his right arm. It's one of his favorites because of it's colors.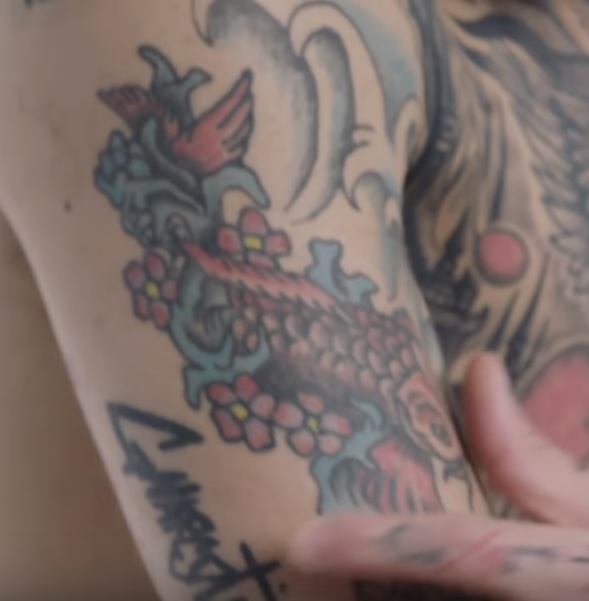 He got the angry yellow chicken tattoo on the left forearm from a random tattoo artist at his house. This tattoo doesn't have any meaning.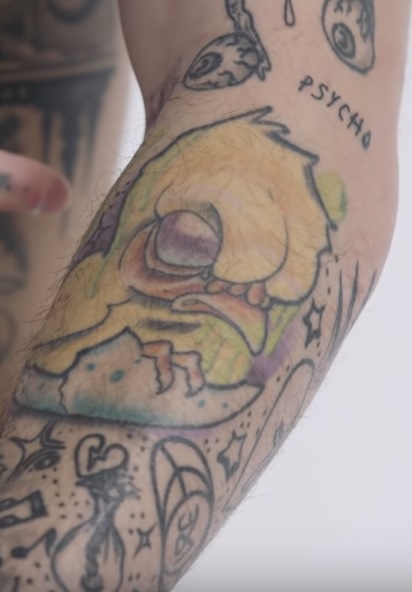 Lil Skies's Arm Tattoos
Lil Skies love butterflies. He got a 3D butterfly tattoo on the left arm.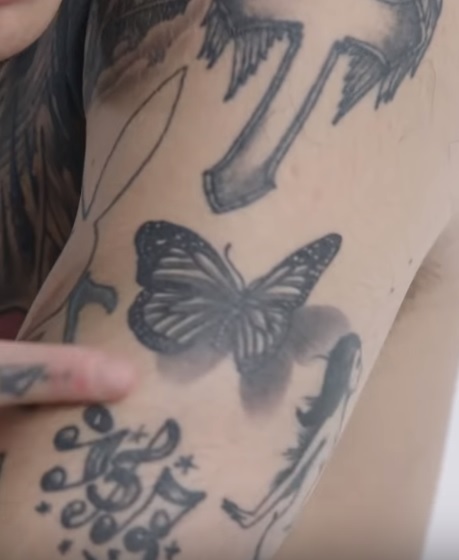 Lil Skies's Back Tattoo
On his back Lil Skies got a massive tattoo of a lady got her boobs out with some weed plants and snakes. One of the guys just sketched the designs and he got it on the same day. He hasn't add any color to it as it is a big tattoo and its going to hurt pretty bad.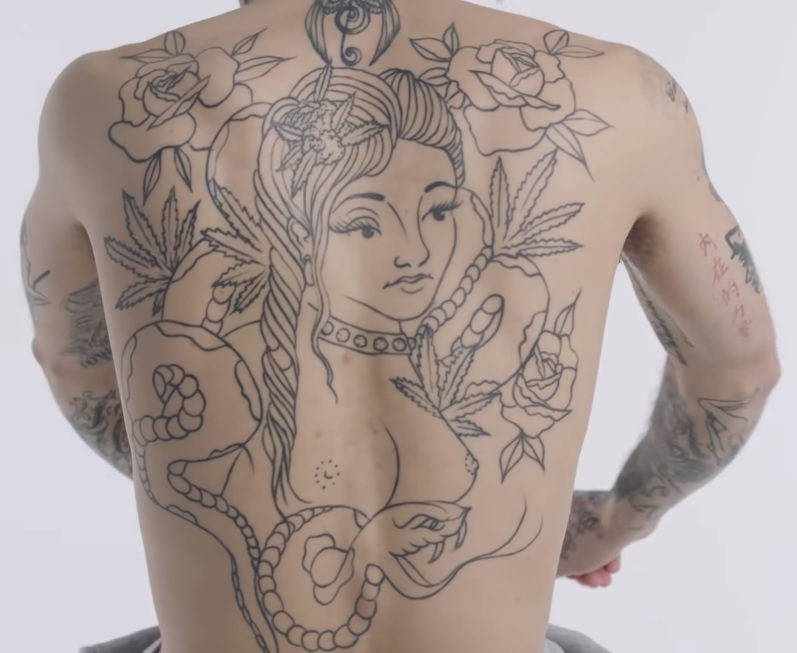 Lil Skies's Other Tattoos
He got few more tattoos that don't really mean anything like a smiley face on his right wrist, loser on his left leg on a locker and a lighter with playboy bunny on it. He also got a tattoo of two topless girls in thongs on his left leg and calls it Night and day.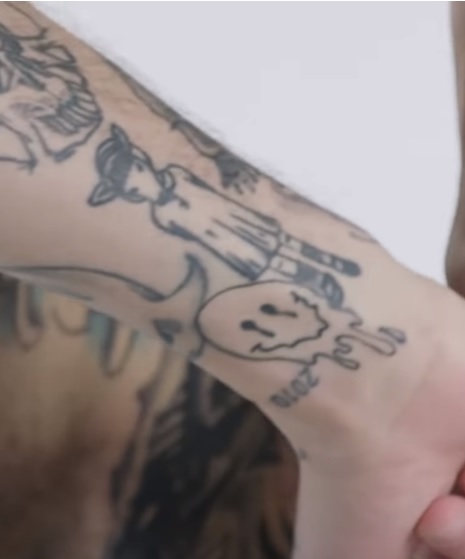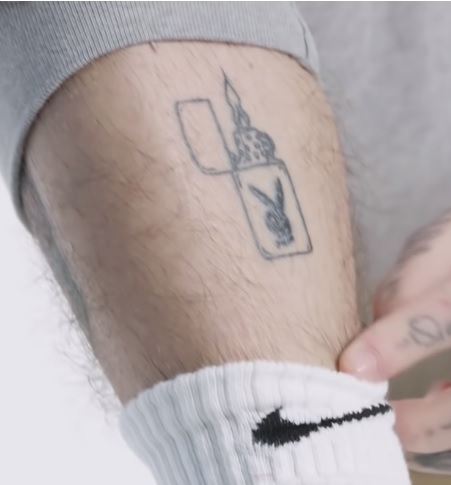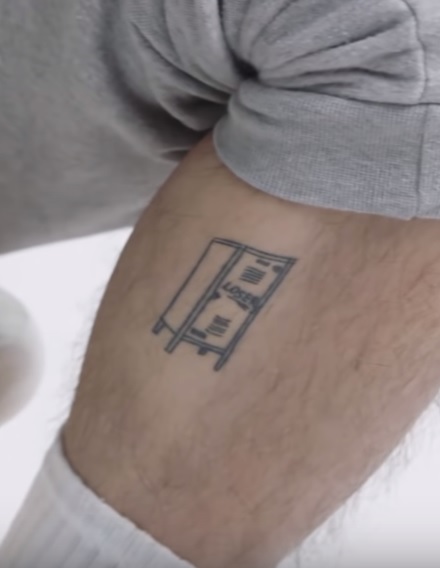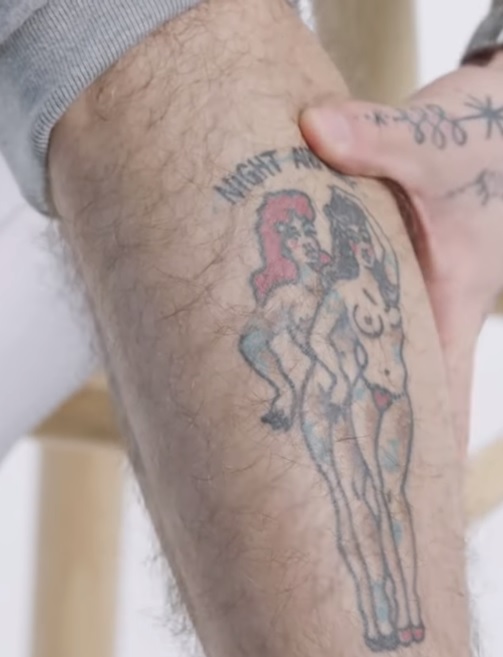 Lil Skies Breaks Down His Tattoos (Video)