Choosing to get a name tattoo is a big deal depending on whose name is being placed on the body. Most people choose to get their own name tattooed somewhere on their body, whether it be on the neck, shoulder, arm or leg. While it is advised to be careful when getting a name tattoo of a significant other, a lot of people still choose to do so. Many parents choose to embellish their bodies with a tattoo of their children's names. Some have even gone to the extent to show their loyalty to companies or bands by placing those names on their bodies.
Regardless of whose name is tattooed, it can be paired with almost any design that represents the person individually. Many fonts ranging from plain to script to graffiti can be used to decorate the name in a meaningful way. Listed below are some neat name ideas.
A "Grace"ful Foot Tattoo
A fancy script with some curvy lines make this name tattoo very elegant.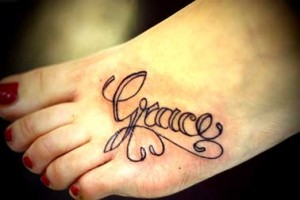 A Bold Script
This inner arm tattoo is bold with the dark black lines and the dark shadowing.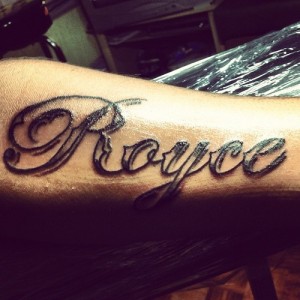 An Elegant Name
A fancy script adorned with a rose and vines in the same color palette make for an elegant arm tattoo.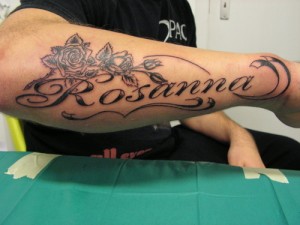 Black and Blue Name Tattoo
Adding a small amount of color to a tattoo can add a little bit of personality to the script.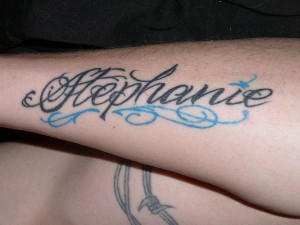 Child's Name Tattoo
Having the name in black and grey with some shadowing and the date of birth is a sweet memento in honoring a child's birth.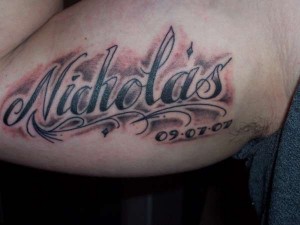 A Fun Font
A colorful, fun, vibrant name tattoo to represent a person with a bold personality.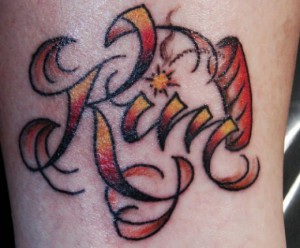 Forearm Name Tattoo
Not all names have be placed from left to right; allowing the name to go down the arm makes a bold impact and adding color adds elegance.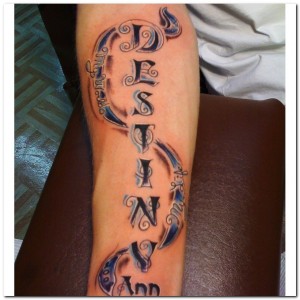 Punk-ish Rose
A name can be placed on a banner across any design, in this case a colorful rose.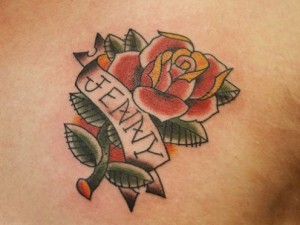 Shooting Star Name Tattoo
Colorful shooting stars surround this very pretty font.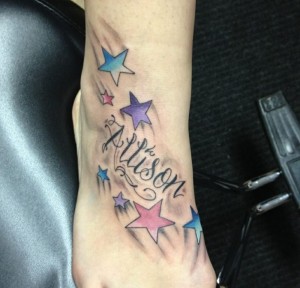 Graffiti
 A name tattoo done in graffiti line art across the forearm.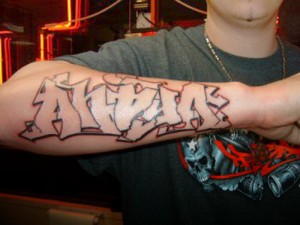 Delicate Script
Having a loved one's name in cursive with small hearts is a bit fancy yet simplistic.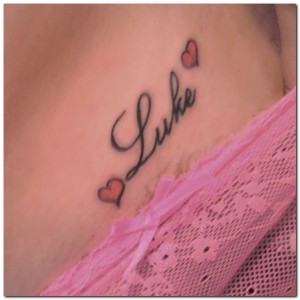 Paw Print and Name Tattoo
This design could be used for the four legged companions in a person's life or just to add a cute touch to a child's name.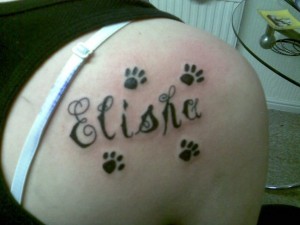 Baby's Name and Foot
Taking your child's foot print and adding his or her name is a good keepsake for years.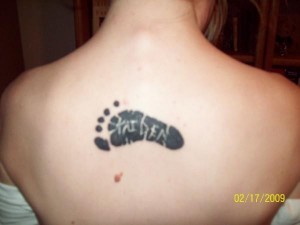 Butterflies
The fancy lines in this tattoo make the name blend in a bit and adding the butterflies make it playful.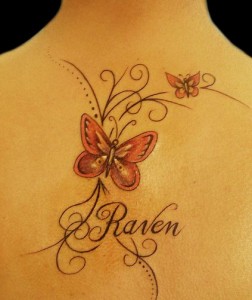 Orchids and Name
This name tattoo is interesting as it is going down the spine with orchids and and touch of color.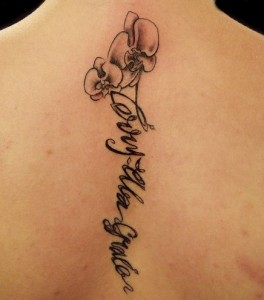 Bold Cursive Name Tattoo
A bold name adorned with hearts and some light shadowing make a bold statement on one's back.
Back Name Tattoo
A fancy font across  the back with nice shading make for a nice looking name tattoo.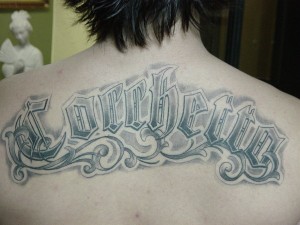 Traditional Font
A bold black text going down the arm in capital letters.
Brand Name Loyality
Who said name tattoos have to be just a person's name? This colorful tattoo represents a popular search engine.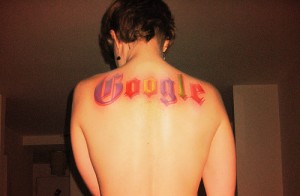 Cursive and Simple
Not all name tattoos have to be over the top; a simple cursive font in black often suffices.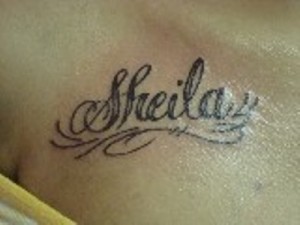 Across the Heart
A simple cursive name across the heart can mean a lot to a loved one.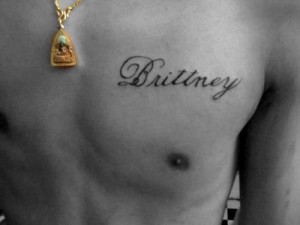 Baby Steps
A bold tattoo with foot prints and the name etched above the feet.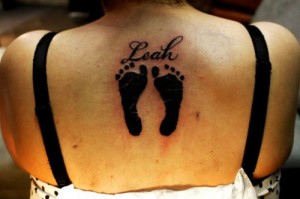 Hand and Foot Prints
The hand and foot prints of the person's child with the name in cursive and the date of birth in roman numerals below.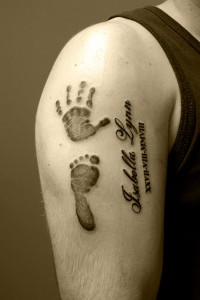 First and Middle Name Tattoo
Adding the first and middle name to the forearm with the date of birth is another way to honor your child's birth.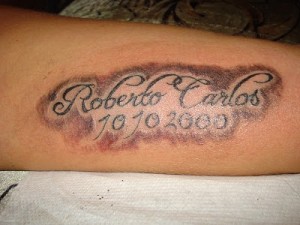 Ring Finger Name Tattoo
Having a name tattooed on your ring finger can be just as significant as buying a wedding band for some.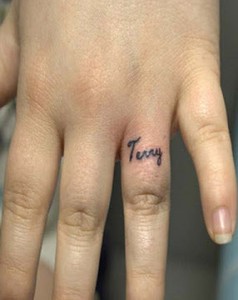 Ankle Tattoo
The flowers have small vines coming off their stems with the name in cursive to blend in.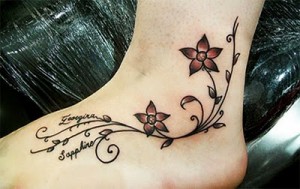 Chinese Name Tattoo
Some people want to go with a less obvious name tattoo therefore finding out what your name in a different language is could make for an interesting tattoo.