Kyle Alexander Kuzma (born July 24, 1995) is an American professional basketball forward for the Los Angeles Lakers of the National Basketball Association (NBA). He grew up in Flint, Michigan and attended University of Utah, where he played college basketball for the Utah Utes. Kuzma was named first-team all-conference in the Pac-12 as a junior in 2016–17. He was selected with the 27th overall pick by the Brooklyn Nets in the 2017 NBA draft, but was traded to the Lakers on draft night. Following his rookie season. Kuzma was named to the NBA All-Rookie First Team.
Kyle grew up watching his favourite basketball player Allen Iverson who had lot of tattoos. Kyle was also a big fan of Chris 'Birdman' Andersen and always admired his tattoos. So, from his childhood he was very much inspired by his favourite Basketball players to get tattoos.
Meanings of Kyle Kuzma's Tattoos
Kyle Kuzma's "Lion" Tattoo
Kyle got his first tattoo when he was 18 years old. His star sign is Leo so he got a Lion tattoo on his left upper arm. The head of the lion transitions into a basketball. It took him 3 hours to get the Lion tattoo and he mentioned that it was the most painful thing ever.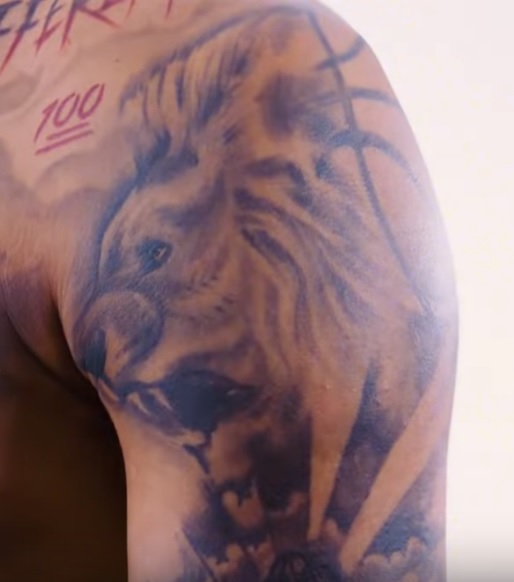 "Eye" Tattoo
Kyle's mom has green eyes. He got tattoo of a green eye on his left elbow.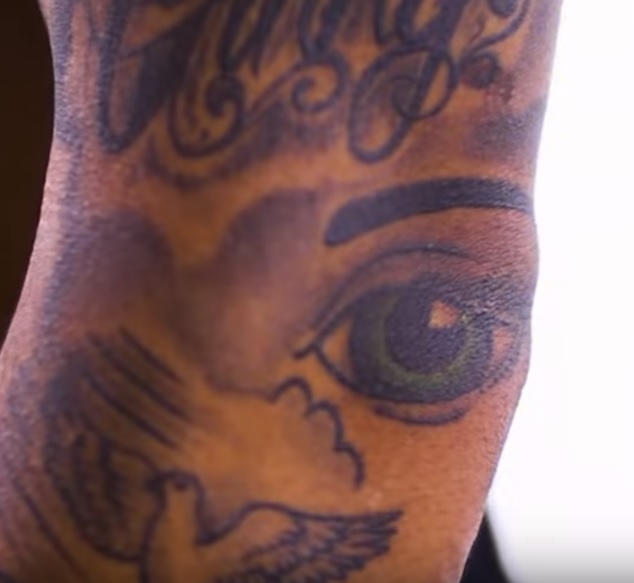 "Flint" Tattoo
This tattoo means a lot to him. Kyle grew up in Flint, Michigan. He got "Flint" tattooed on his inner left forearm.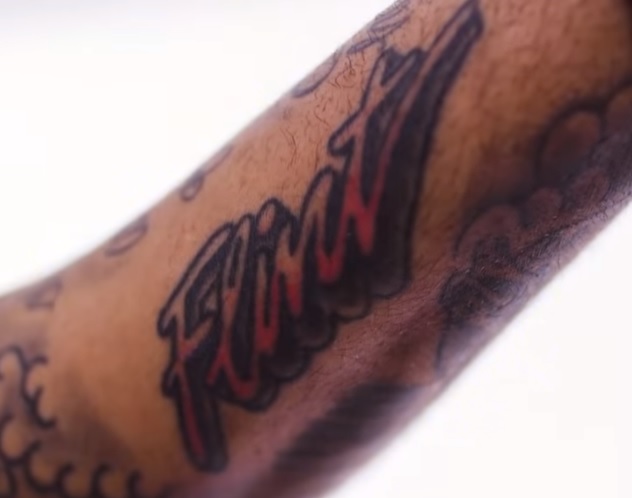 Kyle Kuzma's Religious Tattoos
Kyle has a lot of religious tattoos on his body.
"Dove" Tattoos
The Dove tattoos on his left forearm symbolize new beginnings. In the Bible story "Noah's Ark" when the big flood came and Noah was sailing for years looking for land, he sent the doves to find land and they came back with the branches.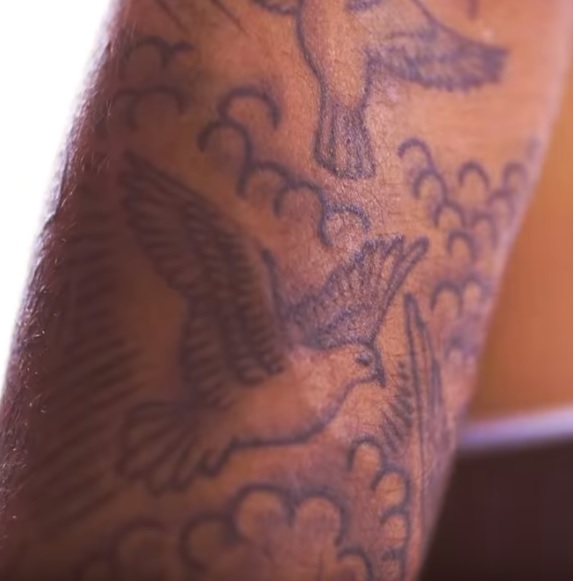 "Praying Hands" Tattoo
Kyle got the Praying Hands tattoo on his left arm which is one of his religious tattoos.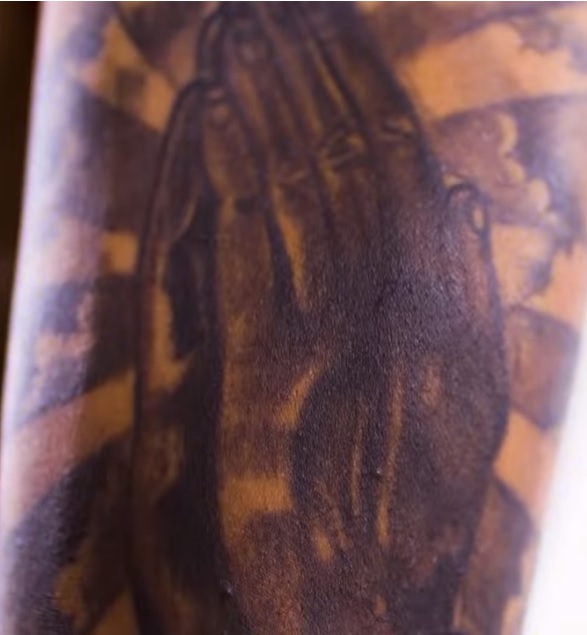 "Sacred Heart" Tattoo
He has a sacred heart tattoo above his left wrist.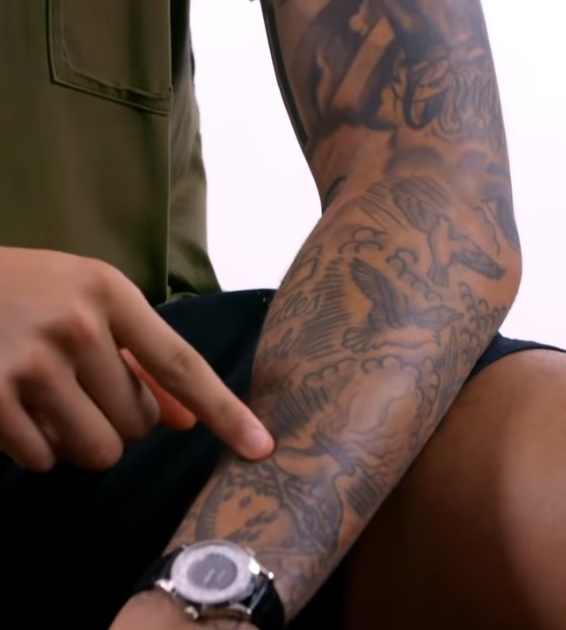 "Bible Scripture" Tattoo
Kyle got a bible scripture (Proverbs 16:20) "He that handleth a matter wisely shall find good: and whoso trusteth in the LORD, happy is he" tattooed on his inner left forearm.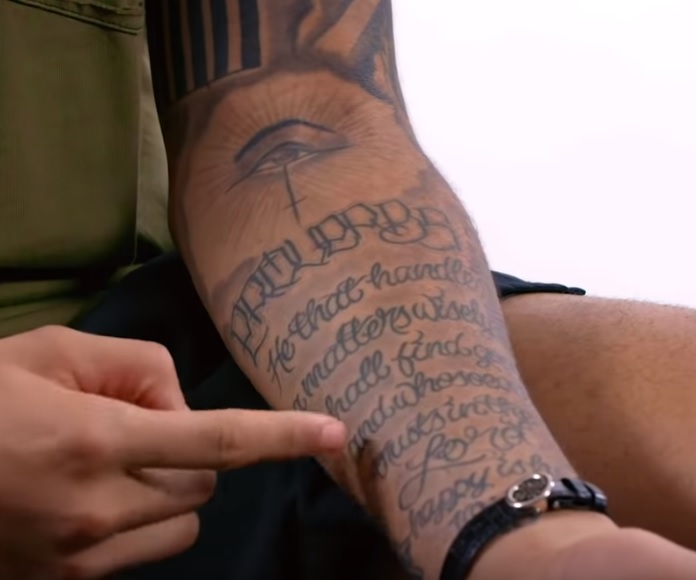 Eye and a Cross Tattoo
Between his left arm and forearm Kyle got an Eye and a Cross tattoo as a filler.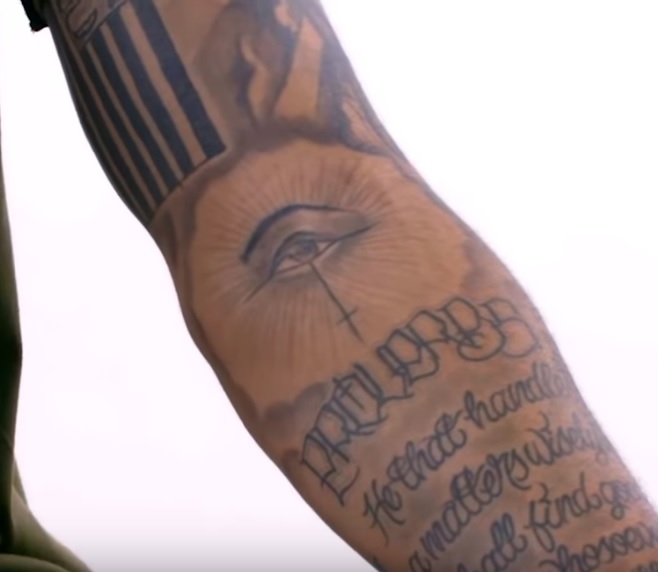 "TMC" Tattoo
One of Kyle's favourite rappers is Nipsey Hussle who has the same TMC tattoo. TMC stands for "The marathon continues" which Kyle can relate a lot to his life.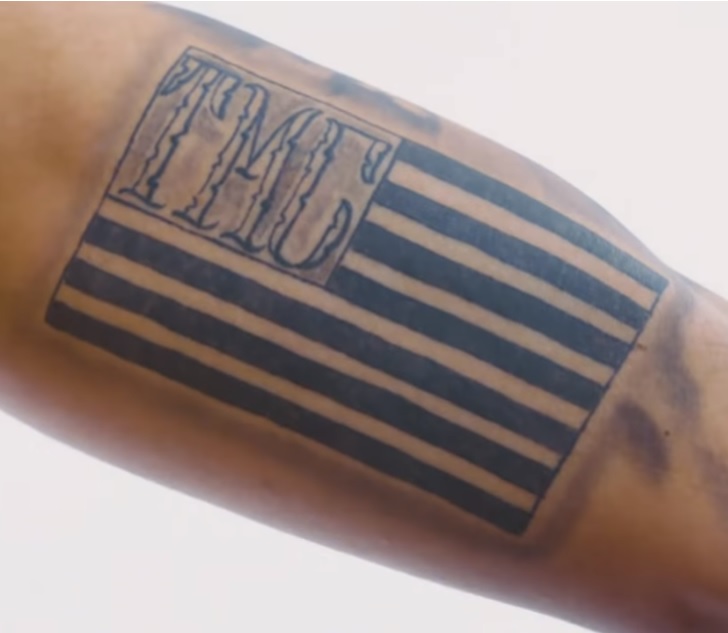 "Monopoly Guy" Tattoo
Monopoly was Kyle's favourite childhood game. He and his family used to play monopoly game all the time, sometimes all night as Monopoly can take forever to finish. He got the Guy from the Monopoly game tattooed on his right forearm.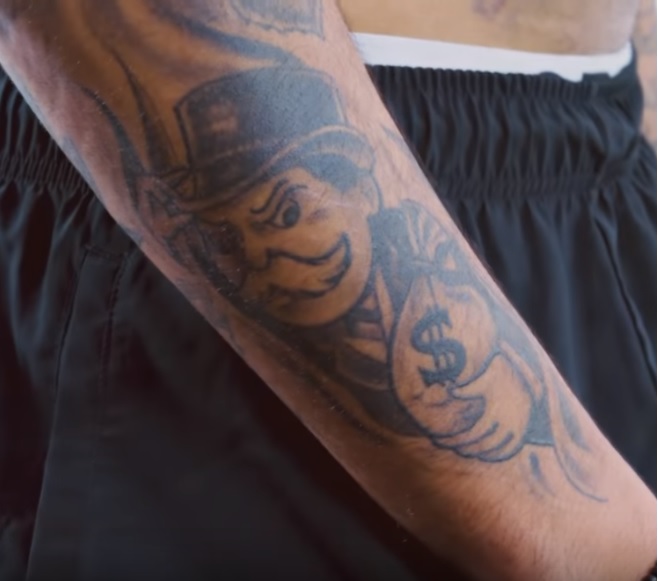 "Humble Beast" Tattoo
Kyle is always very humble but when he is on the basketball court, he tries to be a beast.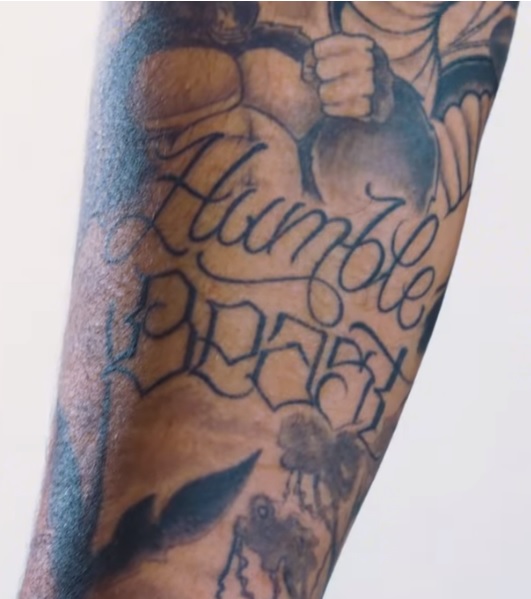 "Snake" Tattoo
Kyle got a random snake tattoo between his right arm and forearm as he didn't know what to put in that place and the snake fitted perfectly in that spot.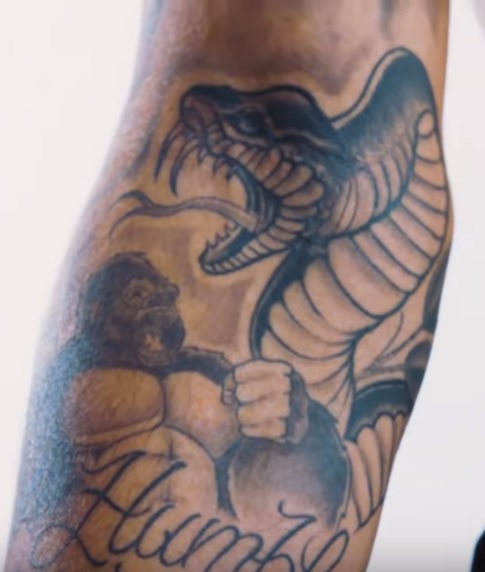 "Star" Tattoos
Kyle got the star tattoos on his right arm to keep himself reminding that sky is the limit and never let anyone to shoot your dreams down and always try to live in the Stars.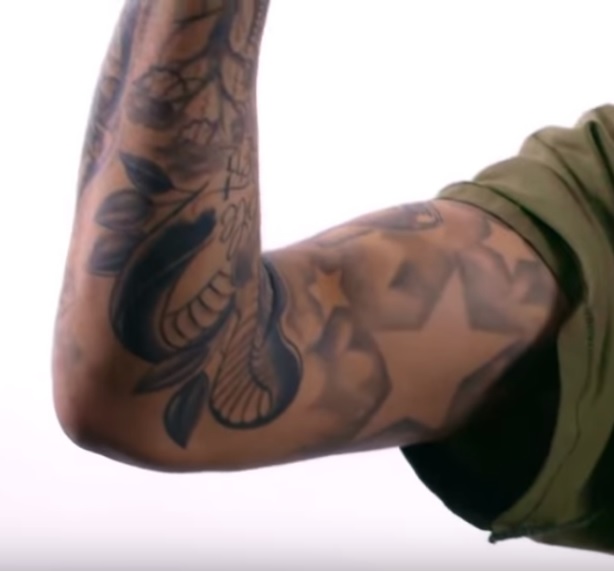 Tattoo of a woman
On his left chest Kyle got a tattoo of a woman shushing by pointing finger on the lip. The tattoo reminds him to speak less and listen more.
"Loyalty" and "Family" Tattoo
Kyle is a big family person. Loyalty and family mean a lot to him. He got the "Loyalty" tattoo on his right and the "Family" tattoo on his left rib cage.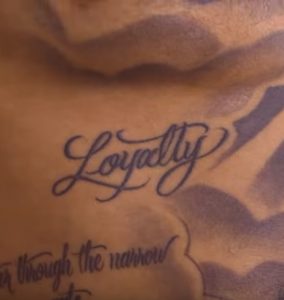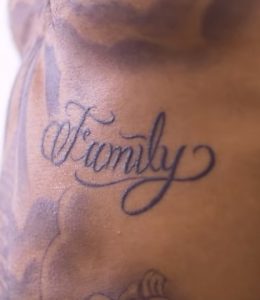 Name Tattoos
Kyle got his sister's name tattooed on his right wrist and his brother's name on the left wrist.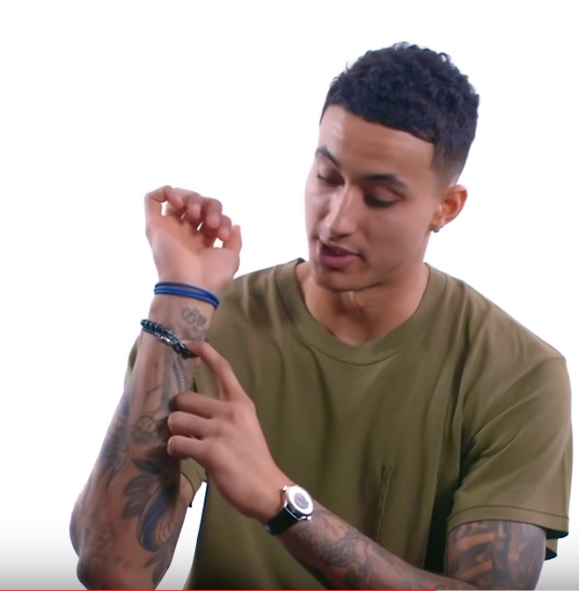 Kyle Kuzma's Tribute Tattoos
"Angel" Tattoo
He has an angel tattoo on his right elbow in the tribute to his grandfather when he passed away. His grandfather used to play guitar so in his tattoo he got an angel playing the harp that resembles his grandfather with his guitar.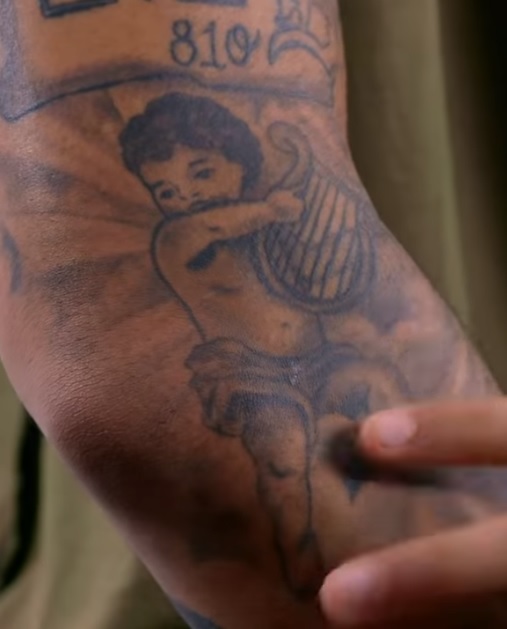 "Ginny" Tattoo
His grandma Ginny passed away when he was in high school. He got his Grandmother's name "Ginny" tattooed right under his "Praying hands" tattoo. He got this tattoo done in the hood in a basement for a $40 iPod.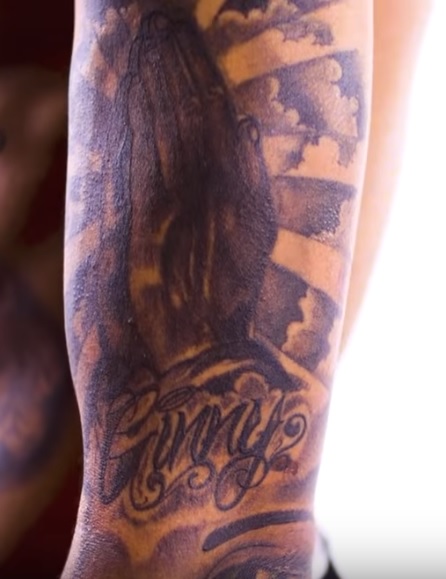 "Space Jam" Tattoo
This is a Space jam movie tribute tattoo. In the movie when Michael was struggling Bugs gave him the Space Jam juice which was called Michael's super stuff. Kuzma didn't want to put Michael's name on my body so he changed it to Kuz's secret stuff. The tattoo is still half done. He got all the Monsters on the side and planning to get all the characters of Looney tunes on the other side.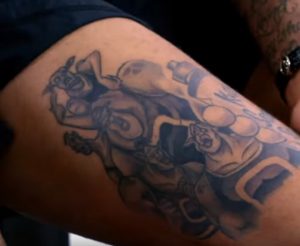 "Peace" Tattoo
Kyle got an unfinished "Peace" sign tattoo on his right shin. It hurt so bad that he couldn't finish it.
Kyle Kuzma Breaks Down His Tattoos