Flowers are usually seen as feminine and girly, but a lot of men who choose to get tattoos like the idea of having bold, realistic flowers on their bodies. One of the most popular flower tattoos that men choose are roses. They are classy and pair well with other bold designs such as skulls, snakes, knives and other manly objects. Not very often do you see whimsical flowers upon men, but that doesn't mean a man cannot get a fun, whimsical flower tattoo.
Flower tattoos on a man can be for any reason he wants. Whether it makes a nice pairing with a manly tattoo he already has or the flower is used to symbolize a loved one or significant other. Below are some men who have already gotten flower tattoos with no shame. They wear the flower designs proudly. Take a look and see if there is a design you'd consider getting.
Bold Flower Tattoo
This man has a nice back tattoo with bold red flowers that don't look feminine.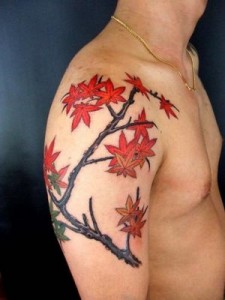 Crown and Rose Tattoo
A nice manly tattoo with a rose and crown in deep bold colors.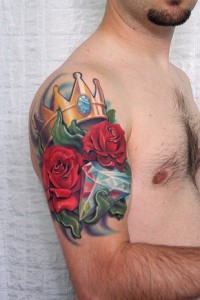 Clown Sunflower Tattoo
This man decided to get a sunflower tattoo with a clown's face in the center on his back.
Flowers and Playing Cards
This man's chest tattoo has a center piece of five playing cards and surrounding them are several bold roses.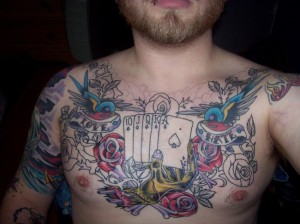 Dandelion Tattoo
This man got a dandelion tattoo on his side with the roots exposed.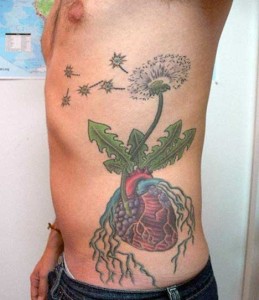 Black Rose Tattoo
This man's flower of choice was two bold black roses upon his chest.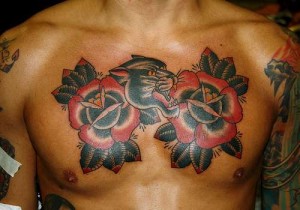 Flower Chest Tattoo
Upon this man's chest are a variety of colorful flowers.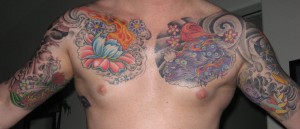 Colorful Flower Tattoos
Two very colorful flower tattoos make for a great manly chest piece.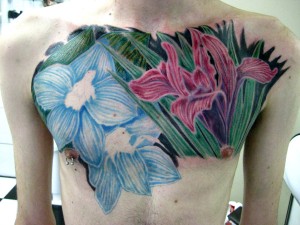 Flower Back Tattoo
This man chose to go with bold white flowers upon his back with his child's face and name.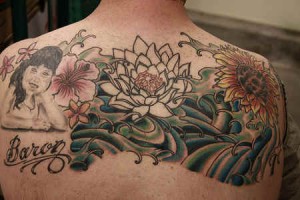 Flower Sleeve Tattoo
This bold orange flower tattoo upon his man's arm looks amazing with the bold black design surrounding it.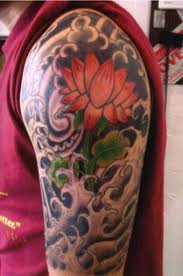 Rose Tattoo
On this man's arm and hand, he got blue and pink flowers to adorn his body.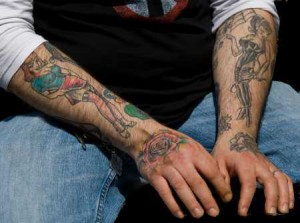 Asian Inspired Flower Tattoo
A bold Asian floral design in a vibrant orange ink with Asian characters above it.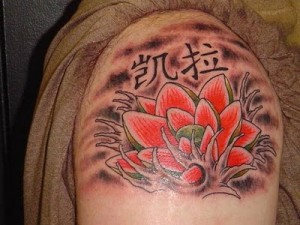 Blue Rose Tattoo
This tattoo is a bold blue rose design with a name in a fancy ink that compliments it nicely.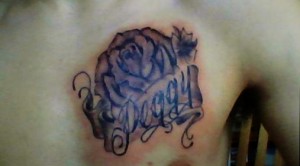 Rose Hand Tattoos
These bold flowers are placed nicely on the man's hands.
Detailed Rose Tattoo
This man's tattoo is a detailed black rose upon his hand.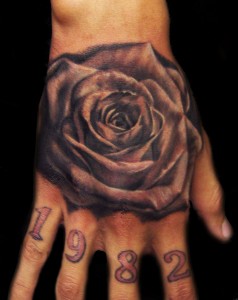 Closed Rose Tattoo
This man's tattoo is of a red rose that's still closed up with a green stem and leaf.
Skulls and Roses
This manly skull tattoo is complimented nicely by the bold red roses on either side.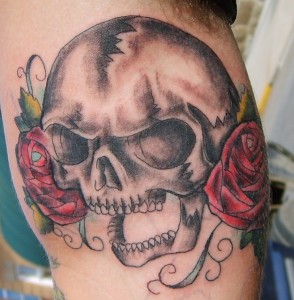 Line Art Flower Tattoo
A cool looking line art flower tattoo that isn't colored in makes a nice tattoo for this man.
Floral Shoulder Design
This tattoo is a bold colorful floral design on this guy's arm.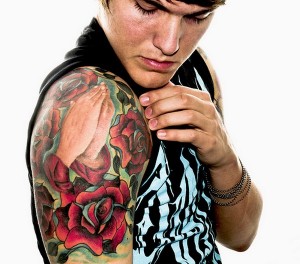 Chest Tattoo
A bold design upon this man's chest with small flowers throughout the design.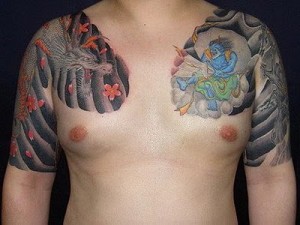 Flower Tattoo
This man has two grey scale flowers upon his back.