Hawaiian flower tattoos are gaining popularity these days. Hawaiian flowers like the Hibiscus and the Bird of Paradise have great bright colors; it's a natural to see them in ink. The Hibiscus is often seen in tattoos for the meaning of the connection we have to mother earth. The Hibiscus flower also symbolizes purity and grace. The Bird of Paradise is popular with Hawaiian flower tattoos because of its meanings like; peacefulness and love of nature.
When choosing Hawaiian flower tattoos play with wild vibrant colors to personalize your art work. A single Hawaiian flower tattooed on the upper back can easily turn in to a large scale piece of art over time with leafs, trees, clouds, waves, dolphins, killer whales, tiger or butterflies just for starts. Keep in mind that you will need free space on the body for this kind of tattoo work.
Three Hawaiian Flowers with Leaves  – Abdomen
This Hawaiian flower tattoo looks great across the lower stomach.  It can be covered up and easy to hide.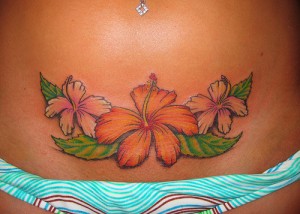 Stunning Hawaiian Flowers – Large Scale
This large size Hawaiian flower with vine looks very cool running up the side of the body.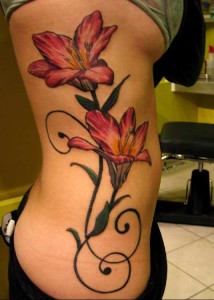 Single Hibiscus – Lower Body
The  size and design of this Hibiscus flower allows it to be placed almost anywhere for an eye catching piece when visible.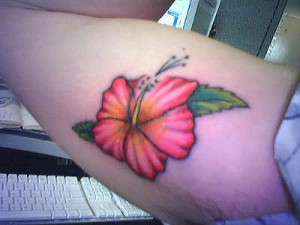 Shoulder Draped Hawaiian Flowers
These beautiful Hawaiian flowers are quite stunning running over the shoulder and down the top of the back.
Unusual Hawaiian Hibiscus Flower Tattoo
Small Hibiscus flowers like this on look great on the upper arm or upper chest. Great shading and vein detail; almost antique in style.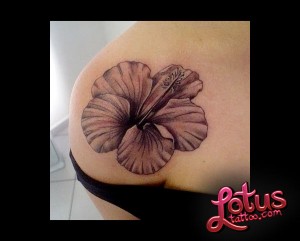 High Back Single Hibiscus Tattoo
Leafs can add depth to Hawaiian flower tattoos, and add contrasting colors that make the tattoo stand out.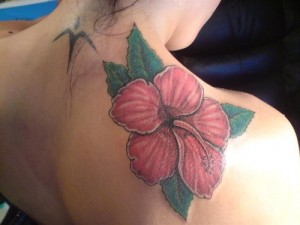 Personalized Hawaiian Flower Tattoo
Hawaiian flowers with a name or personal message like a verse from a poem add a nice touch.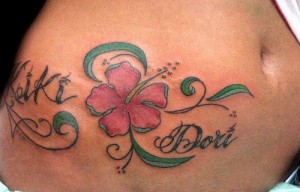 White Hawaiian Hibiscus Flower
The ankle is popular with Hawaiian flower tattoos;  very cool colors used here!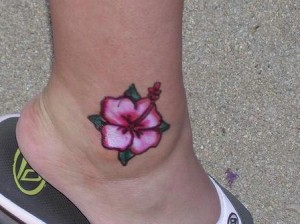 Hawaiian Flower Tattoo Releasing Pollen
It's amazing how this simple dark ink Hibiscus flower on the top of the foot catches you attention. Notice how the pollen releasing creates a feeling of movement.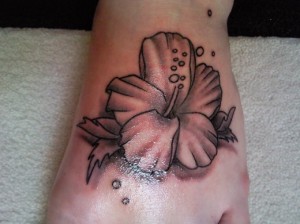 Hawaiian Flower Tattoo Behind the Ear
This small Hawaiian flower is hidden behind the ear; share when you want!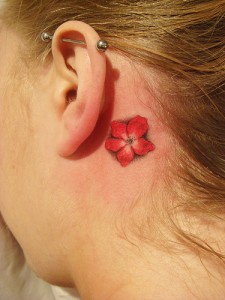 Source
Tribal Symbolism and Hawaiian Flower Tattoo
This turtle and Hibiscus flower looks great on the foot; very cool pairing.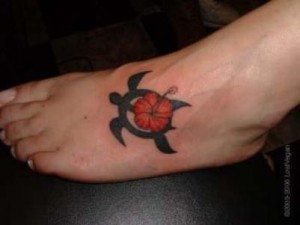 Tribal Hawaiian Flower Tattoo
Very nice tribal pattern chosen with the Hawaiian flower incorporated in to it. Beautiful in traditional tribal the dark ink.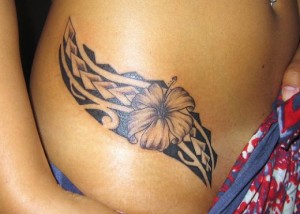 Hawaiian Flower Tattoo with Multiple Hibiscus Flowers
Multiple Hawaiian flowers in rich red ink give the impression of a bouquet or abundance and you don't even miss the leaves!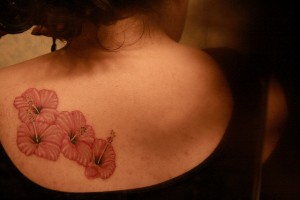 Personalized Hawaiian Flower Tattoo