In some cultures, skulls are usually looked upon as a representation of death. In America, skulls and skeletons are looked upon with terror on Halloween, as society teaches them to fear the concept of death. However, this is not the case  in other cultures. In Mexico, the Day of the Dead celebrates deceased ancestors with images of skulls on everything from party decorations to desserts. Still other cultures look at skulls as  symbol of mortality and a celebration of life.
No matter what meaning it carries, there is no doubt that skull tattoos are a very popular option for a tattoo. Depending on the person who gets the tattoo, it can represent life or death, grief or celebration. Because it represents so many things for different cultures, the possibilities for a skull tattoo are endless. Some are frightening and dark, while others are bright and friendly.
Check out some of these skull tattoos for inspiration on your next work of body art.
Colorful Sugar Skull Tattoo
This colorful tattoo is typical of Day of the Dead celebrations.
Menacing Skull Tattoo
The look on this skull's face gives it a fearsome appearance.

Shoulder Skull Tattoo
Surrounded by flowers and leaves, this skull tattoo gives the impression that death is a part of nature.
Skull and Bird Tattoo
This image of a bird and a skull is popular in western cultures; both represent death.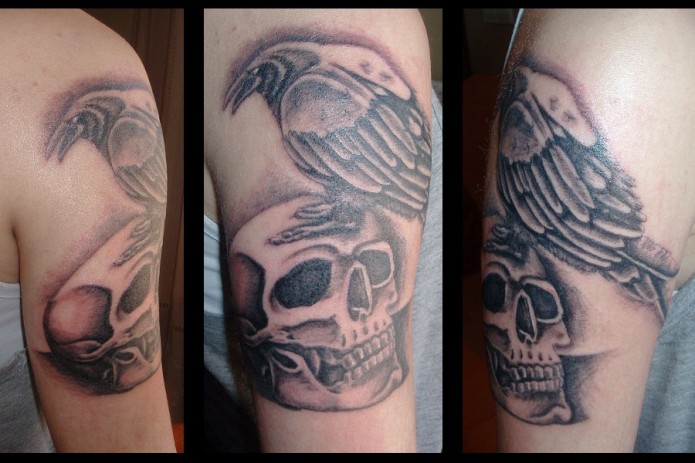 Skull with a Mustache
Even in death, this man has retained his hat and facial hair.
Skull Tattoo with Wings
Images of skulls with wings are very popular, symbolizing a journey from this life to the next.
Red and Black Skull
The shading and coloring of this tattoo give it a deadly appearance.
Skull and Cat Tattoo
This image of a skull is paired with that of a black cat, giving the tattoo an air of superstition.
Grim Reaper Skull Tattoo
This skull is found on the image of the Grim Reaper, the very representation of death.
King Skull Tattoo
This skull tattoo could represent royalty or affluence.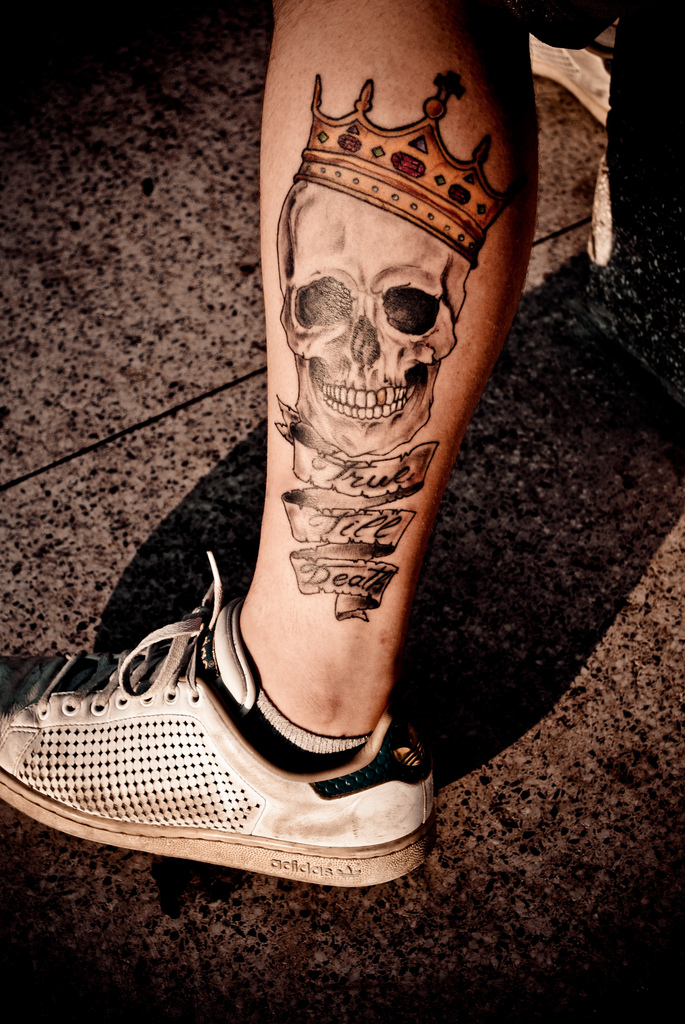 Skull Body Art
This skull tattoo uses shading to create a realistic look.
Day of the Dead Skull Tattoo
This sugar skull body art could be representative of a rich cultural heritage.
Girly Skull Tattoo
This skull is out of the ordinary; pairing it with pink stars, hearts, and bows gives it a feminine twist.
Flowery Sugar Skull Tattoo
This skull tattoo is adorned with flowers to add to its beauty.
Sugar Skull with Hearts
The combination of hearts and a skulls represents affection for the dead.
Tribal Skull Tattoo
This skull looks fierce on a background of a bold tribal tattoo.
Black and Red Skull Tattoo
This black skull on a red background sends a bold message.
Skull and Crossbones Tattoo
This tattoo is very reminiscent of pirates and the open seas.
Skull Tattoo on Arm
As an important part of a larger tattoo, this skull represents the transition between life and death.