While flower tattoos of any kind have always been popular, the most popular type of flower tattoos is definitely rose tattoos. Associated with beauty, love, and romance, roses are traditionally thought to be the flower of passion. On Valentine's Day, roses are exchanged between couples as a symbol of affection, and the rest of the year they are just as suitable as a sign of endearment. Because they come in various colors, they make for quite versatile tattoos.
Perhaps the most important aspect of the rose is not its blooms, but its thorns. The thorns serve as a reminder that love is sometimes painful and difficult. While there may be sharp disagreements and difficult times, relationships can still be beautiful and loving, which is represented by the beauty of the rose blossoms.
If you are considering getting a rose tattoo to symbolize your love and affection, check out some of these rose tattoos for inspiration.
Rose and Bird Tattoo
A brightly colored bird sits among beautiful and intricate roses.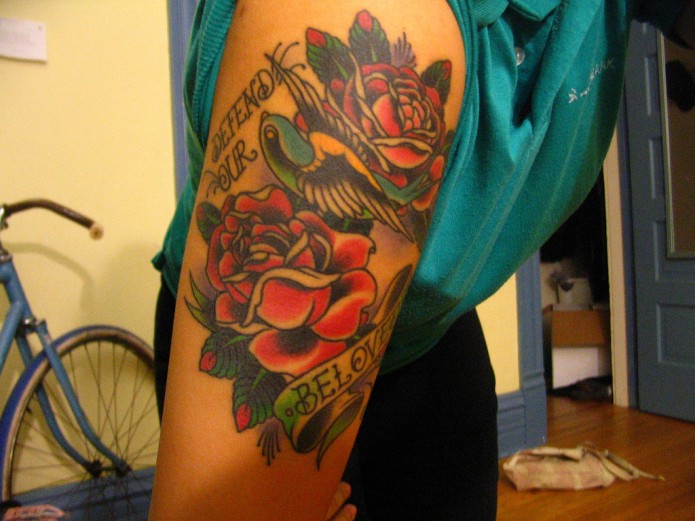 Three Roses Tattoo
These three roses near the clavicle are beautiful.
Woman Rose Tattoo
With a nude woman rising from the petals, this rose tattoo is clearly a metaphor for feminine beauty.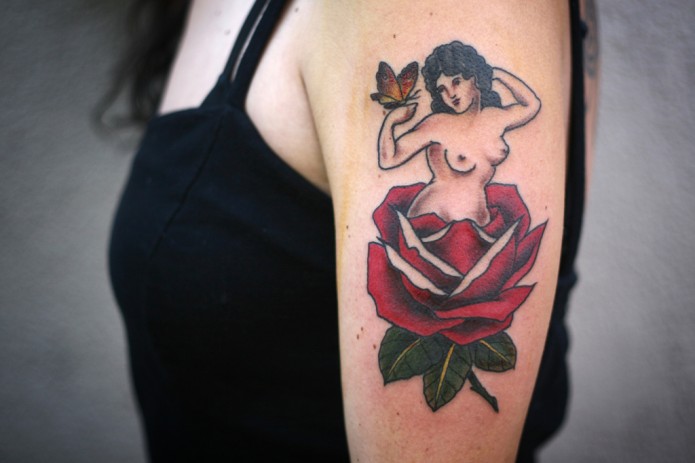 Rose Rib Cage Tattoo
Swirling rose stems and beautifully shaded flowers make this rose tattoo a true work of art.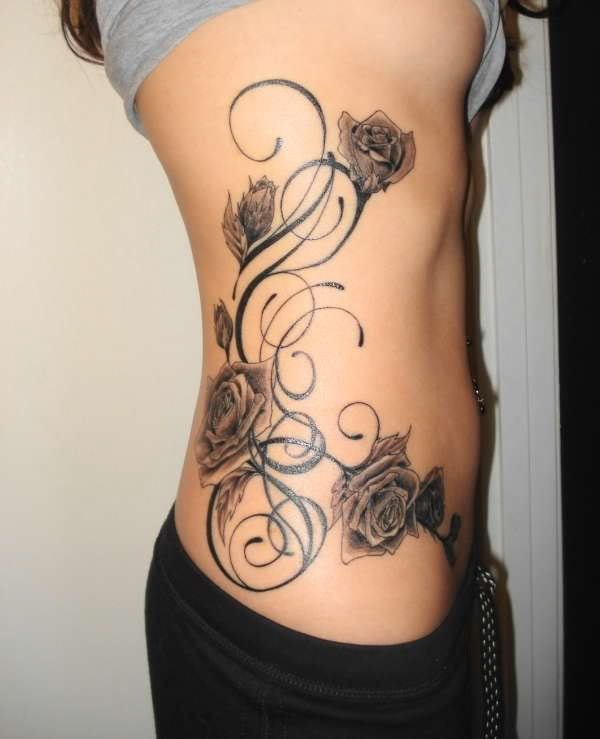 Whimsical Rose Tattoo
The light colors of this pink and green rose tattoo, along with its swirling leaves, give it a whimsical look.
Colorful Rose Tattoo
These red and yellow roses are separated by bright purple flowers.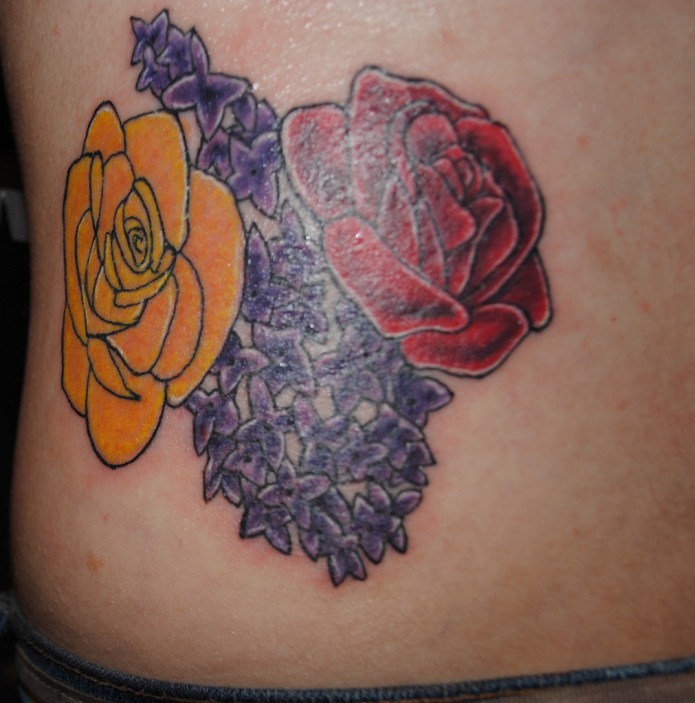 Rose and Dagger Tattoo
This rose has a dagger running through it, perhaps a symbol of a love gone wrong.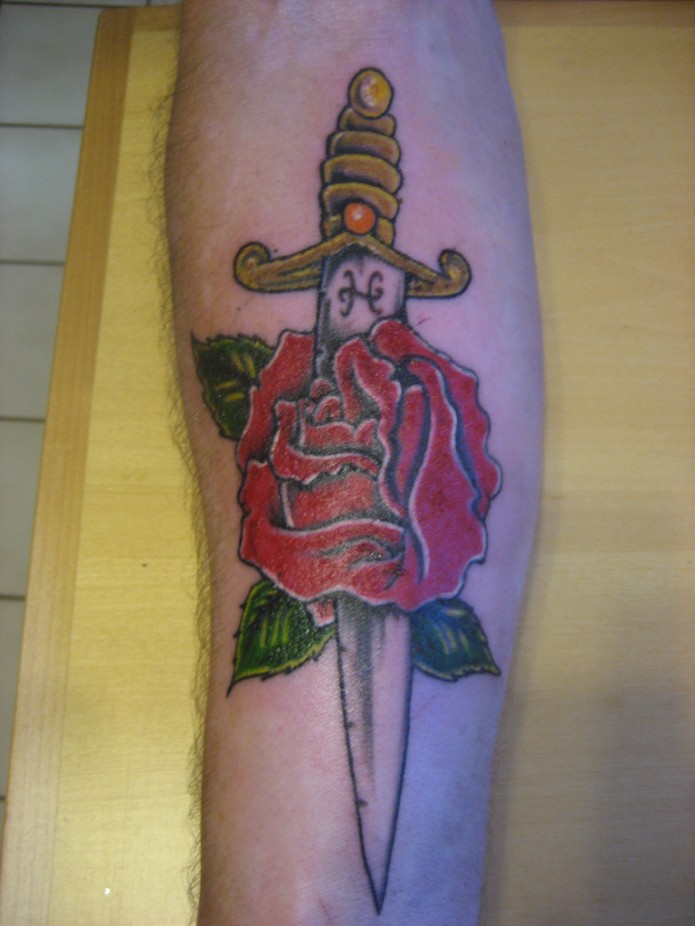 Collar Bone Rose Tattoo
These two roses, located at the front of the shoulder and collar bone, prove that rose tattoos look great at any place on the body.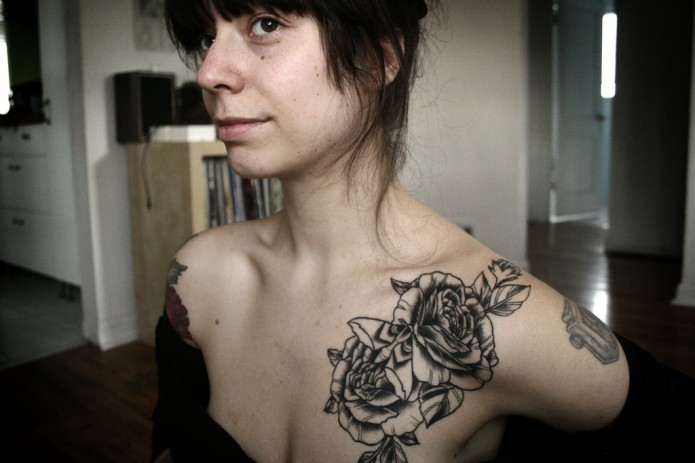 Black and White Rose Tattoo
This black and white rose tattoo is a great background for an important message.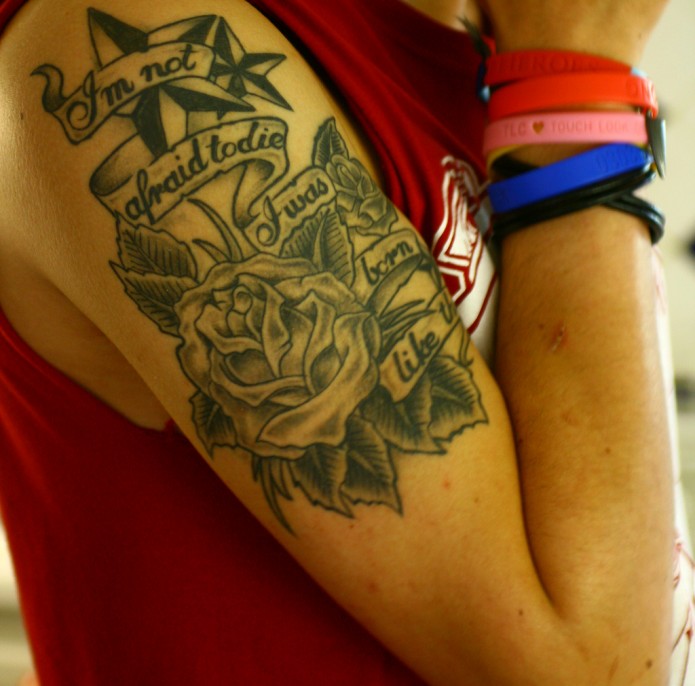 Roses Wrist Tattoo
Three pink and one yellow rose adorn this wrist, making for a beautiful and feminine tattoo.
Stars and Rose Tattoo
This rose tattoo is surrounded by stars that are formed by a creative use of shading.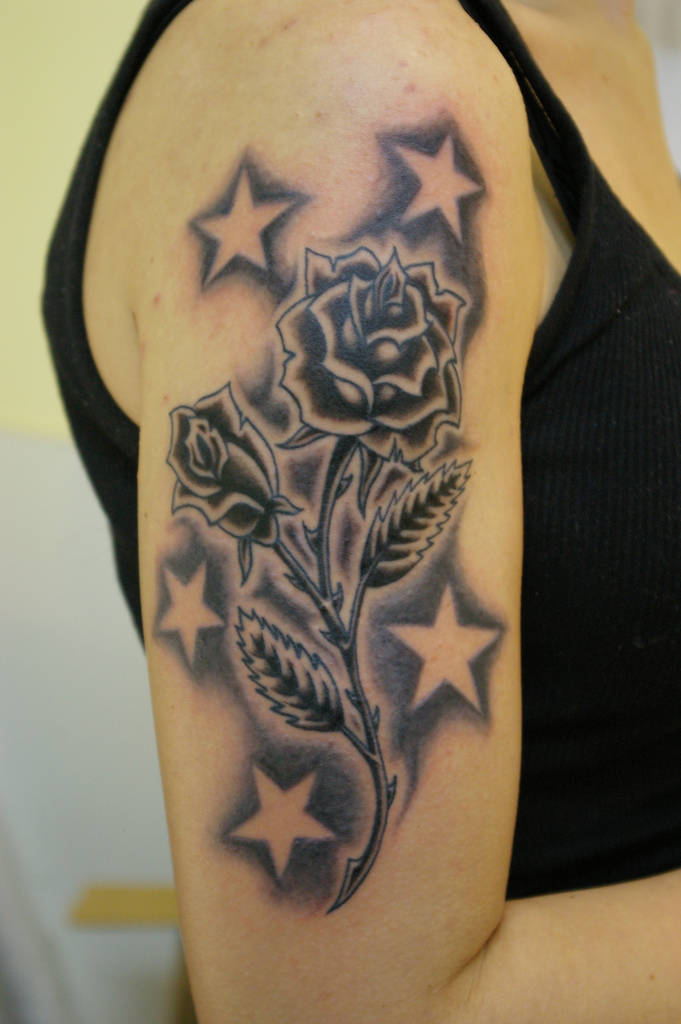 Red Rose Tattoo
This vibrant rose tattoo looks wonderful with the message "in dreams" surrounding it.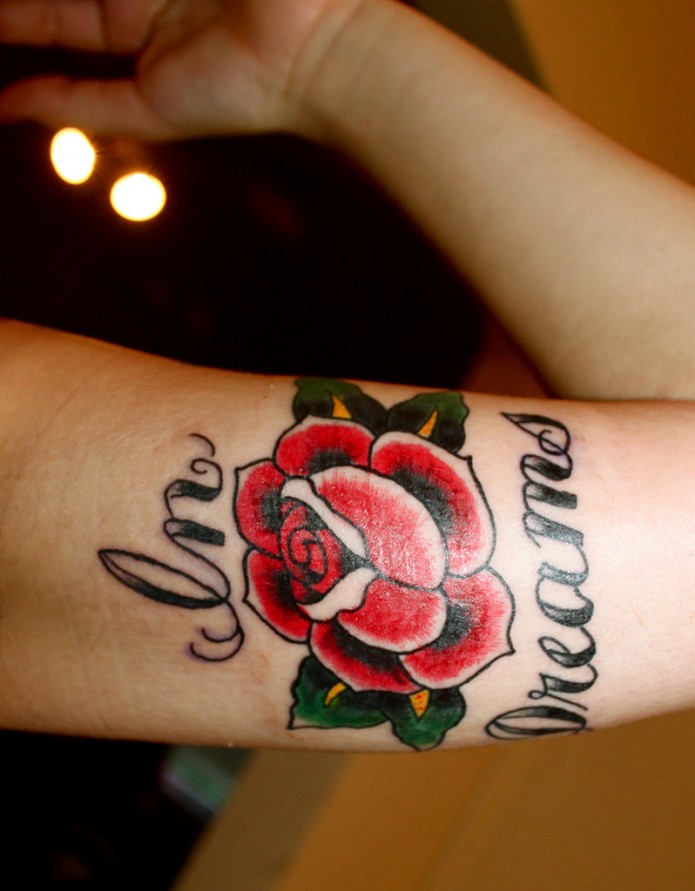 Rose and Thorns Tattoo
This rose tattoo, surrounded by a ring of thorns, commemorates the death of a loved one.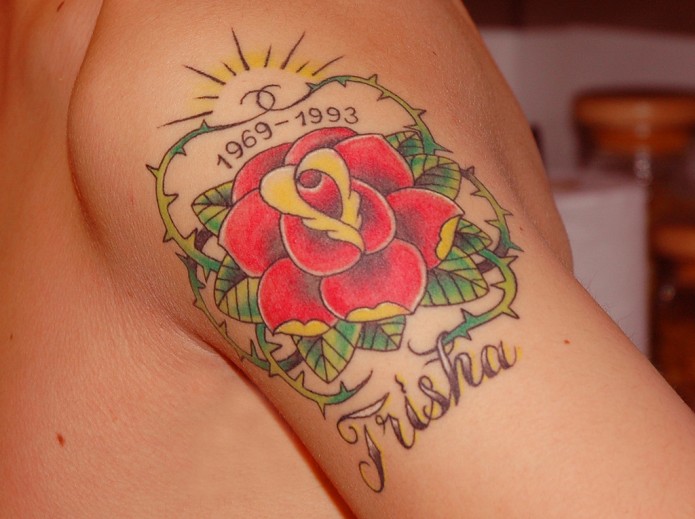 Rose Neck Tattoo
This red rose on a black background gives the back of this woman's neck a great work of art.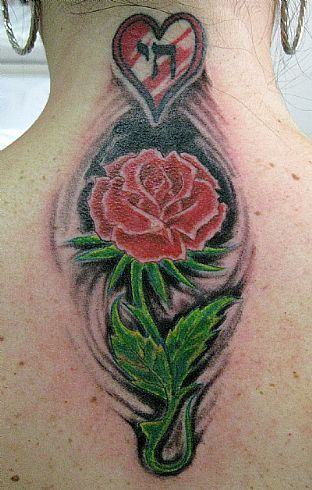 Rose Foot Tattoo
The bright colors of this rose foot tattoo are a great accent to any open shoes.
Dark Rose Tattoo
This dark reddish-purple rose is a bold and interesting color.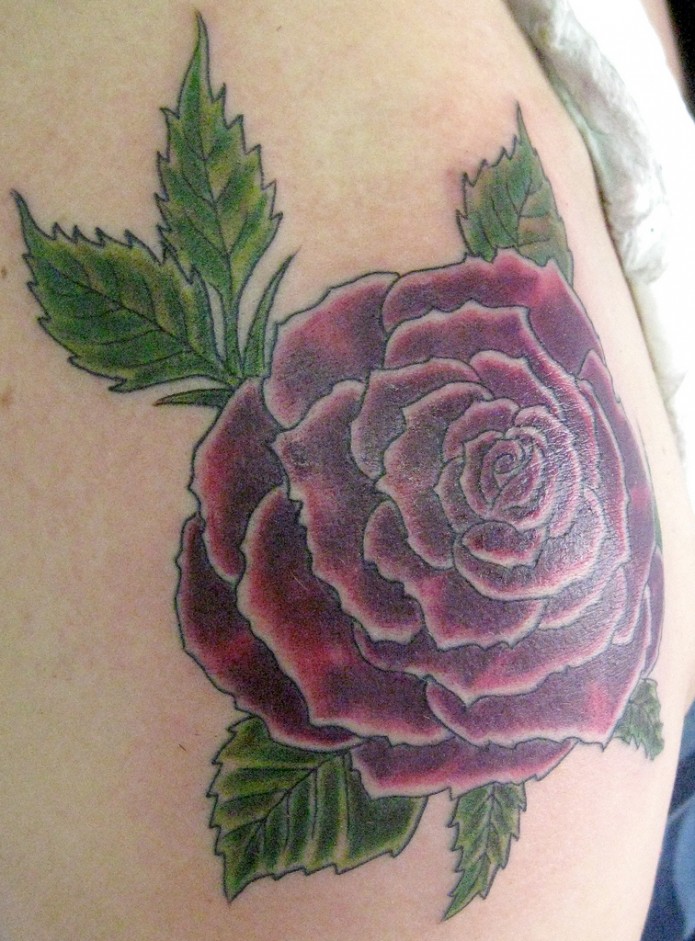 Rose Lower Back Tattoo
This pink rose is a symbol for feminine beauty.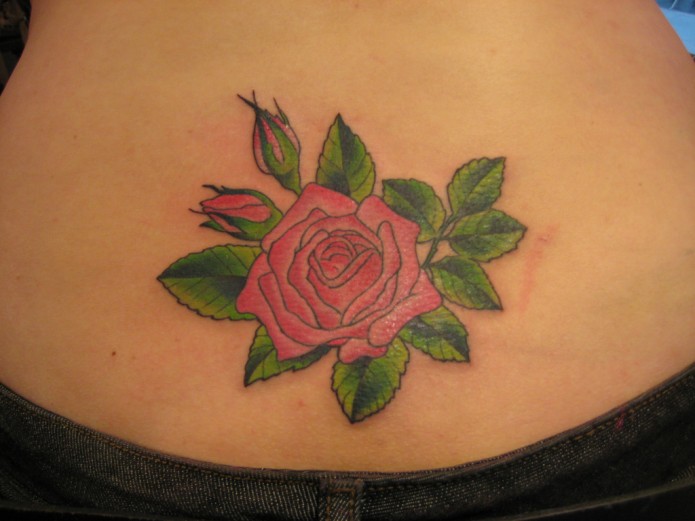 Bleeding Roses Tattoo
These two bleeding roses cross stems to make a perfectly shaped lower back tattoo that accents the shape of the woman's body.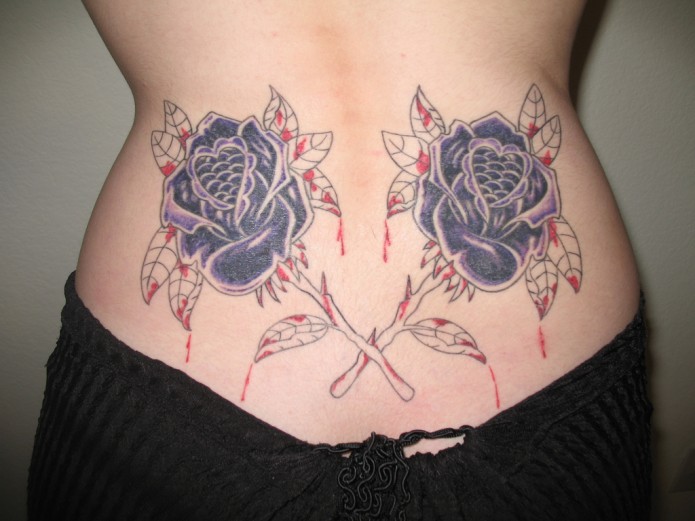 Rose Cover-Up Tattoo
This beautiful rose tattoo is the perfect piece of art to cover up an old and fading tattoo.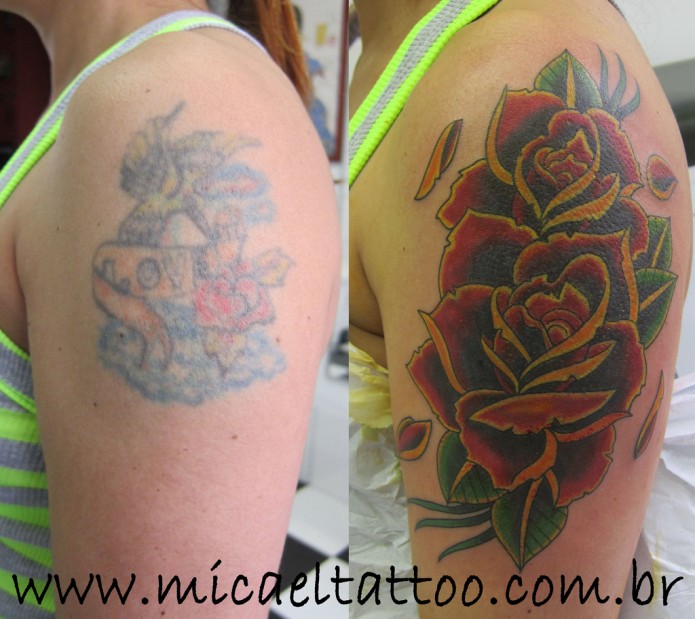 Rose Shoulder Tattoo
These multi-colored roses look great on this woman's shoulder.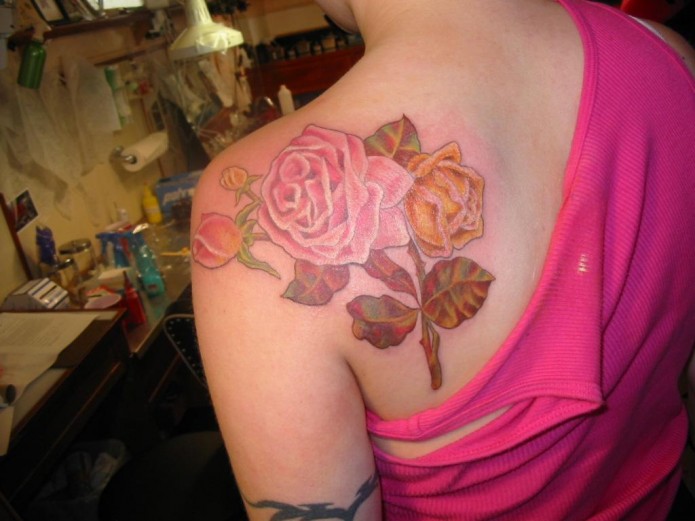 Gothic Rose Tattoo
These black roses with red centers and thorns give this tattoo a gothic feel.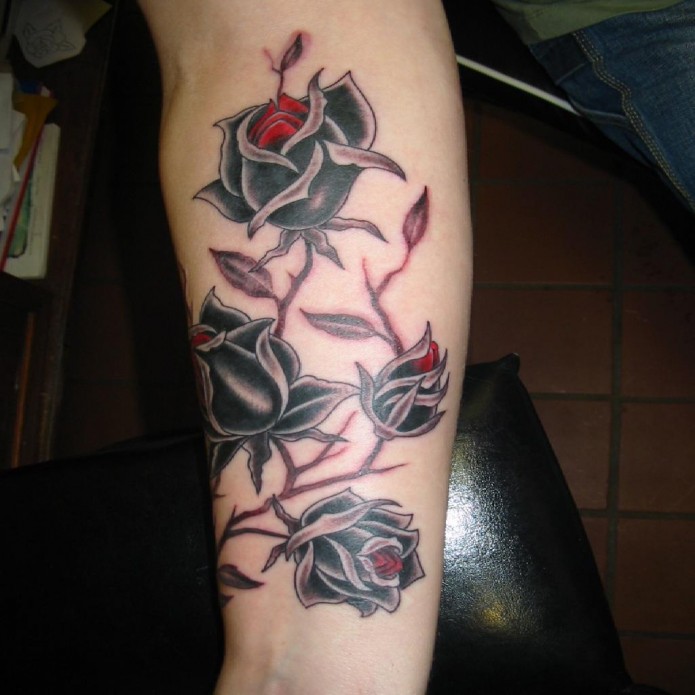 Rose Cleavage Tattoo
Though this tattoo would be hidden in most outfits, it makes a bold statement in a low-cut top.