Richard Colson Baker (born April 22, 1990), known professionally as Machine Gun Kelly (abbreviated as MGK), is an American rapper and actor from Cleveland, Ohio.
MGK made his national debut with the single called "Alice in wonderland" in May 2010 and released his debut album "Lace up" in Oct 2012 which made its way to number 4 on the US Billboard 200 on its first week.
Like any other rappers in the industry, MGK has a good amount of ink on his body.
Here are the stories and meanings behind some of MGK's favorite tattoos.
Machine Gun Kelly's "216" and "303" Tattoo
The numbers are the area codes for Denver and Cleveland. Machine Gun Kelly is originally from Cleveland, Ohio. He moved to Denver with his family when he was 9 – 14 years old. Those were the years when he started being mindful of the world. Most of his police run-ins where in Denver too. In an interview he mentioned that these two cities actually moulded him into a man. So he got the area codes of Cleveland and Denver tattooed on his both arms.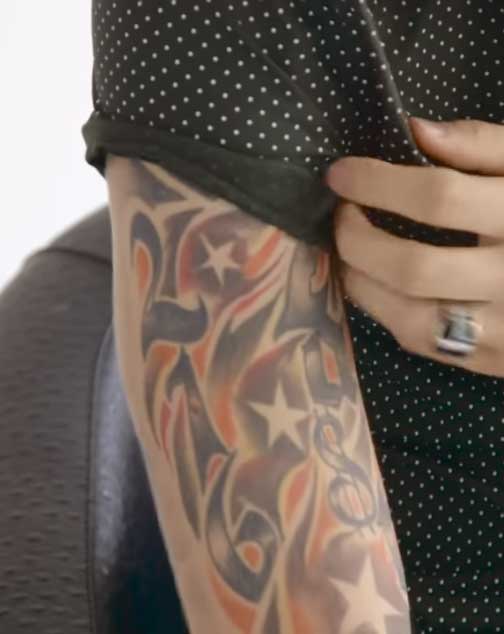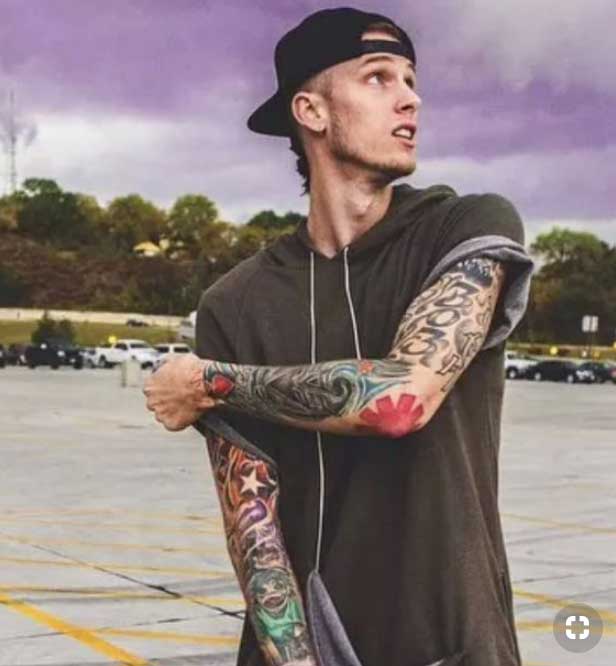 Machine Gun Kelly's "East" Tattoo
The "East" tattoo on his right arm also represents his hometown.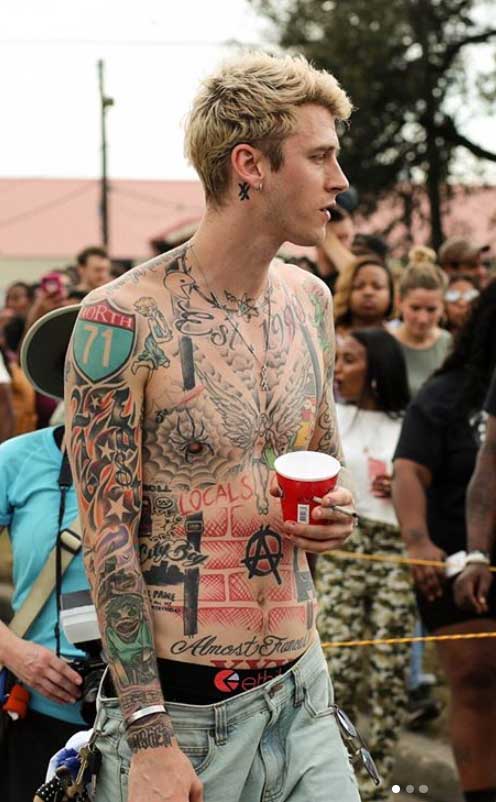 "71 North" Tattoo
"North 71" tattoo reminds him that if he is ever gets homesick; he can just take a 71 North bus and be at home.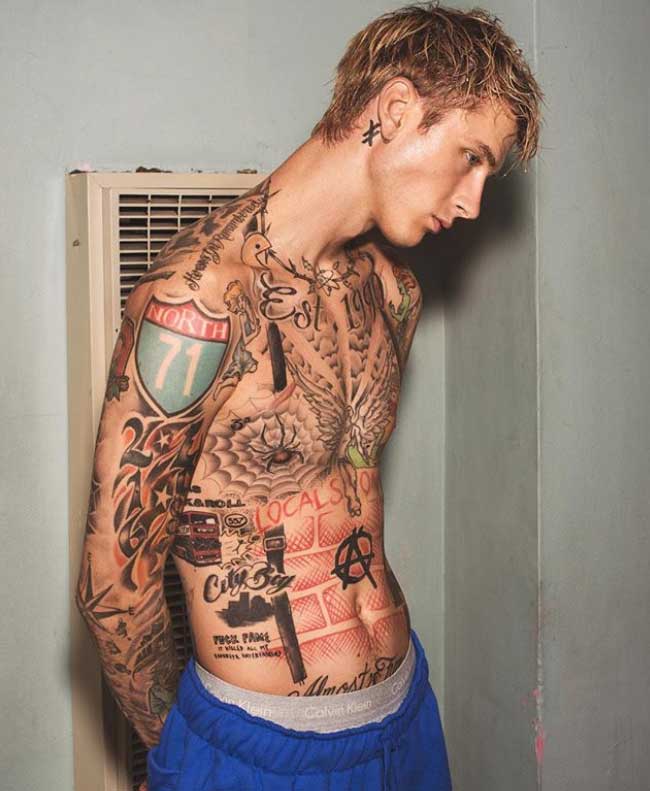 "Fuck Off" Tattoo
Machine Gun Kelly got "Fuck Off" tattoo on his left wrist. He calls it 3:30 am tattoo. After a big night when he is tired and can't be bothered talking to people he just point the people to his tattoo.
Salvador Dali Tattoo
Machine Gun Kelly got Salvador Dali's famous artwork "The Temptation of Saint Anthony" tattooed on his back. He got this tattoo done in one of the grimmest places. It was a hotel room in Reading, Pennsylvania. When he went to the bathroom to take a piss, he saw the entire bathtub was full and it was filled with pee.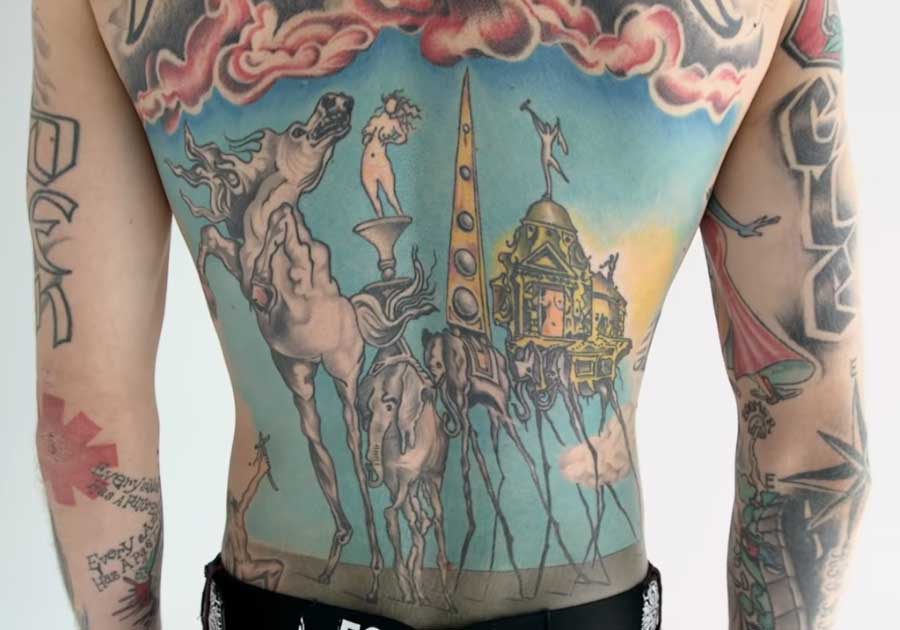 Double Decker Bus Tattoo
It is one of his favourite tattoos. Machine Gun Kelly once got hit by a Double Decker bus in Manchester. It was 7 am in the morning and he was looking for some weed. He saw a guy cross the street looking like he may have some weed. Without thinking he took a step in the street and got hit by a Double Decker bus going on full speed. The windscreen of the bus shattered like spider web and he was knocked down on the street and his clothes were all ripped. He was so messed up that he tried to flee the scene thinking he did a crime. So, he got the Double Decker bus (with a stick figure getting hit by the bus) tattooed on his right rib in the memory of that accident.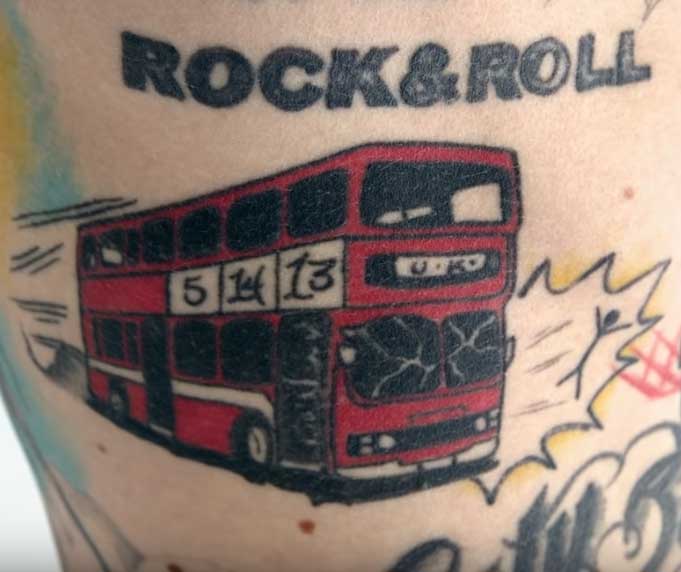 Banksy Tattoo
Machine Gun Kelly is a huge Banksy fan. He got one of Banksy's famous graffiti "Keep your coins, I want change" tattooed on his left rib cage.
Black Heart Tattoo
He calls it the Stone-cold heart. This tattoo represents how tough the music industry is and how it hardens people up and turn them stone cold.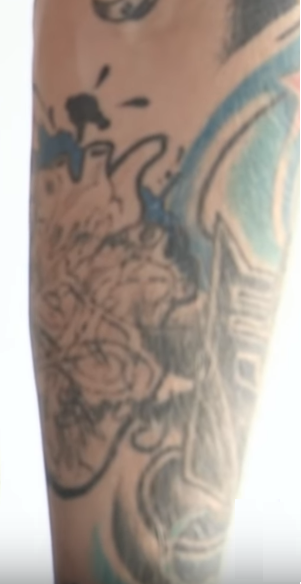 "SEX DRUGS ROCK & ROLL" Tattoo
MGK has a "SEX DRUGS ROCK & ROLL" tattoo  on his right rib cage.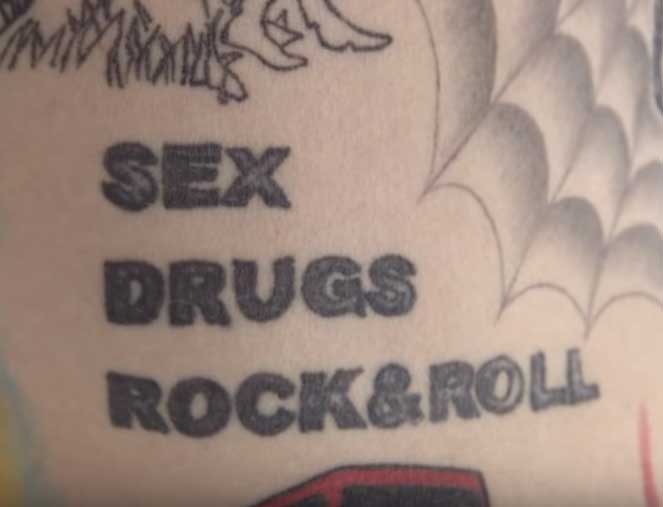 "MGK" Tattoo
Machine Gun Kelly got a massive "MGK" tattoo on his back. MGK stands for his stage name "Machine Gun Kelly".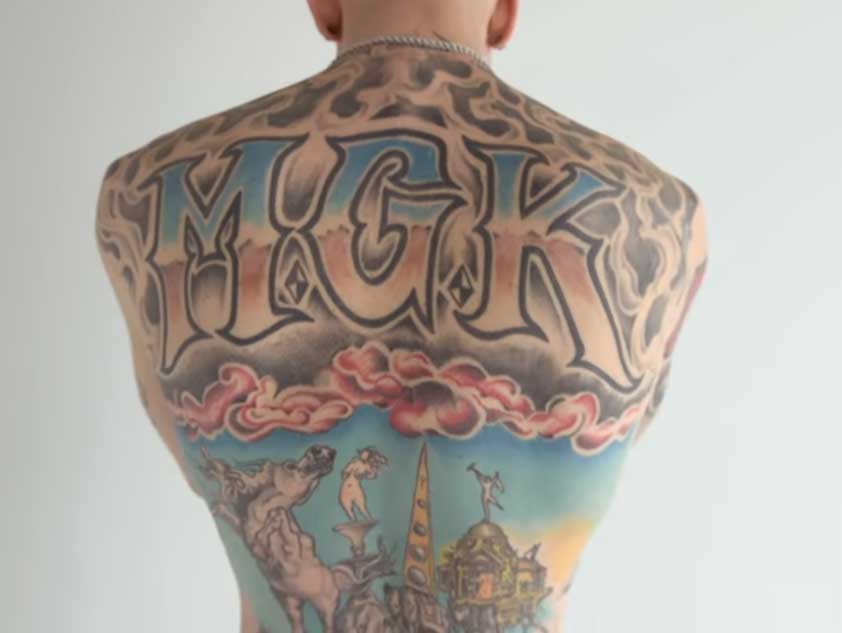 Giving-Tree Tattoo
Machine guy Kelly got the Guy from the giving tree tattooed on his right rib cage. In an interview he told that he feels people want so much from him even he has given them everything. He feels like he is the actual giving tree. That is the reason he got the giving tree tattoo.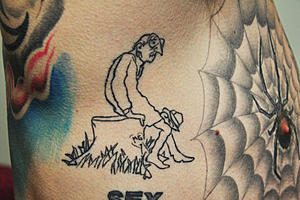 Anarchy Tattoo
MGK got the Anarchy tattoo against his team members' disapproval. As he got quite a bad reputation in the industry and it might just turn away all the corporate sponsors. But he got the anarchy tattoo anyway because to him it is a very strong statement about social reform and he wears it proudly.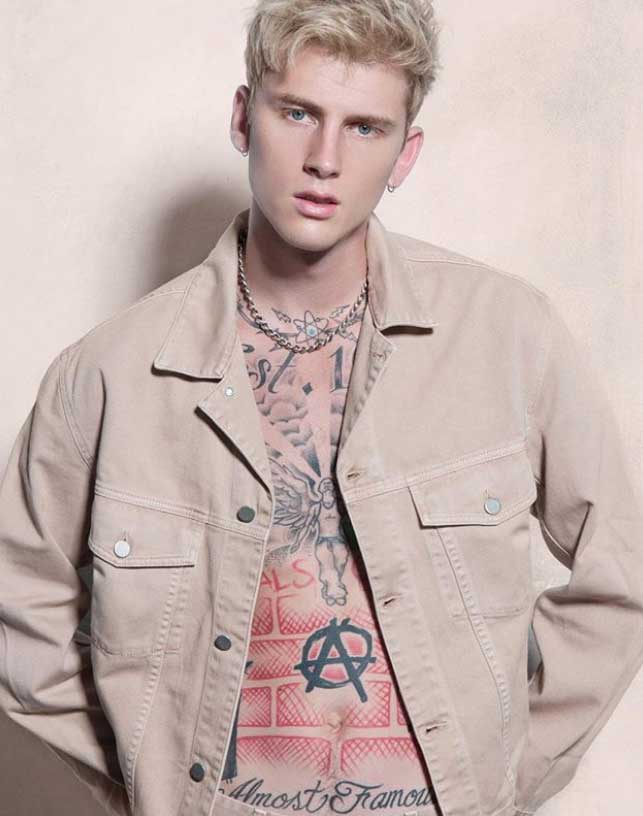 "Every Sinner has a future Every Saint has a past" Tattoo
Machine Gun Kelly has the above quote tattooed on his inner left forearm.
"Almost famous" Tattoo
MGK got Almost famous tattooed right under his belly button.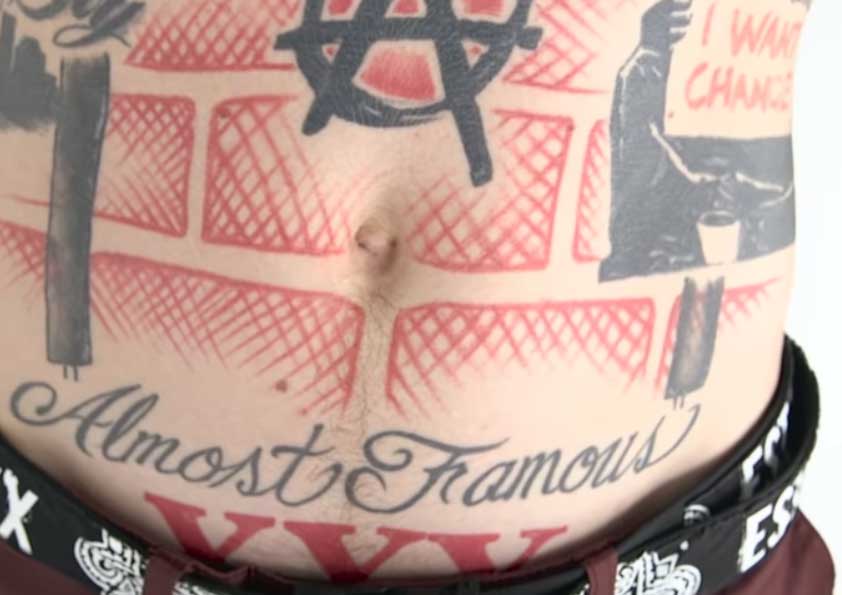 XXX Tattoo
MGK got a "XXX" tattoo on his lower abdominal. He said that it gives girls a fair warning of what they are getting into.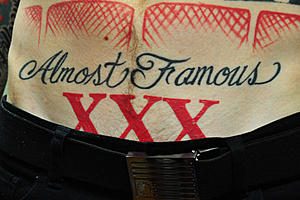 All Seeing Eye Tattoo
This tattoo is an ode to a book called Nineteen Eighty-Four by an English writer George Orwell. The idea of this tattoo is that Big Brother is watching you from the high tower and people down here are revolting against it holding their bats and weapons. It is the protest against the power. MGK got this tattoo when he was only 19 years old.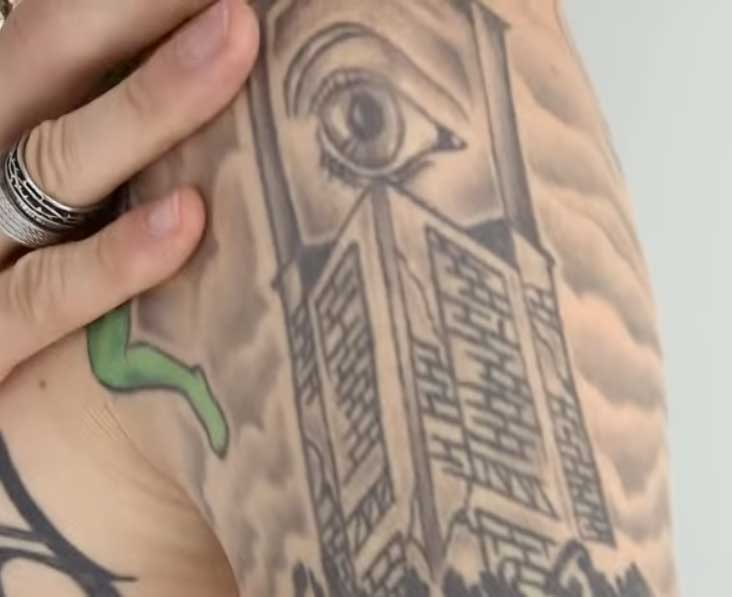 "LOCALS ONLY" Tattoo
This tattoo represents the people with same mindset who are brushing off the negatives and turning them to positives. It has nothing to do with geographical locations.
Guardian Angel Tattoo
MGK got this tattoo when he was 16 or 17 right at the time when he started to believe in God. His father was a strict Christian. MGK was always rebellious, so he made his own male guardian angel wearing pants, chucks and a wife-beater instead of a traditional female guardian angel wearing a robe.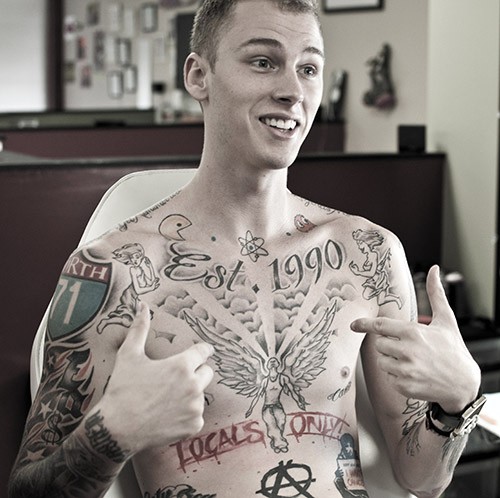 "Follow you Dreams" Tattoo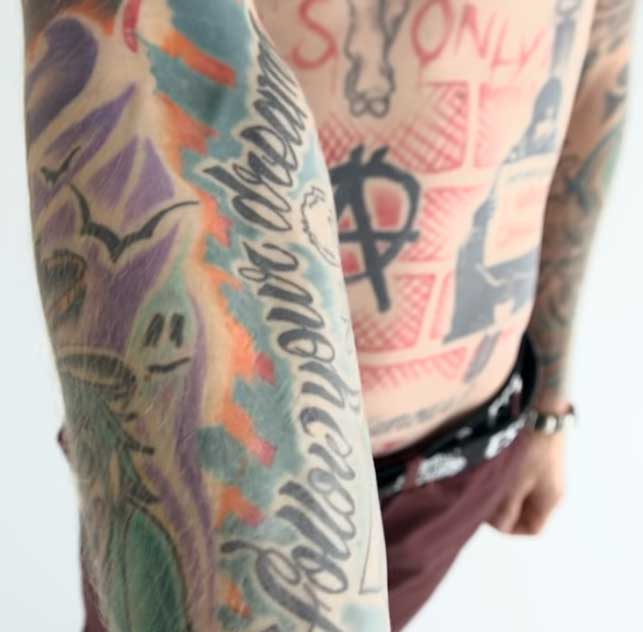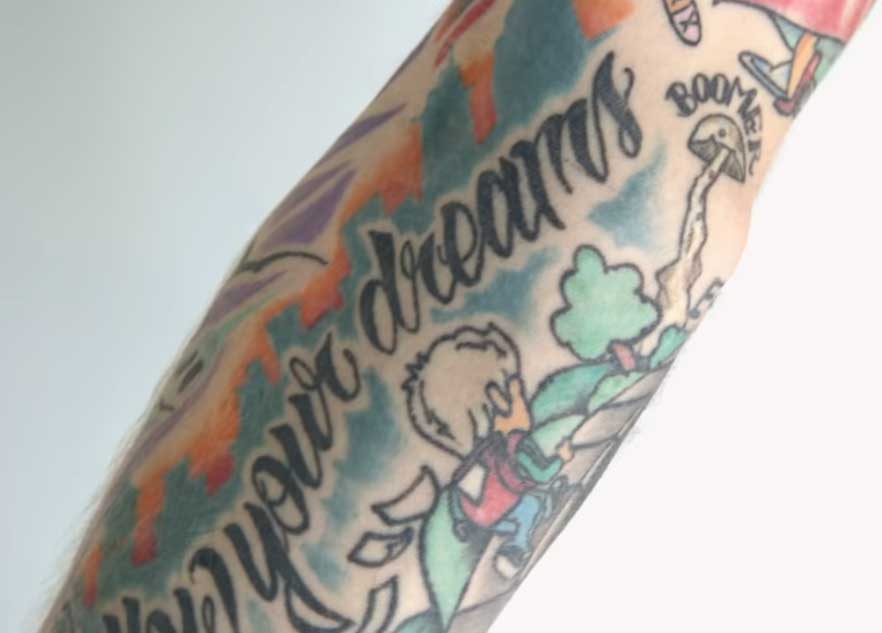 Machine Gun Kelly breaks down his tattoos