Sir Robert Bryson Hall II also known by his stage name Logic is a famous American rapper, singer, songwriter, novelist and record producer. Logic was born and raised in Gaithersburg, Maryland. Logic's third studio album 'Everybody' was his first debut at number one in the U.S on the Billboard 200 in 2017.
Like any other rappers and hip-hop artists Logic has few tattoos. For Logic tattoos are reminders. Reminders of things in his life and for the things that he has accomplished and wish to accomplish.
Logic's hand tattoos
'HAPPY WIFE, HAPPY LIFE' tattoo on the left hand
Logic's first tattoo was the one on his left hand that says happy wife happy life because for him its real. He actually got the tattoo before he got married. He just knew that he loved the women he was with and he felt really good about that so he got the tattoo. Logic believes that success and money mean nothing unless you have someone to share them with.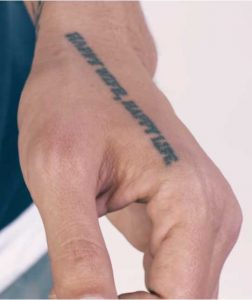 'BALANCE, YOURSELF ' tattoo on the right hand
Logic is one of the busiest men in the industry right now. He told GQ in an interview that he is a workaholic and likes to do a million things at once and it gets really crazy and insane. Besides music, the rapper is working on a movie, couple of books, several television shows, started a record company and a production company. With doing all these different things Logic got this tattoo ('balance, yourself') to remind him to chill out so he doesn't burn himself out and make sure that he can enjoy all the things that he has worked hard to attain.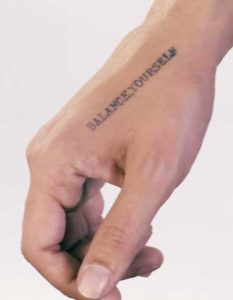 He chose the hands for his reminder tattoos as they are easy to see. What's the point of getting reminder tattoos if you cannot see them?
Logic's wrist tattoos
'E' or 'III' tattoo on the outer right wrist
Logic's third tattoo is 'E' the logo from his album 'Everybody' on his outer right wrist. The tattoo vertically looks like the letter 'E' for 'Everybody' but from the side it's a roman numeral for three and it is also his third album.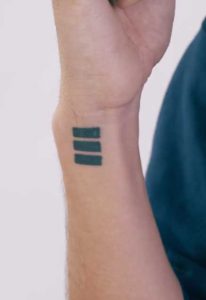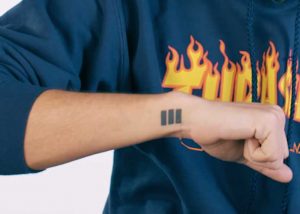 'Look Around' tattoo on the inner right wrist
Logic got another reminder tattoo on his right wrist and it says 'Look around'. On an Instagram post he said, "The other day I was in the car driving through a beautiful place I had never been before. And I was staring at my phone on Instagram like you are right now. And I saw a post that made me realize I wasn't in the moment and appreciating the things around me. So, I put "Look Around" on my wrist just underneath my eye line of where my phone is when holding it in my hand. As a reminder when I'm on it to put it down and enjoy the gift of right now. A fun fact about the handwriting is it's my best friends, @biglenbo who also supplied the handwriting on the cover of my debut album Under Pressure."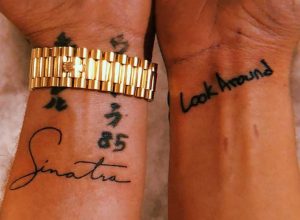 'Kill Bill' and 'Ultra 85' Kanji tattoo on the inner left wrist
On his inner left wrist Logic got a double Kanji tattoo. The shorter one is Kanji for Kill Bill. Kill Bill is Logic's one of the most favorite movies. He mentioned that he would have never discovered hip-hop without that movie because RZA from the Wu-tang clan scored the movie for soundtrack and by discovering RZA Logic was introduced to the Hip-Hop world and discovered Wu-tang clan, Nas, Mos, A tribe called quest, Big L. After watching Kill Bill, Logic always wanted to go to Tokyo in Japan so when he finally went there, he got this tattoo. To Logic this is probably the most meaningful tattoo because of all these reasons.
The longer one next to the Kill Bill tattoo says Ultra 85 in Kanji which is the album Logic will be working on.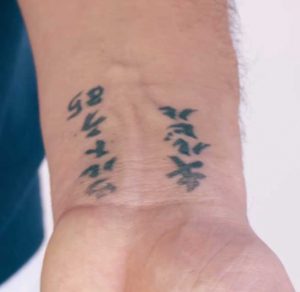 'Sinatra' tattoo on the left wrist
Logic has a Sinatra tattoo on his left wrist right under the Kanji tattoos. About this tattoo on an Instagram post he said, "And well, as for my left hand. Frank Sinatra has always been my biggest musical inspiration. And last minute in the car I decided to also get his very own signature to live with me forever… and there you have it!"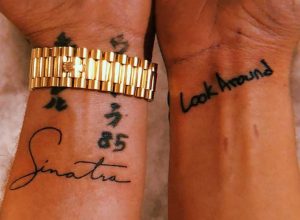 'Bobby Boy' tattoo on the right wrist
Logic got an animated 'Bobby Boy' tattoo on his right wrist, right under the look around tattoo.  This is his animated self tattoo where little Logic lives forever as Bobby boy in his forearm. Bobby Boy is the only colorful out of all the inks Logic has got.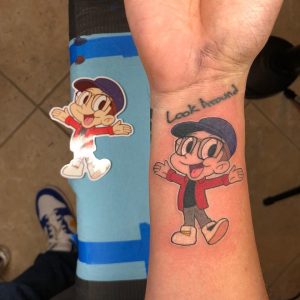 Logic's forearm tattoos
'SUPERMARKET' tattoo on the left forearm
Logic's first novel called Supermarket. As soon as he finished the novel he got the title 'SUPERMARKET' tattooed on his left forearm to mark the accomplishment.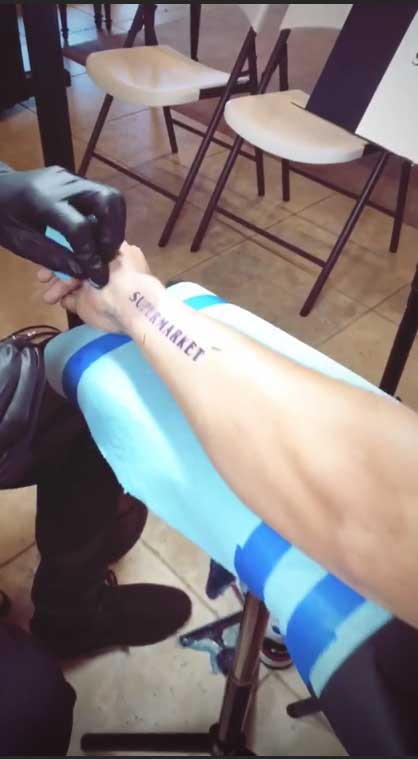 'What for?' tattoo on the right forearm
Logic's 'What for?' tattoos was inspired by Toro y Moi's music album called What for.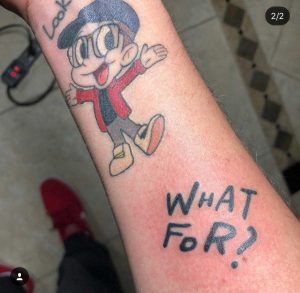 'Salad Days' tattoo on the left forearm
Logic got the 'Salad days' tattoo inspired by Mac DeMarco's Salad days album.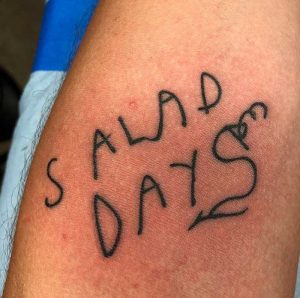 Logic's GQ Interview
Logic gives guy a Tattoo