Earlier this year (2019), after Joey Fatone revealed his new Rabbit tattoo on Instagram, his fans are going crazy to know more about his tattoos. They all want to know, Does Joey Fatone have tattoos? And how many tattoos does Joey Fatone have? Let's find out, shall we?
Joseph Anthony Fatone Jr. is an American singer, dancer, actor, and television personality. He is best known as a former member of a famous boy band called N SYNC. Joey was born on January 28, 1977, in Brooklyn, New York. He hosted the TV game show called "The Singing Bee," and he was also the announcer for the game show "Family Feud" for five years. Fatone previously anchored other TV shows and came in second place on the ABC reality show "Dancing with the stars" in 2007.
Recently he took part in an American reality singing competition called "The Masked singer" on Fox. Even though he didn't win the contest, but he became one of the favorites and most talked about performer of the season.
Does Joey Fatone have tattoos?
Joey has tattoos, but he doesn't display his tattoos in public like other celebrities do. He is very discrete about his tattoos, and none of them are on visible spots. He got most of his tattoos on his calves, ankles, and back.
As a Halloween costume, last year (2018), he dressed up as Post Malone and got his infamous face tattoos all over his face. He had the words 'Stay Away,' 'Always,' and 'Tired' written in the same spots as Post Malone. He shared the photo on Instagram with a little play on words, which was really funny. Besides his Post Malone temporary tattoos that he put them for fun, Joey does have some odd tattoos on his body.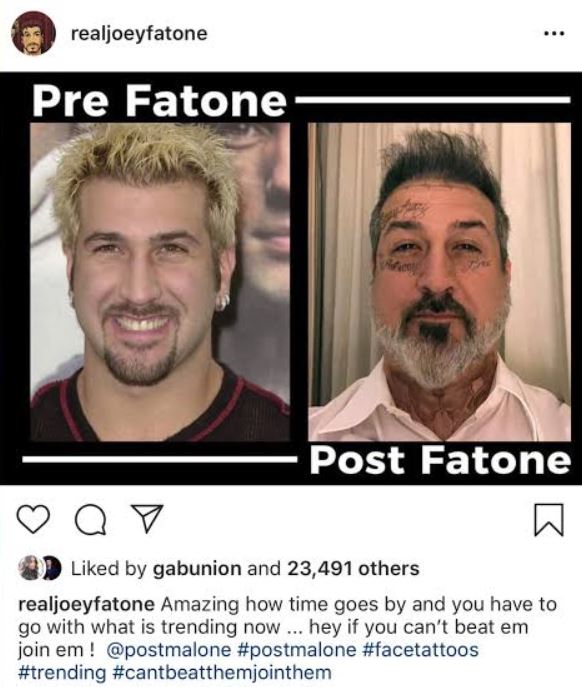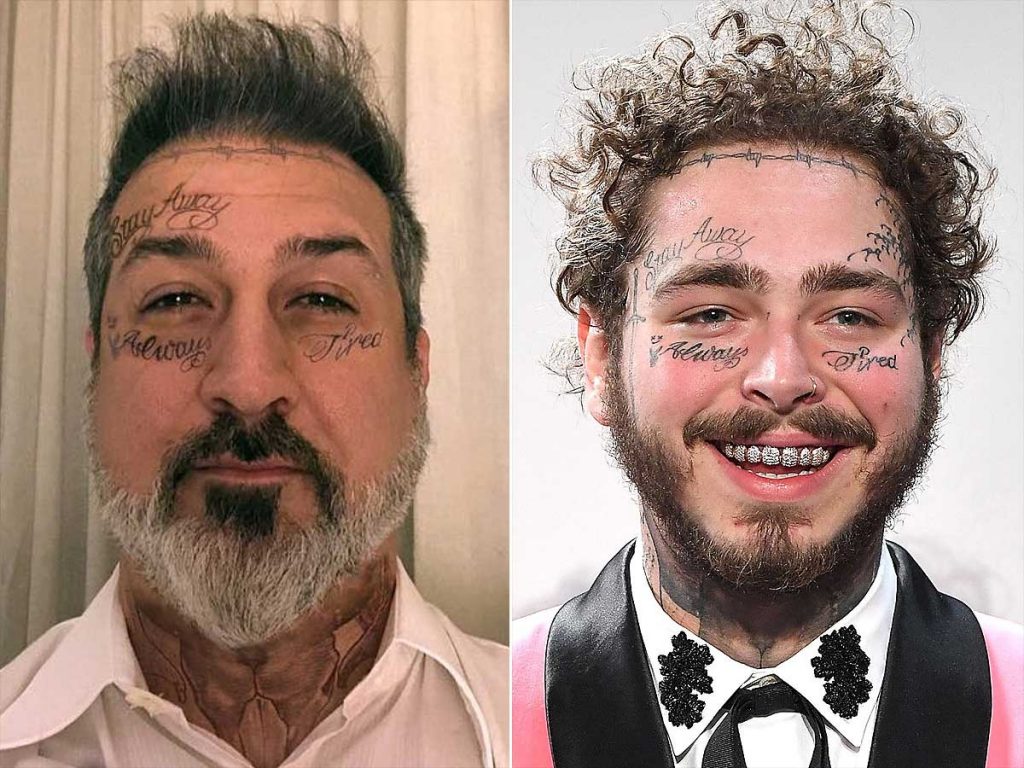 How many tattoos does Joey Fatone have?
Joey Fatone has 17 tattoos, excluding his new Rabbit tattoo. During the show "The masked singer," he told the viewers that he had 17 tattoos on his body to give them a clue to guess his identity.
Joey Fatone's Tattoos
Rabbit Tattoo Inspired by 'The masked singer'
Even though Joey didn't win the contest, but it became a big part of his life. After the show, he expressed his interest in being a judge on the show for the next season. Joey finds the show cool and weird at the same time. He got a Giant rabbit tattoo on his right calf in honor of his time as the rabbit on the hit TV show 'the masked singer'.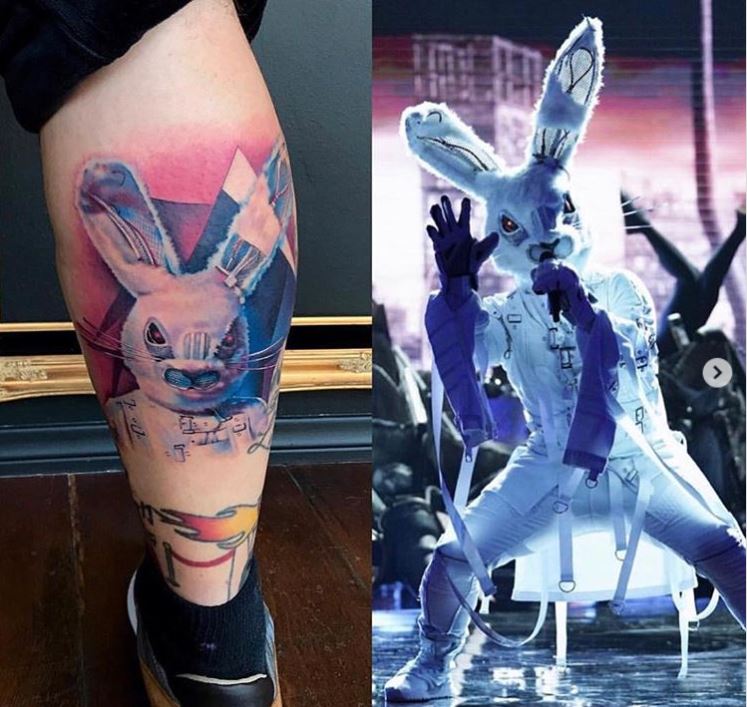 'The masked singer' is based on a South Korean show called "King of Mask Singer." The show first aired on the TV in 2015. Later the concept has been adapted to China, Vietnam and Thailand, Indonesia, and now in America. A group of celebrities compete on the show anonymously in costumes over a series of episodes. In each episode, competitors are paired off into face-off competitions. They perform songs of their choice in their real voice. After the face-off, the panelists and live audience vote; the winners of the face-offs are safe for the week, while the losers put up for elimination. At the end of the episode, the panelists decide which of the losers will not continue. The eliminated singers then take off their masks to reveal their identity.
Joey Fatone's Superman Tattoos
Joey is a huge Superman fan. He doesn't read comic books but loves to collect anything related to Superman. Joey got a Superman symbol tattooed on his right ankle along with other in-distinctive tattoos. He also has another superman symbol tattooed on his arm. There is reportedly another on his right hip, but he never showed them to the media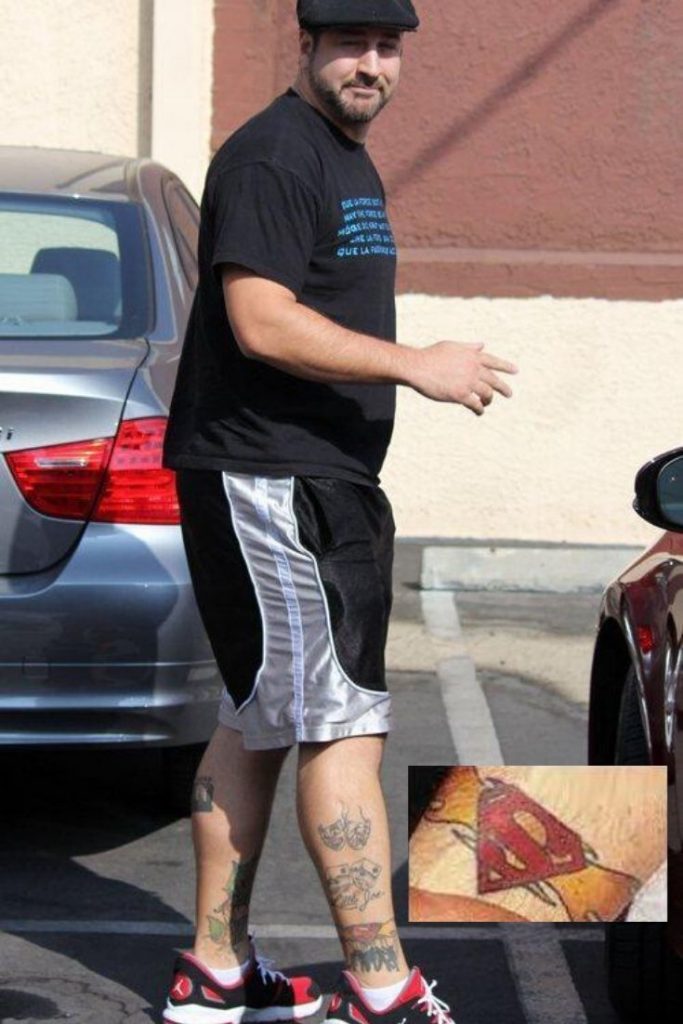 Interestingly, the Superman tattoo was also the reason he bonded well with one of the hosts Brian "Q" Quinn on 'Impractical Jokers' because Brian has a Superman tattoo too.
Joey Fatone's Inner Lip Tattoo
Joey has a tattoo that says "Kelly" with a red love heart inside of his lower lip.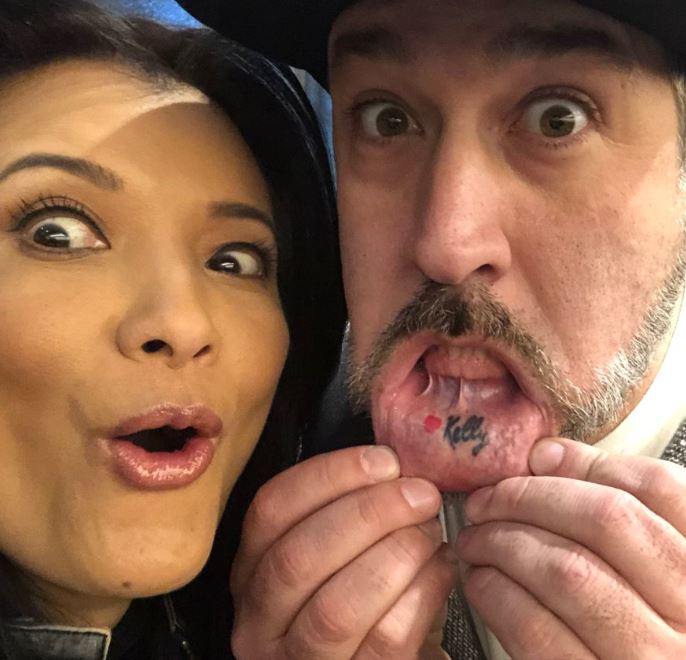 Fatone met his wife Kelly Baldwin back in high school. In 2004, the year that he got married, he went into his regular Hart & Huntington Tattoo Salon at the Palms to get the tattoo as a part of his bachelor party weekend. In June of 2019, Joey confirmed that he and Kelly filed for divorce and had gone their separate ways after nearly 15 years of marriage. 
Tattoos Dedicated to his Daughter
Joey dedicated his left calf to his firstborn, Briahna Joely. Briahna was born on March 21, 2001. Joey got her footprint tattooed along with a sun and a crescent moon after she was born. He also got her name tattooed above and below the footprint.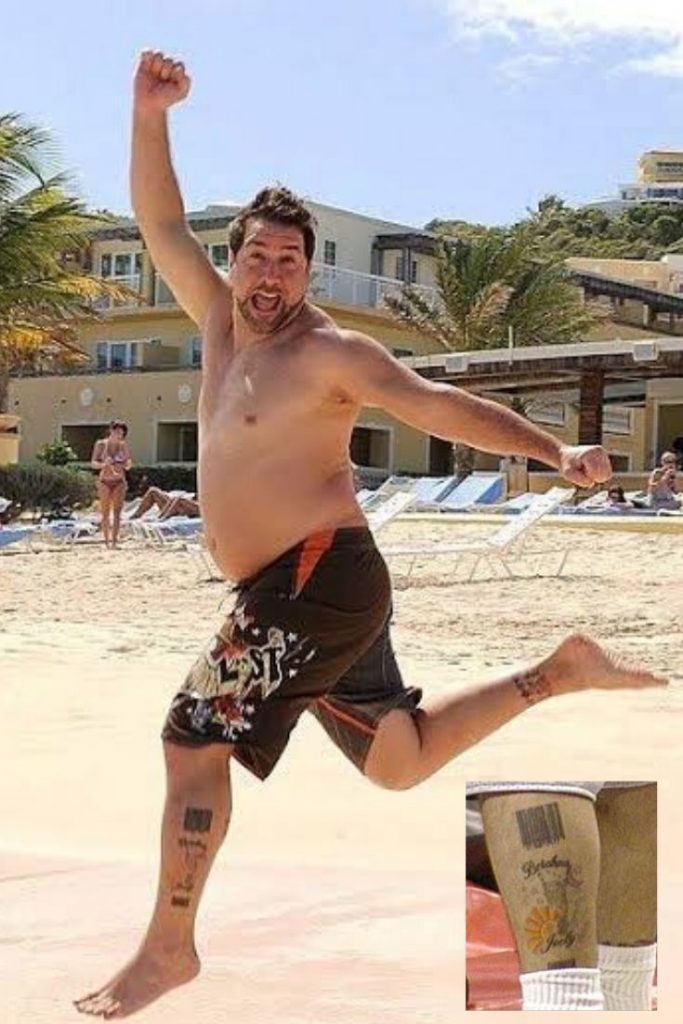 Barcode Tattoo
On his left calf above his daughter's name, Joey got a tattoo of a Barcode. The Barcode represents his birthday in terms of numbers.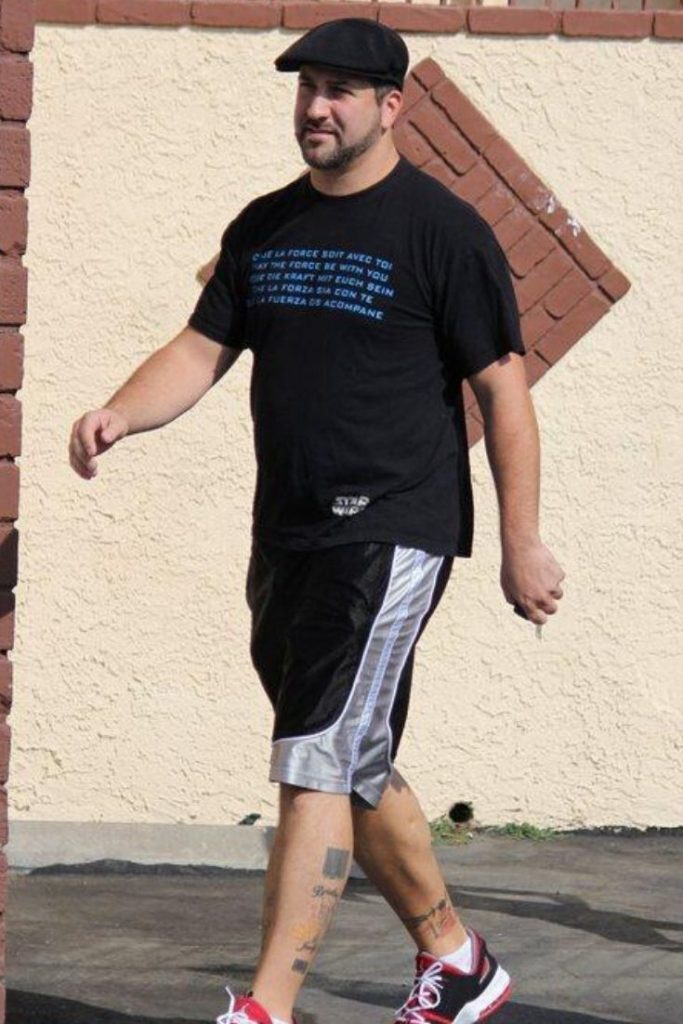 Casino Dices
Joey got a tattoo of two casino dices on his right calf.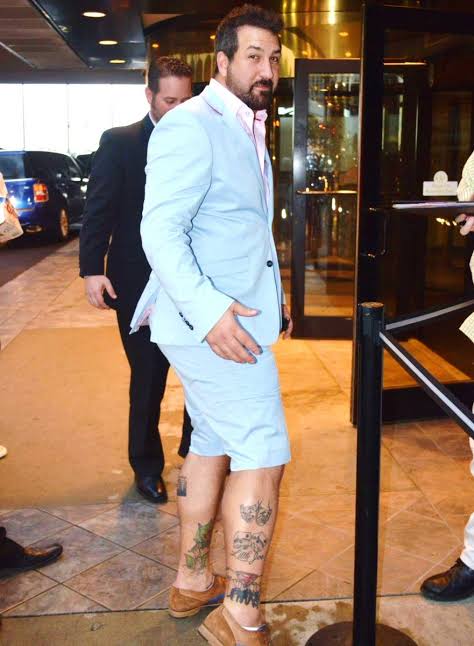 Comedy and Tragedy Masks
On his right calf just above the casino dices, Joey got a tattoo of Comedy and Tragedy Masks.
"No Strings Attached" Tattoo
On his right ankle under the superman symbol, Joey got a tattoo dedicated to his former band N Sync. It's a tattoo of the cover of their hit album "No Strings Attached."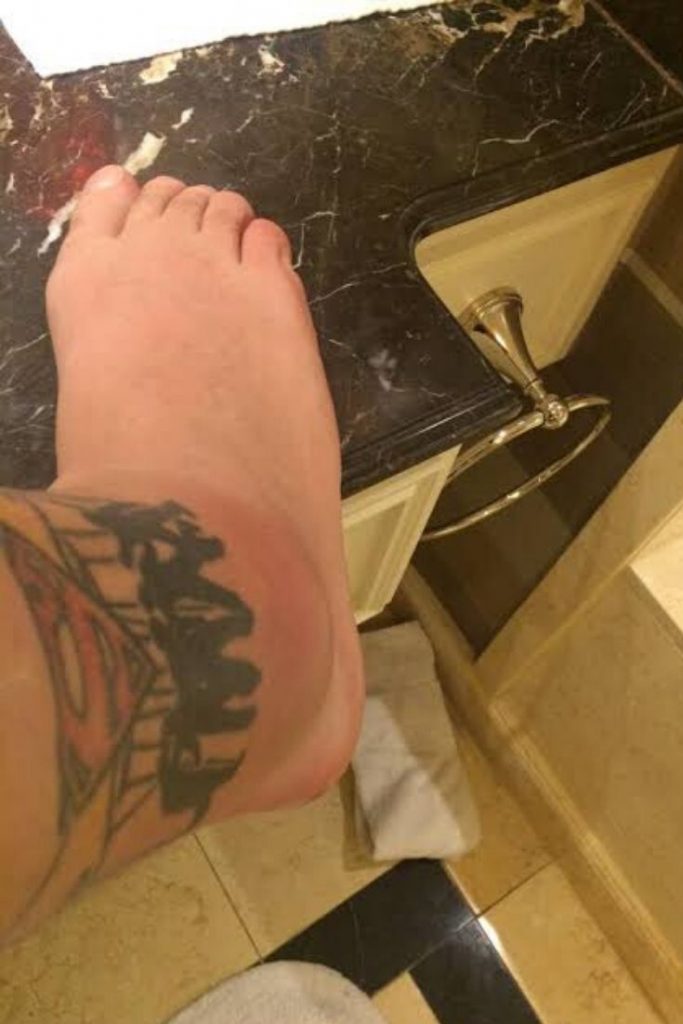 Joey Fatone's Tattoos – Venus flytrap
Joey is a fan of Venus flytrap. Yes, the carnivorous plant. He got a tattoo of an animated Venus flytrap on his left ankle on his 28th birthday at the Hart & Huntington Tattoo Salon. He also wears a shirt with the plant on the front.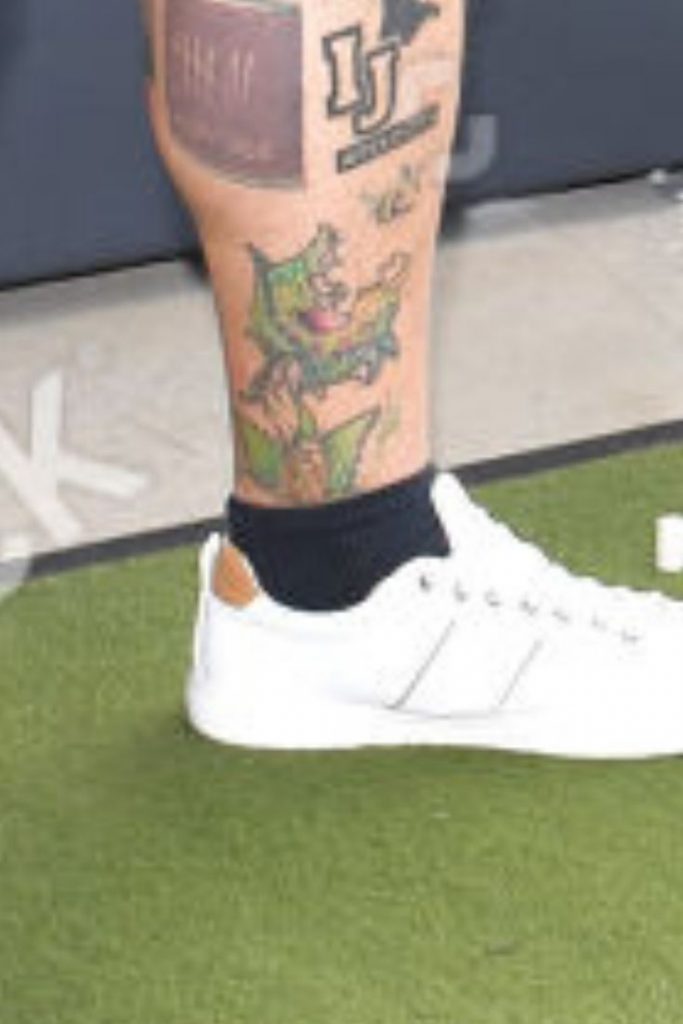 RENT
Joey got "RENT" tattooed on his left calf. Joey made his Broadway debut in Jonathan Larson's Rent in summer 2002.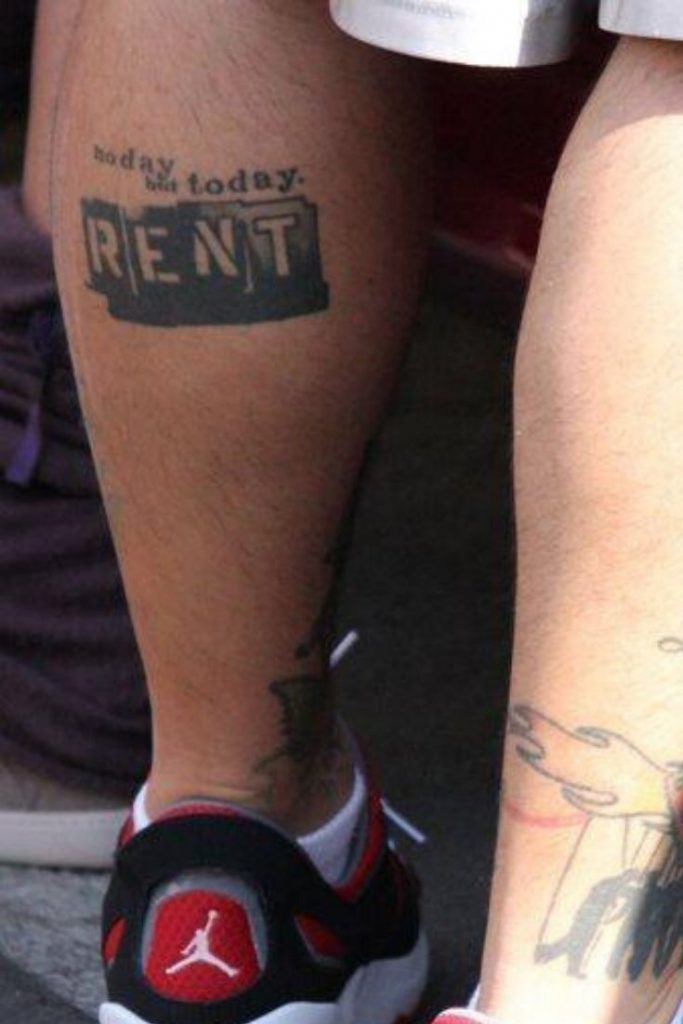 Disney Tattoo "Buzz Lightyear"
Joey is a big Nerd. You can probably tell by his obsession with Superman. He got a tattoo of cartoon character Buzz Lightyear from The Disney Toy Story on his right shin.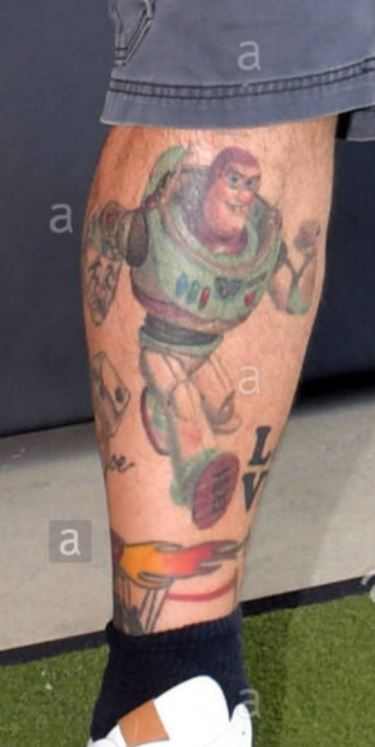 Letters Tattoo "IJ"
On his left calf Joey a tattoo of letters "IJ" with a clown hat. IJ stands for I'm Joking.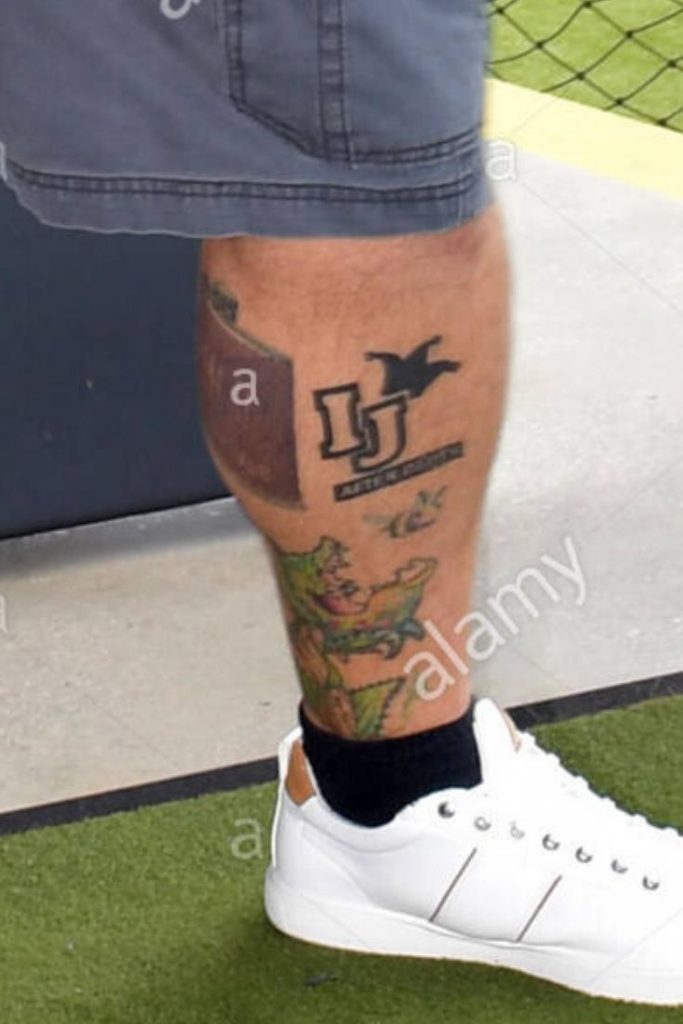 Joey Fatone's Tattoos – Hip Flask
Joey got a tattoo of a hip flask on his left calf.
"No day but Today"
Joey got a lovely phase tattooed on the back of his left calf, and it says, "No day but today."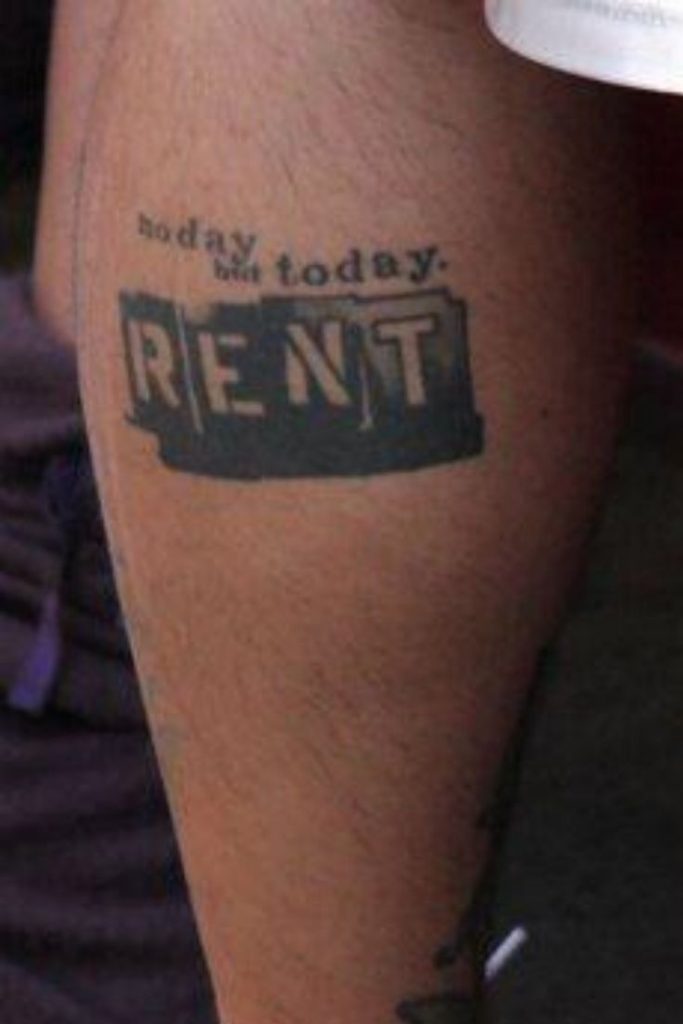 "Little Joe"
Joey's full name is Joseph Anthony Fatone Jr. He got "Little Joe" tattooed on his right calf right under the casino dices.