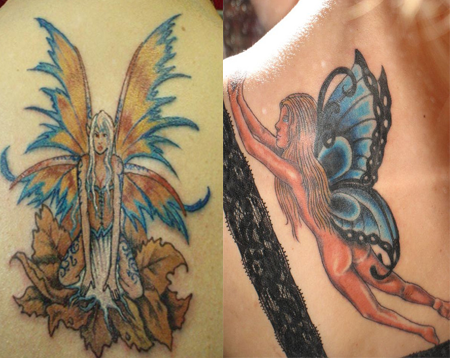 Fairy tattoo designs can be a popular choice of tattoos for women. Fairies are mythical beings, which appeared in many cultures throughout the world. The popularity of Fairy tattoos is easy to explain. Fairies are commonly thought of as beings of great beauty and grace. They are most often depicted as beautiful females with delicate wings and could be thought of to epitomise femininity and freedom. They also have an ethereal and spiritual quality which appeals to many women.
Fairies can also conjure up images of nature. In art fairies were often depicted surrounded by flowers or dwelling in beautiful gardens and could be thought of as nature spirits. Perhaps some like fairies as a reminder of childhood and the traditional 'fairy tales' they were told as children – though this often did not contain real fairies – as the term fairy could also be used for any magical creature, such as: Elves, Gnomes and Goblins.
From an artistic standpoint Fairy tattoo designs can be visually striking, highly detailed and very colourful tattoo designs. They give a chance for a talented tattoo artist to really show his skill. Fairy tattoos can also be any size, making it possible to place a fairy tattoo design on pretty much any part, or area of the body. It is also possible to combine a Fairy tattoo design with another style. A Fairy tribal tattoo design could look very striking.
Types of Fairy Tattoo Designs
Fairy Tattoo Designs for Women. Fairy tattoo designs are a popular choice for women as the traditional image of a fairy as an epitome of feminine beauty and grace.
Fairy Dust Tattoos. Fairies were often associated with magical fairy dust. Colourful fairy dust could easily be incorporated into a fairy dust tattoo.
Gothic Fairy Tattoos. A Gothic Fairy Tattoo design is a tattoo drawn in a gothic style. These can look very effective and provide a nice alternative to a more traditional 'cute' design.
Fairy Wing Tattoos. Similar to an angel wing tattoo design. A tattoo of fairy wings upon a woman's back could be used to show that she aspires to fairy-like qualities.
Fairy Angel Tattoos. Fairies have much in common with angels, such as: beauty, grace and spirituality. The distinction between the two could be blurred with a fairy angel tattoo design.
Flower Fairy Tattoos. Fairy tattoo designs can look very effective when combined with flowers. A talented tattoo artist can use brightly coloured flowers to contrast with the fairy
Fairy Tattoos with Stars. Fairy tattoo designs can also look good when combined with stars.
Black Fairy Tattoos. Fairies weren't all good, they could be downright troublesome, and a black fairy tattoo design celebrates this. Perhaps you want a wicked fairy to show that you are less than an angel yourself.
History of Fairy Tattoos
Fairies are legendary creatures and often thought of as a form of spirit. Fairies resemble beings from other mythologies and even folklore uses the term quite loosely. The term fairy was often expanded to describe any magical creature. The English word Fairy comes from the Old French word 'faerie', which meant the land, realm or activity of the legendary people of folklore referred to by the Old French as 'faie' or 'fee'.
Fairies were usually described as being of human appearance and having magical powers. Although in modern culture they are usually depicted as being very small, this was not always the case. They were originally depicted as a mixture of tall radiant beings and wizened trolls. Small fairies have appeared for centuries, but these always existed alongside their larger counterparts. It was often hinted that fairies could magically change size to appear any size they chose. This could be very easily incorporated into a great tattoo design or tattoo idea.
The exact origin of fairies is unclear. They are variously described as being spirits of the dead, some kind of demon and even a separate race completely apart from humanity. They are most likely the culmination of many different beliefs. Most likely old religious beliefs which quickly fell out of favour at the advent of Christianity and were converted into folklore instead. Many legends portray fairies as an elder race driven into hiding by man. Perhaps, these are really clever allegories for the many old beliefs driven away by the God of Christianity.
While Fairies with wings became common in Victorian artwork they were very rare before this. Instead Fairies used their magic to fly. Sometimes they flew on ragwort stems or rode upon the backs of birds. These days fairies are most often depicted with insect-like wings or butterfly wings. Perhaps it is this sheer flexibility of the fairy 'idea' which makes them such a popular choice for a tattoo design today. It is the imagination of the individual which decides what they want their fairy to be and this can be incorporated into the tattoo design and tattoo idea.
Celebrities with Fairy Tattoo Designs
Singer, Britney Spears has a fairy tattoo on her lower back.
Actress Alyssa Milano has a fairy tattoo on her stomach.
Where on the body can you wear a Fairy Tattoo?
Fairy tattoos can be very versatile. It is possible to have a Fairy tattoo design anywhere on the body and Fairy tattoos lend themselves to pretty much any size tattoo, large or small. This means that a skilled tattoo artist should have little trouble constructing a beautiful design to fit any place on your body you choose. A detailed Fairy tattoo design can also look very striking over a large surface. For instance, a large and highly detailed Fairy tattoo design can look simply breathtaking covering a persons entire back.
It is also possible to combine a Fairy tattoo with other styles and designs. Fairy tattoo designs go very well with colourful flowers which can be rendered in bright colours to give good contrast. If you are thinking about getting a Fairy tattoo you will find a lot of very fine examples of Fairy body art, Fairy tattoo pictures and Fairy tattoo images to help inspire your tattoo ideas – including examples of Fairy tattoo flash – by searching online.
Other great places to put Fairy Tattoo Designs would be:
Fairy tattoos on hip
Fairy tattoo on arm
Fairy wrist tattoos
Fairy back tattoos
Fairy tattoos on leg
Fairy tattoos on neck
More Fairy Tattoos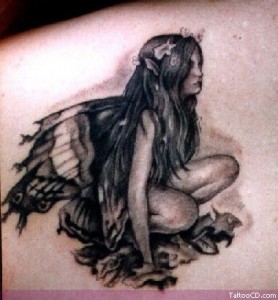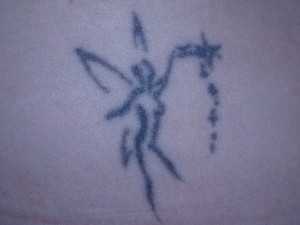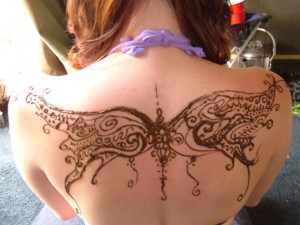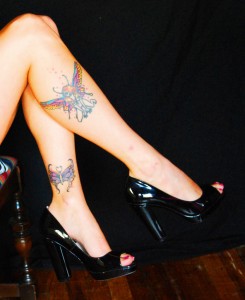 Related Tattoos
Images by:
ritab38315 and greyloch
ritab38315 and liseanne27