Chrysanthemums have been a popular subject for tattoos for centuries, particularly in Asian cultures, which hold great significance. These stunning flowers come in various colours and have different meanings depending on the culture and context. In recent years, chrysanthemum tattoos have become increasingly popular worldwide, with many people incorporating them into their body art.
In this blog, we will explore the beauty and symbolism of chrysanthemum tattoos and showcase 100 unique and inspiring designs. Whether you are considering getting a chrysanthemum tattoo or appreciate the beauty of this flower, this blog is sure to captivate and inspire you.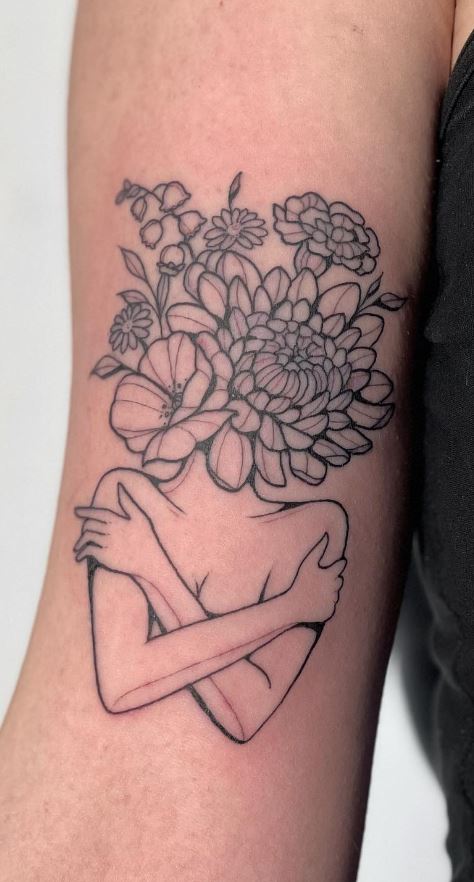 Cultural Significance of Chrysanthemum Tattoos
The symbolism of a chrysanthemum tattoo can vary depending on the cultural and personal context. In some Asian cultures, chrysanthemums symbolize rebirth, purity, and perfection.
In Japan, the chrysanthemum is the national flower deeply rooted in the country's culture and history. The flower represents the Emperor and the Imperial family and the country's values of honour, courage, and dignity. In this context, a chrysanthemum tattoo can symbolize respect for tradition, loyalty, and patriotism.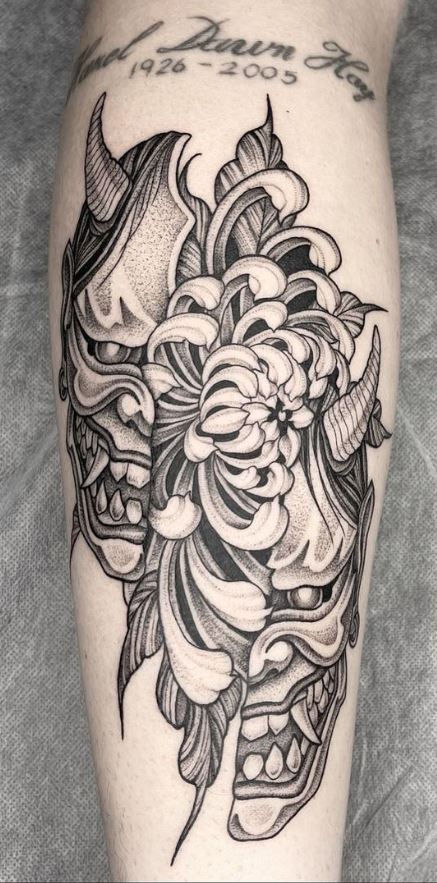 In Chinese culture, chrysanthemums are believed to bring good luck and are often associated with autumn and harvest. They are also considered symbols of friendship and happiness. A chrysanthemum tattoo, in this context, can represent a celebration of life and the joys of friendship.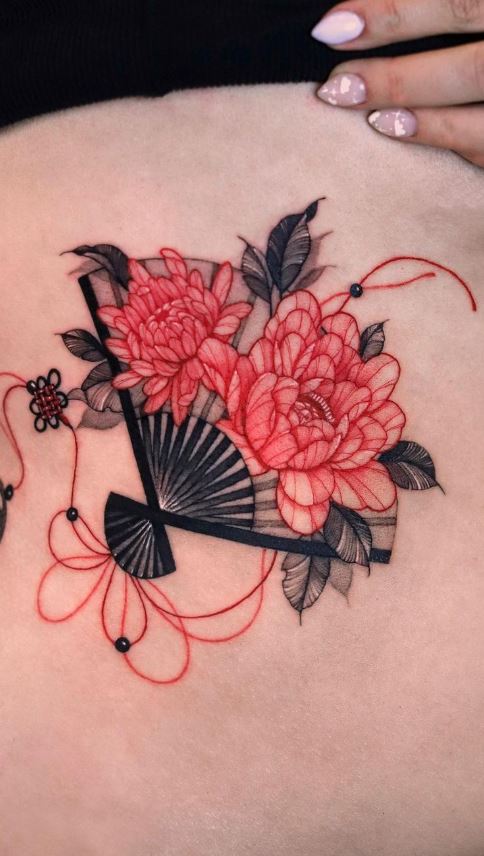 Overall, chrysanthemum tattoos are famous for their beauty and positive symbolism.
Meanings Of Chrysanthemum Tattoos
Chrysanthemum tattoos can hold a variety of meanings, depending on the cultural context and personal symbolism associated with the flower. Here are some of the most common meanings of chrysanthemum tattoos:
Beauty: Chrysanthemums are one of the most beautiful flowers, making them popular for tattoo designs.
Longevity: People in Chinese culture believe that chrysanthemums have life-prolonging properties, and they often associate them with longevity and good health.
Rebirth: Some cultures associate chrysanthemums with the cycle of life, death, and rebirth. Chrysanthemums can represent the idea of new beginnings and transformation.
Honour and respect: The chrysanthemum is the national flower of Japan, closely associated with the Emperor and the Imperial family. A chrysanthemum tattoo can symbolize respect for tradition, honour, and dignity.
Friendship: In Chinese culture, chrysanthemums are often associated with friendship and happiness, making them popular as tattoos to celebrate close relationships.
Love: Chrysanthemums are sometimes associated with romantic love, particularly in Victorian-era flower symbolism. They were often used as a symbol of secret admirers.
Courage and strength: Some cultures believe that chrysanthemums have powerful energy and represent courage and strength. This belief makes them a popular choice for tattoos expressing inner resilience.
Overall, chrysanthemum tattoos are a versatile and meaningful choice for those looking for a beautiful and symbolic tattoo design.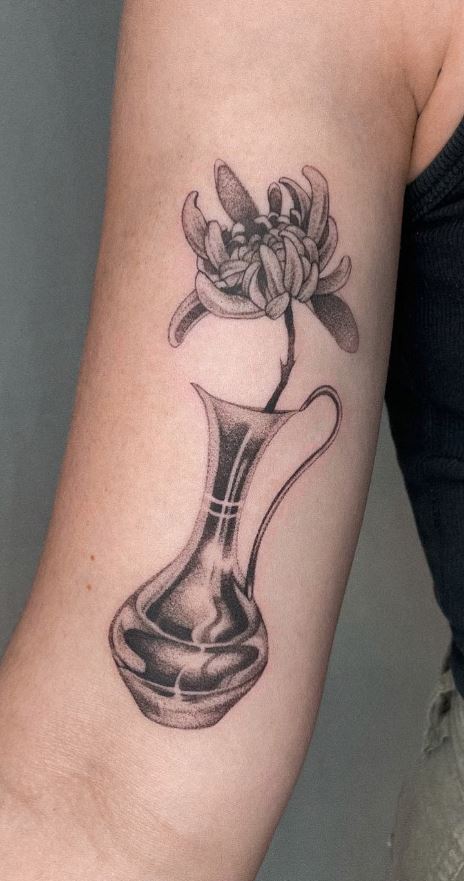 Colours of Chrysanthemum Tattoos
The colour of chrysanthemums can also hold specific meanings and symbolism. Here are some common implications associated with the different colours of chrysanthemums:
Red: Red chrysanthemums are symbol of love and passion, making them popular for romantic occasions such as Valentine's Day.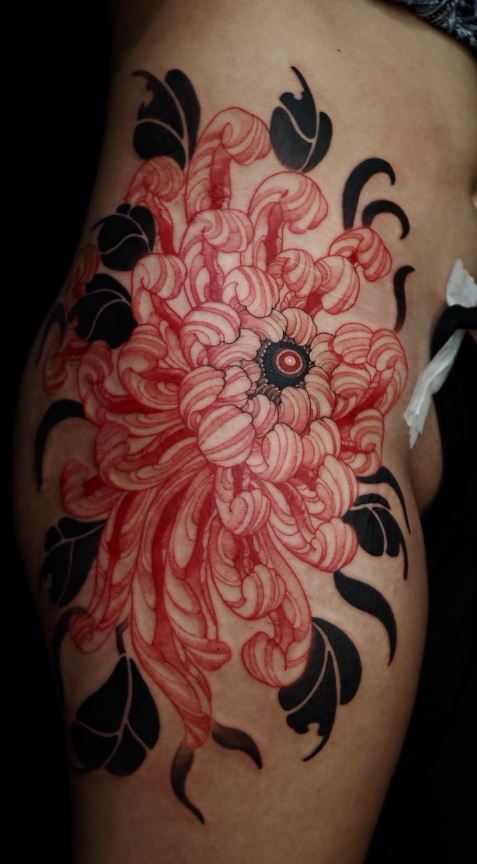 Yellow: Yellow chrysanthemums symbolize happiness and good fortune, making them a popular gift for friends and family members.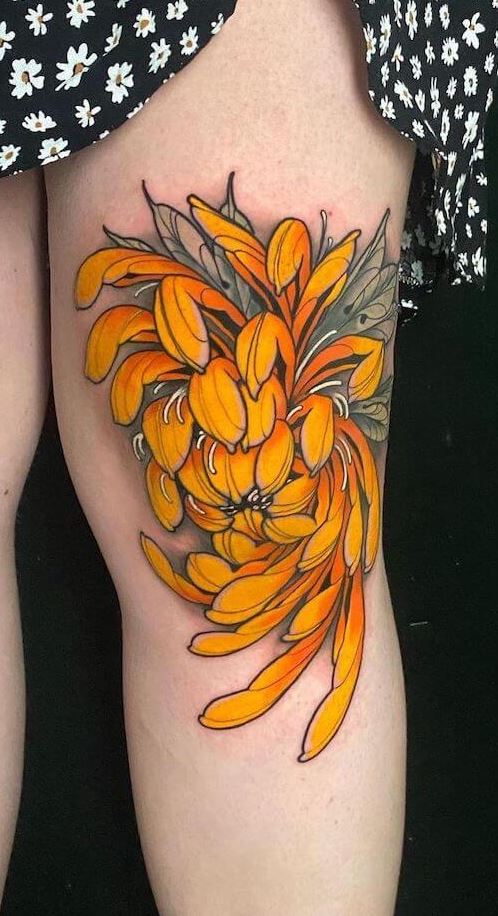 White: White chrysanthemums symbolize with purity and innocence and used in funeral arrangements as a symbol of mourning and remembrance.
Pink: Pink chrysanthemums symbolize love and affection and can be popular for wedding bouquets and decorations.
Purple: Purple chrysanthemums symbolize royalty and nobility and can symbolize admiration and respect.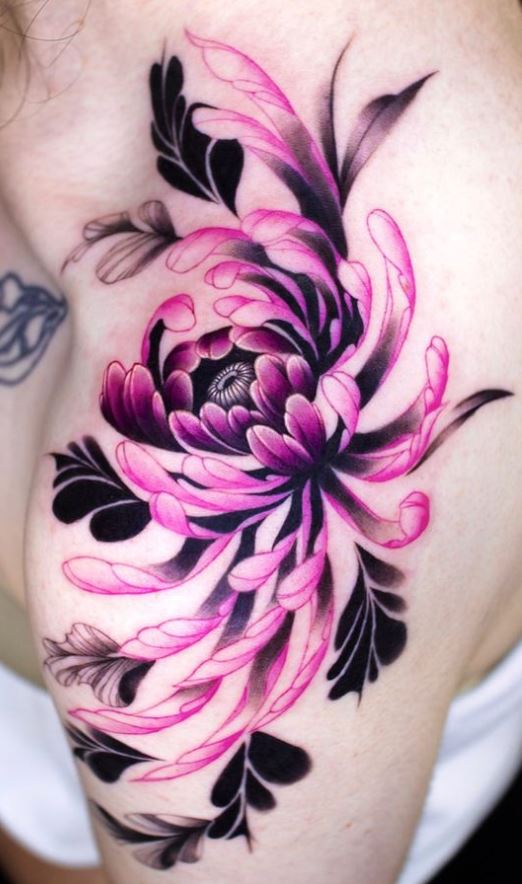 Orange: Orange chrysanthemums symbolize joy and happiness and can be popular for fall-themed decorations.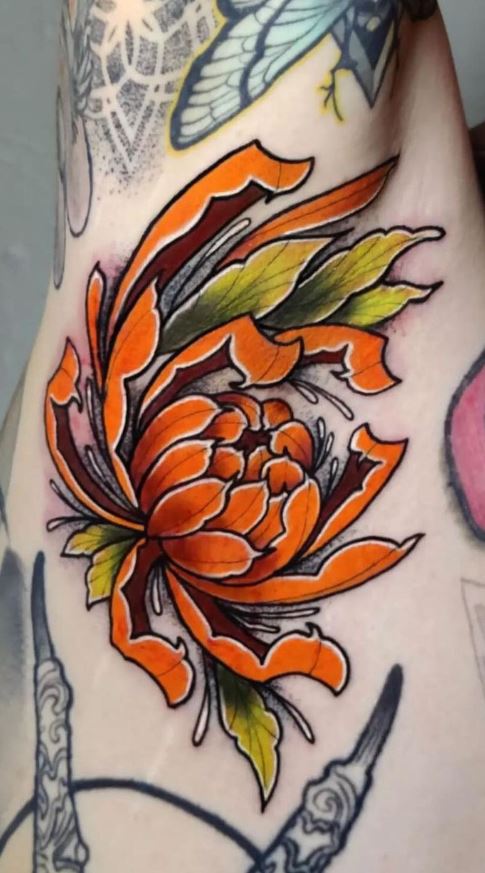 Green: Green chrysanthemums symbolize growth and renewal and can be popular for spring-themed decorations.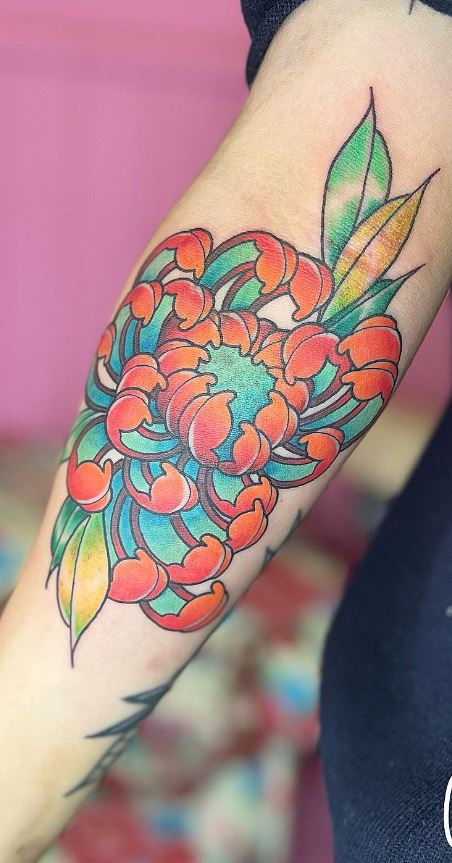 Overall, the colour of the chrysanthemum can add an additional layer of meaning and symbolism to a tattoo design or flower arrangement. When choosing a chrysanthemum tattoo design or giving chrysanthemums as a gift, it's important to consider the specific colour and its associated meanings.
Chrysanthemum Tattoo Designs and Ideas
Chrysanthemum tattoos come in a wide range of designs and styles, making them a versatile and customizable choice for body art. Here are some chrysanthemum tattoo design ideas to inspire you:
Realistic Chrysanthemum Tattoos
A detailed and realistic depiction of the chrysanthemum can showcase the flower's beauty and intricate details.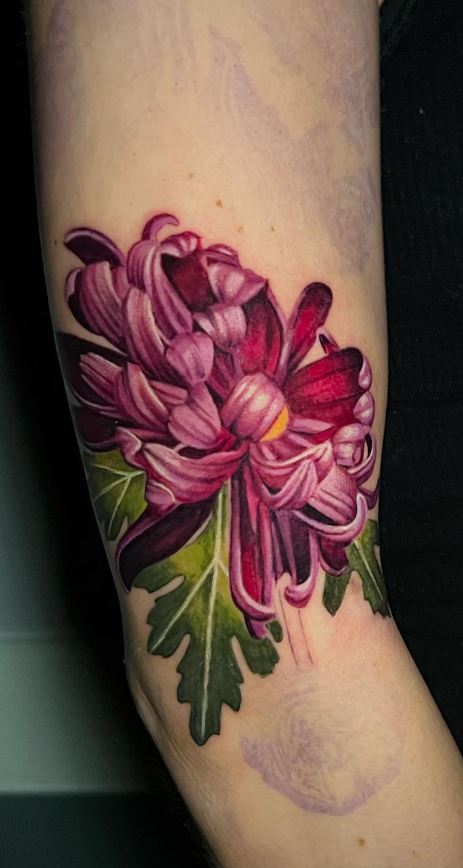 Watercolour
Using bright and bold colours and a watercolour-style tattoo can give a more abstract and artistic interpretation of the flower.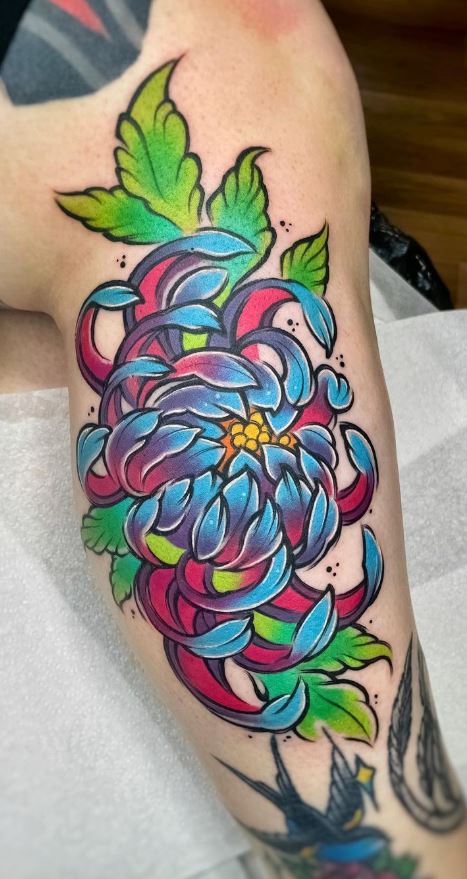 Geometric
Incorporating geometric shapes and patterns into a chrysanthemum design can create a modern and unique look.
Blackwork Chrysanthemum Tattoos
A chrysanthemum tattoo using only black ink can create a bold and striking design, playing with light and shadow.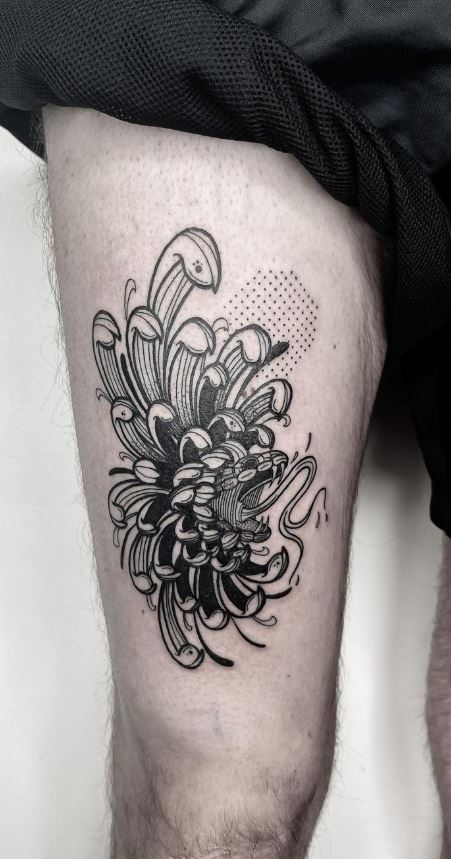 Japanese-style Chrysanthemum Tattoos
Japanese Chrysanthemum tattoos are a popular design choice that draws inspiration from traditional Japanese art and culture. In Japan, the chrysanthemum is the national flower closely associated with the Imperial family. Here are some design elements and meanings commonly associated with Japanese Chrysanthemum tattoos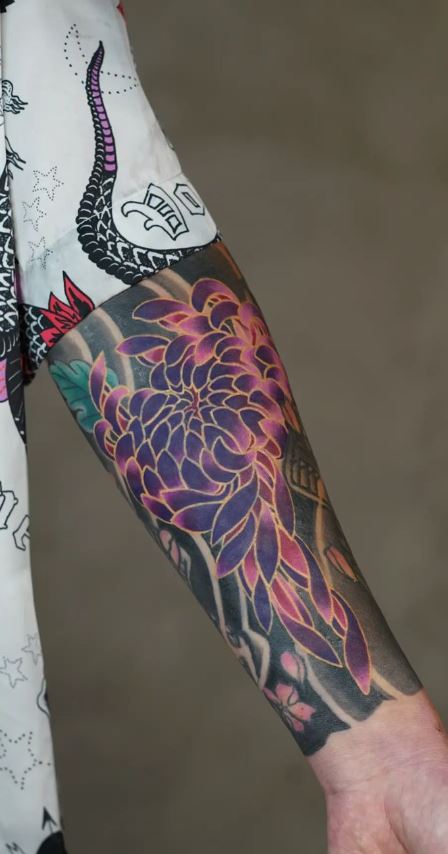 Minimalist Chrysanthemum Tattoos
A simple and understated chrysanthemum tattoo can highlight the flower's natural beauty and elegance.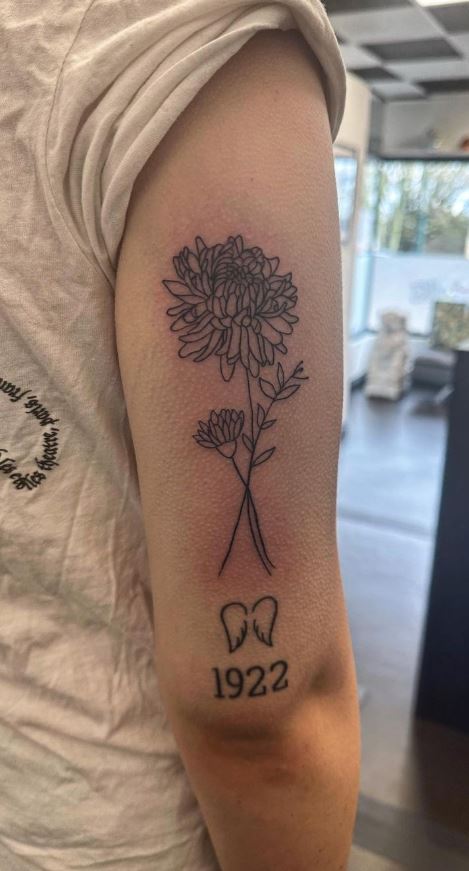 Chrysanthemum With Other Flowers
Combining chrysanthemums with other flowers, such as roses or lotus flowers, can create a unique and personalized tattoo design.
Chrysanthemum With Animals
Adding an animal, such as a butterfly, bird, snake, or a dragon to a chrysanthemum tattoo can add depth and symbolism to the design.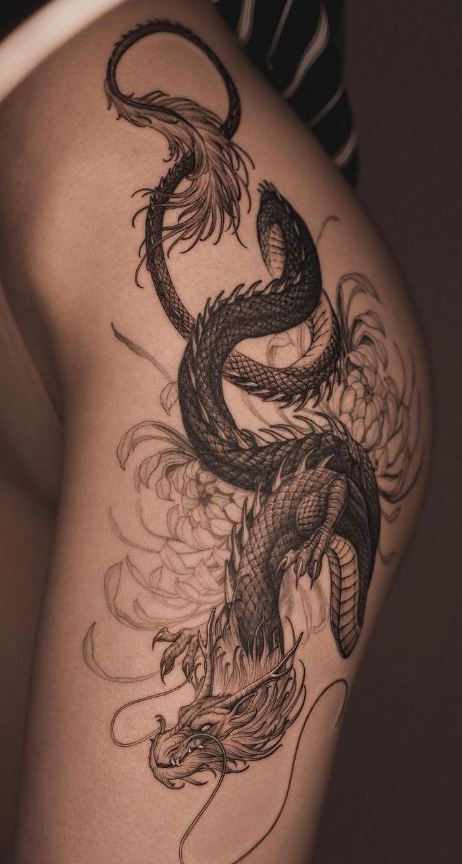 These are just a few examples of the many chrysanthemum tattoo designs and ideas you can customize to fit your style and preferences.
Placement
Depending on the design, size, and preference, you can place a Chrysanthemum tattoo on various parts of your body. Here are some popular placement options for Chrysanthemum tattoos:
Shoulder: A Chrysanthemum tattoo on the shoulder can be an excellent option for a larger, more detailed design. The shoulder area provides a large canvas to showcase the beauty and intricacy of the flower.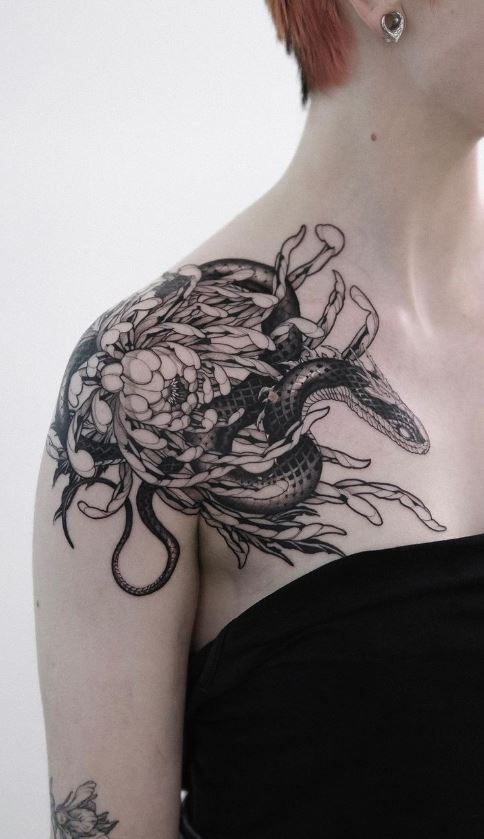 Arm: Placing a Chrysanthemum tattoo on the arm, either on the upper arm or forearm, is a popular choice for both men and women. The arm is a visible and versatile location for various tattoo sizes and designs.
Back: The back is another popular placement option for Chrysanthemum tattoos. A large Chrysanthemum design spanning the length of the back can create a stunning and impactful look.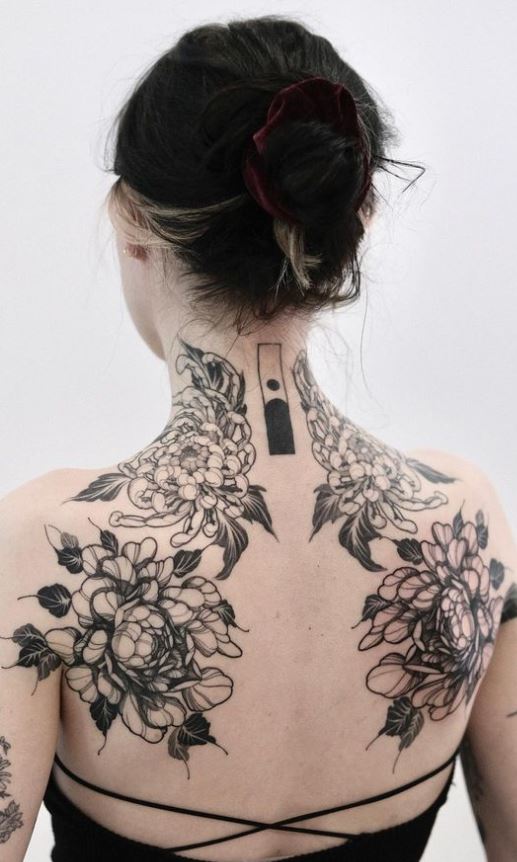 Leg: A Chrysanthemum tattoo on the thigh or calf can be an excellent option for those who prefer a more extensive design.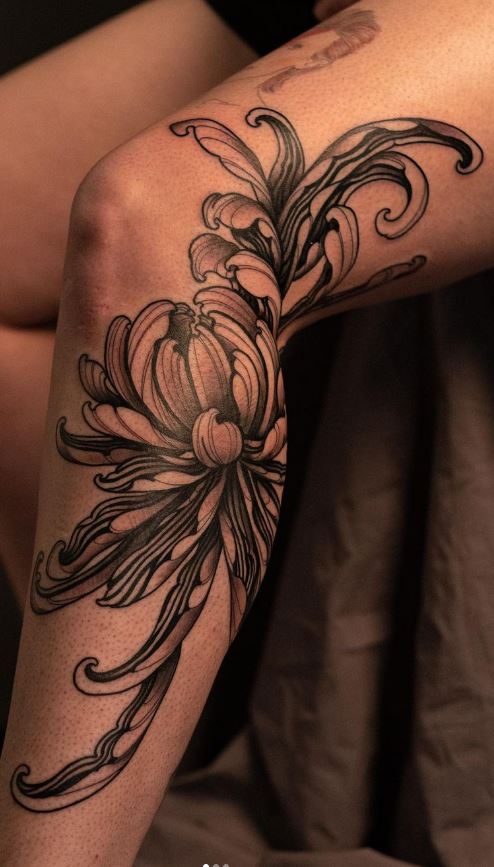 Chest: A Chrysanthemum tattoo on the chest can be a meaningful and personal choice, particularly for women. The placement can be subtle or bold, depending on the size and design of the tattoo.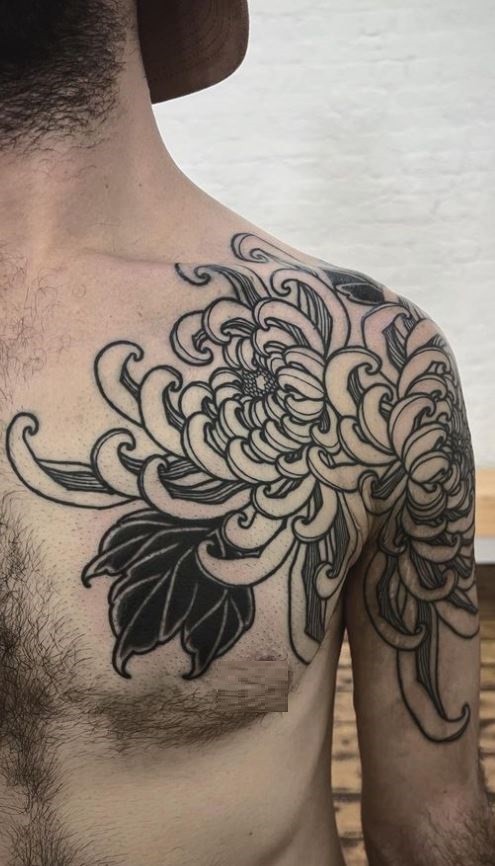 Neck: A Chrysanthemum tattoo on the neck can be a bold and daring choice for those looking to make a statement with ink. The neck is a highly visible and sensitive area that can be challenging and rewarding for tattoo placement. Alternatively, a Chrysanthemum tattoo on the side or front of the neck can create a more dramatic and eye-catching effect.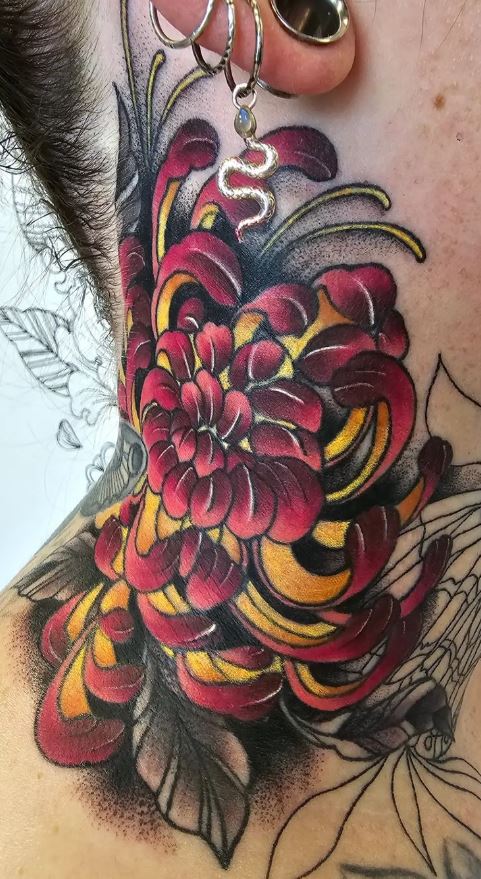 Ultimately, the best placement for a Chrysanthemum tattoo will depend on the wearer's design, size, and personal preference. It's important to consider the visibility and practicality of the placement, as well as the symbolism and meaning associated with the Chrysanthemum flower.
Various Chrysanthemum Tattoos