Sunflower tattoos are very pretty and trendy among tattoo lovers. If you are thinking about getting a sunflower tattoo or looking for some inspiration, you have come to the right place. In this article, we have gathered a collection of 65 magnificent sunflowers tattoos to help you design your next sunflower tattoo.
The sunflower never resists the sun. The sunflower constantly turns its head towards the sunlight. They are bright, cheerful, and dominate other flowers in the garden with their height and width and do not cease to brighten anyone's day.
Clusters of sunflowers make an eye-catching tattoo – you couldn't go past placing them as a shoulder piece or a full back piece. Sunflowers would also be as lovely – perhaps more feminine- as a small tattoo on the wrist or foot.
There are some magnificent examples of colored sunflower tattoos below and sensational blackwork tattoos, which lend their own interpretation of sunflowers' meanings.
Regardless of color or not, the sunflower is definitely worth consideration, reminding the wearer to always 'look on the bright side', in the words of Monty Python! Guaranteed to draw attention and to bring cheer, there really isn't a happier tattoo.
Meanings of Sunflower Tattoos
Sunflowers symbolize worship and faithfulness in various religions because they resemble the sun and associate spiritual knowledge, light, and truth.
The Incas used them for worship because they symbolized the Sun God. The priestesses also wore sunflowers on their garments and as crowns.
In Asian culture, sunflowers symbolize long life, good fortune, and vitality.
The yellow color of sunflowers symbolizes vitality, intelligence, and happiness, and friendship.
Sunflowers are often given to wedding anniversaries as signs of adoration, loyalty, and strength.
Sunflower Tattoo Designs & Ideas
Small Sunflower Tattoos
Sunflower Tattoos on Shoulder
Black & White
Van Gogh's Sunflower Tattoos
Countless artists have also used sunflowers. The most famous portrayal of sunflowers is Van Gogh's Sunflower series, which includes Vase with Twelve Sunflowers.
Wrist
Arm
Forearm
Back
Leg
Rib
Creative Sunflower Tattoos
More Sunflower Tattoos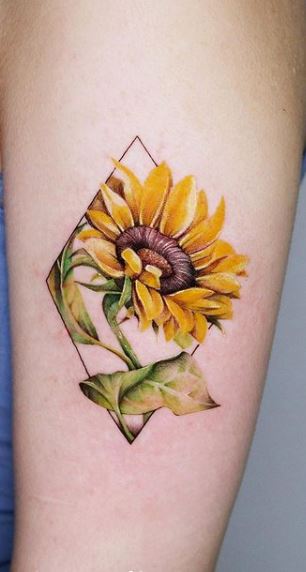 Feminine and colorful, this tattoo has a wonderful placement, ensuring a flattering position. The tattoo is upbeat and cheerful, and pretty much sums up the genre of the sunflower tattoo!
This one gives new meaning to the expression, 'walking on sunshine'. Every time the wearer looks down he or she will see a flash of brightness, reminding them to always turn their face towards the sun. I like it!
The shape of the sunflower itself lends itself to positioning on the upper arm area, directing focus to the centre of the tattoo. Why not have a whole bunch of sunshine on your arm?
Again, a beautiful and flattering placement for most body types, this well designed and positioned tattoo will be a constant reminder to be happy.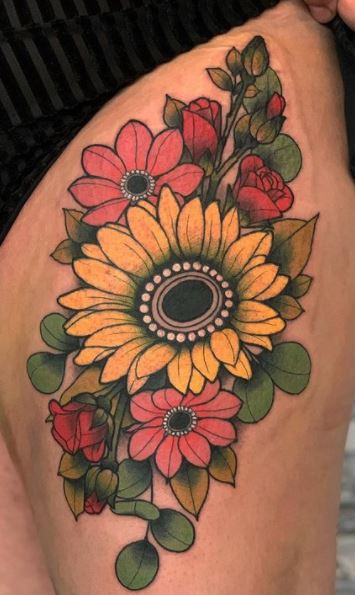 This work brings a unique contrast to the color and vibrancy of sunflower tattoos. Its stunning detail and detail do not allow it to sink to boring, however. In fact, the attractiveness of this design in absolute. Who wouldn't be proud wearing this? It's gorgeous!
Feminine. Graceful. Elegant. Eye catching. Really, I could keep rolling out the positive descriptive words for this one, each flower could represent something of great importance to the wearer. Whether it was glimpsed in its totality or in just in little snippets near a shirt sleeve, this tattoo will captivate!
A bit different again – this one combines black work with tons of detail with a bold, almost tribal background.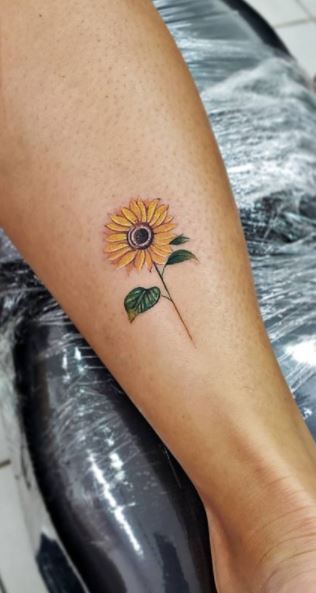 the scrollwork in this tattoo balances the boldness of the color of the tattoo – it's in a perfect position for this tattoo, on the lower leg.
Again, the colored scroll work balances the tattoo, the tattooist has also shadowed to create a three D effect, adding depth and dimension to this tattoo. This is one to be very proud of.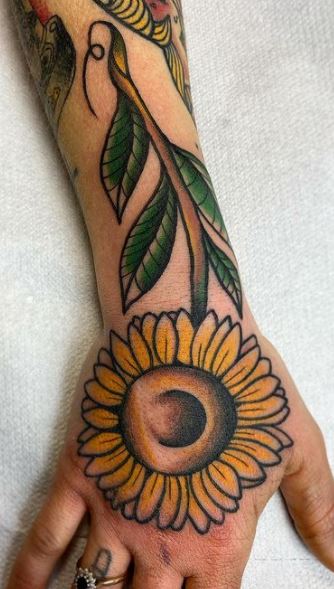 Is there another tattoo that captures the color and boldness of the sunflower? Really, if there is, I'm yet to see it. This is a large, brave tattoo that perfectly represents the spirit of the sunflower tattoo.
The inclusion of bees and insects in this tattoo adds to its magic. Apart from that, it also has few outlines which creates a 'painting' type image.
This is a very striking tattoo. The dark centre on the flowers make it ideal for a cover up – or even just for its own beautiful sake.