Emmanuel Gazmey Santiago, aka Anuel AA, is a Puerto Rican rapper and singer. He is a pioneer of the Latin trap movement. Anuel won the Billboard Latin Music Award for New Artist of the Year in 2019.
Anuel started recording music at age fourteen. In 2010, he joined American rapper Rick Ross's Maybach Music Group. His 2016 mixtape Real Hasta la Muerte was a big hit, but he went to prison for illegal firearm possession in the same year. He then recorded the entirety of his debut album while incarcerated.
Anuel released his debut album on July 17, 2018, the day he was released from prison. The album was commercially successful. In August 2019, he released the song "China", a collaboration with Daddy Yankee, Karol G, Ozuna, and J Balvin, which was a global success.
Anuel AA's Tattoos and their meanings
Meanings of Anuel AA's Tattoos
Compare to other rappers in the industry, Anuel doesn't have that many tattoos. He has only 27 tattoos at the time of this article.
Elephant Tattoo
Tattoo: Elephant tattoo on his right hand.
Meanings: This Indian elephant was Anuel's first tattoo.
The elephants represent fame and fortune in India. It also looks like a face when turned backward. He and his best friend got this same elephant tattoo together on the same spot. A month later, Anuel's friend got killed. That's why this tattoo means a lot to him.
Portrait Tattoo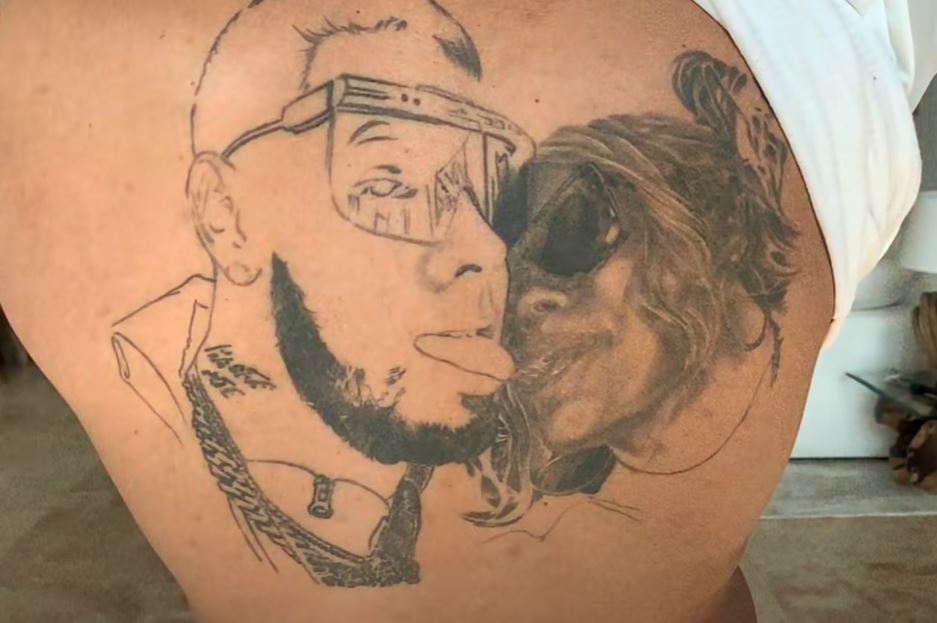 Tattoo: Tattoo of his and his wife Carolina's face on the back.
Meaning: Anuel's back portrait tattoo is still unfinished. It is the portrait of the first picture they took together when nobody knew that they were even dating. She also got his name tattooed on her.
"PABLO" Tattoo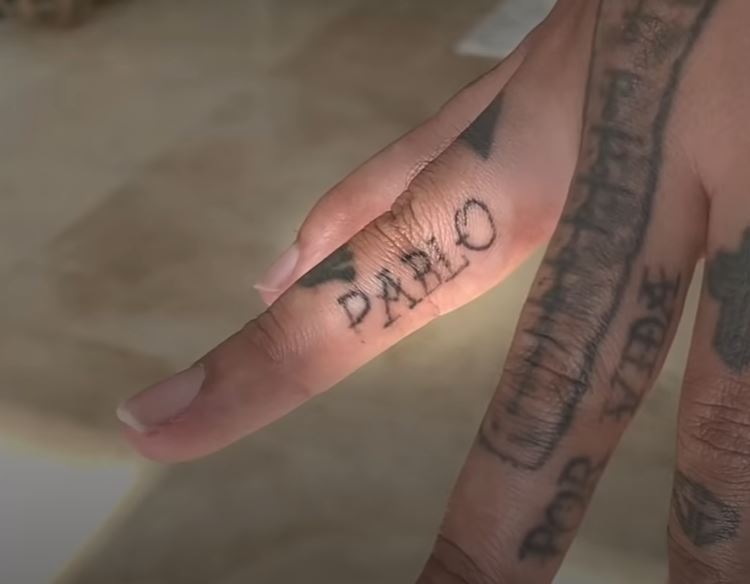 Tattoo: Anuel got this tattoo on the side of his right ring finger.
Meaning: Pablo is the name of Anuel's son.
"NILDA"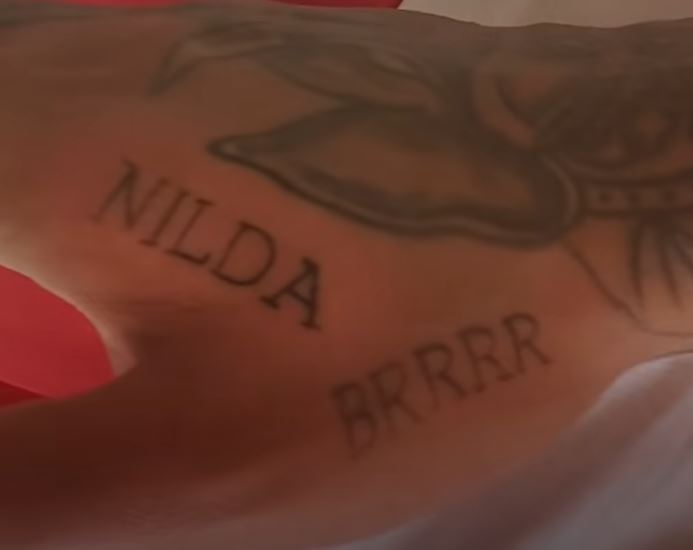 Tattoo: Anuel has "NILDA" tattoo on his right hand
Meaning: Nilda is Anuel's mom's name.
"CAROLINA"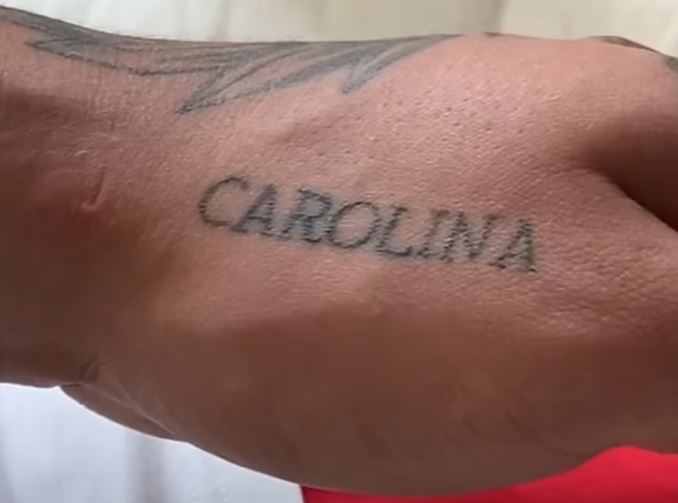 Tattoo: On the left hand Anuel's has the "CAROLINA" tattoo
Meaning: In 2019, Anuel and Carol (Karol G) confirmed their relationship. Carol arrived at the Billboard Latin Music Awards wearing a diamond wedding ring, confirming their engagement.
Anuel has all his family members' names tattooed on his hand so he could see them all the time. Because everything he does, he does it for his family.
He is also planning to add his dad's name soon.
"LEALTAD POR VIDA" Tattoo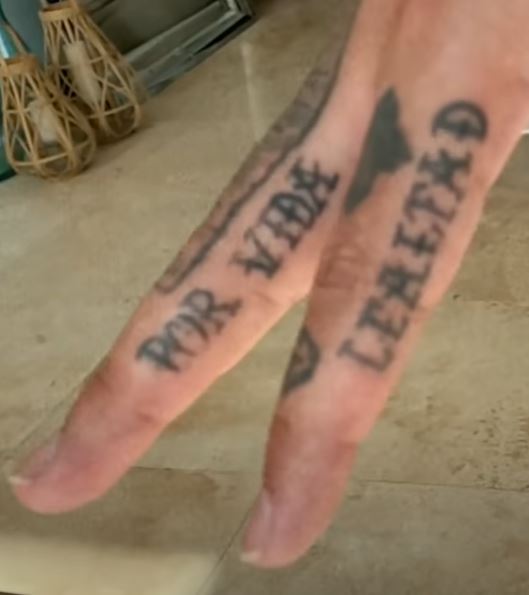 Tattoo: Anuel has "LEALTAD POR VIDA" tattoo on the side of his right index and middle fingers.
Meaning: In Spanish, "LEALTAD POR VIDA" means loyalty for life.
Ghost Rider Tattoo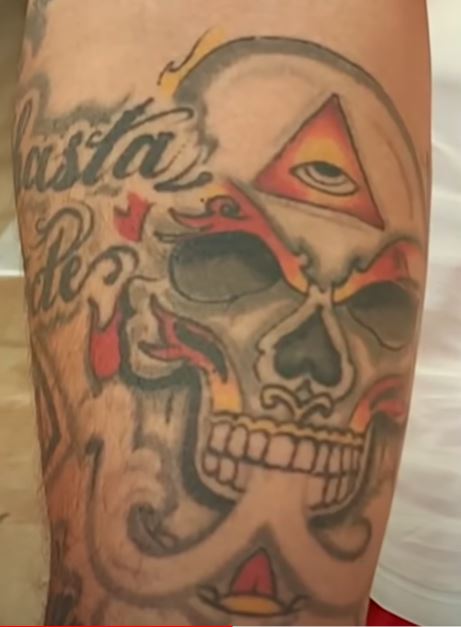 Tattoo: Anuel got the ghost rider tattoo on his right forearm.
Meaning: He got this ghost rider skull with the pyramid on his forehead and the Illuminati eye. Before becoming famous in the music industry, he used to read a lot about illuminates conspiracy theories. That inspired him to get this tattoo.
Virgin Mary Tattoo
Tattoo: Virgin Mary tattoo on his right arm.
Meaning: When Anuel went to prison, he started to build a good relationship with God and prayed a lot. He also read the bible and started to get a lot of knowledge about life. That's when he got the Virgin Mary tattoo on his arm. The tattoo depicts Virgin Mary is crying tears of blood. He got the blood in red ink to make them look real.
Jesus Tattoo
Tattoo: Jesus tattoo on his right arm.
Meaning: Anuel also got his Jesus Christ tattoo on the top of the Virgin Mary tattoo. It is all black with the shade, but all the blood is red. It is an image of Jesus with the crown before he got crucified. This tattoo is one of Anuel's favorite tattoos.
Chicago Bull Tattoo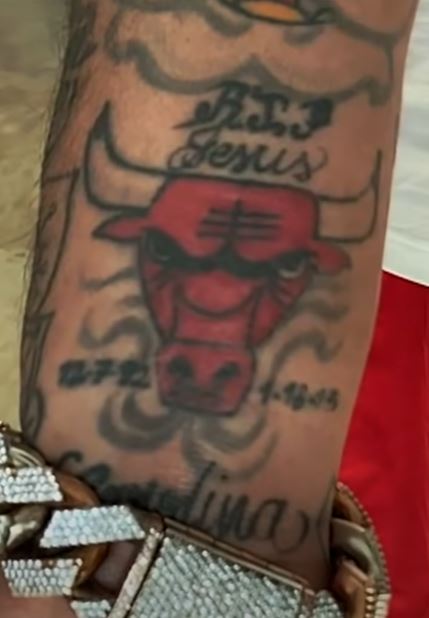 Tattoo: Logo of Chicago bull tattoo on his right inner wrist.
Meaning: This is also Anuel's favorite tattoo, the Chicago Bull. On top of the bull's head, it says R-I-P Jesus. It was his best friend's name, who got killed. Anuel also got the dates of his friend's birth and death tattooed around the Chicago bull logo.
Maybach logo Tattoo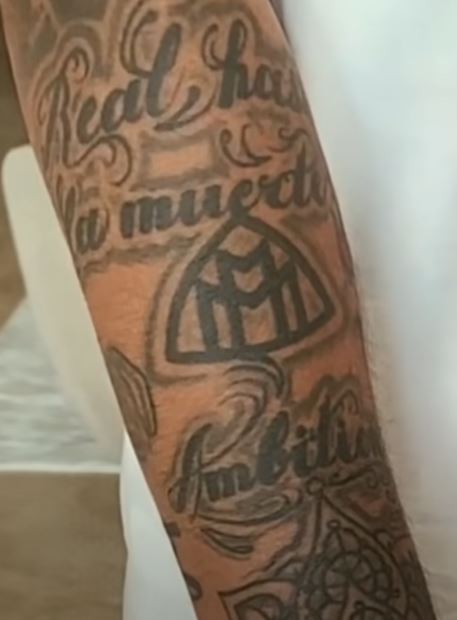 Tattoo: Maybach logo tattoo on his right forearm.
Meaning: It was a significant moment for Anuel when he first signed with Maybach Music through Rick Ross. So he got the Maybach logo tattoo in the memory of that moment.
"EL DIOS DEL TRAP" Tattoo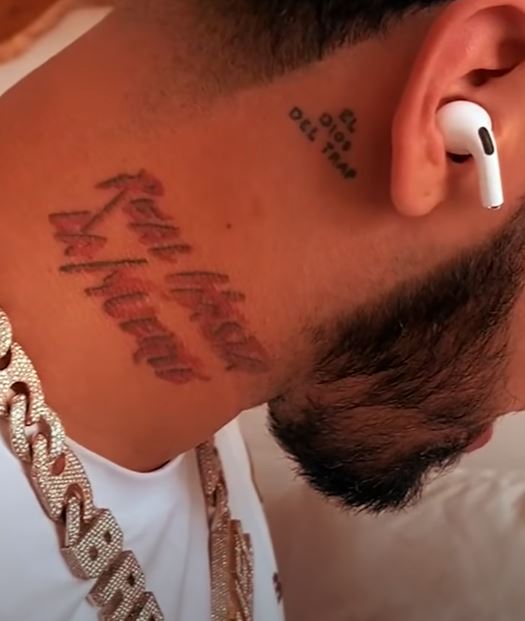 Tattoo: "EL DIOS DEL TRAP" Tattoo behind his ear.
Meaning: In Spanish, it means "The God of Trap."
"Real Hasta la Muerte"
Tattoo: Real Hasta la Muerte tattoo on his neck.
Meaning: In Spanish, it means "Real until death."
"Goku" Tattoo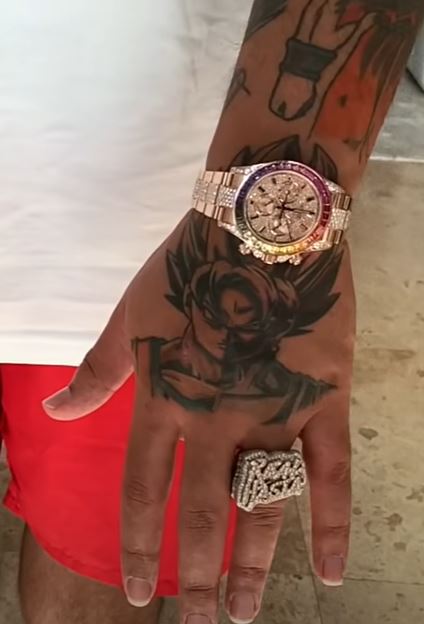 Tattoo: Goku tattoo on his left hand
Meaning: For the fans who don't know who Goku is. Goku is a fictional character and main protagonist of the Dragon Ball Z manga series created by the famous Akira Toriyama. The Goku on Anuel's left hand is a half Super Saiyan blue Goku and half the black Goku.
Anuel is a die-hard Dragon Ball Z fan. He also got two other Dragon Ball Z tattoos on his left arm and wrist and planning to get the whole arm covered with them. He calls it the Kids arm.