Turtle tattoos are popular these days for a few simple reasons. We love turtles for their grace and beauty. The peaceful creatures can be found all over the world in rivers, ponds, lakes and oceans.
There are many turtle tattoos styles out there to choose from. Tribal turtle tattoos are very common and seen most often in dark ink. True to life turtle tattoos are fun to ink as well and offer you many different poses and color choices.
Some people chose turtle tattoos for their looks and special meanings. The most common meaning here are longevity and determination. Other popular symbolic meanings associated with turtles are wisdom, spirituality, healing powers, protection and safety. Native Americans believe that the turtle had it part in creating the planet.
Pair of Tribal Turtle Tattoos
These beautiful turtles tattooed on the feet in a tribal image are very cool.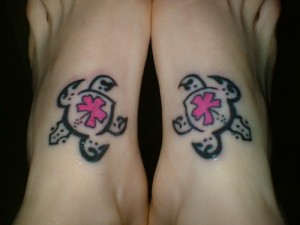 Tribal Turtle Tattoo
Tribal turtles like this one in a tribal razor pattern are very popular and look great anywhere on the body.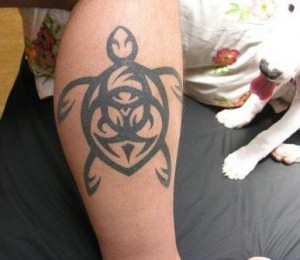 Cartoon Style Turtle Tattoos with Name
Cartoon turtles are a fun design to make and are very popular with kids.
Swimming Turtle Tattoo
This is a cool example of a cartoon turtle with great detail and movement; great tattoo!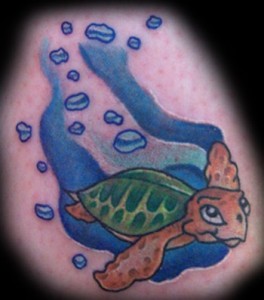 Realistic Turtle Tattoo
This turtle has a realistic look and the coloring work is superb.
Turtle Tattoos with Oriental Lettering
Here is an example of a simple but very cool small turtle with a personal touch. There is also obvious oriental influence in the design.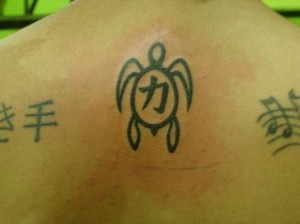 Paired Turtles on the Hip
Turtles in dark ink on the waist have a mysterious meaning and look great.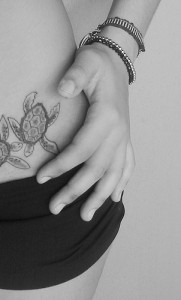 Small Turtle Tattoo with Flowers
This small turtle design is highly detailed and is incredible.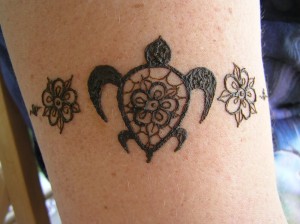 Blue Turtle Tattoo
This blue turtle tattoo is very cool. The stars, flowers and the helmet make a nice powerful personal message.
Tribal Influenced Turtle Tattoo
Tribal turtles like this one allow you to personalize it. This tattoo has a strong personal meaning to its owner.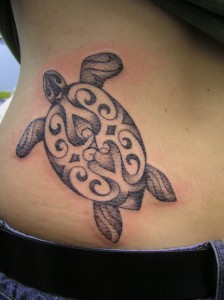 Colored Tribal Turtle Tattoo with Flower
This turtle tattoo has a Hawaiian flower set in the tribal style tattoo.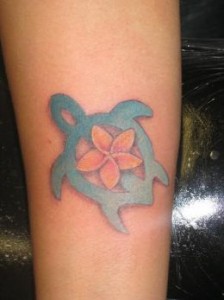 Chillin' Turtle Tattoo
Cartoonish turtles like this little one kicking back are very fun to design and look great in color.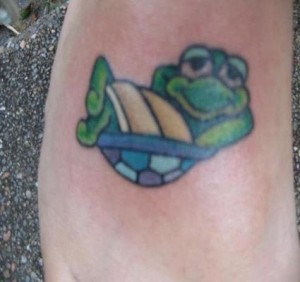 Tribal Turtle in Traditional Black with Color Ink Water
Tribal style turtle tattoo like this one are very popular. The detail of the water is very nice.