White tiger tattoos are as popular now as they have always been. They represent power and beauty. The white tiger is born missing a color pigment that results in white fur and black stripes with blue eyes. This leaves the tiger venerable to hunters and hinders them wile hunting. Many of these tigers do not survive.
Some people wear white tiger tattoos for the meaning of a life time of struggle. White tiger tattoos are popular with both men and women all over the world. These tattoos have universal meanings such as power and might, pride, passion and sensuality. The white tiger has power known to ward off evil spirits and give good luck to those in need. More often today white tiger tattoos are seen for their beauty alone and a meaning that is maybe only clear to the person who has the tattoo.
Portrait Style White Tiger Tattoos
This beautiful white tiger tattoo comes alive with great shading and detail work.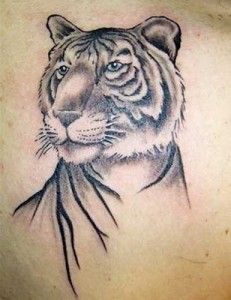 White Tiger on the Prowl
The crawling white tiger on the prowl looks great on the upper arm or back.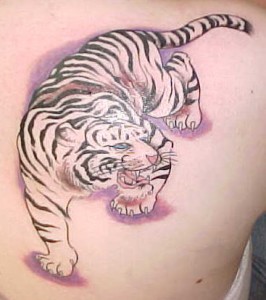 White Tiger Tattoo for Lengthy Placement
The length of the forearm showcases this white tiger very well. The crossed front legs are a nice touch.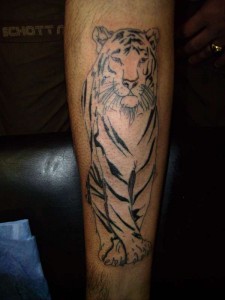 White Tiger Tattoos in Natural Habitat
The white tiger in its natural habit. The leaves add depth to the tattoo and looks great on the lower leg!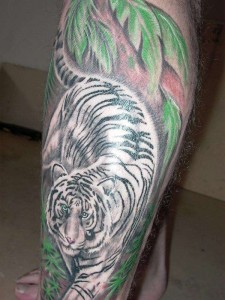 Crawling White Tiger Tattoos
This simple white tiger on the upper arm looks great. The shading gives the guardian the look of movement. The use of white ink here is stunning!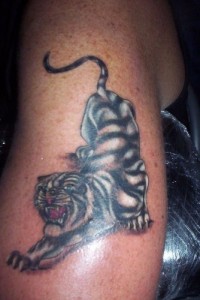 White Tiger Tattoo on Waist
This view of the white tiger from above in a crawling stance looks great on the waist or forearm.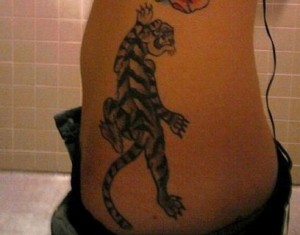 Fierce White Tiger Tattoos
This cat means business and shows off the meaning of power very well; excellent placement on the upper chest.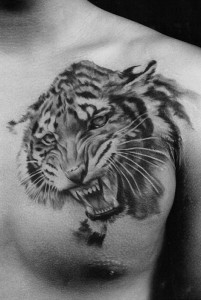 Nurturing White Tiger Tattoo
Hearts, roses and a white tiger are a great symbol of love and the protective mother.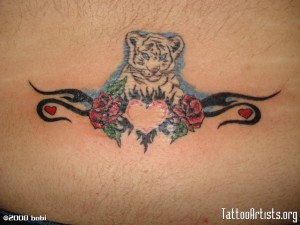 Cute White Tiger Tattoo
This cute and fun loving white tiger will make people smile.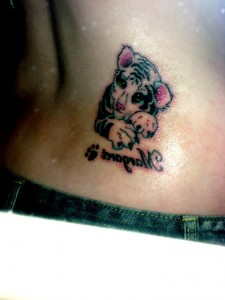 Full Back Clinging White Tiger Tattoo with Theme Work
This large scale white tiger covering the entire back is awesome. Great detail work, with plenty of bold dark ink.
Tribal White Tiger Tattoo
This white tiger done in just the black stripes and highlighting looks great on the forearm.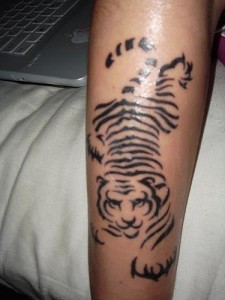 3D White Tiger Tattoo in Color
This menacing white tiger at speed looks great on the upper body so it is seen easily by everyone.