Dandelion tattoos are very fashionable these days with women. Men will sometimes work a dandelion into a themed tattoo but not too often in a stand-alone piece. Dandelion tattoos are generally inked for delicate beauty. The small white flower is simple compared to other colorful flower types, but most of us remember picking the small flower and blowing the seeds off and watching them float away in amazement when we were young.
Dandelion tattoos are full of symbolic meanings that appeal to many people. One of the most popular reasons is to remind us of how delicate life is and live life to the fullest. More reasons for having a dandelion tattoo are for luck and happiness, or that dreams can come true. Dandelion tattoos also have a meaning of strength; these little flowers stand out in the grass, standing strong and tall.
The Dandelion
The name Dandelion comes from French, meaning 'lion's tooth,' named after the shape of their long, narrow, pointy petals.
Flowers use the wind to transport their seeds, and few do it more successfully than dandelions. Their petals for their flower heads transform into wonderfully intricate globes over a period of one or two weeks.
Their seeds are much heavier than the spores of fungi, and for them to fly, special apparatus is needed. Each seed is fitted with its own individual parachute. The device is so efficient the breeze will carry the seeds high into the sky. There's no room for the next generation in such a dense crowd of adult plants as this, and the seeds must get away, and the wind will take them for miles.
Meanings of Dandelion Tattoos
The meanings of dandelion tattoos depend on the form of the flower. A blooming dandelion tattoo symbolizes happiness, joy, and friendship. or blowing due to their bright yellow color.
Because of their highly resilient nature, blooming dandelion tattoos can also symbolize overcoming difficulties, surviving a challenging time, or the process of healing.
For many people blowing dandelion associates with childhood. It was a common belief that it could bring luck. Many kids make a wish while blowing a dandelion. The tattoo reminds them to stay hopeful, curious, and keep dreaming.
People often use a blowing dandelion to create a remembrance or memorial tattoo. It represents the idea of maintaining a spiritual connection with lost loved ones.
Dandelion Tattoo Designs & Ideas
Blowing Dandelions with Birds
Yellow Dandelion Tattoos
Dandelion Flower Tattoo
Watercolor
Blackwork
Memorial
Blowing Dandelion Tattoos
Female Dandelion Tattoos
More Dandelion Tattoos
Dandelion Seeds Blowing in the Wind
This is the classic dandelion blowing and flying away. Great design.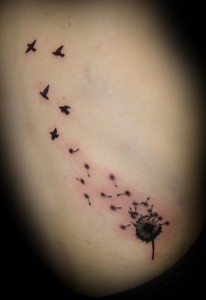 Dandelion on the Shoulder
Classic dandelion tattoo blowing in the wind on the shoulder.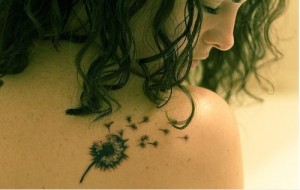 Multiple Dandelion Seeds Blown Up the Back
The large area gives good size for the dandelion and plenty of detail for the drifting seeds flowing up the back.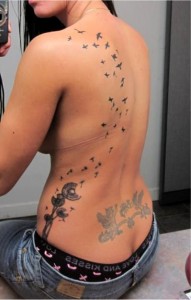 Dandelion Tattoo with Heart
This is a great dandelion tattoo accentuated with a heart.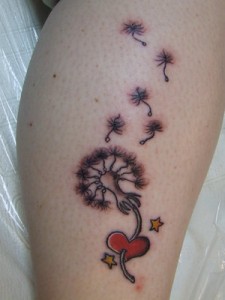 Dandelion Tattoo on the wrist with Word Quote "Wish"
This is a great location for a dandelion on the inside of the wrist; makes it very easy to make a wish.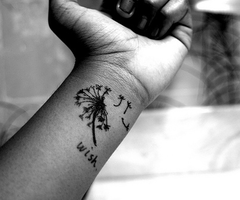 Dandelion Tattoos Shoulder Blade Placement
This Dandelion with the stem bent from the blowing wind and flowing seeds looks great on the upper shoulder.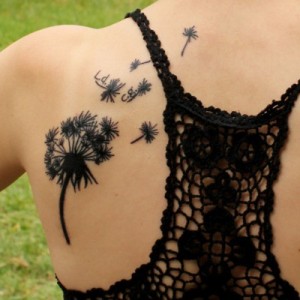 Two Tone Dandelion Tattoos
Nice detail in a close up of a dandelion tattoo, shaded with a second ink color.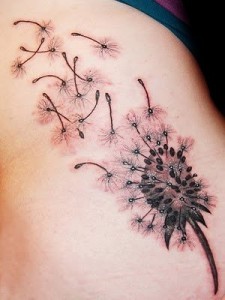 Dandelion Tattoo with Exceptional Leaves
This dandelion tattoo looks as if you are walking in grass and dandelions; very cool.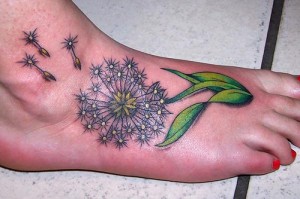 Dandelion Tattoos with Quotes
Dandelions and personal quotes are very popular and back and inside of the wrist are great for placement.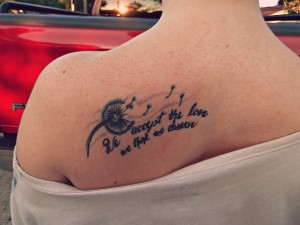 Colorful
This colorful dandelion tattoo is fantastic. The swirling wind grabs your attention and is a fantastic use of color and movement by the artist!
Dandelion Tattoo with Colored Ink Quote
This dandelion tattoo has an interesting font.  The quote is almost more noticeable than the dandelion.