Dandelion tattoos are very fashionable these days with women. Men will sometimes work a dandelion in to a themed tattoo but not too often in a stand alone piece. Dandelion tattoos are generally inked for the delicate beauty. The small white flower is simple compared to other colorful flower types but most of us remember picking the small flower and blowing the seeds off and watching them float away in amazement, when we were young.
Dandelion tattoos are full of symbolic meanings that appeal to many people. One of the most popular reasons is to remind us of how delicate life is and to live life to the fullest. More reasons for having a dandelion tattoo are for luck and happiness or that dreams can come true. Dandelion tattoos also have a meaning of strength; these little flowers stand out in the grass, standing strong and tall.
Dandelion Tattoos with Seeds Blowing in the Wind
This is the classic dandelion blowing and flying away. Great design.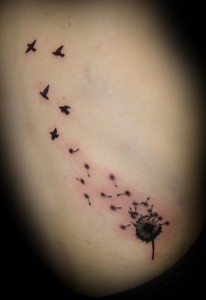 Dandelion on the Shoulder
Classic dandelion tattoo blowing in the wind on the shoulder.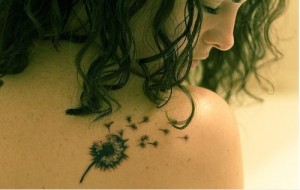 Multiple Dandelions Tattoo with Seeds Blown Up the Back
The large area gives good size for the dandelion and plenty of detail for the drifting seeds flowing up the back.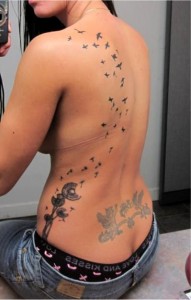 Dandelion Tattoo with Heart
This is a great  dandelion tattoo accentuated with a  heart.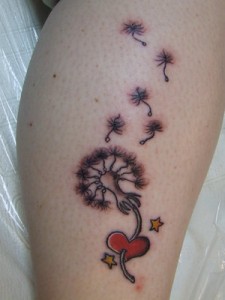 Wrist Dandelion Tattoos with Word Quote "Wish"
This is a great location for a dandelion on the inside of the wrist; makes it very easy to make a wish.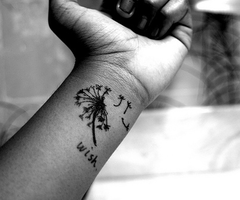 Dandelion Tattoos Shoulder Blade Placement
This Dandelion with the stem bent from the blowing wind and flowing seeds looks great on the upper shoulder.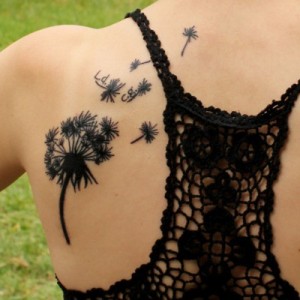 Two Tone Dandelion Tattoos
Nice detail in a close up of a dandelion tattoo, shaded with a second ink color.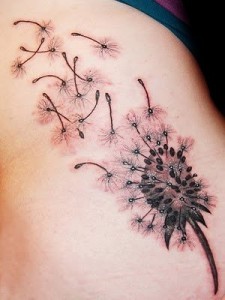 Dandelion Tattoo with Exceptional Leaves
This dandelion tattoo looks as if you are walking in grass and dandelions; very cool.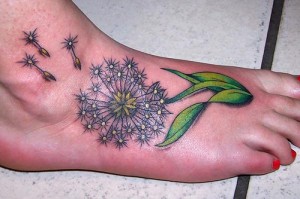 Dandelion Tattoos with Quotes
Dandelions and personal quotes are very popular and back and inside of the wrist are great for placement.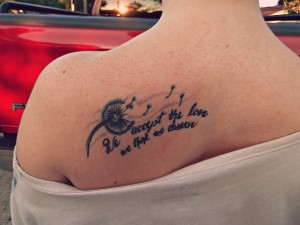 Dandelion Tattoos with Birds
The waist line shows off this dandelion tattoo in a bold and daring way.
Dandelion Tattoos with Color and Movement
This colorful dandelion tattoo is fantastic. The swirling wind grabs your attention and is a fantastic use of color and movement by the artist!
Dandelion Tattoo with Colored Ink Quote
This dandelion tattoo is inked with an interesting font.  The quote is almost more noticeable than the dandelion.  Perhaps it was meant that way and the dandelion reinforces the wearers statement.