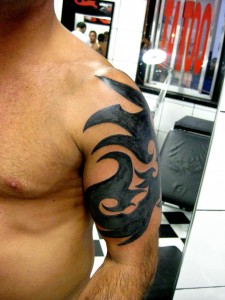 Tribal sleeve tattoos are pieces of body art that cover part, or all, of the arm. This is why it is called a sleeve! This type of tattoo involves many different themes and symbols and is an extremely popular form of body art; sleeves and otherwise (I have a tribal rose on my right calf.). Sleeves are great for people who have a lot of tribal art in mind or for those who simply want to have an awesome looking tattoo!
Ideas for Tribal Sleeve Tattoos
Like most other sleeve tattoos, the tribal sleeve tattoos generally have a wide variety of elements and symbols within them. There are so many things that can be included that it is clear tribal sleeves are highly personal and individualized. Many people like to have symbols of spiritualism and faith, some like primitive styles of writing; others add names to their tribal sleeve tattoos. Aside from the tribal aspect, there are other additions that people like to add that enhance the tattoo. Examples of this are mythological beasts and gods, things from nature (trees, birds, etc.) and even animals. Adding in things such as zodiac signs, crosses, the yin and the yang can add a ton of personality to tribal sleeve tattoos.
These are just a few ideas though; use your imagination and see what amazing ideas you can come up with for your tribal sleeve tattoo. Just make sure that you know what each piece of art symbolizes so you are not sorry later! Once you decide what type of art you want tattooed, you must decide if you want a full sleeve, half sleeve or quarter sleeve. How far do you want the tattoo to come down on your arm? Do you want your entire arm covered? These are things to consider.
Tribal sleeve tattoos were all the rage from the moment they came out. In the beginning they were most popular with men. Nowadays women love tribal sleeve tattoos also! More and more ladies arms are adorned by these beautiful pieces of tribal art and though this may sound unladylike, they actually look quite stunning and feminine when the right tattoos are added to it.
Celebrities with Tribal Sleeve Tattoos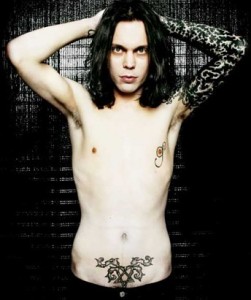 Everyday folks are not the only ones who sport tribal sleeve tattoos. Many famous faces have them as well. Take for example the pro wrestler Umga who has many tattoos, including a half tribal sleeve on his right arm. Musician Ville Valo has a full tribal sleeve on his left arm that goes wonderfully with the rest of his ink collection. Ex rapper Vanilla Ice has half sleeve tribal tattoos on both his right and left arm. Kat Von D, star of L.A. Ink and one of the most desired tattoo artists ever born, has full sleeve tattoos on both arms. Though they are not all tribal art, there is some mixed in along with some Japanese and Polynesian art. The mixture is breathtaking!
Wrestlers, Rappers and Musicians, OH MY! Since the public often takes their cues from famous people, why not allow them to influence our body art? Some have great taste and we can build on their ideas with some of our own creativity!
More Tribal Sleeve Body Art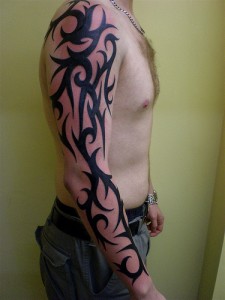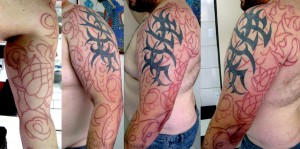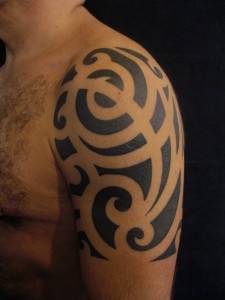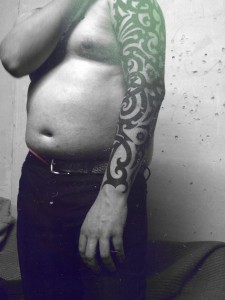 Related Articles
Arm Tattoos for Men: 7 Cool Ideas Worth Considering
Tribal Tattoos – Designs, Ideas & Meaning