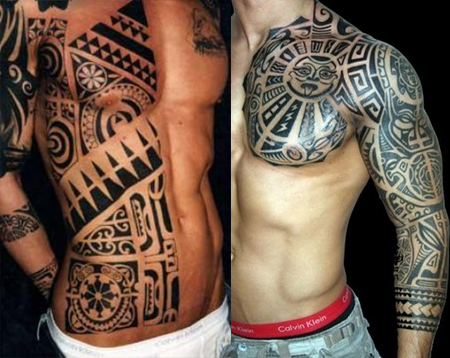 Polynesian tattoo designs are actually an umbrella term for all tattoos that use design patterns, symbols and meanings from the Polynesian Triangle.  This area of the Pacific Ocean is wide and vast.  The northern point of the triangle is Hawaii, the eastern point; Auckland area and the western point, Easter Island.  Literally thousands of islands can be included in this triangle, although there are primary cultures of "the triangle".  They are:  Maori, Hawaiian, French Polynesian, Tongan, Cook Islanders, Samoan, Easter Island, Melanesia and Micronesia.  This list is by no means exhausted.  The point is when asking for Polynesian tattoo designs, if you're a traditionalist, be careful because you're likely to get just about anything without some research.  The Polynesian people were extremely into exploration.  Through hundreds of years they traveled by sea from island to island inhabiting them and moving on, eventually creating the triangle and settling down.  It was during this time that each island or culture began to develop their own traditions, styles, beliefs systems, stories and legends; culture.   So when we speak of "Polynesian" anything we are talking is in general.
Types of Polynesian Tattoos
Below is a list of the most commonly requested Polynesian tattoos.  The brief description provided will be given based on the historical background you've just read modified with current considerations.
Hawaiian Polynesian Tattoos – Hawaiian Polynesian tattoo designs would be tattoos specific to all things Hawaiian.  Of course this would refer specifically to the Hawaiian culture before it was assimilated with other cultures.  So look to tikis, native flowers, Gods, housing, transportation, native creatures, and the Hawaiian language for your Hawaiian Polynesian tattoos.
Tribal Polynesian Tattoos – Tribal Polynesian tattoos are highly requested.  The problem is that Polynesia as explained above covers a huge area and each island developed their own tribal art. Hawaiian tribal art is very different from Maori for instance.  So either choose a style, or blend them all.  Talk to your tattoo artist to help with this design.
Traditional Polynesian Tattoos – Traditional Polynesian Tattoos are really nonexistent.  This is not meant to disappoint for there is some hope.  Like many native cultures, much of the unwritten history was lost.  The most true to traditional that is recorded is the Maori.  With this culture we have some drawings that were made by the Spaniards that survived and descriptions of what the placement of tattoos meant.
Polynesian Flower Tattoos – For Polynesian Flower Tattoos go with any native flower to your island.  For instance, Hawaiian's would typically use the beautiful Hibiscus flower.
Ancient Polynesian Tattoos – Ancient Polynesian tattoos would be designed from anything left of the ancient Polynesian culture.  These ancient Polynesian tattoos would then need to be designed from the glyph art that remains on Easter Island and possibly the statuary that remains there as well.
Polynesian Tattoo for Women – Polynesian tattoos for women could be any of the native flowers from all islands in the triangle or the island of your ancestry.  In addition consider the goddesses of the Polynesian culture.  If considering the Maori Polynesian tattoos for women, keep it to the chin or below the knees.  Traditionally it was only the chin but later drawings depicted some women of royalty with tattoos on the lower part of their legs, as well, in the form of a lower leg sleeve.  Both legs were tattooed.
Full Sleeve Polynesian Tattoos – Full sleeve Polynesian tattoos are more of a modern version of the ancient culture and are very popular today.  Encouragement by Polynesian tattoo artists is given to design your sleeve based on the importance of certain symbols.  This presents a problem because we do not know all of the symbols.  We do know this; great importance was placed upon all the creatures of the sea as well as the sea itself.  The sleeve is something similar to a totem pole, if you will. Each piece that you add represents a totem, aspect, guardian, or your desire in life.
Polynesian Tiki Tattoos – Polynesian Tiki gods are most recognized as originating from the Hawaiian Islands although we cannot be sure of this.  They are still Polynesian as Hawaii belongs to the Polynesian Triangle.  Study of the Tiki Gods and their meaning will help with this tattoo design.
Polynesian Armband Tattoos – Polynesian armband tattoos are a smaller version of the sleeve described above and are worn by both men and women today.  You can choose the tribal art from whichever island you admire or from which you descend and then add the totems that apply to your life.
Polynesian Gecko Tattoos – Polynesian gecko tattoos are stunning in the tribal art of the islands.  Interestingly enough if you study the images of gecko Polynesian tribal gecko art you will notice that the gecko is sometimes fully tattooed in the Maori circular tribal style with some Hawaiian thrown in as well.  This guy looks great on his own or in an armband.
Polynesian Stingray Tattoos – Polynesian stingray tattoos are fabulous pieces of body art.  It appears that most stingray images if studied closely are designed in the Hawaiian tribal art style.  This is not to say that is inappropriate to design a stingray in another of the island styles.  It will require a large amount of skin though to do it justice for the awesome creature that it is.
Coloring & Placement of Polynesian Tattoos
Coloring of most Polynesian tattoos will be done in dark blue, dark green or black if using tribal art.  For Polynesian tattoos that incorporate the natural symbols of the island or imitate art that was left for us by the ancients will need color.  You will be using earth tones for these tattoos such as, greens, browns, reds, tans, black, and blues, of course.
Placement of Polynesian tattoos has been discussed some during the course of this article because of the importance the ancestors gave to the placement of tattoos. However people today have modernized some of these restrictions and women, for instance, are being tattooed with tribal down their entire legs with strands, or backs with animal symbols.  Women are also wearing armbands as well as men.  The most modern phenomenon and the most popular by far is the creation of the arm sleeve that covers a man's entire arm and goes up onto his shoulder.
More Polynesian Tattoo Designs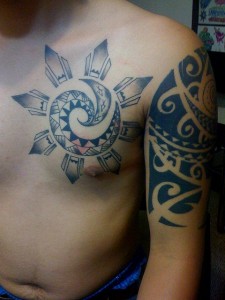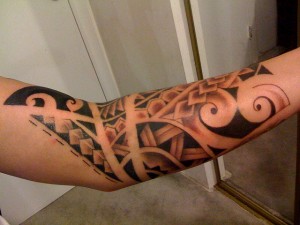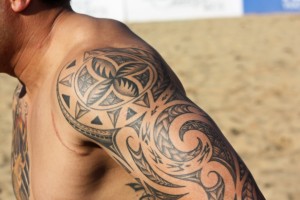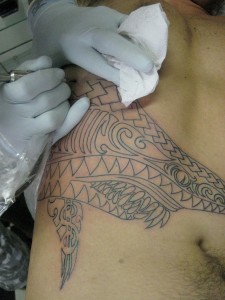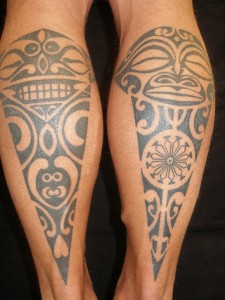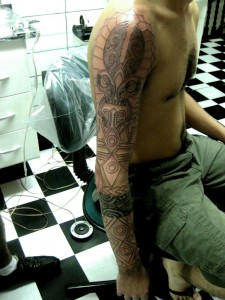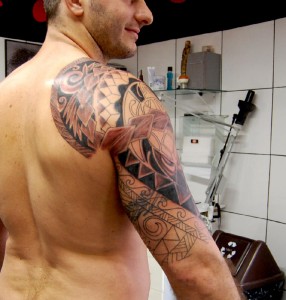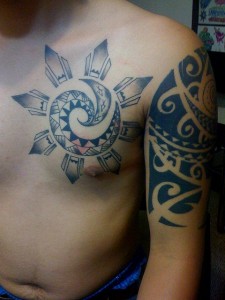 Related Tattoos
Images from:
fashforpassion.com and tattoostyles.herobo.com
fashforpassion.com and koru-tattoo.com