Tribal tattoos for men are in very high demand due to their recent rise in popularity in most cultures all over the world, for many different reasons. Explanations for their popularity include, but are by no means limited to; a desire to fit in, to show everyone what is important to you, respect for our loved ones, spirituality or love of the earth. They can in effect, connect you and your spirit to the earth because of their primitive primal nature. There are so many different tribal tattoo designs for men to choose from around the world that it can be hard to define what they mean; different cultures have different meanings for tribal tattoos, even though the images are very similar looking. However, tribal tattoos for men are definitely easy to see with their linear or curvature designs and bold dark ink.
Some tribal tattoos for men depict images that let everyone know their different roles in life, social status, or profession. The tribal fish hook represents prosperity and good health. If you are a father or you are having your first child adding a silver fern leaf may be a great choice signifying the beginning of new life that is full of hope. The silver fern leaf with a little green added to the edge of the leaf or even adding a metallic ink to the leaf can add detail. The tribal fish hook looks very well in the traditional bold dark ink but in modern tribal tattoos they are using colors in some of these design and they look great. Using a dark red ink and slowly fading in to the black ink, is a fabulous look. The dark red is visible but does not stand out.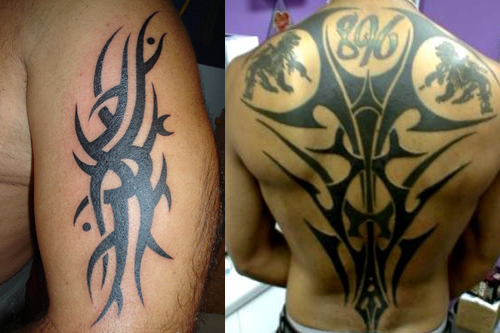 You may want to add a single twist knot, borrowed from tribal Celtic designs, to show your eternal love for your significant other. The single twist knot looks very good when done in colors also; just try to use colors that have a strong meaning to the both of you. These tribal tattoos for guys look great with multiple single knots in a strand or a band. This tattoo can make a grand large scale tat over the shoulder and upper chest and then moving down the arm. They also show very well on the rib cage area or working down the upper and lower leg. Smaller tattoos of the single twist knot in tribal design, wears well on the inside of your arm, palm side up. With your tattoo artist's help you can come up with some impressive ideas to display these patterns. If you gravitate towards standalone tribal tattoos for men, they look splendid on the upper arm and shoulder. This gives a large surface to work on for some great detail and can be seen by body art admirers very easily. If a smaller version of tribal tattoo is what you want, you can put it anywhere you desire.
When searching for tribal tattoos, please keep in mind that there are many designs to choose from. With the aid of your tattoo artist's knowledge of tribal designs, you will be able to find the perfect image to create a tattoo that will suit your needs perfectly.
Tribal Tattoo Designs for Men
Tribal Tattoos for Men on Arm
Tribal Tattoos for Men on Chest
Tribal Tattoos for Men on Face
Tribal Tattoos for Men on Forearm
Tribal Tattoos for Men on Leg
Tribal Tattoos for Men on Neck
Tribal Tattoos for Men on Shoulder
Tribal Tattoos for Men Full Sleeve