Jhené Aiko Efuru Chilombo is a talented American singer and songwriter. Jhené was born and grew up in Ladera Heights, California. Her mother is of Spanish, Dominican, and Japanese descent, and her father is of Native American, African-American, German-American, and Jewish descent. That's how she got her exotic look.
Jhené started her music career by contributing vocals and appearing in several music videos for R&B group B2K. In 2003, Jhené was set to release her debut album called "My Name Is Jhené," but the album never got released as she was focusing on her study. In March 2011, Jhené released her first full-length project, a mixtape titled "Sailing Soul". She was nominated for three Grammy Awards, including Best R&B Song for "The Worst," Best Rap/Sung Performance for "Black Majik," and Best Urban Contemporary Album for "Sail Out" in 2015.
Jhené is a big tattoo lover and has over 20 tattoos all over her body. All her tattoos are very spiritual and meaningful. She is into crystals, sound healing, Buddhist philosophy, which also reflects in her tattoos. So, let's talk about Jhené Aiko's tattoos and the meanings behind them.
Jhené Aiko's Tattoos and Meanings
Jhené Aiko's Shoulder Tattoos
Jhene has two tattoos on her shoulder. One at the front and the other one on the back of her shoulder.
Dharmachakra/ Dharma Wheel Tattoo
Jhené got a tattoo of a Dharmachakra or the wheel of dharma on her shoulder. The Dharmachakra is a widespread symbol used in south Asian religions such as Hinduism, Jainism, and Buddhism. It is an eight-spoked wheel that traditionally represents the teachings of the Buddha. Each spoke of the wheel symbolizes a branch of the noble eight-fold path.
The spokes of the Dharma wheel represent: Right Intention, Right Speech, Right Action, Right Livelihood, Right Effort, Right Mindfulness, Right Meditation and Right View.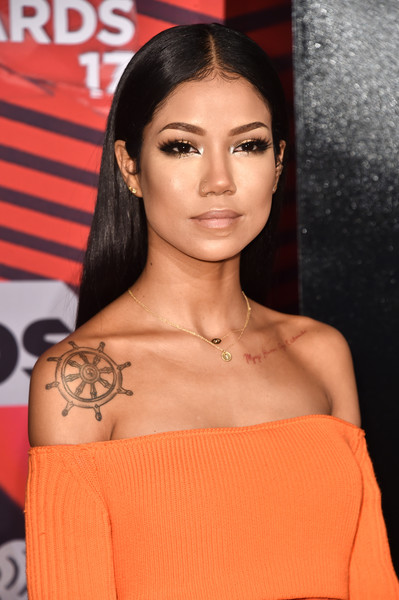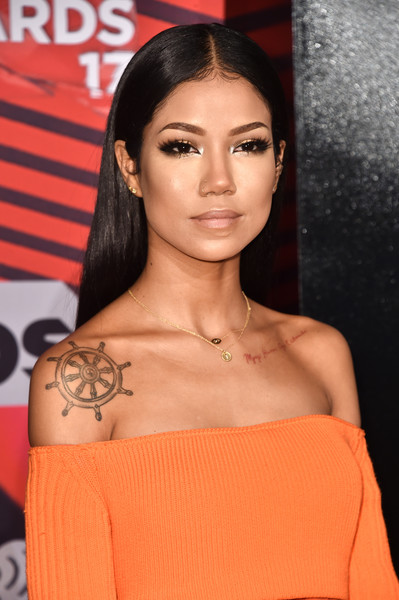 Rising Sun Tattoo
On the back of her shoulder, Jhené had a tattoo of the rising sun. The tattoo was done in a traditional Japanese style. It was a tribute to her Japanese heritage. The rising sun tattoo also symbolizes the beginning of new life, divinity, vitality, knowledge, courage, and energy.
Later Jhené covered this tattoo with the rest of her back tattoos.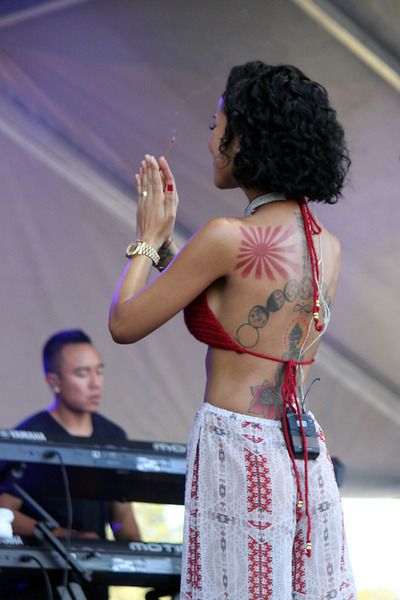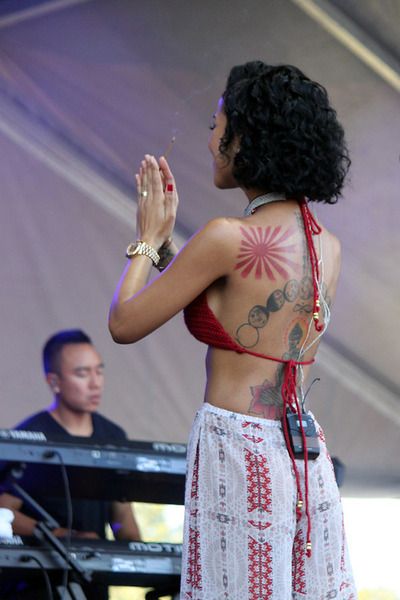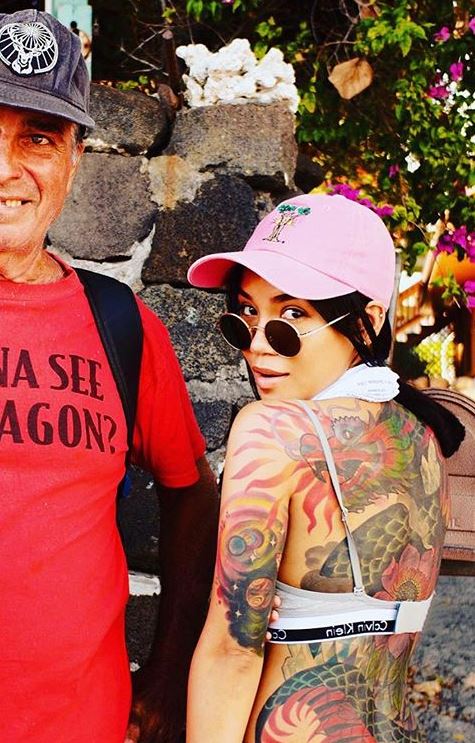 Jhené Aiko's Collarbone Tattoo
On her left collarbone, Jhené got the name of her older brother, "Miyagi Hasani Ayo Chilombo," tattooed in red ink. Miyagi died of cancer on July 19, 2012. Jhené wrote and recorded a song for him before he passed away. The song was named "For My Brother." In the song, she described her eternal love for Miyagi.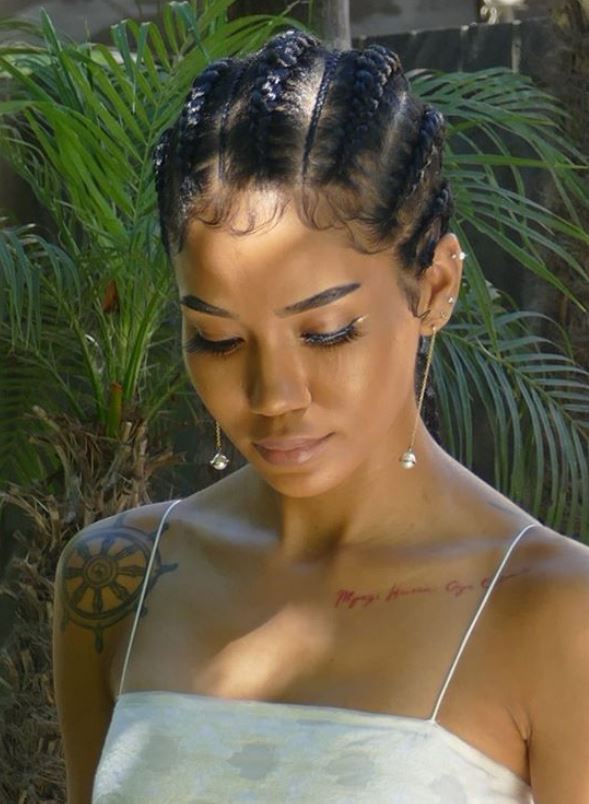 Jhené Aiko's Back Tattoos
Jhené had few large tattoos on her back before she covered them up with her new half dragon and half phoenix tattoos. The tattoos she had on her back were:
Japanese lettering tattoo
Phases of the moon tattoo
Infinity symbol tattoo
Buddha on a lotus flower tattoo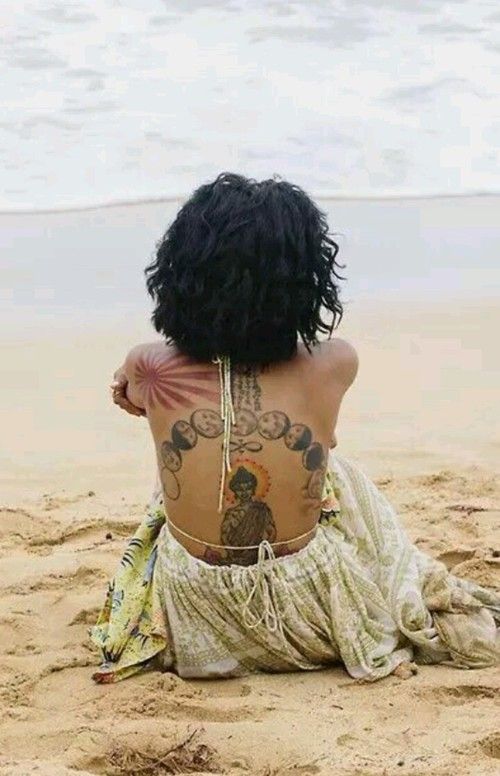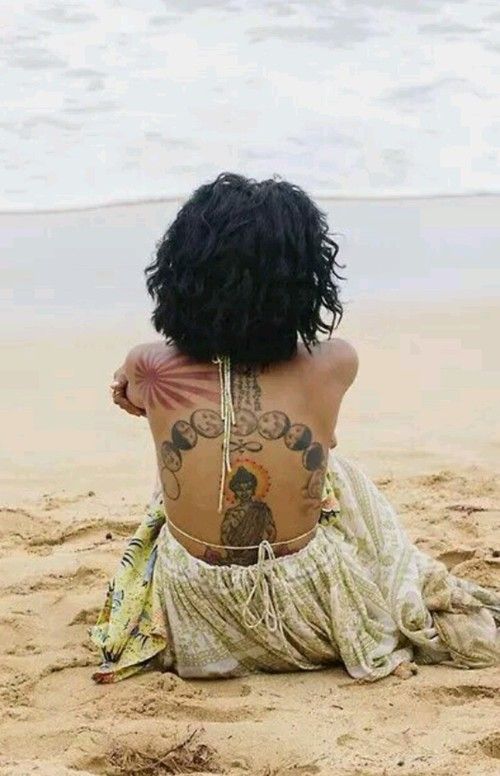 'Chilombo' – Half Dragon Half Phoenix Tattoo
Jhené got her entire back covered by a massive tattoo of a half-dragon and half-phoenix with crystals and flowers. She calls her Chilombo. In one of her recent Instagram post, she said, "her name is Chilombo… Half dragon, half phoenix… and she's a fucking beast."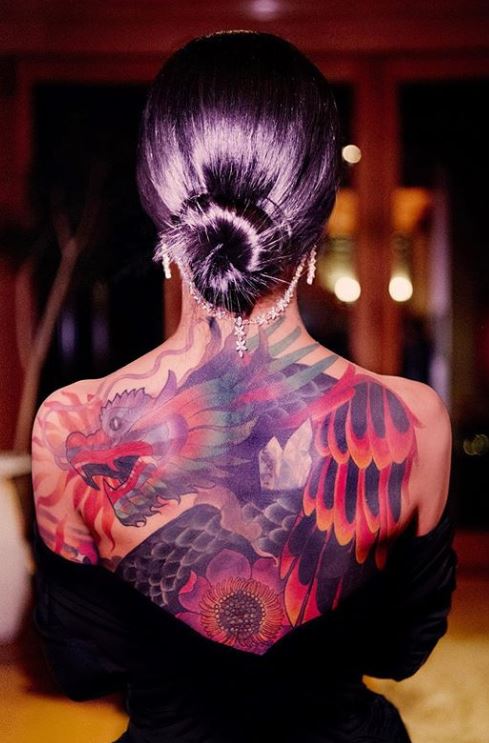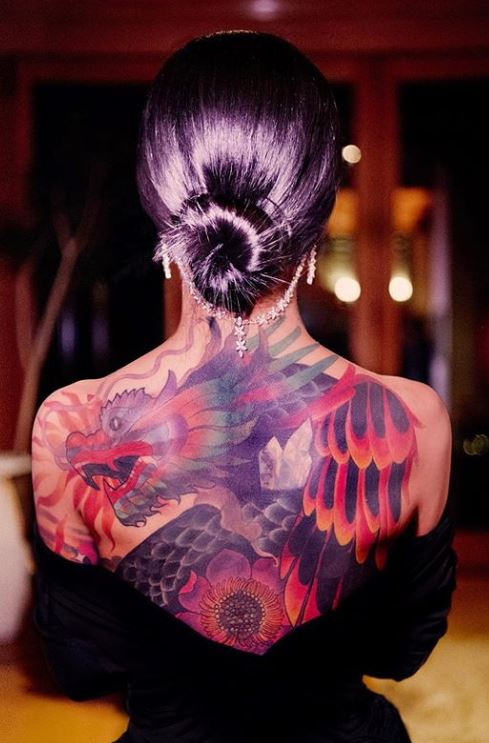 Rib Tattoo
On the right side of her rib, Jhené got a tattoo of a hand holding a lotus flower. It is also a very spiritual tattoo. The Lotus, which grows from the dark watery mire but remains completely unstained by it, is a significant Buddhist Symbol of Renunciation, purity, freedom from the faults of cyclic existence, enlightenment, self-regeneration, and rebirth.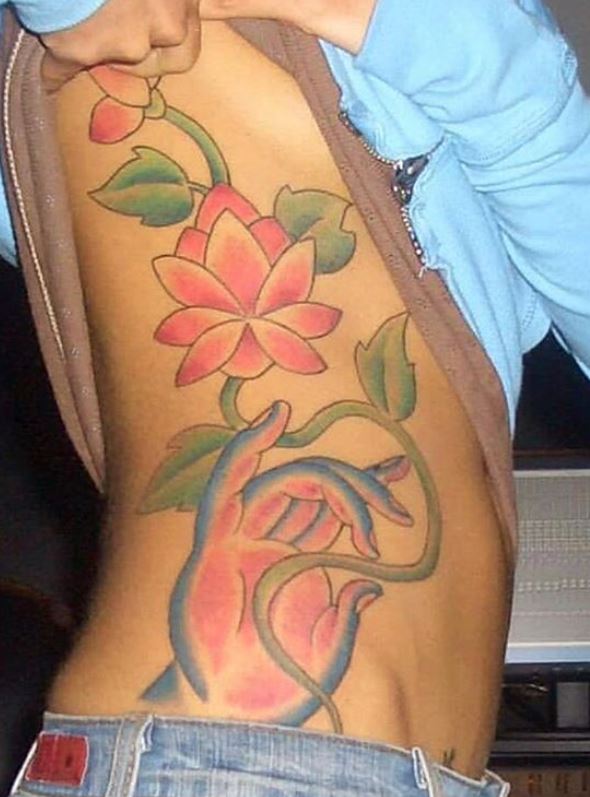 Jhené Aiko's Wrist Tattoos
Jhené has a few meaningful tattoos on both of her wrists.
"Why aren't u smiling?" Tattoo
The tattoo on her left wrist says, "Why aren't u smiling?" It was a tribute to her late brother Miyagi. Miyagi used to say this a lot. Jhené's sister Mila J also got it tattooed on her forearm.
Penny Tattoo
Jhené also got a tattoo of a real size penny on her left wrist just above the "Why aren't u smiling?" tattoo. This tattoo is a tribute to her grandfather. On an Instagram post, she mentioned that her Granddad used to call her penny.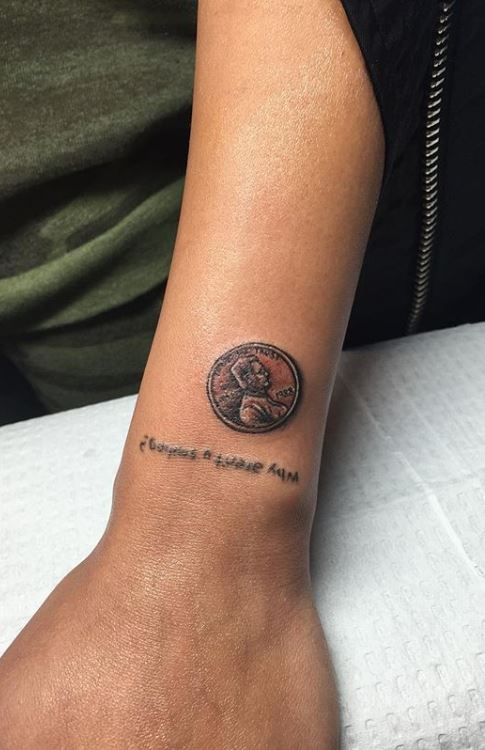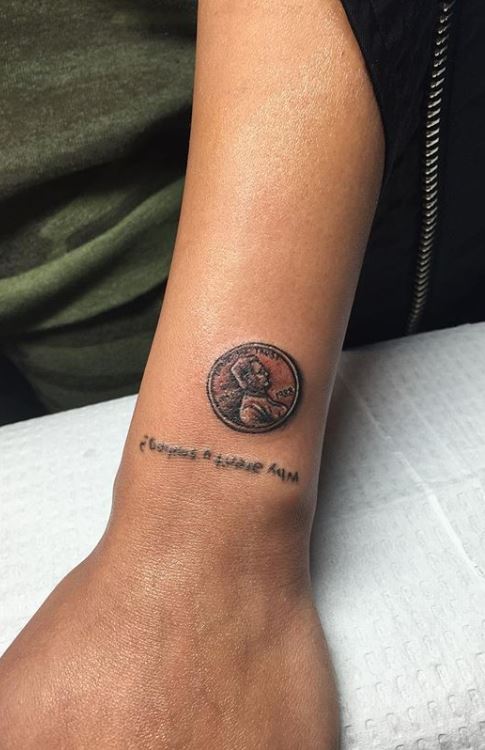 Pisces symbol
Jhené's star sign is Pisces. She got the Pisces symbol tattooed on her right wrist. She also published a poetry book called "2Fish."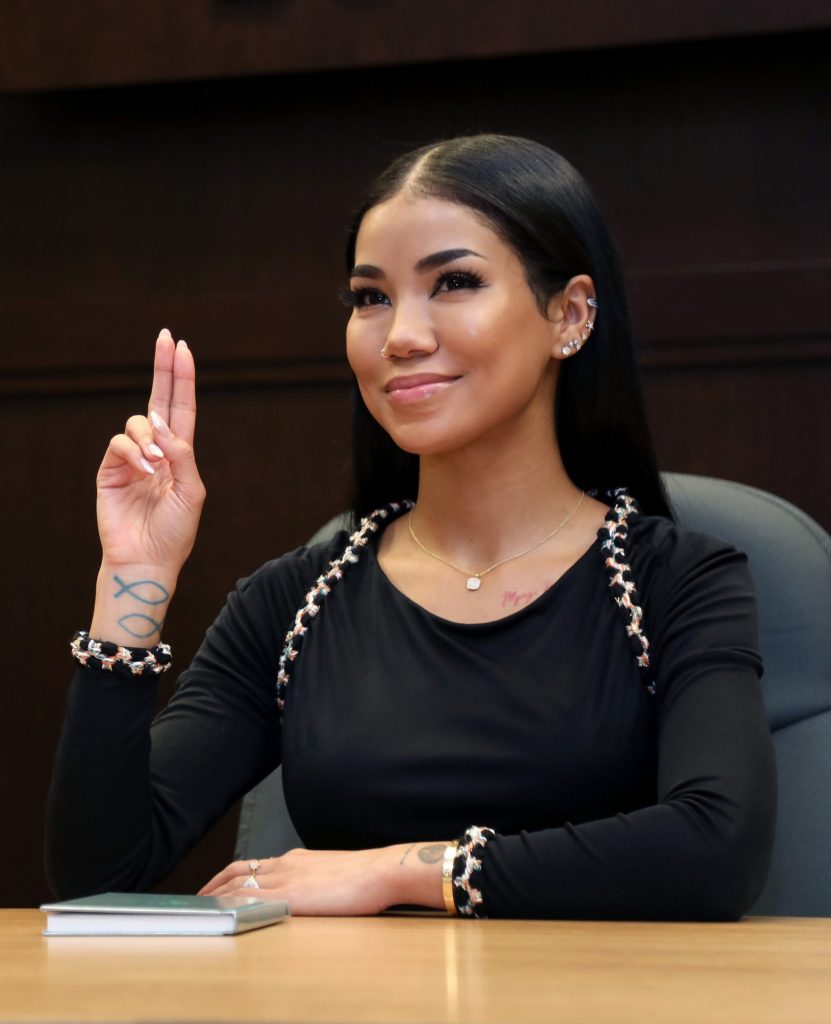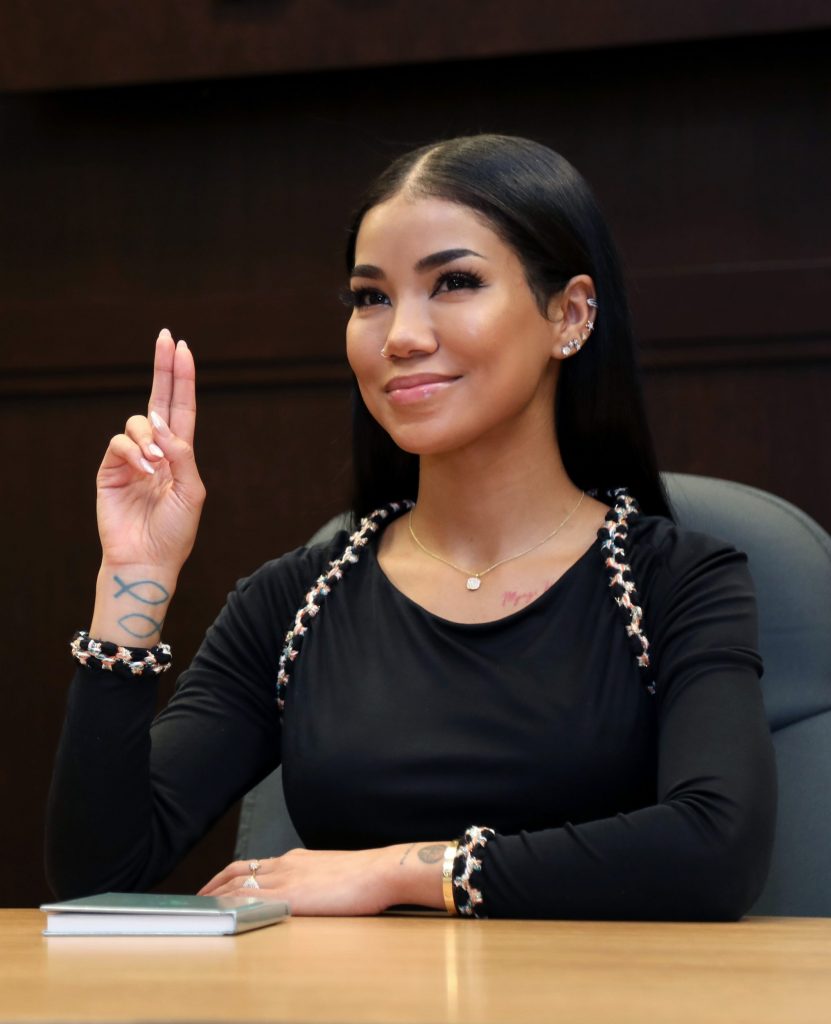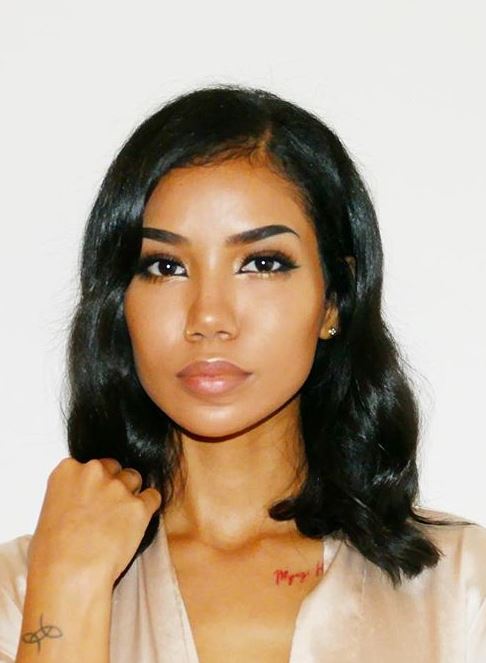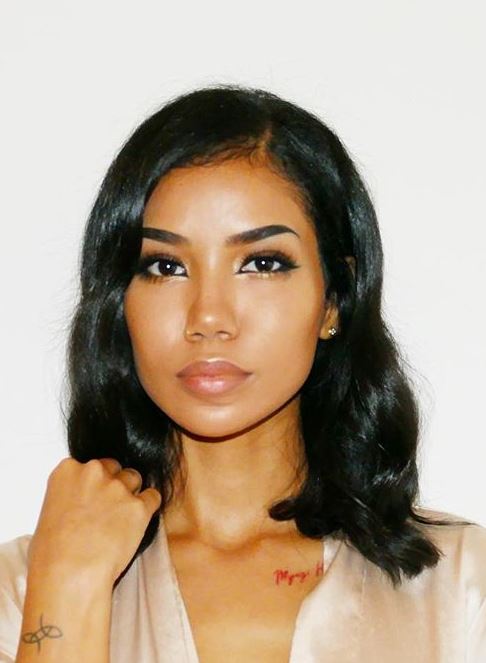 Forearm Tattoos
On her right forearm, Jhené got a tattoo of a Scarab. She also wears a Scarab necklace. She got this tattoo pretty randomly when she was riding a bike at the Venice beach. To her, this tattoo represents rebirth.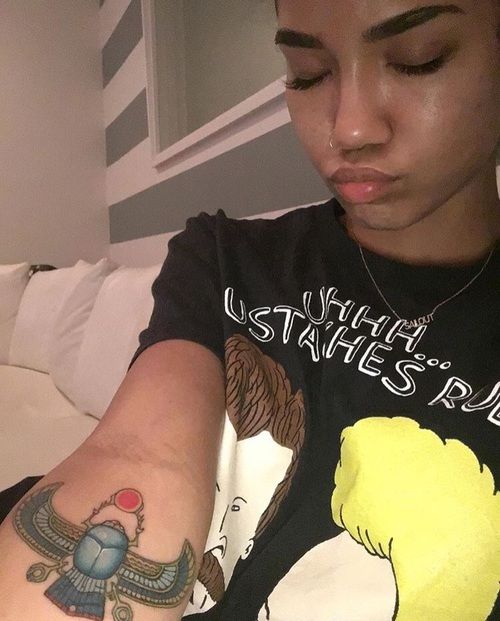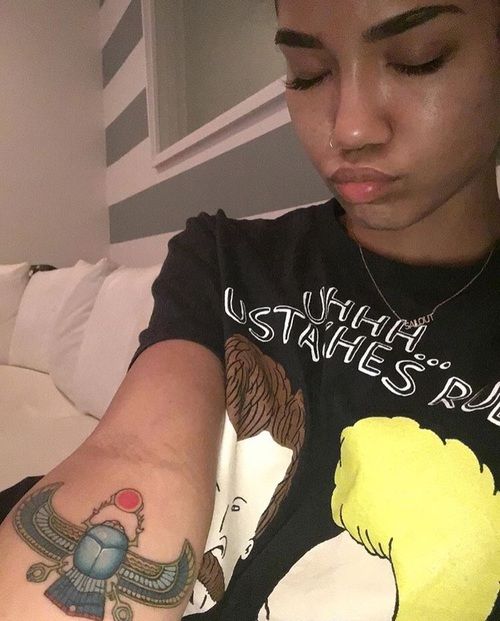 Elbow Tattoos
She had a tattoo of Big Sean's face on her left elbow. Big Sean and Jhené started dating in 2016. The couple officially ended their relationship in early 2019. Jhené covered Big Sean tattoo later with a galaxy tattoo. It was a part of her big Dragon/Phoenix tattoo breathing life and light into a new galaxy.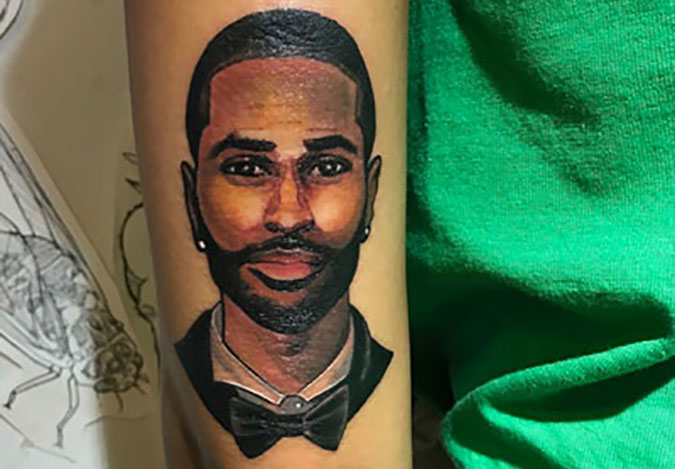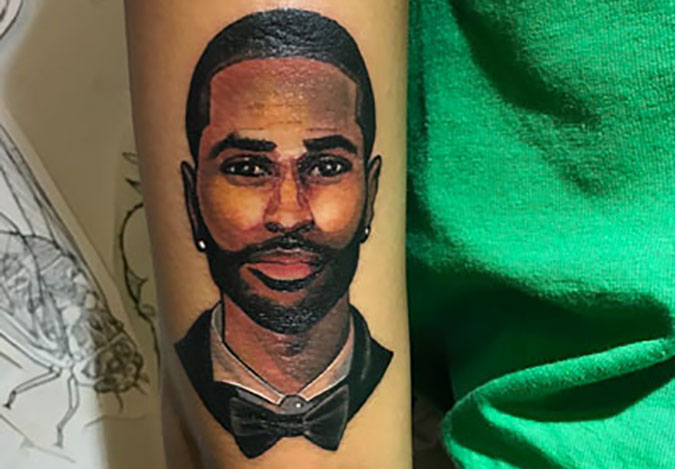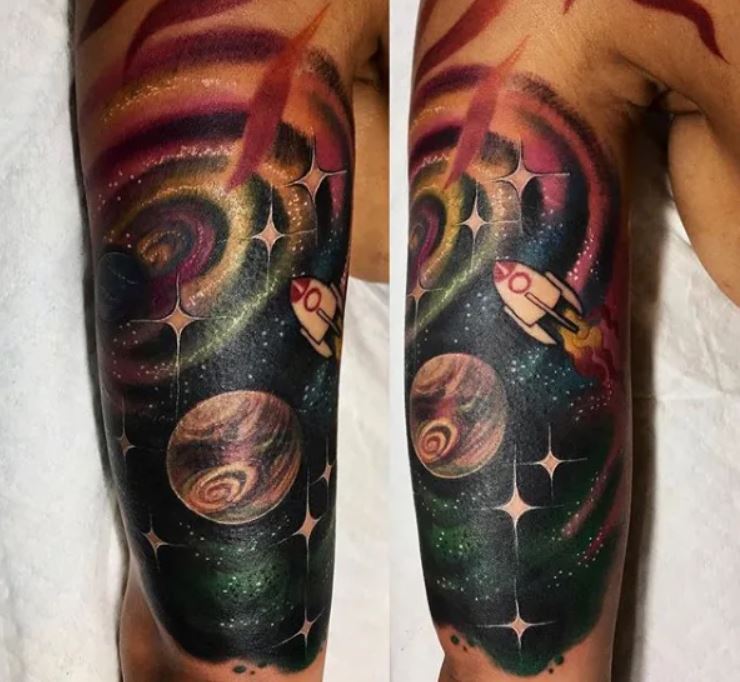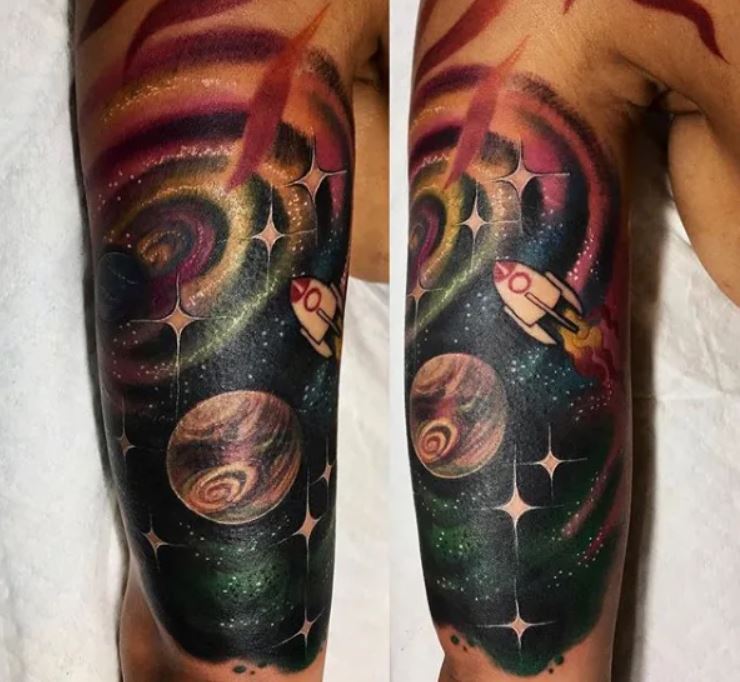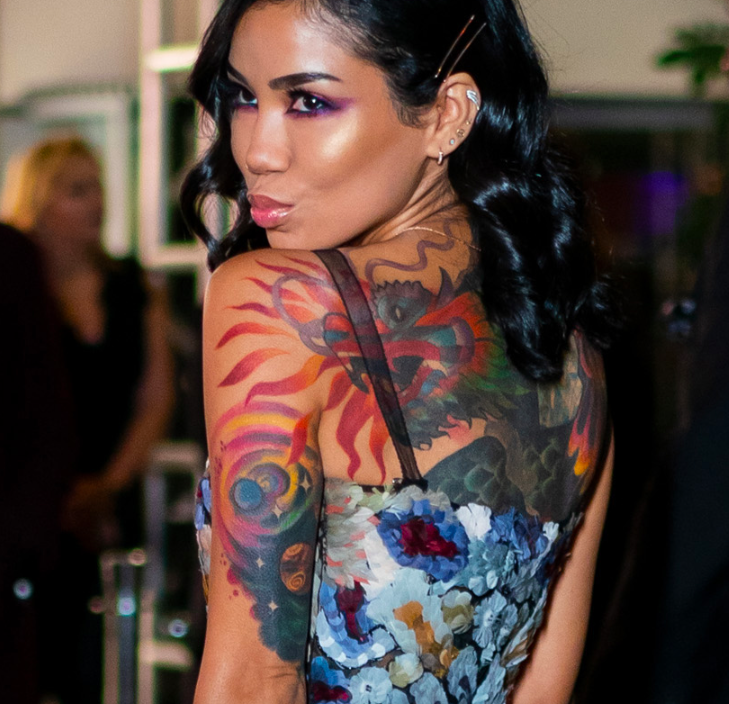 Jhené Aiko's Leg Tattoos
Seven principles of a samurai
The tattoo on her right calf says "Gi, Rei, Yu, Meiyo, Jin, Makoto, Chugi" in Japanese. There is a Bushido code, also known as the seven principles of samurai which are: Courage, Integrity, Benevolence, Respect, Honesty, Honor, and Loyalty.
Samurai Tattoo
She also has a tattoo on her right ankle.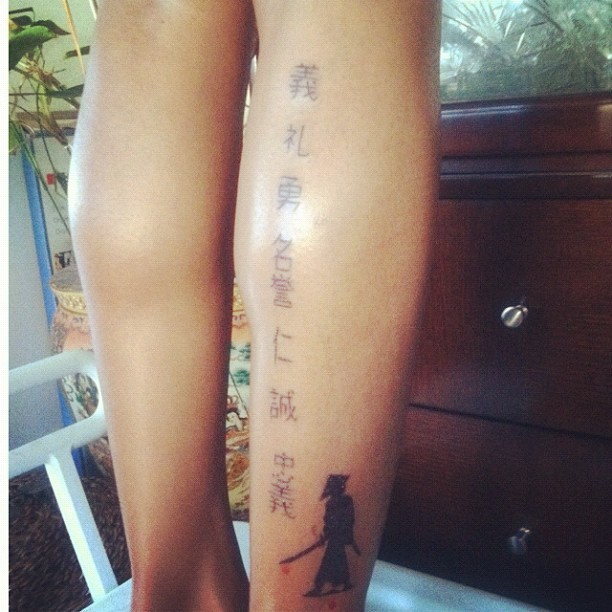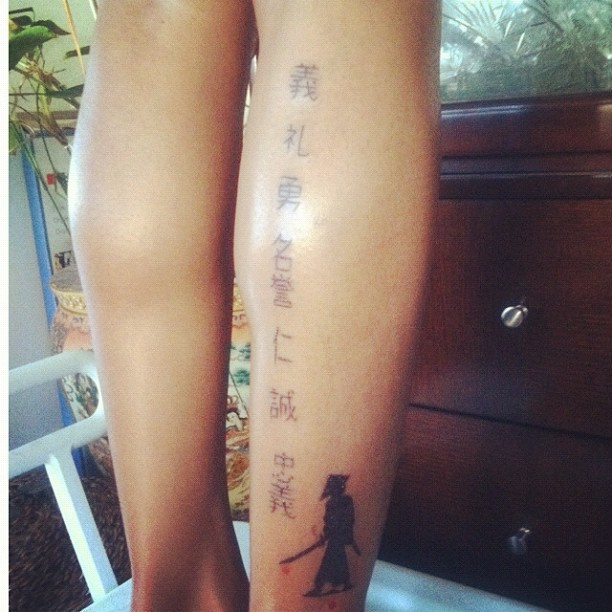 Mushroom Tattoos
On her left ankle, Jhené has a tattoo of two mushrooms.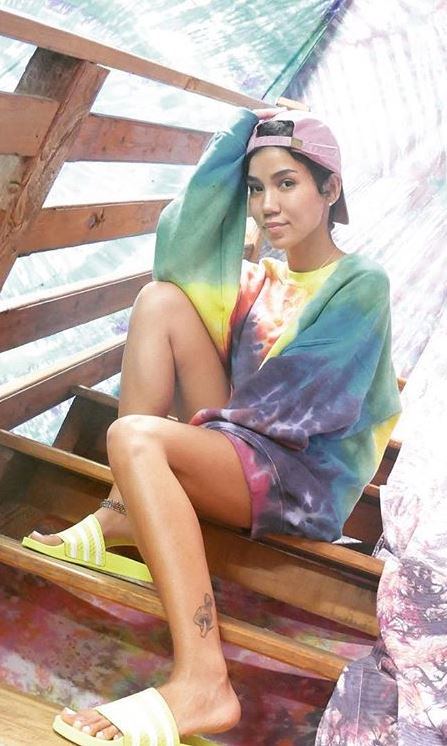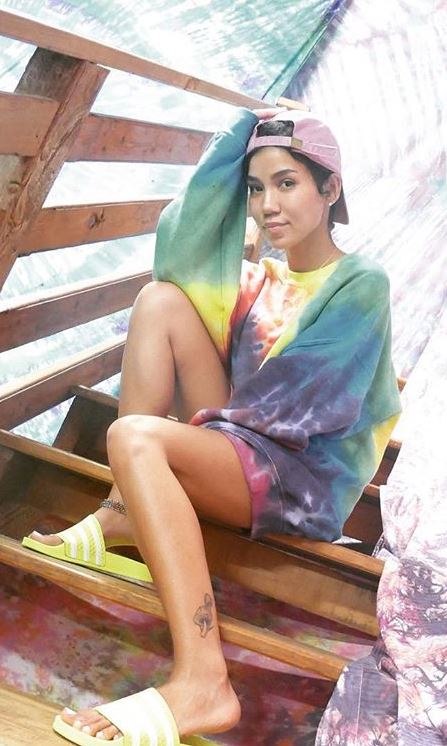 Unknown Wrist Tattoo
Jhené has this smudged looking tattoo on her inner left wrist. It could be initials. If you know the meaning of this tattoo, please write it in the comments below.