Wardell Stephen "Steph" Curry II (born March 14, 1988), better known as Stephen Curry, is an American professional basketball player. He plays for the Golden State Warriors of the National Basketball Association (NBA) and won three NBA championships with the Warriors. He is a six-time NBA All-Star and has been named the NBA Most Valuable Player (MVP) twice. Stephen is renowned for his shooting accuracy and called the greatest shooter in NBA history by his fans and sports critics.
Curry is a big Tattoo fan. He even worked on a college thesis about the athletes and their tattoos. Despite his love for tattoos he did not get his body covered in ink. He only got a few tattoos over the years and each of his tattoos is unique and have interesting meaning.
Stephen Curry's Wrist Tattoos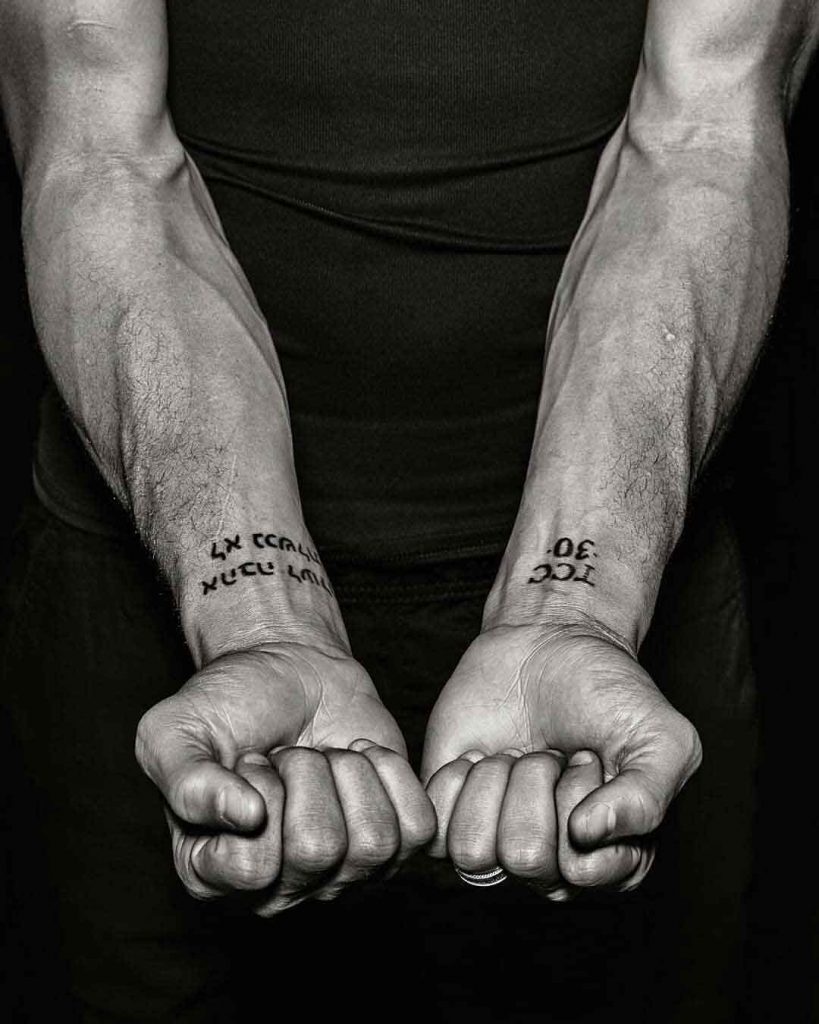 Hebrew Tattoo on Right Wrist
Stephen has a Hebrew tattoo on his right wrist. It is a passage from 1 Corinthians 13:8 in the New Testament that translates to "Love never fails". His wife Ayesha Curry also have a matching tattoo on her wrist.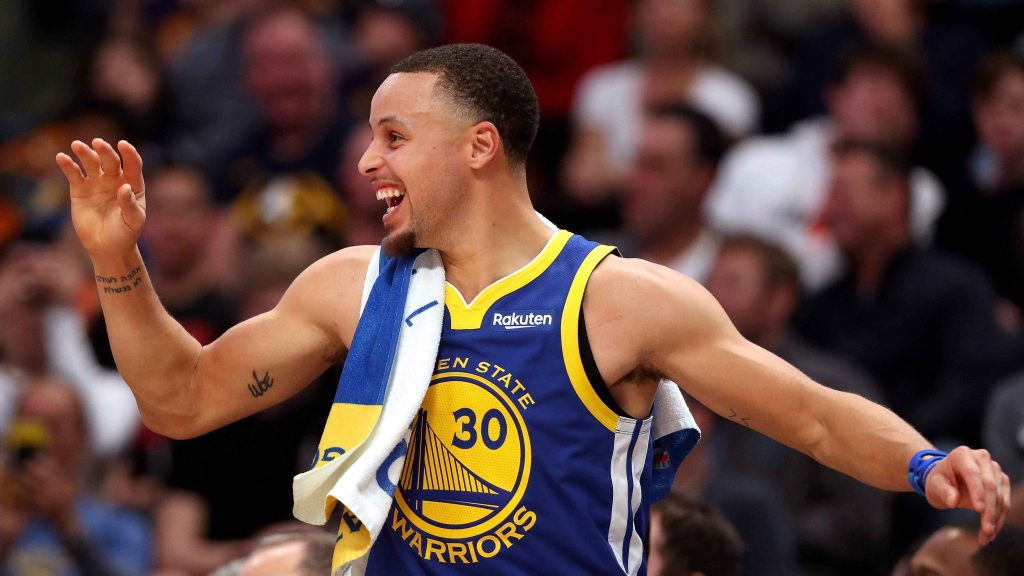 TCC '30' Tattoo on Left Wrist
Stephen got TCC -30- tattooed on his left wrist. "TCC" stands for Trust, Commitment and Care. 30 is the number of his jersey.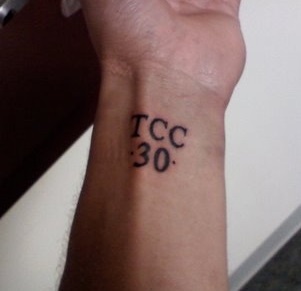 Stephen Curry's Bicep Tattoos
'> <' Tattoo on Left Bicep
Its Stephen and Ayesha's second matching tattoo. Ayesha got the '> <' tattoo first and Stephen was so inspired that he got his own within a month. Ayesha shared a photo of her '> <' tattoo and explained the meaning of it. She said "My new little reminder is to be present. We get so wrapped up in what needs to happen next that we forget to enjoy the beauty of what's happening right NOW. Right here, right now. Enjoy the blessings you already have."
Greater than symbol next to a less than symbol (> <) represents the verse from John 3:30. The verse reads "He must become greater; I must become less."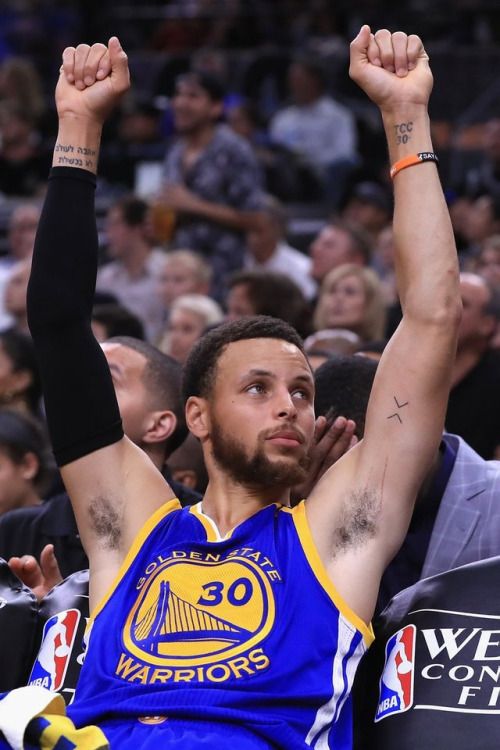 WOE Tattoo on the Right Bicep
"WOE" on Stephen Curry's right bicep means Working on Excellence. Excellence is defined as the quality of being outstanding or extremely good. That's exactly what Curry and the Golden State Warriors have been throughout the 2017 NBA Playoffs.
A lot of people have confused WOE with ube. But if you zoom in then you will see clearly that its WOE not ube.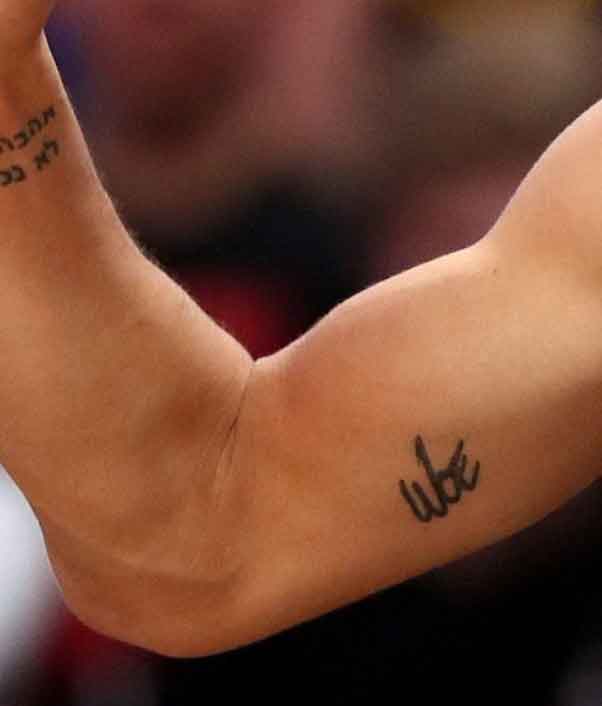 Stephen Curry's Ring Finger Tattoo
Stephen got his wife Ayesha's initial 'A' tattooed on his ring finger.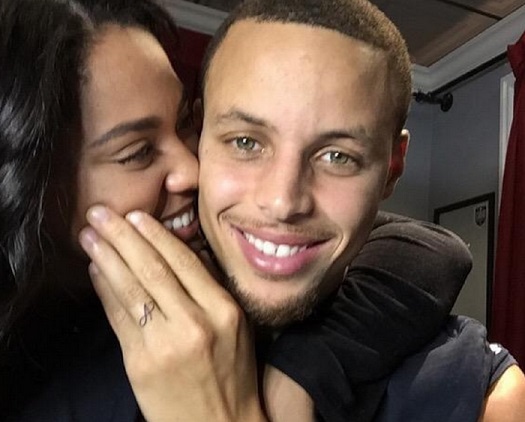 Unknown Hebrew Tattoo on Left Wrist
Stephen has a tattoo on the side of his left wrist. It does look like Hebrew letters but I am not so sure. If any of the readers know the meaning of this tattoo please write it in the comments section below for the other fans.