Tree tattoos are trendy. They not only look amazing but have very significant meanings behind them. Trees are bold, resilient and they provide life. They are strong, and they can withstand the test of time and the roughness of the storms.
When people get tree tattoos, they often get them on the back or side. Since trees are so large, these places can be the perfect way to show off anyone's magnificent tree tattoos. Many tree tattoos are in greyscale for a more dramatic effect, while some add touches of color in the leaves or flowers adorned upon the tree.
There are many different examples of tree tattoos listed below. Take a look and see if any appeal to your specific taste. These fantastic tree tattoo designs not only have powerful meanings, but they look amazing as well.
Trees in Different Culture
Many ancient cultures worship trees as manifestations of the divine. The druids devised a sacred tree alphabet, and the Egyptian, Christian, Hebrew, Kabbalists, Zoroastrian, and Talas traditions based many of their mystical teachings around the central Tree of Life. From the dualistic tree of knowledge in Genesis to Islam's Tree of blessings, the great world tree was seemed to ascend like a pillar from earth to heaven.
The oak was sacred to the Celts and Norse people, the ash to the Scandinavians, the lime tree in Germany, the fig tree in India. In Egypt, the tamarisk was sacred to Osiris. In ancient China, people believed that the spirits of the dead and the Gods resided in the trees near the tombs or temples.
Symbolism and Meanings of Tree Tattoos
In its most general sense, the tree symbolizes the life of the cosmos with its consistency, growth, proliferation, generative, and regenerative processes. It stands for eternal life and is, therefore, equivalent to a symbol of immortality. People also believed that many trees have healing properties because they symbolized specific illnesses.
The tree with its root underground and its branches rising to the sky symbolizes the ladder into the mountain, representing the 'three worlds' (the lower world, hell; the middle world, earth; and the upper world, heaven). The three worlds of tree symbolism reflect the three central portions of the tree's structure: roots, trunk, and foliage.
In mythology and folklore, we distinguish three or four different shades of meaning. At the most primitive level, there is the tree of life and the tree of death. While in later stages, the cosmic tree and the tree of the knowledge of good and evil.
World trees symbolize humankind's potential for ascendance from matter to spirit, with roots flowing from the earth down to the heavens. We find a version of this symbol in Nordic mythology with the cosmic tree, called Yggdrasil, which sends its roots down into the very core of the earth, where the hell lies.
An essential point in connexon with the cosmic tree symbol is that it often appears upside down, with its roots in heaven and its foliage on earth, which symbolizes the creative power of the spirit and the belief that human life is the descent of spirit into bodily form.
The tree as a woman symbolizes the mother earth, the nurturing feminine principle. It represents an invisible lifeforce. The tree as a man may symbolize male energy, which impregnates the earth with life but itself subject to the eternal cycle of decay and renewal.
Stunning Tree Tattoo Designs and Ideas
Tree tattoo designs are frequently very detailed and colorful. It can be intimidating to some people but rest assured, there is much more than meets the eye when it comes to tree tattoos. They might look like one of the most complicated tattoos out there, but they often require less detail than you would expect for such a complex tattoo design. The actual process of getting a tree tattoo is also much easier than you would expect.
There are several different styles available for tree tattoos as well. You do not have to limit yourself to just one style. For example, if you prefer a more simple look, you can get a minimalist design, but you can also find very complex designs that involve lots of details.
You can use the below list of basic tree tattoo designs to help you determine which design you would like or if there's something more specific you have in mind. Remember that no matter what size or color scheme you choose for your tree tattoo, it will all come down to the detail and cleanliness of the artist you decide to hire.
Tree of Life Tattoo
Some people get the tree of life tattoo to symbolize, well, the tree of life. This tree is believed to represent eternity, knowledge, and wisdom, as implied by its name. It is often seen as a symbol of hope and new beginnings. The branches of the tree are seen as individual lives intertwining to form something bigger than themselves. The roots represent where all things begin so that they can symbolize the start of a new life.
Celtic Tree of Life Tattoo
Another type of tree tattoo that can be highly symbolic is the Celtic tree of life. Although the designs and meanings vary according to who you ask, they often represent the family heritage and deep-rooted traditions.
Celtic tree tattoos make great family tattoos for this reason. They also represent rebirth since trees regrow each season after dying during winter.
Cherry Blossom Tree Tattoos
Cherry Blossom Tree Tattoo designs are a prevalent choice. They can vary from a single blossom on its own or an entire tree full of flowers, depending on preference and the symbolism you want it to portray.
Cherry blossom tree tattoos like this often represent strength in life, renewal, and optimism in the future. They are associated with the changing of seasons and being able to grow through difficult times. This is why many people choose cherry blossoms for tattoos that have personal significance.
Palm Tree Tattoos
Palm Tree Tattoos are typically associated with travel. They may remind you of sunny destinations and exotic holidays. This design is perfect for people who wish to remember a great holiday or remind themselves of their life goals.
Palm trees, however, also hold deeper meanings; they represent wisdom and have a spiritual aspect. In the bible, the tree is referred to as a symbol of Jesus.
Pine Tree Tattoos
Pine Tree tattoos often refer to the state of mind rather than referencing any one particular tree. When you see a pine tree tattoo, it can symbolize inner peace and relaxation.
Pine tree tattoos are popular because they represent balance in life while reminding us that we need to be at peace with ourselves before we can be at peace with the world around us.
Bonsai Tattoo
Bonsai Tree Tattoos are typically associated with the strength to keep things small and compact regardless of adversities that may appear.
They can represent conquering life's challenges regardless of their size because you're able to overcome them with focus, patience, and perseverance. They also symbolize beauty and truth.
Joshua Tree Tattoo
Joshua Tree Tattoos are popular because of the beauty these unique trees represent and how they are captured in a tattoo. They're also a symbol for keeping hope and faith even when you feel like all is lost.
Joshua tree tattoos can represent having faith in yourself and your ability to persevere no matter what life throws your way.
Redwood Tree Tattoo
Redwood Tree Tattoos can represent balance and growth through difficult times. The trees themselves take hundreds of years to grow and require a great amount of patience and persistence to become the tall and sturdy trees known today.
Redwood trees tattoos can remind you that just because you're going through something now doesn't mean it will last forever as long as you have the strength to keep going.
Aspen Tree Tattoo
Aspen Tree Tattoos are an excellent choice for those that want something beautiful and unique. They're also used as a symbol for change in life, whether it's big or small.
It can remind you that nothing lasts forever, but it doesn't mean your current situation is permanent either, and things will eventually change for the better if you keep looking forward. Its powerful symbolism makes it appealing for a man who has struggled, but he is stronger because of it.
Olive Tree Tattoo
Olive Tree Tattoos typically symbolize peace and prosperity. Throughout history, the olive tree represented the triumphs that the human race has achieved both in warfare and through good deeds.
The olive tree is also symbolic of strength and resilience because it does not need much nutrition.
Family Tree Tattoos
The most common tree tattoo is the family tree. These are also great because they can be designed to look like an actual tree with all of your family's names branching out.
Family tree tattoos represent ancestry and growth for future generations. They can be designed in any way that you want them to look, though it is pretty common to see them with the names of family members.
Dead Tree Tattoo
Dead Tree Tattoos symbolize letting go of things from the past that you can't control or bring back. It may also represent beauty in death rather than what it once was, often depicted with flowers, vines, and roots growing out of the decaying tree trunk.
Dead tree tattoos can remind you to let go of things that you can't change because everything comes to an end sooner or later.
Small Tree Tattoos
Small tattoos are very trendy these days. You can get them on any part of your body, and they still look pretty cool.
Beautiful Tree Tattoos
Realistic Tree Tattoos
Tree Tattoo Placement
Tree tattoos can look great on just about any part of your body. Many people choose the arm, leg, wrist, chest, back, and neck, but it really just depends on what you're comfortable with. 
Tree Tattoos on Forearm
A tree tattoo on the forearm is an excellent choice if you want to get a larger design. People often place the tree tattoo on the forearm to symbolize growth throughout life. And the best thing about getting a tattoo on the forearm is that you can look at it all the time.
Tree Tattoos on Wrist
The wrist is a popular placement option for small tree tattoos. When you choose a tattoo design rich in symbolism, you must get it in a convenient location. The only drawback, though, is the pain factor. The lack of muscle and thin skin makes it a susceptible area for tattooing.
Tree Tattoos Sleeve
Sleeve tattoos usually cover up the entire arm. You will need a lot of creativity to combine various elements, to piece them together. It doesn't have to be a single theme. You can get creative and add patterns and other objects. Your tattoo will definitely draw attention, and you may never want to wear a long-sleeved shirt again!
Various Tree Tattoos
Tree on the Arm
A black bold tree on the arm with no leaves and birds flying from the tree up to the wrist.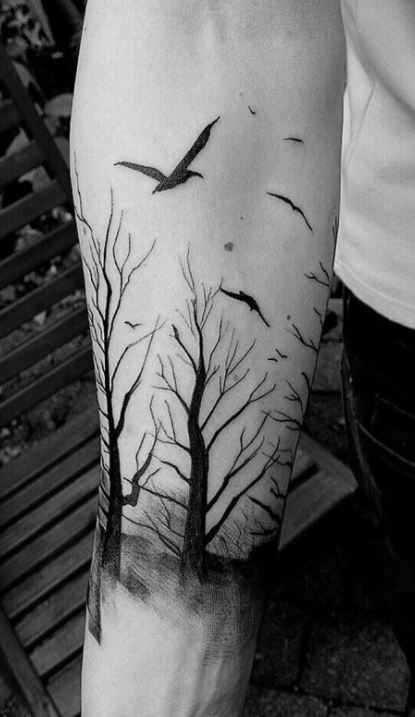 Dead Tree Tattoo
A dead tree on the left shoulder with birds flying up her neck.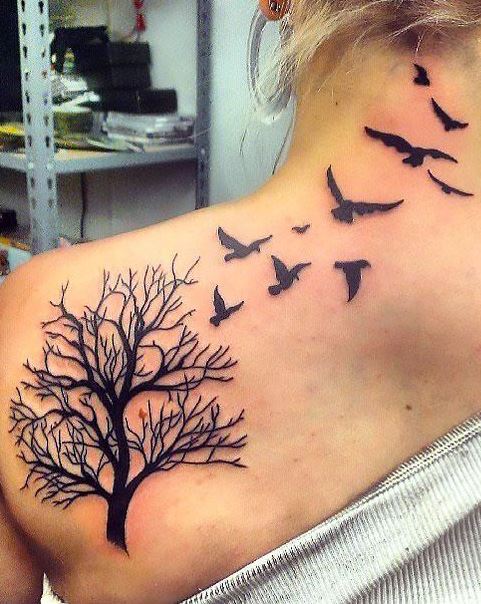 Small Tree on the Wrist
A small tree with some leaves and its roots exposed in black ink on the wrist.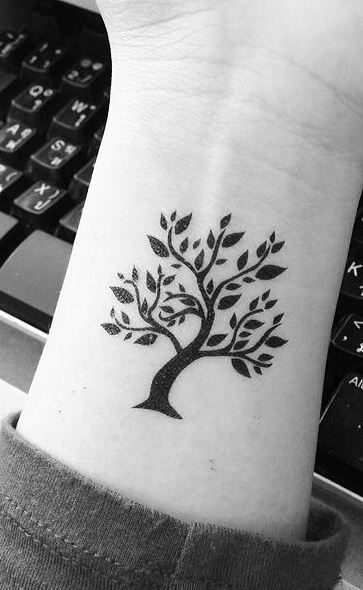 Black Tree Tattoo
A leafless tree on the forearm in all black.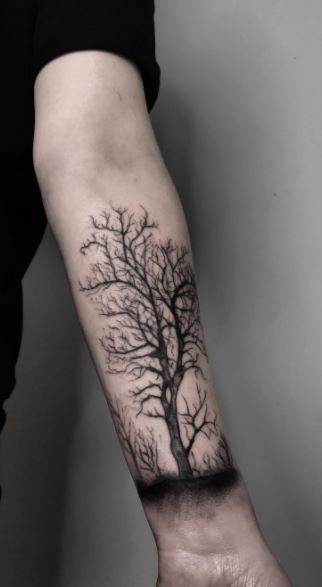 Tree Growing From the Heart
A tree with leaves in gray and black growing from a red heart where the roots are.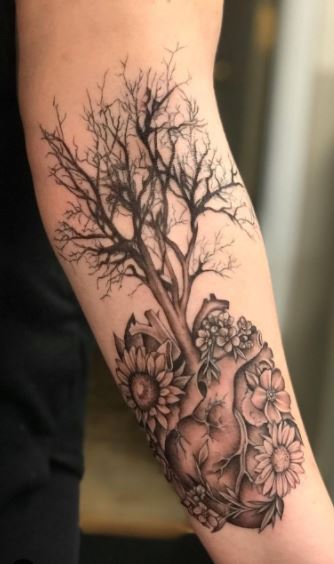 Intricate Tree Tattoo
A nice tree tattoo done very intricately with leaves and exposed roots.
Dying Tree Tattoo
A rib cage tattoo of a tree that seems to be dying in black ink.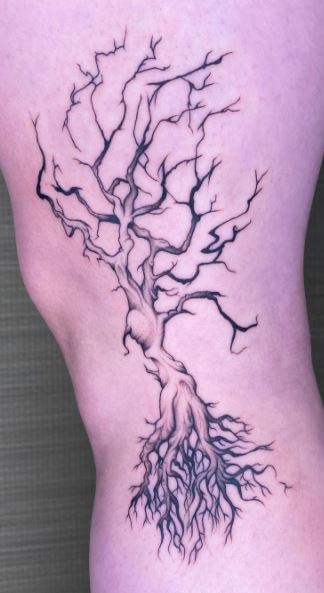 Tree Hand Tattoo
The base of a tree on the wearer's hand with a hollow part in the trunk.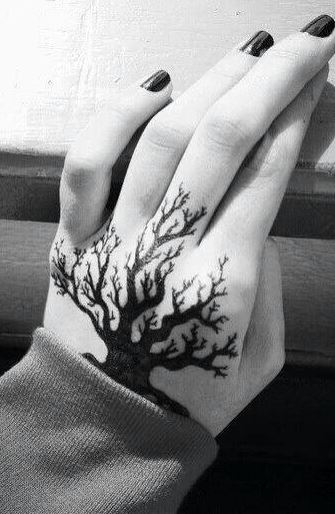 Full Art Back Tattoo
A tree that takes up the entire back with colorful falling leaves down to the exposed roots.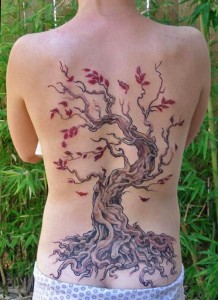 A Lively Tree Tattoo
A tree tattoo with a lot of leaves and a small trunk and branches.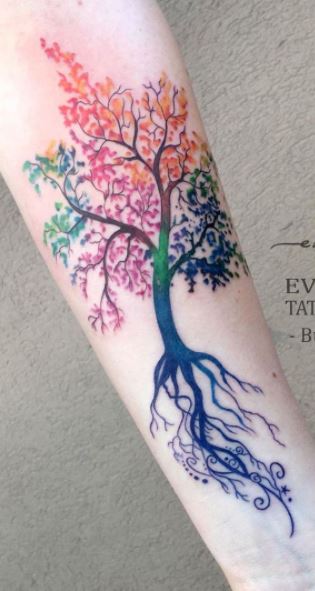 Tree in Autumn
A tree tattoo with red falling leaves upon the girl's back.
Large Tree Tattoo
A large black ink tattoo with birds flying away.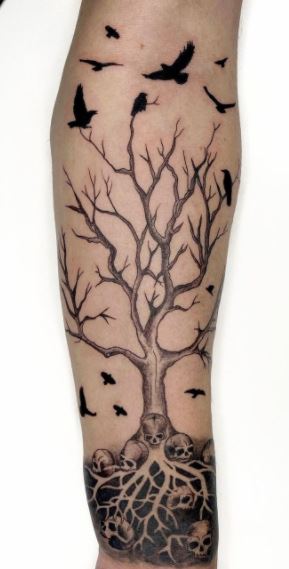 Colorful Tree Tattoo
A tree tattoo upon the leg in bold colors.