Ribcage tattoos are very interesting pieces of art; the designs are able to be big and bold. The ribcage tattoos usually run from the armpit down to the hips giving a large space to work with. Men tend to get ribcage tattoos of animals or creatures ripping through their skin while women get tattoos of flowers or peaceful scenes placed on their ribcages.
The benefit of getting a ribcage tattoo is that it is very easy to conceal and it can be a bit more intimate than other tattoos such as the arm or leg. Ribcage tattoos are becoming extremely popular with people of all ages. They are stylish and often show how bold a person is. While ribcage tattoos are beautiful and often times very intriguing, they are also one of the more painful tattoos for some. If you know you can handle a bit of discomfort, then take a look at the ribcage tattoos below.
An Elegant Tree Ribcage Tattoo
With light colors and a simple design, this tree with a bird makes a nice ribcage tattoo.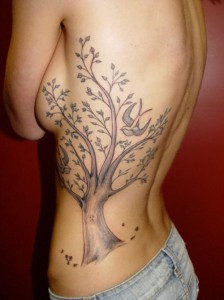 Bird in a Tree on the Ribcage
This is a more bold approach to the tree and bird ribcage tattoo.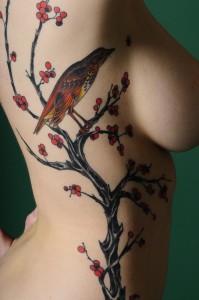 Flower Ribcage Tattoo
Flowers trailing up the side of the ribcage make for a sexy tattoo.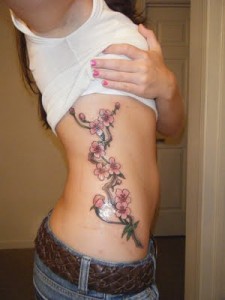 Dragon Tattoo
Marine Corps Ribcage Tattoo
A cross, globe and anchor collaboration in honor of time served as a Marine.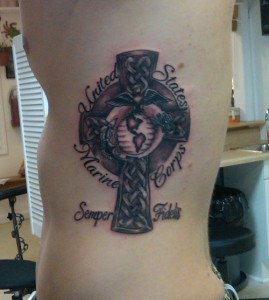 A
Four Aces Ribcage Tattoo
A bold design with bright colors giving a playful scene to this person's ribcage.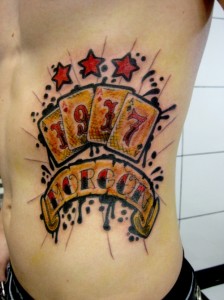 Don't Tread on Me 
A ribcage tattoo with a snake wrapped around a rifle with the words "Don't Tread  on Me"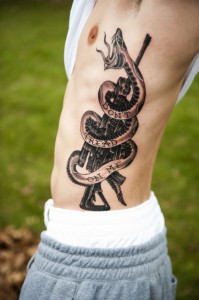 Bold Lilies
These bold red lilies with playful black swirls make a nice ribcage tattoo design.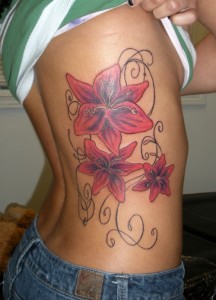 Line Art Stars
Some bold and line art stars trailing up the side of a ribcage.
Shooting Stars
Stars with lines and a beautiful butterfly go from the stomach up the ribcage.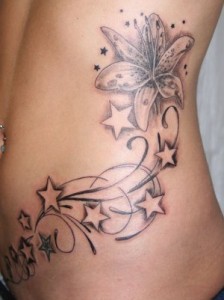 Ribcage Quote
A standard text font with a quote on the side of a ribcage.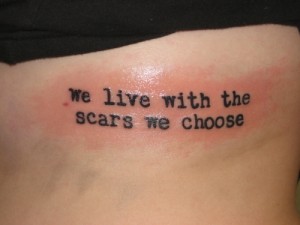 Insides Out
An almost literal ribcage tattoo, this bold tattoo is as if the skin is peeling apart and the girl's insides are becoming exposed.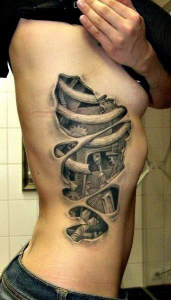 Bright Color Flowers
Bright red flowers and bold green stems on the ribcage seem to move with her body.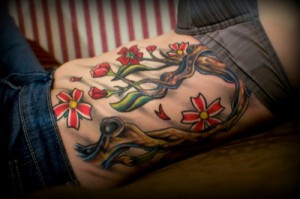 Skull and Roses
White and Red roses surround a white skull on this woman's ribcage.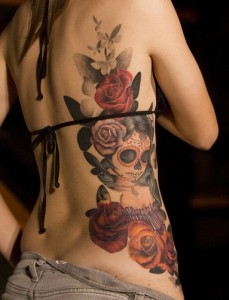 Flowers, Bamboo and A Bird
This ribcage tattoo is very colorful with a small bird resting on a bamboo stump that bright red flowers are growing up.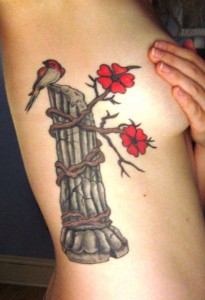 Bleeding Love
A rope holds a bleeding heart with the words "In Love and Death" above it in a black script.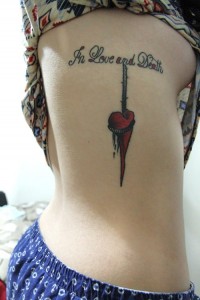 God's Grace
A fancy black font with inspiring words across her ribcage.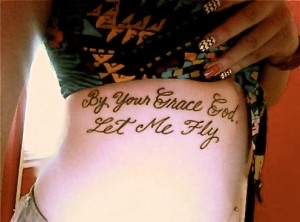 The Monster Within
An eye of a monster peers out of this guy's ribcage as it rips the skin apart.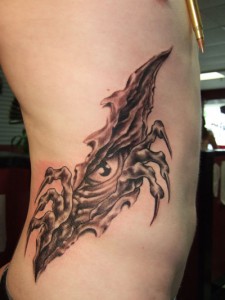 American Within
Claw marks show a bold red and white stripe patter within this person's body.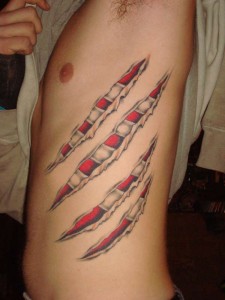 Treble Clef
A bold black inked treble clef design on the ribcage.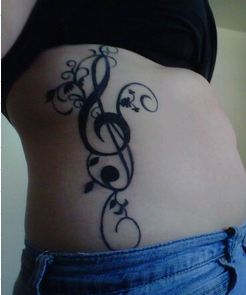 Elegant Elephant Ribcage Tattoo
A line art elephant tattoo adorned with swirls.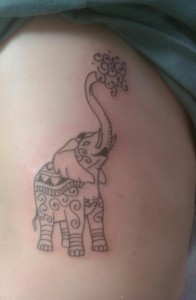 Beautiful Flower Tattoo
This bold, colorful flower tattoo covers up most of this woman's side.