Pisces tattoos are in high demand these days. This zodiac symbol covers the dates of 20th of February to the 20th of March. Pisces tattoos are normally seen with two fish, one of them pointing up and one pointing down. This design illustrates the personality of the Pisces; they are not always sure what direction is the best to take.
Pisces is a water element sign and is ruled by Neptune. Greek mythology says that the fish are really two black dolphins sent by Poseidon to save Eros and Aphrodite from the sea monster Typhon.
Pisces tattoos tend to be uplifting and make you smile just like the personality of most Pisces. Use bright colors and dark bold lines to bring these tattoos to life.
Trendy Pisces Tattoo Designs
Classic Pisces Tattoo with Color
This classic Pisces tattoo done in red and blue is fantastic!  The shading and detail work is very nice as well.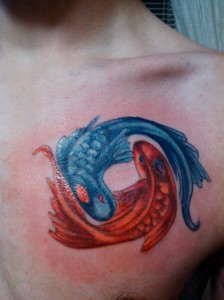 Astrological Pisces Tattoo with Stars
This piece has a lot of character; the red stars give a little color and keep your attention.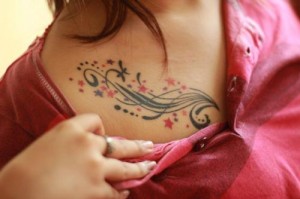 Tribal Pisces Tattoo with Quote
Quotes like this, "Live to Love and Love to Live"  can personal your Pisces tattoo.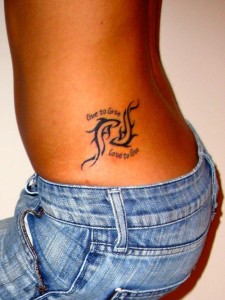 Pisces Tattoo with Banner
The banner in this Pisces tattoo looks great. The color choice is perfect. The Pisces' color is violet.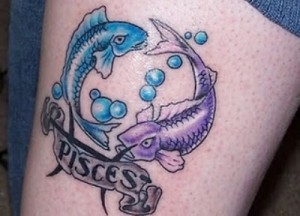 Pisces Tattoo Using Squid for Symbols
Squid are often seen in Pisces art work; very nice tattoo design.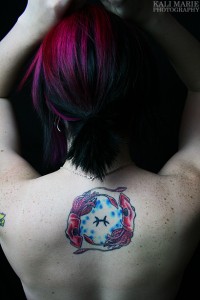 Unique Pisces Tattoo Using Fish and Astrological Symbol
The upper back is a great place for a tattoo of this size. The tail of the two fish here are very unique.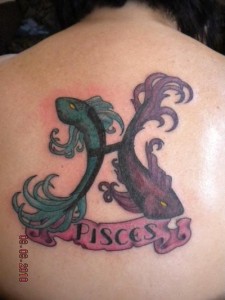 Classic Astrological Symbol Pisces Tattoo
The simple tattoo design with the classic astrological symbol is very popular for Pisces tattoos.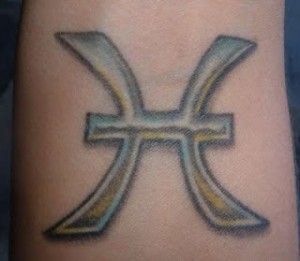 Tribal Fish Pisces Tattoo
This is a very nice dark ink Pisces tattoo. This Pisces tattoo in a smaller size will look great on the wrist and even behind the ear.
Oriental Style Pisces Tattoo
Great large Pisces symbol with good detail and color. Goldfish and Koi are very popular oriental symbols.  Notice the oriental feel of the astrological symbol along with the type of fish used in this tattoo.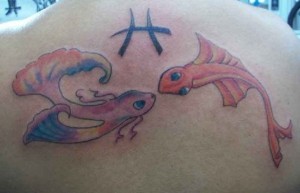 Black Ink Pisces Tattoo with Fish and Astrological Symbol
This large arm tattoo is all done in dark ink, and what a stunning piece. The detail work on the fish is amazing!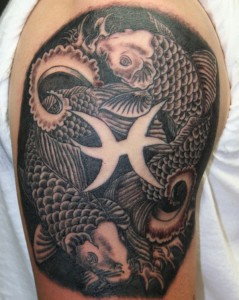 Minimalist Astrological Symbol Pisces Tattoo
The minimalist Pisces tattoo colored in red looks great in any size. Small ones can be placed on the waist or even lower leg.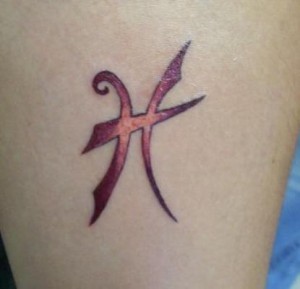 Pisces Tattoo with Unique Background
This is a nice illustration of a colored small Pisces tattoo on the inside of the wrist.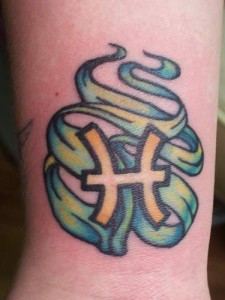 Symbolic Pisces Tattoo
Great detail work on these two purple Pisces fish. This is a great Pisces design and wears well on the arm. This tattoo has all the color, sign, and symbol or a Pisces!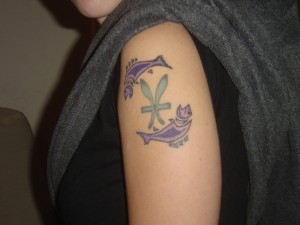 Single Ink Color Pisces Tattoo
The color choice here in this Pisces tattoo is awesome; very nice eye catching tattoo.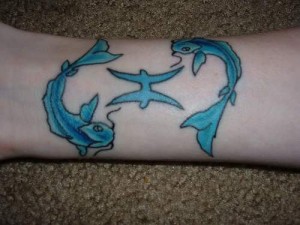 Tribal Pisces Tattoo with Fish, Astrological Sign and Stars
The circular design with stars in this tattoo looks very good. This style of Pisces tattoo would look great any ware on the upper body.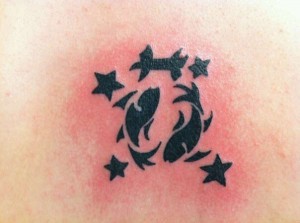 Stunning Pisces Tattoo in Color and Placement
This tattoo of the Pisces fish looks great inked with one on each foot; nice placement here!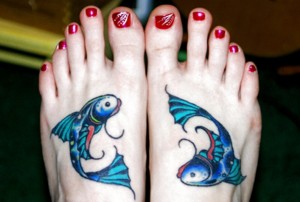 Astrological Pisces Tattoo with Flowers
This is a cool Pisces design.  The flowers with the yellow star centers are very nice.