Pete Davidson and Ariana Grande shared quite a few matching tattoos when they were together. We all know Pete's addiction to ink. He has over a hundred tattoos all over his body, and at least ten of them were for Ariana. Ariana didn't go that extreme, but it appears that she shares the same enthusiasm for tattoos like her former fiancé.
Ariana Grande and Pete Davidson seemed like an odd pair, but the pop star and the comedian were hot, heavy, and moved at warp speed. They got engaged within a month after she broke up with the famous rapper Mac Miller.
In this blog, we will talk about the stories and meanings behind all of Pete Davidson and Ariana Grande's tattoos they had for each other and the cover-up tattoos they had after the breakup.
Let's take a closer look at this strange relationship and talk about the tattoos they had together.
Pete Davidson and Ariana Grande's Matching Tattoos
Ariana and Pete were reportedly first spotted getting cozy on May 12th, 2018, at a Saturday Night Live (SNL) after-party. On May 21st, 2018, a source told People magazine that Ari and Pete were casually dating, but by June 9th, Pete and Ariana announced to their family and friends that they were engaged.
A source told Entertainment Tonight that the lightning-speed love affair was likely Pete's doing. The source also said, "In relationships, he (Pete) is known to be the caring one and the full steam ahead guy. The combination of a girl who is yearning to be loved and mixing it with a guy like Pete creates this intense relationship that is moving a million miles a minute."
At least one part of Ariana and Pete's relationship is somewhat permanent – they got couples' tattoos.
Cloud Emoji Tattoo
Ariana and Pete had matching cloud emoji tattoos on their fingers. On May 12th, 2018, Ariana was photographed at an SNL after-party with the same cloud-shaped phone case as Pete. Two days later, Ariana posted that same cloud in emoji form, on an Instagram photo. Then on May 17th, Pete shows off a freshly-inked cloud tattoo on one of his knuckles. The next day Bossip reports that the two are seeing each other and liking each other's posts on Instagram much more often. At the Billboard Music Awards on May 20th, eagle-eyed fans spotted a matching cloud tattoo on Ariana's finger too.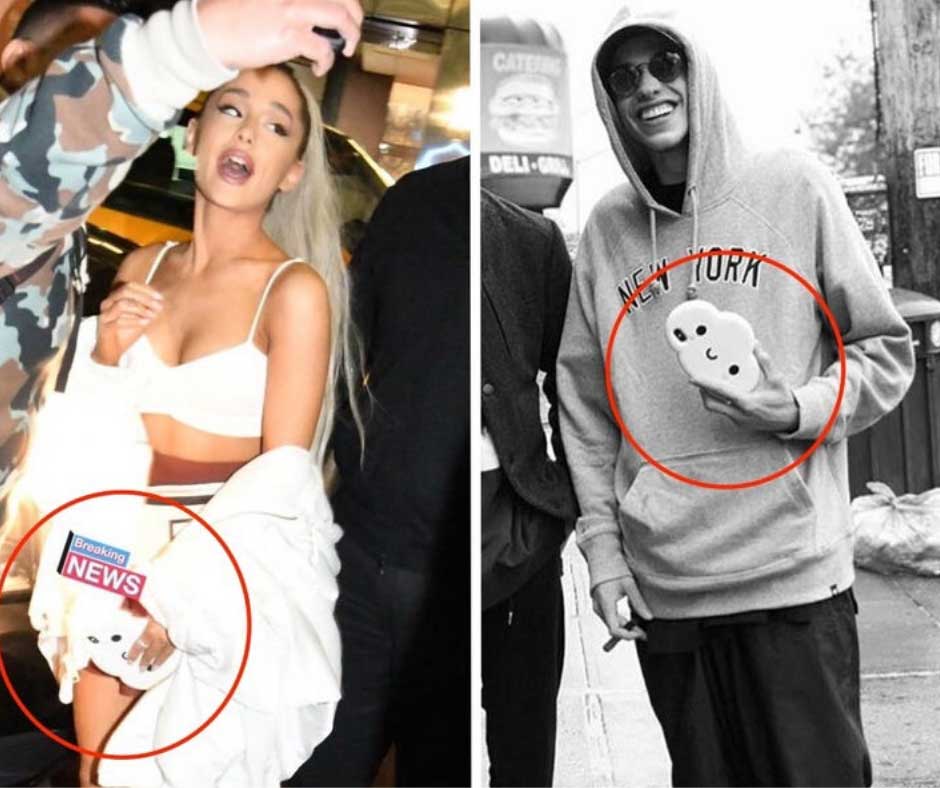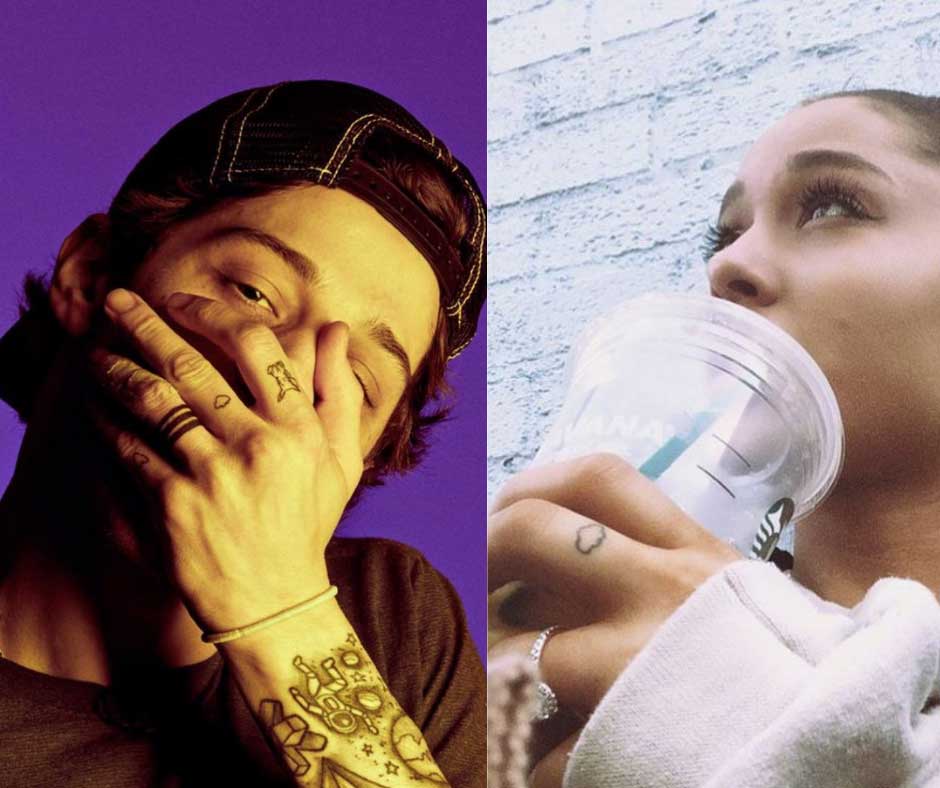 "REBORN"
In June 2018, Pete and Ariana celebrated their engagement by getting the word "REBORN" tattooed on their hands. Pete showed off his "REBORN" tattoo and Ariana's massive engagement ring on an Instagram post, along with the caption "u know what you'd dream it be like? it's better than that."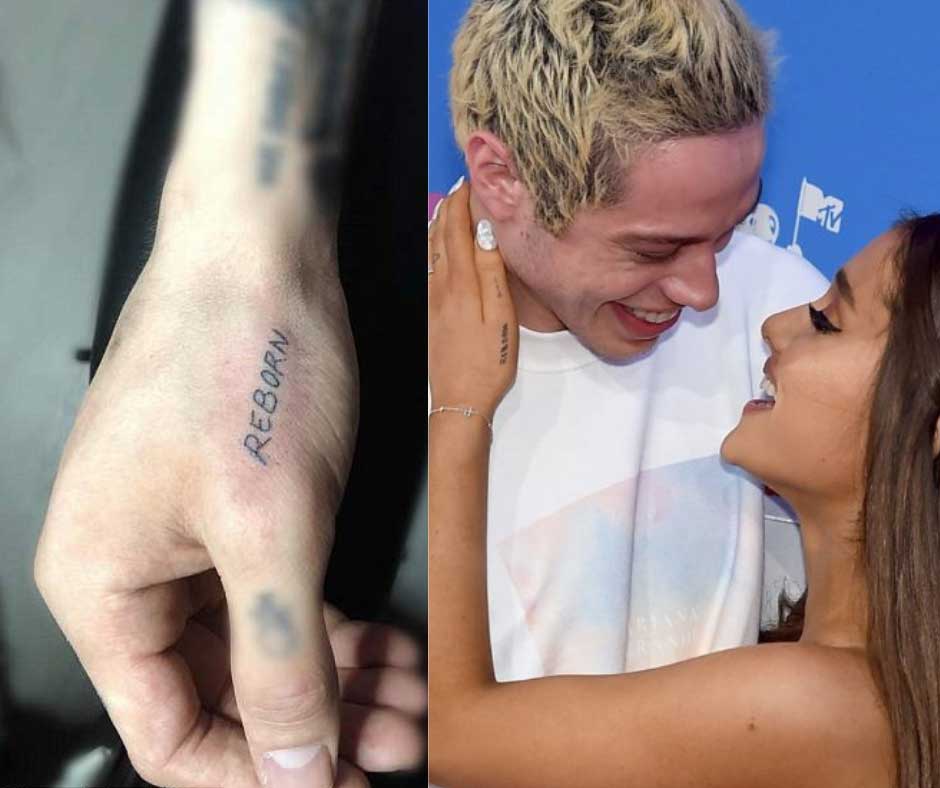 "H2GKMO"
After their official engagement, Pete and Ariana got this matching tattoo "H2GKMO" on their hands. "H2GKMO" actually stands for "honest to God, knock me out," which is Ariana's favorite catchphrase that she used on Twitter many times, and apparently, she says it like three hundred times a day.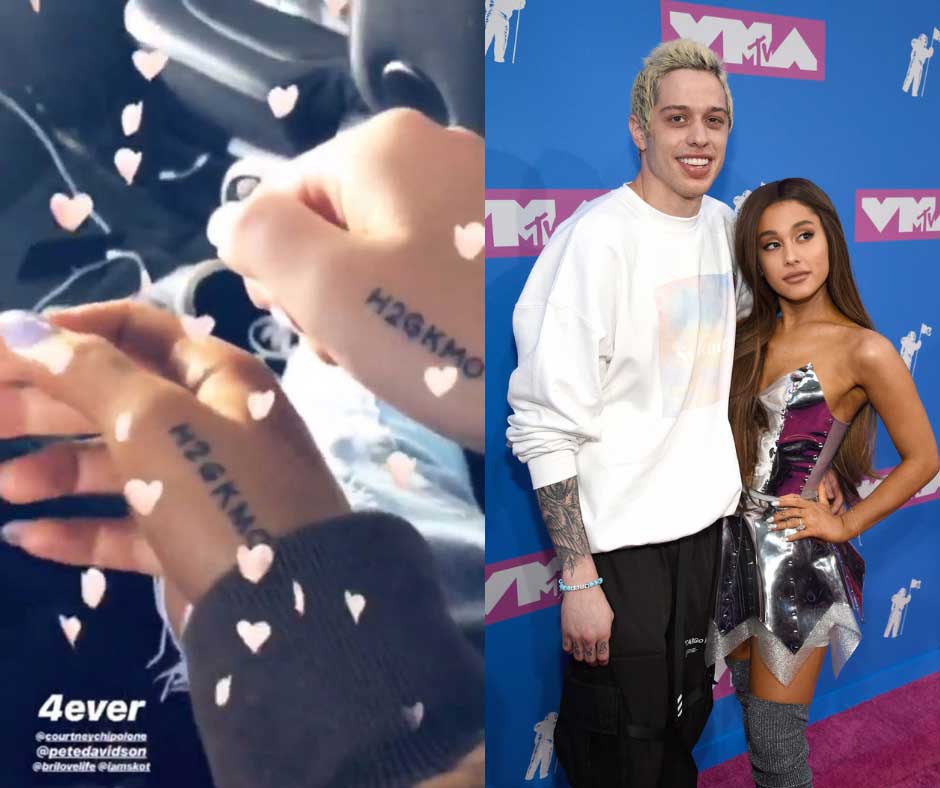 "Mille Tenderness"
Pete got the phrase "Mille tenderness" tattooed on the back of his neck in the same spot where Ariana got hers, but she got it in 2014. It's a quote from Audrey Hepburn's famous movie Breakfast at Tiffany's. In French, it means "Thousand tenderness."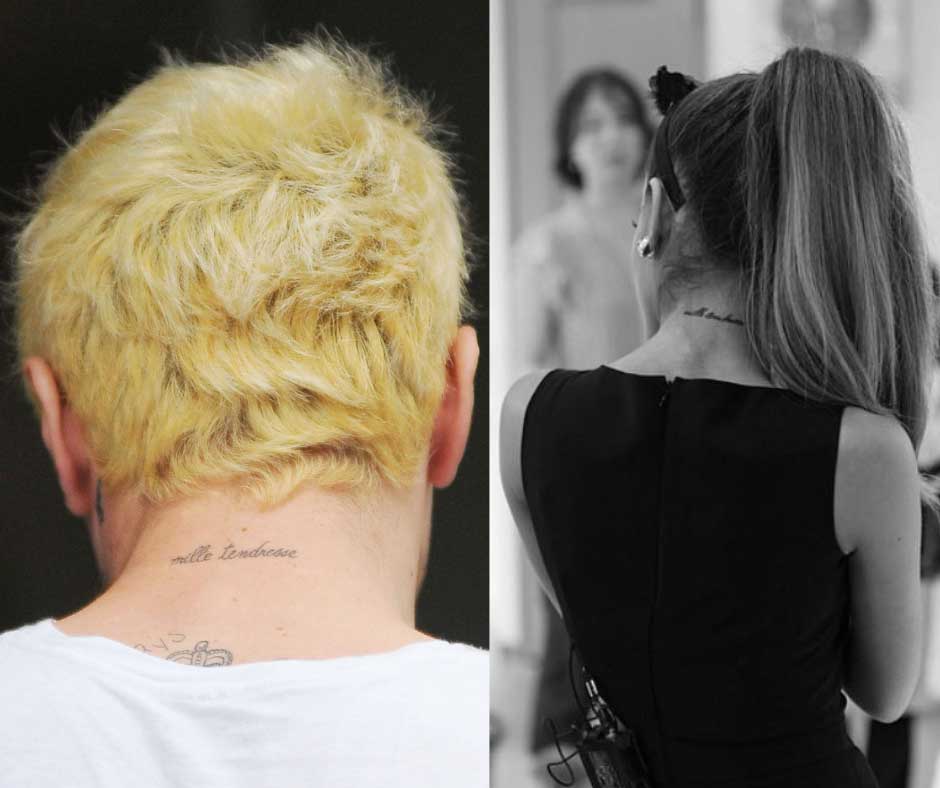 "8418"
Ariana got this matching tattoo on her ankle to honor Pete's late father. It was the badge number of Pete's dad Scott Davidson. He was a firefighter who died on the job during the terrorist attack on 9/11. Pete also shares the same tattoo on his left forearm, among others, to honor his father.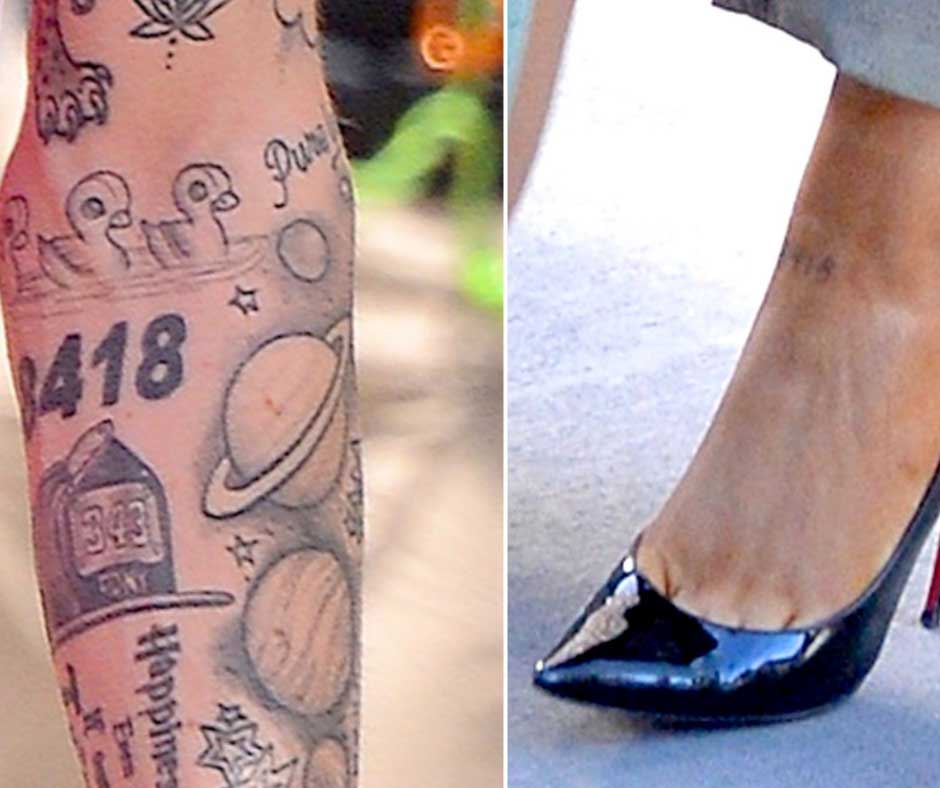 Pete Davidson's Tattoos for Ariana
Bunny Mask
Pete inked Ariana's signature bunny mask behind his left ear, which looked exactly like the bunny mask that she was wearing on the cover of her music album "Dangerous Woman".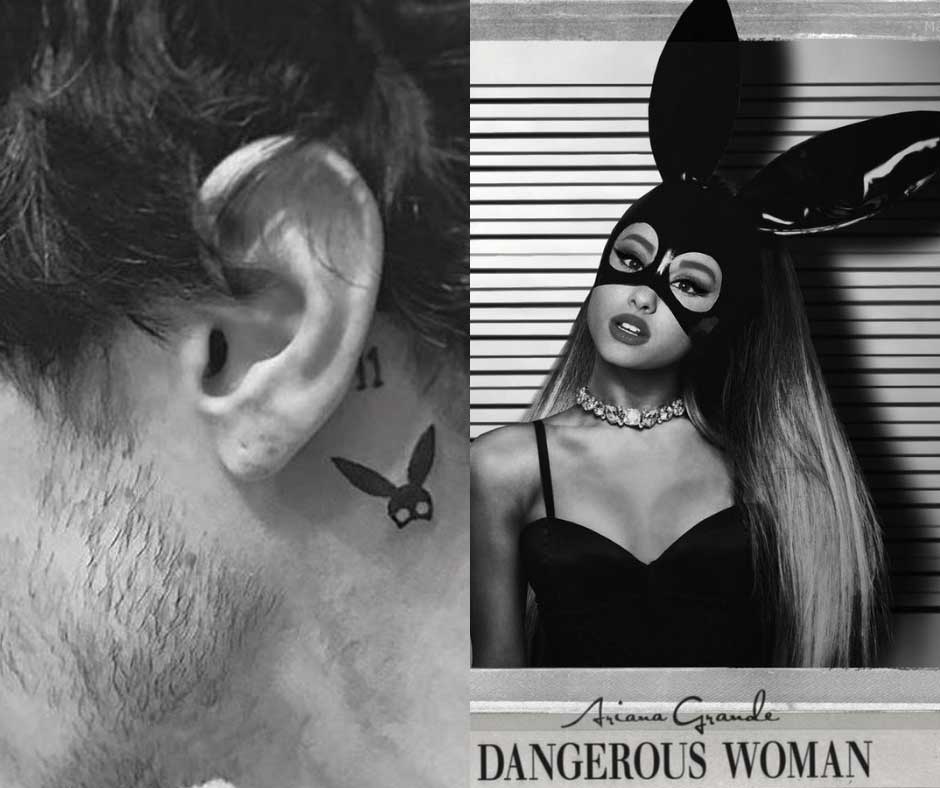 "AG"
Pete also got the initials of Ariana 'AG' tattooed on his thumb after they got engaged in June 2018. He got this tattoo covered up later like the other ones.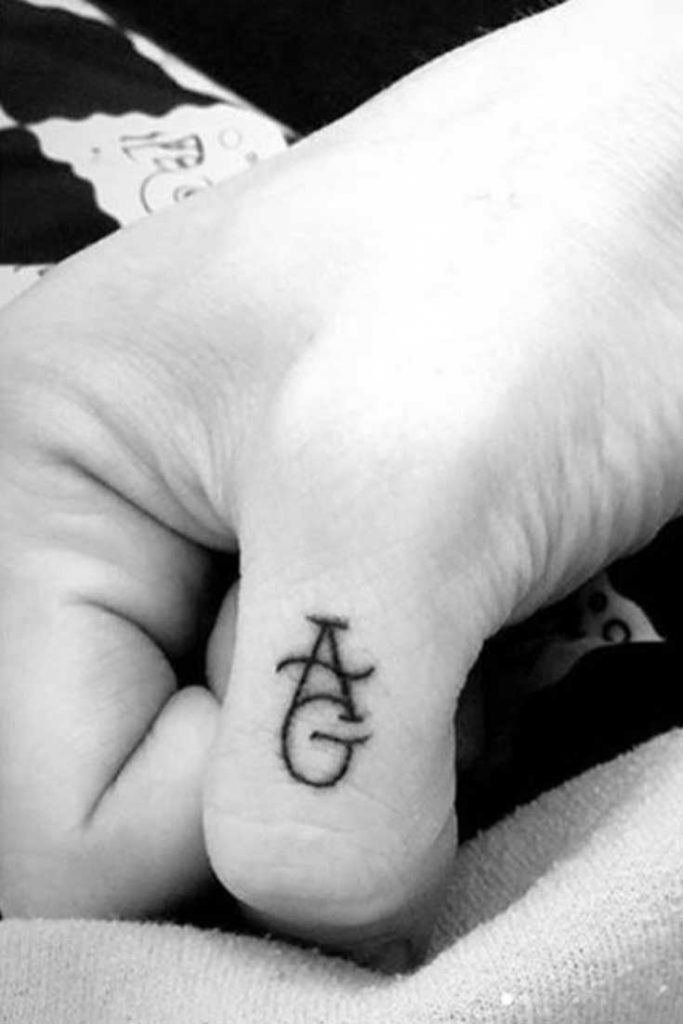 "Grande"
Fans spotted the tattoo during a New York Fashion Week. Pete had "Grande" tattooed in cursive letters on his right rib cage.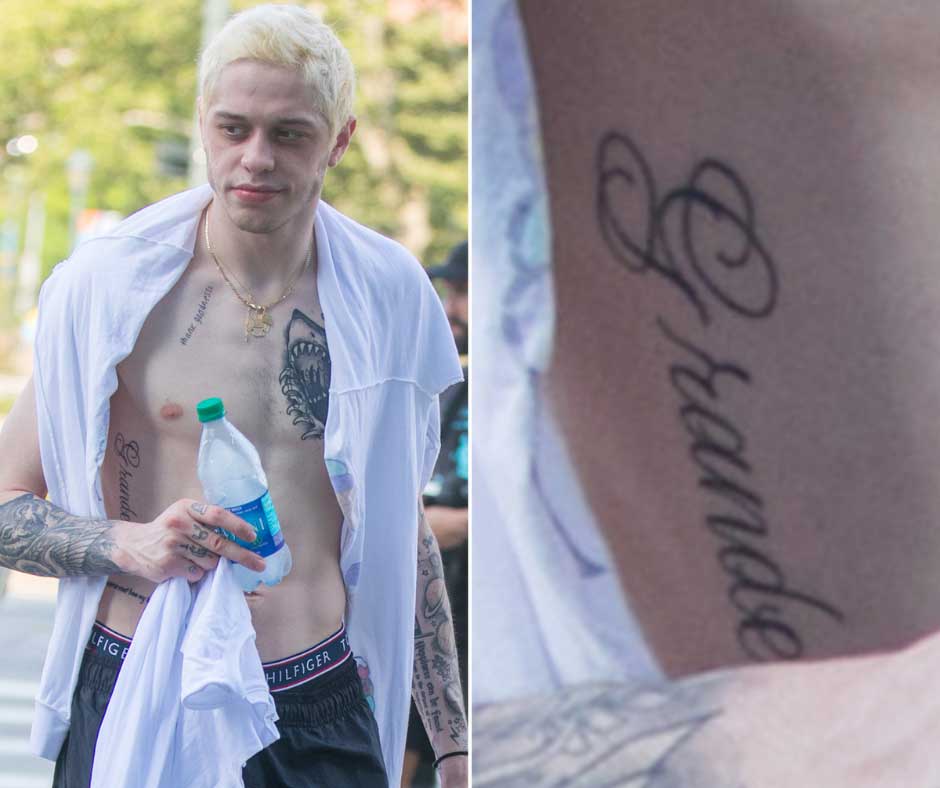 "Piggy Smallz"
When the couple was living together in New York, they adopted a micro pig. They named the pig "Piggy Smallz". Pete got the tattoo of this tiny pig's face on the left side of his stomach and "Piggy Smallz" written below it in cursive in the memory of their first pet together. New York tattoo artist Mira Mariah did the tattoo.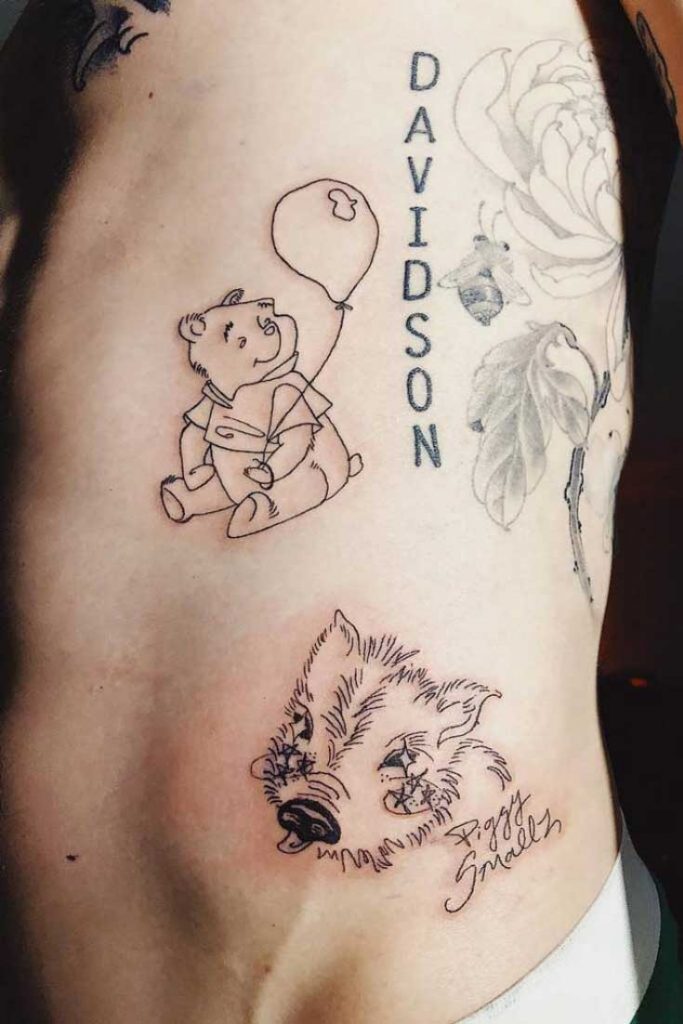 Tiny Heart
Pete got a tiny love heart tattoo on his left pinky, which is similar to Ariana Grande's tiny heart tattoo on her finger. This could be another matching tattoo, but they didn't get these tattoos together.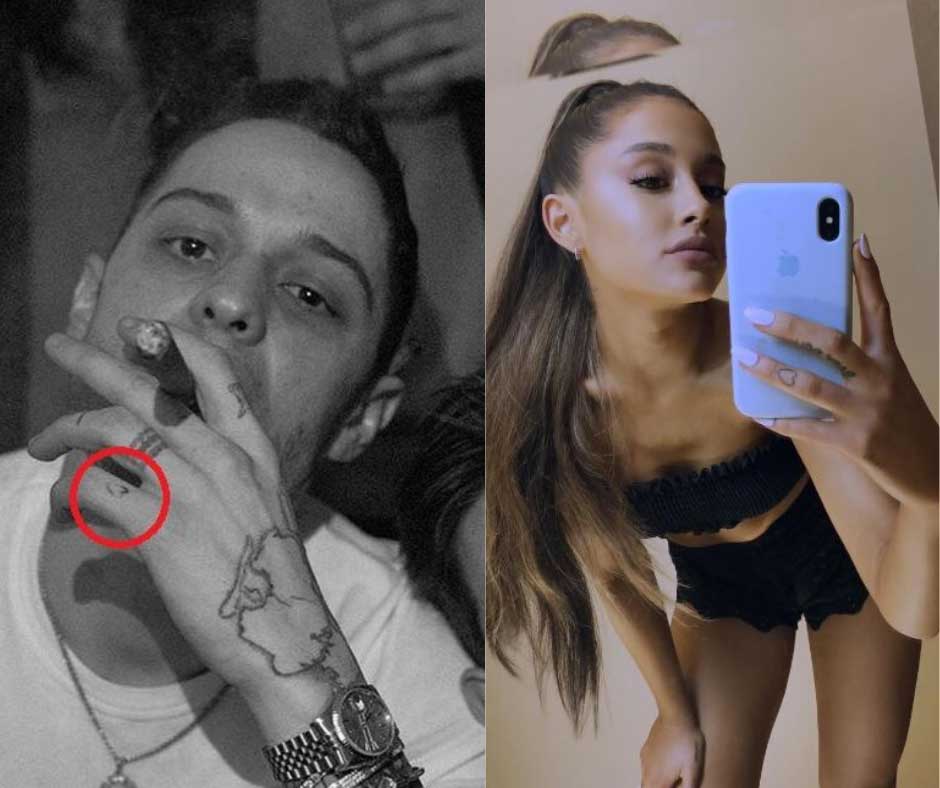 "Soulmates"
Under his left collar bone, Pete got the word "Soulmates" tattooed. There is no evidence that this was an Ariana-inspired tattoo, but let's assume it was.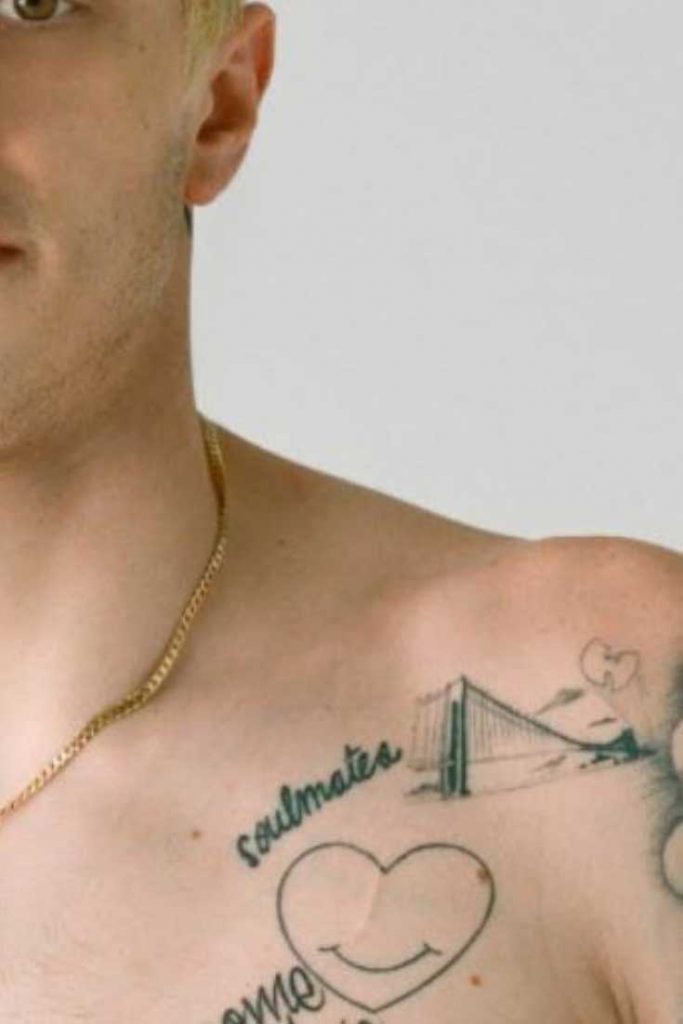 Ariana Grande's Tattoos for Pete
Besides the matching tattoos, Ariana had a few tattoos for Pete.
"always"
Ariana got the word "always" tattooed on the front of her rib cage. She got this tattoo during her relationship with Pete Davidson. Some fans think that this is a tribute to the couple's shared love of Harry Potter. In the books, when Dumbledore found out that Professor Snape was in love with Lily, to which he replied: "Always." She never really showed off the ink on social media. Fans believe that it was Pete's handwriting.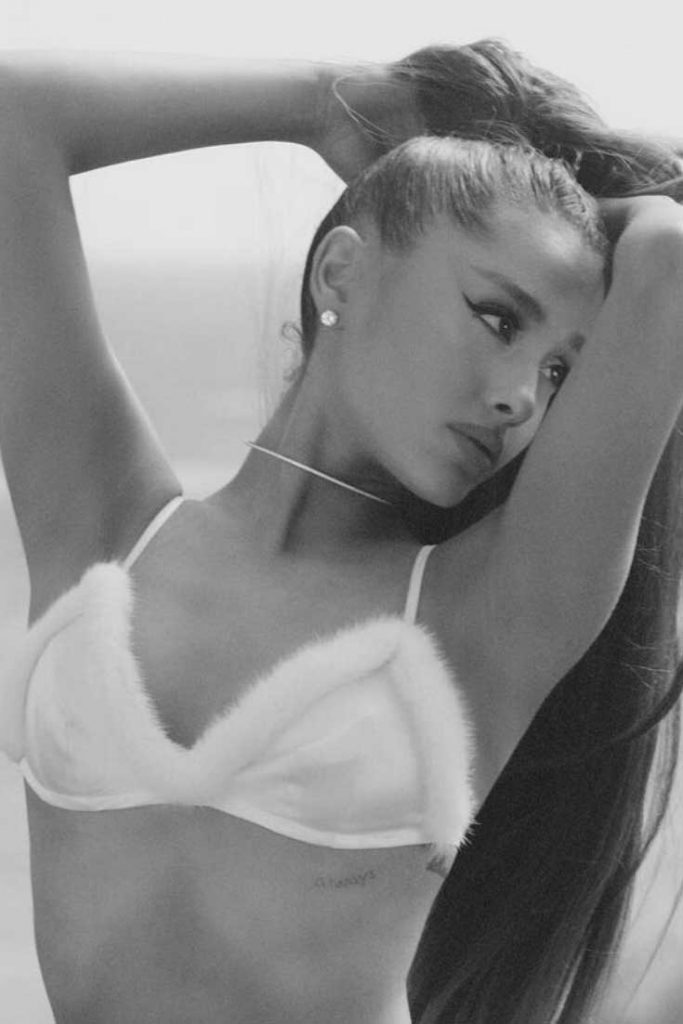 "PETE"
Ariana had "Pete" tattooed on her left ring finger, just an inch or so below from her engagement ring.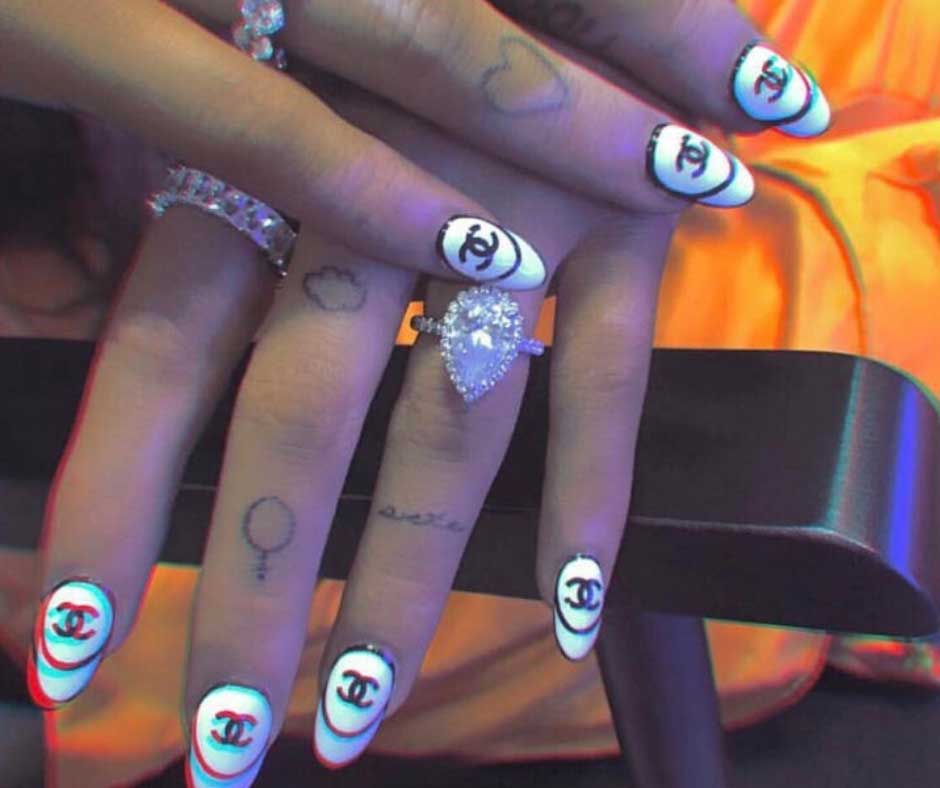 Since the couple broke up in Oct 2018, both Ariana and Pete scrambling to cover up the tattoos, they got together or for each other.
Pete Davidson's Cover up Tattoos
Mini Kite
On his thumb, Pete got a tiny black kite tattoo to cover up Ariana's initials (AG) tattoo.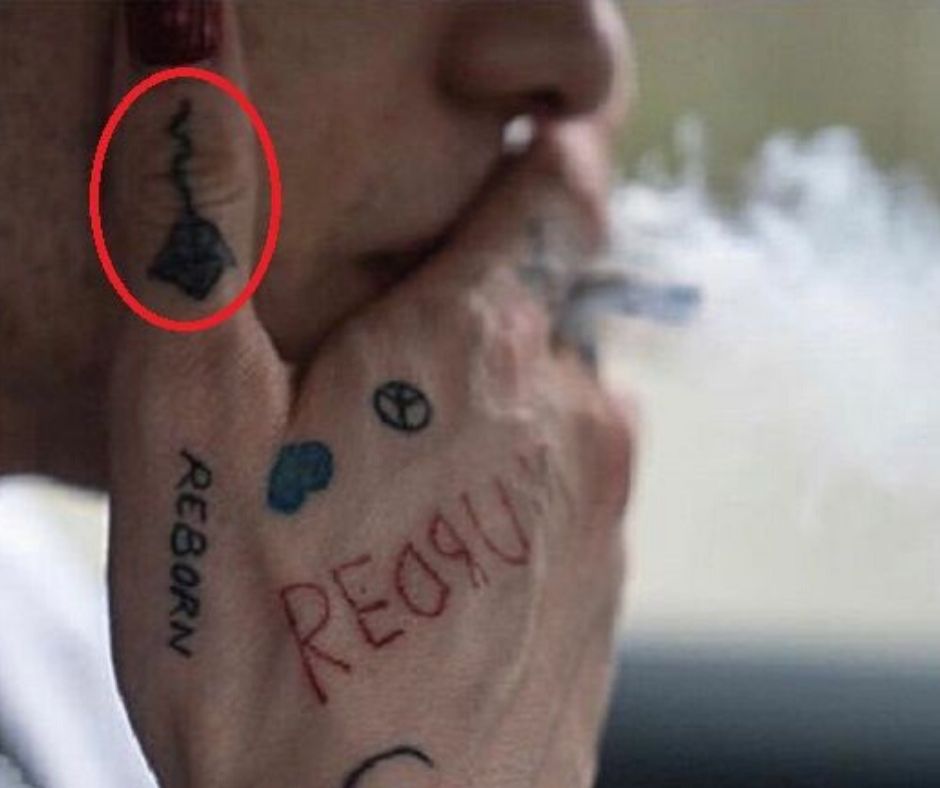 Black Heart and Black Arrow
On the back of his left ear, Pete got a black heart tattoo to cover up Ariana's bunny mask tattoo. He also covered up the "REBORN" tattoo with a black arrow.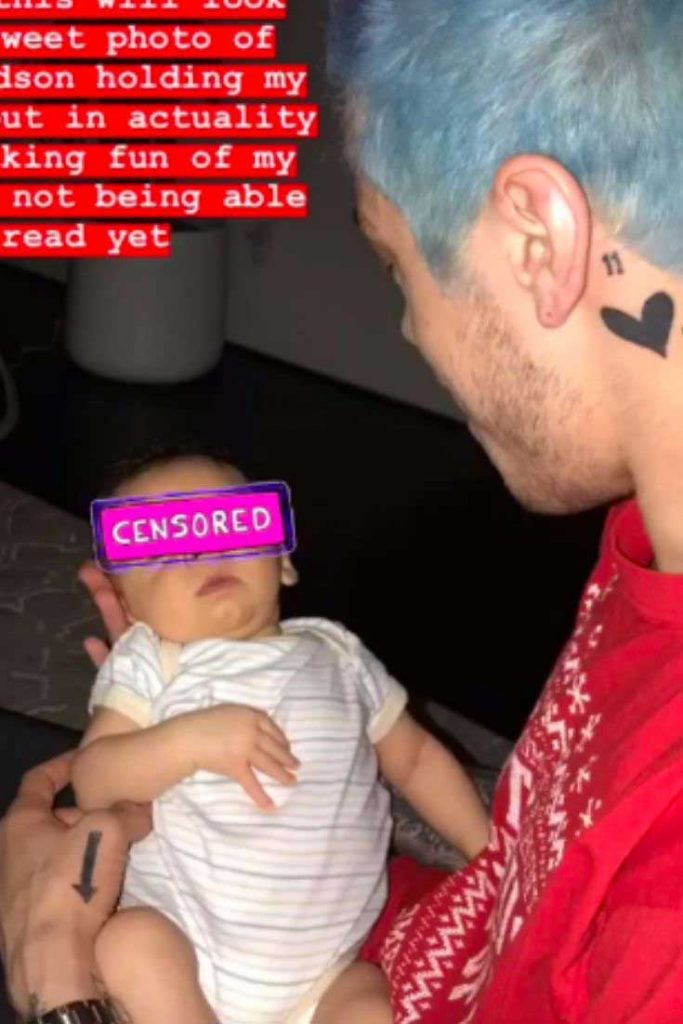 "CURSED"
Pete covered up his matching tattoo "Mille Tendresse" with the word "CURSED."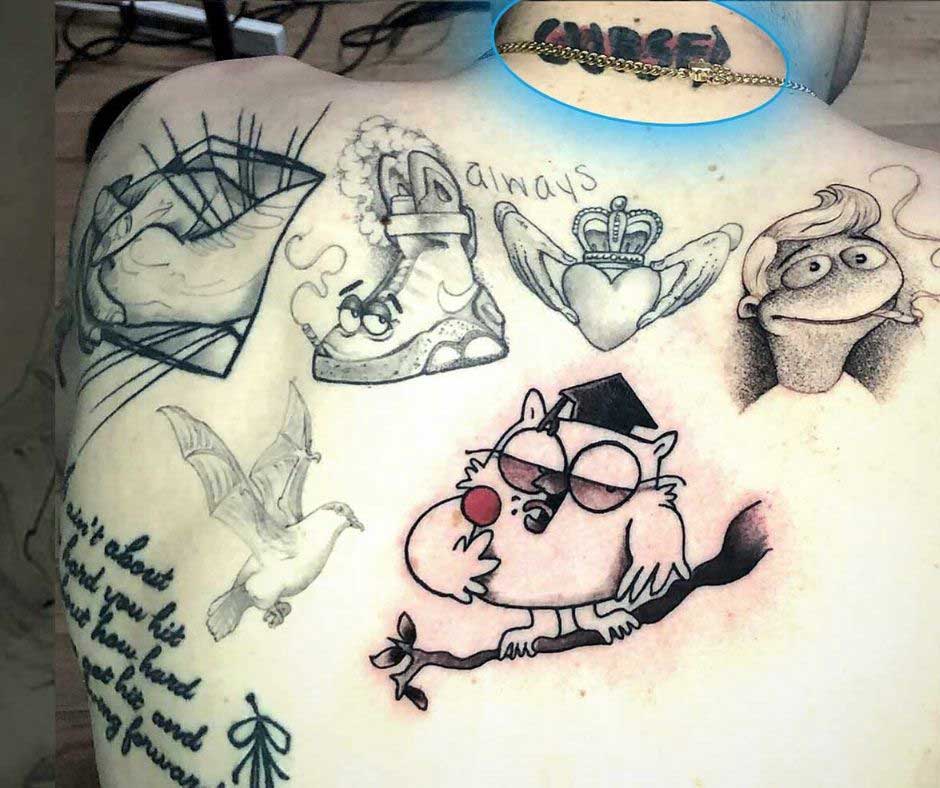 Ariana Grande's Covers up Tattoos
Black Heart and Arrow
Ariana got a tattoo of a black heart with an arrow through it on her finger to cover up "Pete" tattoo. Ironically, she showcased the cover-up tattoo on the cover of her "Thank U, Next" music video. She posted on Twitter: "I'm empty, and my heart is black now so." Mood.
"MYRON"
Ariana had Pete's late father Scott Davidson's firefighter badge number "8148" tattooed on her foot, who died in 9/11. Later she covered it with "MYRON," her ex Mac Miller's dog who she adopted after his death.
"always"
Instead of covering up the "always" tattoo on her rib, she got the New York tattoo artist Mira Maria to do her trademark leaves over it. She noted to fans that it's "not a cover-up just evolvin'."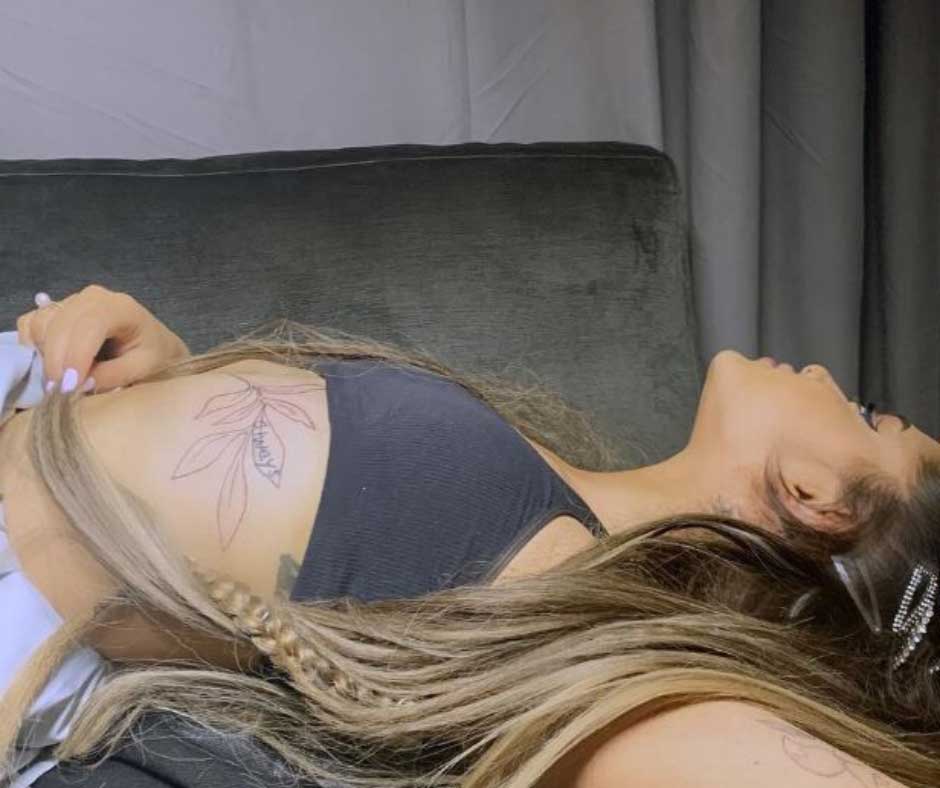 Olive Branch
After the split up with Pete, Ariana shared a video on her Instagram story of herself and her friends clinking their drinks together. Fans noticed that her "REBORN" tattoo had been covered up by a beautiful olive branch tattoo. Her go-to tattoo artist Mira Mariah did the tattoo. Olive branch is also a symbol of peace and victory.