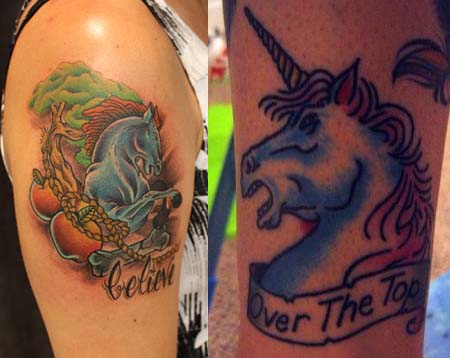 Blue horse tattoos are somewhat of a mystery which has been solved! At least this author believes so. Chief Blue Horse of the Sioux probably knew why. Horse breeders know why. And probably the artist who painted the Blue Horse which actually contributed greatly to its popularity may know why. Blue horses are actually a breed of horses officially known as the Roan. Roan horses are very difficult to breed; most often resulting in patches of "blue". If you are really lucky and very skilled at breeding you may achieve a full blue horse. They are not actually blue but the hair pattern, a mixture of hair colors gives them a blue appearance in the sunlight. Do they have a special meaning? I depends on if your Sioux, into horse breeding and the Roan, or just appreciate unusual art. The popularity of people naming their businesses, "Blue Horse…." Indicates people love the blue horse.
Ideas for Blue Horse Tattoos
Blue Horse Tattoos honoring Chief Blue Horse could be of the chief himself. There are images of him of at different ages in his life on line. Caution though because he was misrepresented here and there as a chief of the Shawnee which he was not. Blue horse tattoos could also use a design with the blue horse and the chief himself sitting upon the blue horse and a symbol of the Sioux Nation. He received the name Blue Horse from somewhere. I think it's fair to assume he had one. This tattoo would be stunning in vivid color in medium size on the shoulder, chest, back, leg or a man or woman.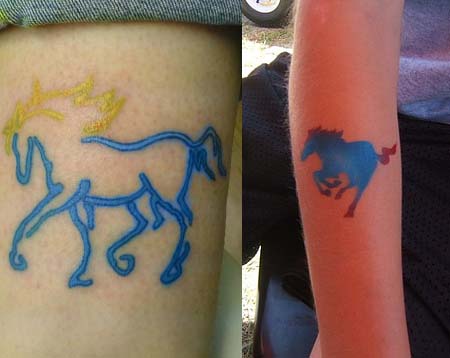 Blue Horse Tattoos would be a great choice for a horse breeder who has been working on genetically breeding a true Roan for a number of years and has finally achieved this goal. Or maybe they might consider blue horse tattoos because that's their goal. In this case, a realistic image of a Roan would be a good choice. This may however present some difficulty for your tattoo artist due to the multi colored hairs on a true blue Roan. But we'll leave that up to your tattoo artist to figure out. Placement of this tattoo would require some skin. Placement on your back, chest, upper thigh would work the best for men or women.
The artist that painted the Blue Horse, Franz Marc, in 1911, created quite the awareness of a new form of art that was appreciated almost all over the world. The actual rendition of the blue horse is the one most often seen. Whether Marc painted the blue horse because he was aware of the Roan or not or because he was an abstract impressionist remains unknown. It seems he just wanted a "horse of a different color". If you are that type of person as well, the blue horse tattoos would be the definite choice for you. In the original painting there was more than one blue horse which would also make for an extraordinary tattoo. Visualize one complete, slightly abstract, medium blue horse in the forefront, with the remnants of the herd behind it, also in different shades of the same blue, shades on the outer edges in black. This will add depth and movement; we do want them moving, right?
Horse Tattoo Designs
Tattoo designs from the TattooMeNow Gallery
[nggallery id=11]


Get access to ALL our horse designs in FULL SIZE here
Related Articles:
Dark Horse Tattoos – Tattoo Ideas, Designs & Meaning
Horse Shoe Tattoos, Tattoo Ideas, Designs & Meaning
Horse Tattoos – Ideas, Designs & Meaning
Images from: