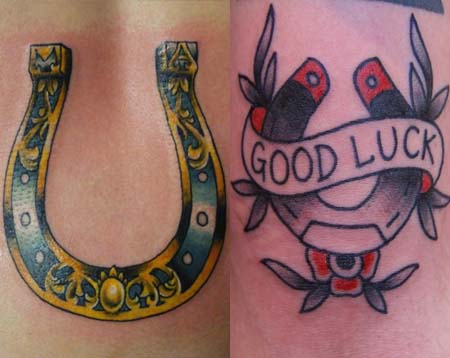 There are several reasons a person would wear horse shoe tattoos. For most people the first one that comes to mind is as a good luck charm. However they are also worn to show a love of horses and to show off your ability to pitch horse shoes.
Wearing horse shoe tattoos for good luck presents endless possibilities but whatever you do have the open end of the horse shoe facing up. As the legend goes, having the shoe facing down, allows all of the luck to drain out. Unless of course you feel you are an unlucky person and want the world to know it.
Placement and Color of Horse Shoe Tattoos
Use of one horse shoe tattoos allows you to place it anywhere on your body because the sizing can be adjusted from tiny to very large. It depends on the amount of detail you want. Coloring choices would depend on if you want a realistic shoe or abstract, fantasy, cartoonish, or tribal. Another way to wear horse shoe tattoos for luck is to have multiply small shoes walking down a lengthy part of your body such as your leg, arm, or chest to abdomen area. Why down? Because we want the shoe opening facing up!
Horse shoe tattoos for the horse love present a whole different set of tattoo design ideas. You will probably want your favorite beloved horse in the tattoo so look for a tattoo artist who knows the art of portraiture. Bring a picture of your horse. A head shot of your horse; coupled with a shoe turn up for good luck would be one idea for horse shoe tattoos in this category. Portraits are often created in black and white. A good tattoo artist however, could capture the color of your horse quite nicely. The detail in this tattoo would require medium to a large amount of skin, so give that some consideration. But if you or have a best friend who happens to be a horse that your were lucky to meet in this life, this is the tattoo for you.
Ideas for Horse Shoe Tattoos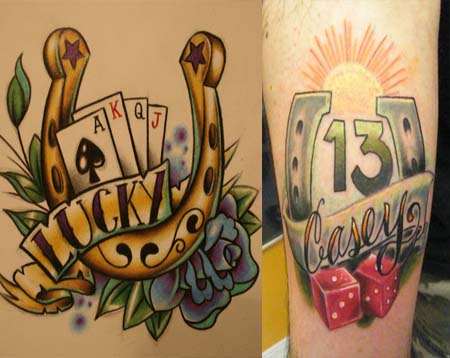 There is an association of horse shoe pitchers. Yes there is! Championships are held annually in the U.S.A. and it's been going on for over a hundred years. Every year there is a female and male champion. And it's not just America anymore the National Horse Pitching Association participates and sometimes hosts the World Tournament. If you pitch horse shoes consider horse shoe tattoos. Even better if you pitch in any of the official sport or tournament leagues, even more possibilities for horse shoe tattoos are open. For any horse shoe pitcher and image of you or a person, man or woman, pitching a shoe would make a great tattoo. This tattoo could be designed in all black like a shadow for a small sized tattoo or in full color requiring a bit more skin. A really cool idea would be to have all three shoes, stacked as ringers. This would look best in color identifying your shoes as the ringers, with the other colored shoes lying nearby indicating…well you know the one who didn't win. This would be a great tattoo in world of horse shoe tattoos!
Horse Tattoo Designs
Tattoo designs from the TattooMeNow Gallery
Related Articles:
Dark Horse Tattoos – Tattoo Ideas, Designs & Meaning
Blue Horse Tattoos – Tattoos Designs, Ideas & Meaning
Horse Tattoos – Ideas, Designs & Meaning
Images from:
http://www.design-for-tattoos.com/