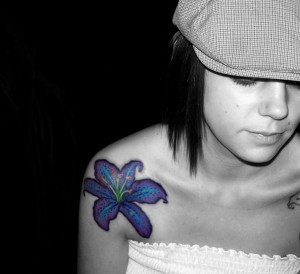 Woman and flowers go together like men and cars! This is why the Hibiscus flower tattoos are such a popular choice for the ladies! They are incredibly sexy and as flowers, hold a delicate beauty that outshines most anything else. The Hibiscus flower is almost an accessory more than it is a flower. They are worn as adornment and as art. Plus, they are excellent for experimenting and being creative with! Hibiscus flower tattoos can come in all shapes, colors and sizes. They are elegant and demure and make the skin look like an amazing canvas of beauty. The variety is literally infinite.
Flowers are also a source of inspiration for many people. Hibiscus flowers are exotic and typically grow in vivid colors. They come from the Hawaiian Islands and getting one as a gift symbolize seizing opportunity. Different colors symbolize different things as well. A white Hibiscus tattoos means enlightenment. The purple Hibiscus tattoo symbolizes royalty and wealth. No matter what color you choose, a Hibiscus flower tattoo  is one of delicate splendor.
Some people choose this flower simply for its beauty. Others get a Hibiscus tattoo to show pride in their Hawaiian heritage. There  are also many people who opt to add in other designs to their Hibiscus flower tattoo. Fairies, rainbows, dragonflies and birds are some of the most popular choices to add on. These tattoos are so versatile that they can be placed almost anywhere on the body and look good. The shoulder blade, the top of the foot, the calf and the stomach are some of the most popular areas to place this beautiful piece of art.
some of the most popular areas to place this beautiful piece of art.
Hibiscus Flower Tattoo Designs
From the TattooMeNow Gallery
[nggallery id=8]
Get access to the images above in FULL SIZE here
Photos of Hibiscus Flower Tattoos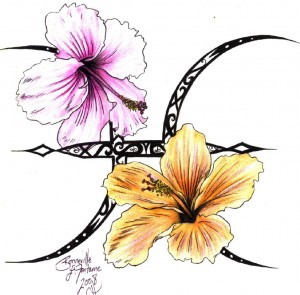 Inspiring Hibiscus Flower Photos
Related Articles