Elephant tattoos have become popular due to their unique symbolism, striking beauty, and cultural significance. Elephants are one of the largest animals on Earth. Their size and gentle demeanor have earned them respect and admiration in many cultures. With their immense size, gentle demeanor, and powerful presence, elephants symbolize strength, wisdom, and longevity in many cultures.
Whether you're looking for a small and simple design or a more intricate and detailed piece, there are countless ways to incorporate these majestic creatures into your body art. In this blog, we'll explore the rich history and symbolism behind elephant tattoos and provide some inspiration and ideas for your own unique elephant tattoo design.
So whether you're an elephant lover, seeking a meaningful tattoo with a powerful message, or simply looking for some eye-catching body art, read on to discover the beauty and significance of elephant tattoos.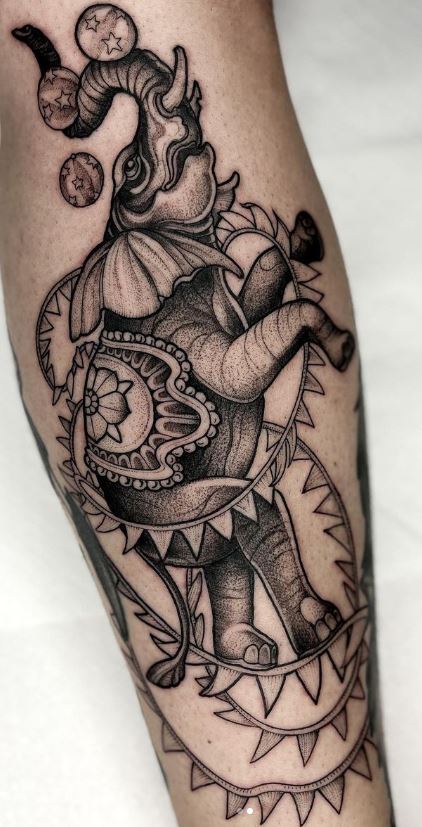 History of Elephant Tattoos
Elephant tattoos have been a part of various cultures for centuries. In Hinduism, the elephant is revered as a sacred animal and associated with the god Ganesha, known as the remover of obstacles. The elephant also symbolize good fortune, wisdom, and strength. 
In Buddhism, the elephant represents mental strength, endurance, and patience.
In Africa, elephants symbolize power and royalty. They have played a significant role in the continent's history and culture, appearing in art, folklore, and religion. The elephant is also a famous symbol of African wildlife and conservation efforts.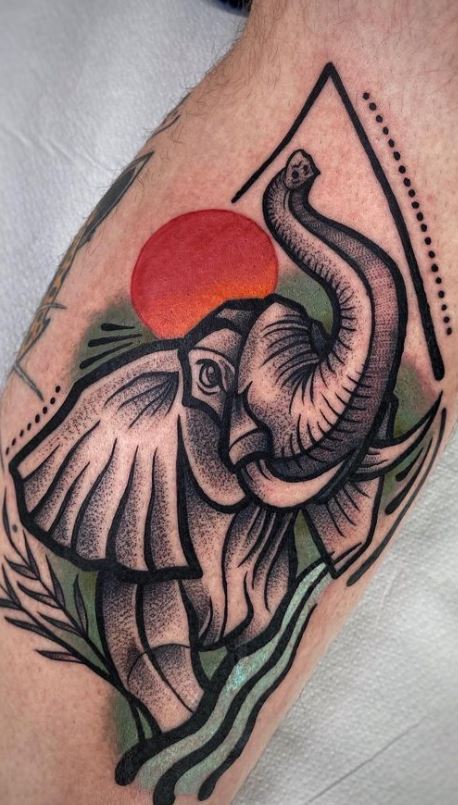 The Symbolism of Elephant Tattoos
Elephants are symbols of various virtues and attributes, making them a popular choice for tattoos. Here are some of the most common meanings behind elephant tattoos: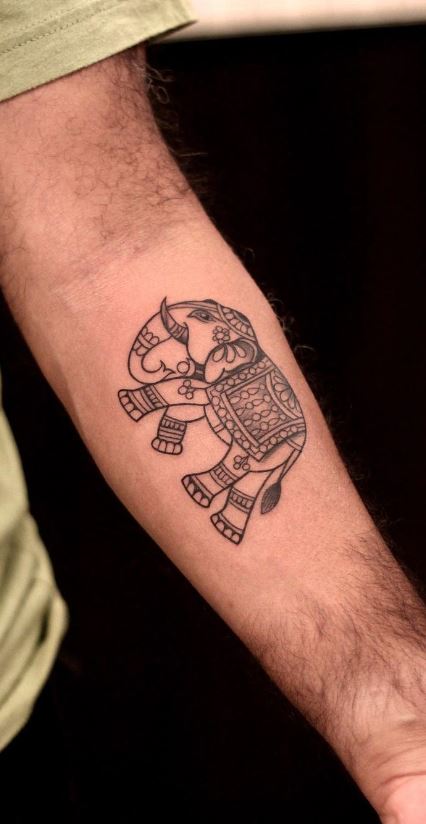 Strength and Power: Elephants are known for their immense strength and power. An elephant tattoo can symbolize physical and mental strength, resilience, and endurance. 
Protection and Guidance: Elephants are protective animals known to guide and care for their young. An elephant tattoo can represent a guardian, protector, or guide.
Patience: Elephants are known for their calm and patient demeanor. An elephant tattoo can symbolize patience, tranquillity, and the ability to remain calm in stressful situations.
Independence: Elephants are independent creatures and are known for their self-sufficiency. An elephant tattoo can therefore represent independence, freedom, and self-reliance.
Spirituality: In some cultures, people consider elephants to be spiritual animals and associated with the divine. Hence an elephant tattoo can represent a connection to the spiritual realm and a higher power.
Grace: Despite their size and strength, elephants are also known for their grace and elegance. An elephant tattoo can therefore represent gracefulness, poise, and beauty.
Adaptability: Elephants can adapt to various environments and situations. It reflects in their ability to thrive in diverse habitats. So elephant tattoos can represent adaptability, flexibility, and resilience in the face of change.
Compassion and Empathy: Elephants are gentle creatures and show empathy and compassion towards their kind and other animals. An elephant tattoo can represent compassion, empathy, and a kind heart.
Family and loyalty: Elephants are known for their strong family bonds and loyalty to their herd. As such, an elephant tattoo can represent the importance of family and the value of dedication and commitment.
Prosperity: In Hindu culture, elephants are associated with wealth and prosperity. An elephant tattoo can therefore represent abundance and financial success.
Types of Elephant Tattoos
There are various types of elephant tattoos, each with its unique style and meaning. Here are some of the most popular types of elephant tattoos:
Realistic Elephant Tattoo
Realistic elephant tattoos are highly detailed and intricate, featuring realistic depictions of the animal's skin texture and other physical features.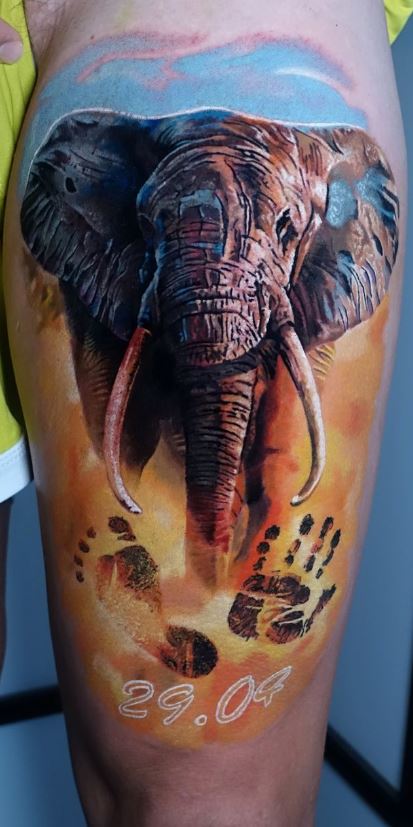 Geometric Elephant Tattoo
Geometric elephant tattoos are made up of simple shapes and lines, giving a modern and minimalist look.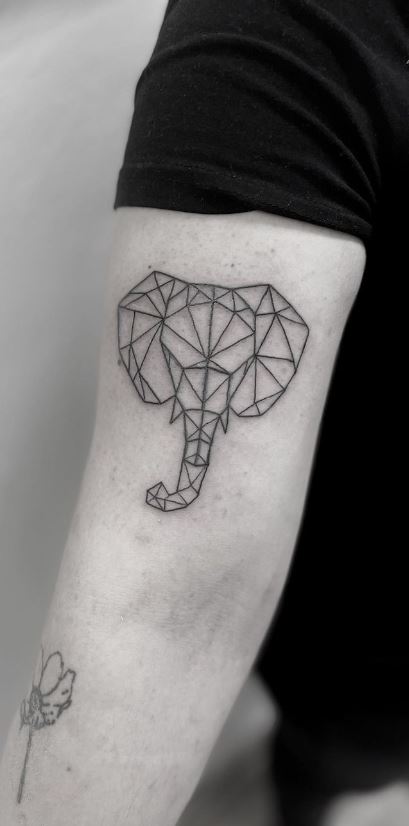 Tribal Elephant Tattoo
Tribal tattoos are inspired by traditional tribal designs and feature bold, intricate patterns that reflect the cultural heritage of the wearer. These designs often incorporate geometric shapes, symbols, and other tribal elements.
Watercolour
Watercolour tattoos feature colourful, abstract designs that resemble watercolour paintings. These designs often incorporate splashes of vibrant colours and brushstrokes, creating a dreamy and artistic effect.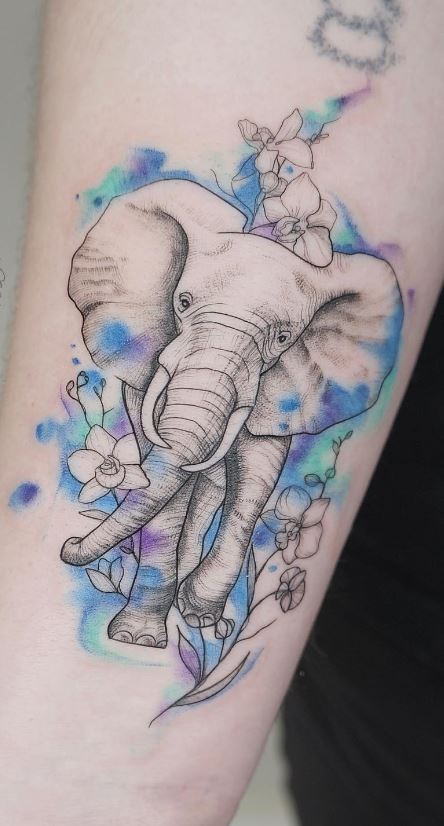 Mandala Elephant Tattoo
Mandala elephant tattoo designs are inspired by the traditional mandala designs of Hindu and Buddhist cultures. These designs feature intricate circular patterns and symbols representing all things' interconnectedness.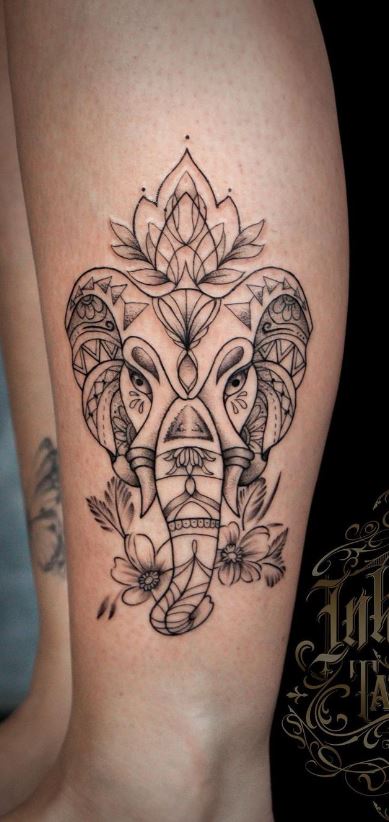 Elephant Head Tattoo
Elephant head tattoos feature only the head of the elephant. You can have them rendered in a realistic or stylized manner. These designs often focus on the elephant's distinctive features, such as its trunk, tusks, and ears.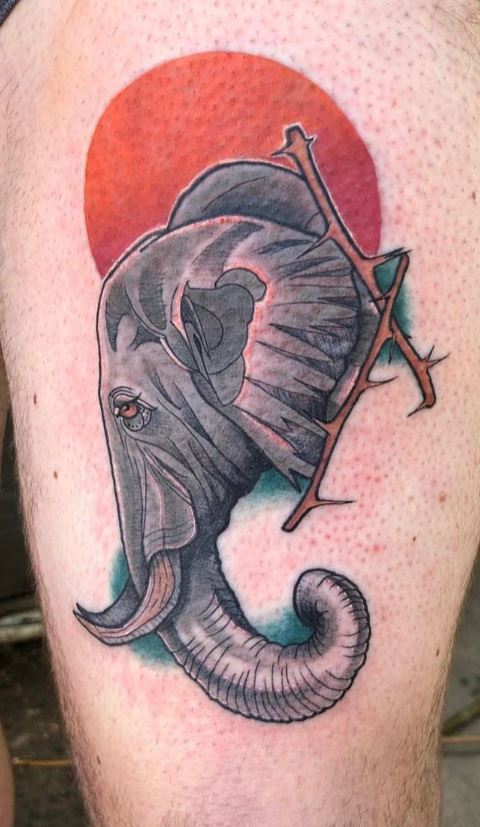 Cartoon Elephant Tattoo
Cartoon elephant tattoos feature whimsical, playful designs. People take inspiration from popular cartoon characters or children's book illustrations to design these tattoos. These tattoos can be colourful, light hearted, and fun.
Mother and Baby Elephant
A mother and baby elephant tattoo depicts the close bond between a mother elephant and her calf. This type of tattoo can represent the nurturing and protective qualities of a mother and the importance of family in one's life.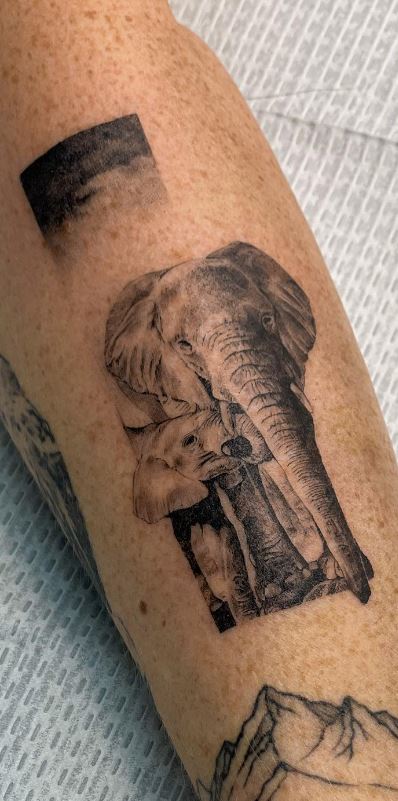 Elephant Family Tattoos
Elephant family tattoos are a popular choice for those who want to emphasize the importance of family and the strong bonds between family members. Here are some ideas for elephant family tattoos.
Elephant with Other Animals
Some elephant tattoos feature the animal with other animals, such as lions, tigers, or giraffes. These designs can represent the interconnectedness of all living creatures and the importance of living in harmony with nature.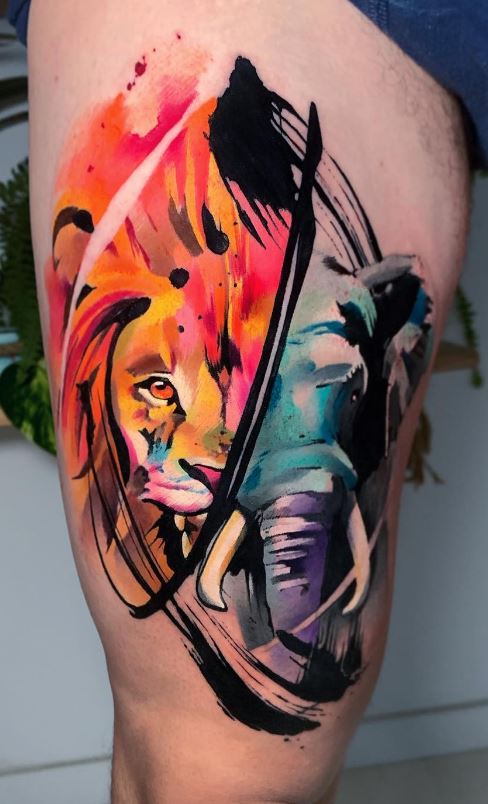 Elephant with Landscape
In this design, you can include a landscape or natural scenery, such as a forest or savanna. These designs represent the importance of preserving natural habitats and the interconnectedness of all living things.
Elephant Tattoo with Flowers
Elephant tattoos with flowers are a popular choice among tattoo enthusiasts. These designs combine the strength and majesty of elephants with the beauty and delicacy of flowers, creating a unique and meaningful tattoo design.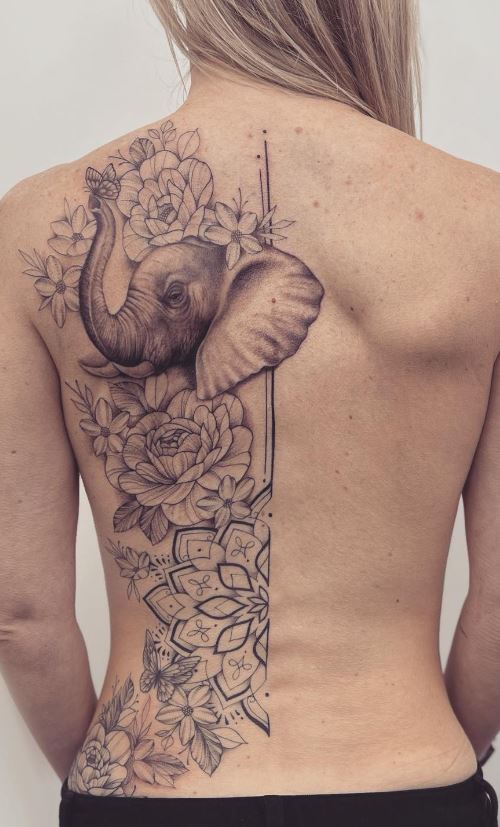 Small Elephant Tattoos
Small elephant tattoos are popular for those who want a subtle and minimalist design that still carries a meaningful message. Here are some ideas for a small elephant tattoo: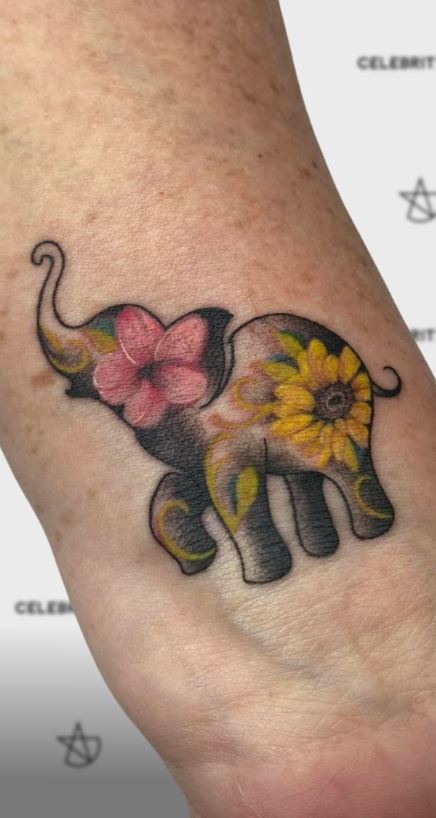 Outline Elephant Tattoo
An outline elephant tattoo features a simple and minimalist outline of an elephant, often with a single line or a few lines to represent the elephant's shape. This design is perfect for those wanting a small, subtle elephant tattoo.
Tiny Elephant Tattoo
A tiny elephant tattoo features a minimal and simple elephant design, often no larger than a few centimetres in size. For a discreet and subtle design, you can place this tattoo on the wrist, ankle, or behind the ear.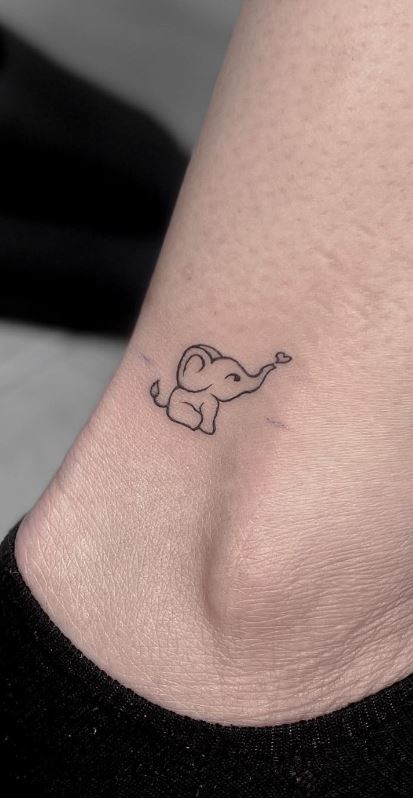 For Women
Elephant tattoos are a versatile and meaningful design that can be adapted to suit any gender, but there are certain designs that are particularly popular among women.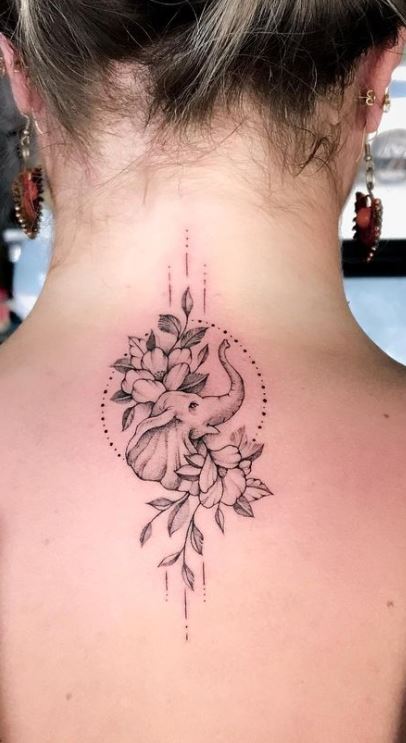 Various Elephant Tattoos