Getting a deer tattoo can hold significant importance to some and sometimes symbolizes power and purity or it can simply mean that the person with a deer tattoo love deer. Oftentimes, people who enjoy hunting like to get a deer tattoo. The often have the skull or a picture of the prized deer he or she has mounted on their wall tattooed on them. Others believe that a deer tattoo will bring protection to them.
No matter what reason a person has for getting a deer tattoo there are many different designs to choose from. The designs range from realistic such as a hunting scene or cutesy like a cartoon. Characters such as Bambi with a little butterfly on his tail are often a popular choice. Some people use company or brand logos that depict a deer as their logo. Listed below are some amazing deer tattoos to choose from.
Deer Tattoos on Arm
Deer Tattoos on Back
Deer Tattoos for Females
Deer Tattoos on Forearm
Deer Tattoos on Hip
Deer Tattoos on Leg
More Deer Tattoos
Sweet Blue Deer
A large deer tattoo with a very sweet expression is surrounded by little black dots that hold a diamond with a heart and flower at the base.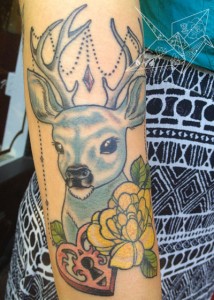 Realistic Deer
A brown realistic looking deer tattoo with an abstract scene behind it.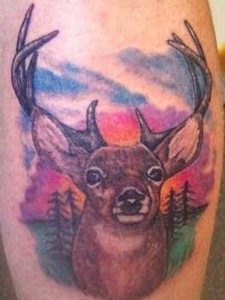 Deer On the Shoulder
A realistic male deer's head and neck on the shoulder.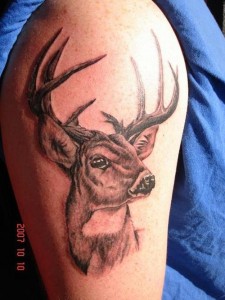 Young Deer's Silhouette 
A baby deer in black on the calf with two tiny butterflies flying around.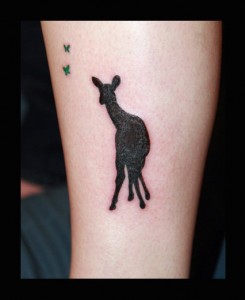 Mounted Buck Tattoo
A lighter palette for a deer mounted on a plaque and tattooed on a hand.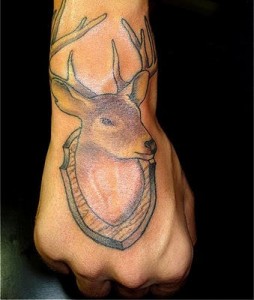 Realistic Mounted Buck
A more realistic looking buck head on a plaque with a dramatic shadow behind it.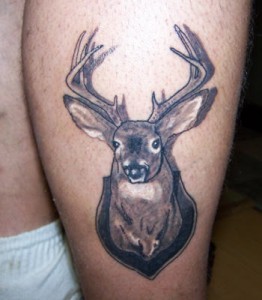 Deer in the Woods
A deer walking through the woods during the fall on the man's upper arm.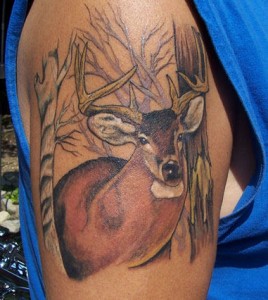 Bambi
A young Bambi with a butterfly on his tail from the Disney movie.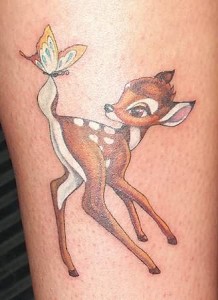 Browning Deer Logo
The logo is done in a brown camo pattern on the upper arm.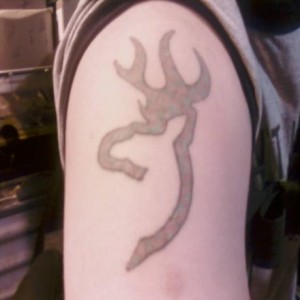 A Sweet Deer Tattoo
This tattoo looks a bit Christmas like with the yellow deer, the greens beside it and the red bow below it – nonetheless, it's still cute!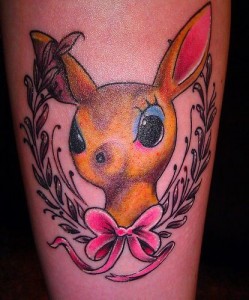 The Deer with the Antler Trees
This young deer has trees growing from its head rather than antlers, it is definitely a unique back tattoo.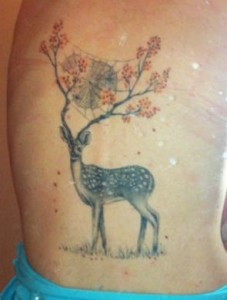 Deer Skull Tattoo
This white skull with brown antlers is designed rather well for those with a more morbid taste in deer tattoos.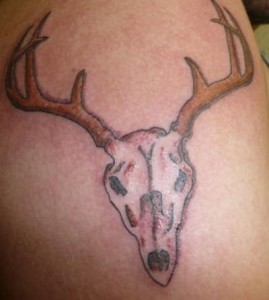 Deer Badge
This badge has the silhouette of a deer's head on the side of this man's chest.
Deer Head Tattoo
This deer tattoo on the man's head has an interesting line art pattern.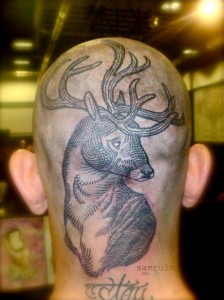 Deer Tattoo on Chest
This grey scale deer head  is on a plaque (possibly unfinished) in between the man's chest.