Welcome to our captivating collection of 100 fun and meaningful deer tattoo designs! Get ready to embark on an exciting journey where the worlds of body art and the wild collide. From majestic stags to adorable does, our curated selection has something for everyone. Whether you're drawn to power and dominance, the beauty of motherhood, or the mystical allure of nature, we've got you covered.
Whether you're a tattoo enthusiast or a newbie, our collection aims to ignite your creativity and leave you excited. We carefully chose each design to evoke emotions, tell stories, and reflect your unique personality. Join us on this thrilling journey and find the perfect deer tattoo that captures your spirit and adds a touch of wildness to your life. Let's dive in and let the fun begin!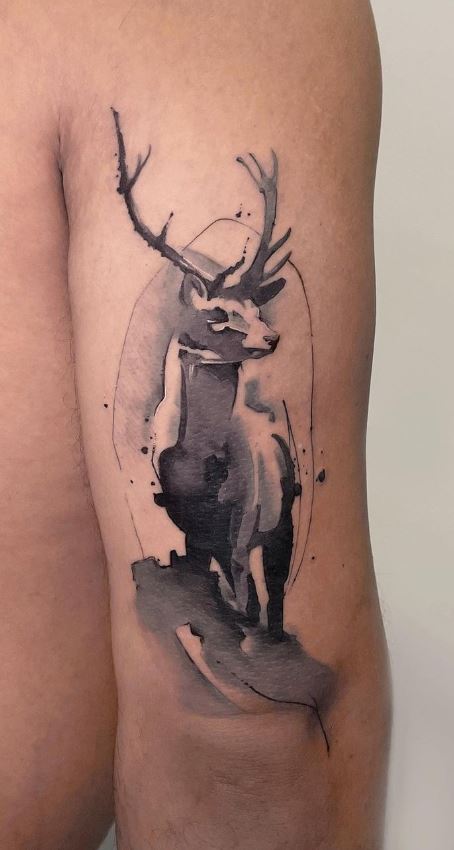 What Does a Deer Tattoo Symbolize?
A deer tattoo can carry various symbolic meanings depending on cultural, personal, and artistic interpretations. Here are some common symbolisms associated with deer tattoos:
Grace and Elegance: Deer are often seen as graceful and elegant creatures. A deer tattoo can symbolize beauty, poise, and gentle nature.
Peace and Serenity: Deer are known for their calm and tranquil presence. A deer tattoo can represent inner peace, harmony, and a connection to nature.
Spirituality and Inner Wisdom: Deer have been revered in many spiritual traditions. They are associated with qualities like intuition, spirituality, and the ability to navigate through life's challenges.
Protection and Strength: In some cultures, deer are seen as protectors and guardians. A deer tattoo can symbolize strength, resilience, and the ability to overcome obstacles.
Maternal Love and Nurturing: Female deer, or does, are known for their maternal instincts and care for their young. A deer tattoo can represent love, nurturing, and the importance of family bonds.
Growth and Renewal: Deer shed and regrow their antlers, symbolizing cycles of growth, regeneration, and renewal. A deer tattoo can signify personal growth, transformation, and embracing change.
Connection to the Natural World: Deer are creatures of the forest, and a deer tattoo can symbolize a deep connection to nature, wilderness, and the untamed aspects of life.
It's important to note that these symbolisms can vary depending on cultural context and personal interpretation. Ultimately, the meaning of a deer tattoo is profoundly personal and can hold different significance for each individual.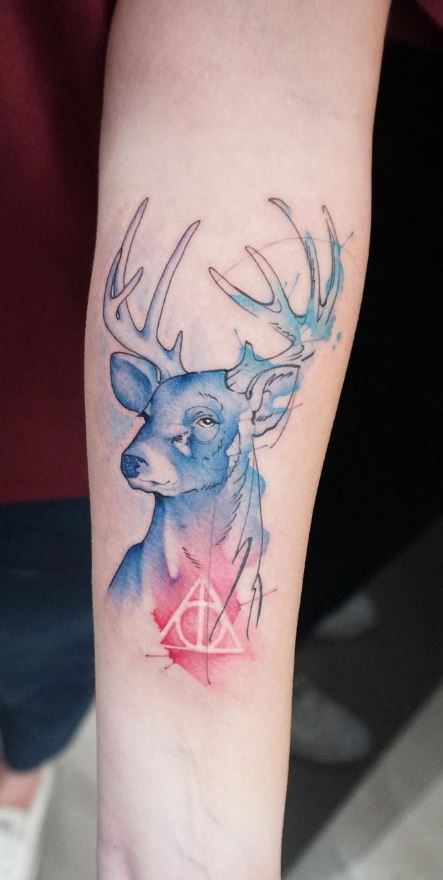 Deer Tattoo Designs and Ideas
Deer tattoo designs offer a wide range of possibilities to capture the beauty and symbolism of these majestic creatures. Here are several popular deer tattoo designs to consider:
Stag Tattoos
Stag tattoos are popular among those seeking a bold and powerful design. These tattoos typically feature the impressive antlers of a male deer, showcasing strength, dominance, and nobility. You can render a Stag tattoo in various styles, from realistic and detailed depictions to stylized and artistic interpretations. They often symbolize masculinity, vitality, and the pursuit of personal goals. Stag tattoos can be accompanied by other elements like forests, mountains, or moon phases, further enhancing their symbolism and creating a captivating visual impact.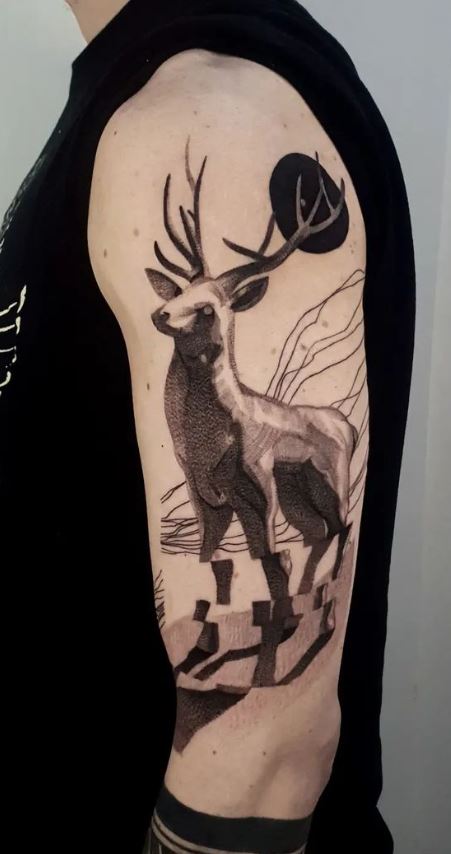 Doe Tattoos
Doe tattoos capture the grace and beauty of female deer. These designs often evoke a sense of femininity, gentleness, and nurturing qualities. Doe tattoos can portray a serene doe in a natural setting, surrounded by flowers or foliage, symbolizing the connection to motherhood, fertility, and the nurturing aspects of life. These tattoos can also represent the softer and more compassionate side of one's personality. Whether rendered realistic or stylized, doe tattoos exude an aura of elegance and evoke emotions of tenderness and love.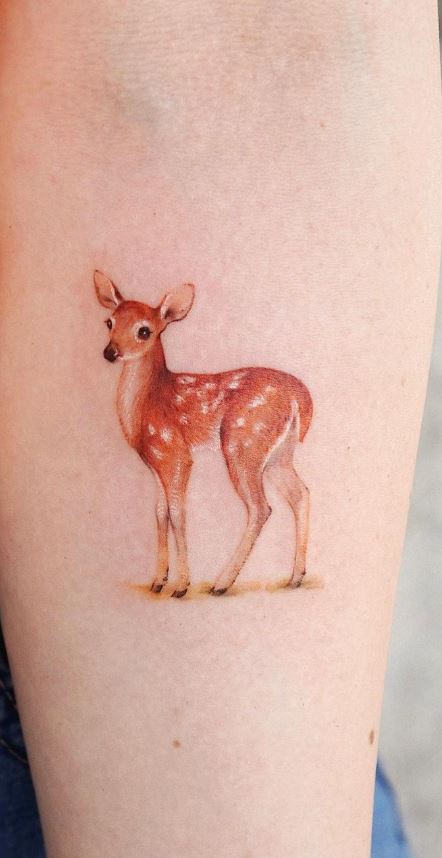 Antler Tattoos
Antler tattoos focus on the intricate and captivating antlers of deer. These designs can range from simple and minimalistic to elaborate and detailed. Antler tattoos carry various symbolic meanings, including wisdom, growth, protection, and strength. They represent the ability to navigate life's challenges with grace and resilience. Antlers are often portrayed as branching, symbolizing the connection between different aspects of life and the pursuit of personal and spiritual development. Antler tattoos are a versatile choice, easily customizable to fit individual preferences and complement other elements within a larger design.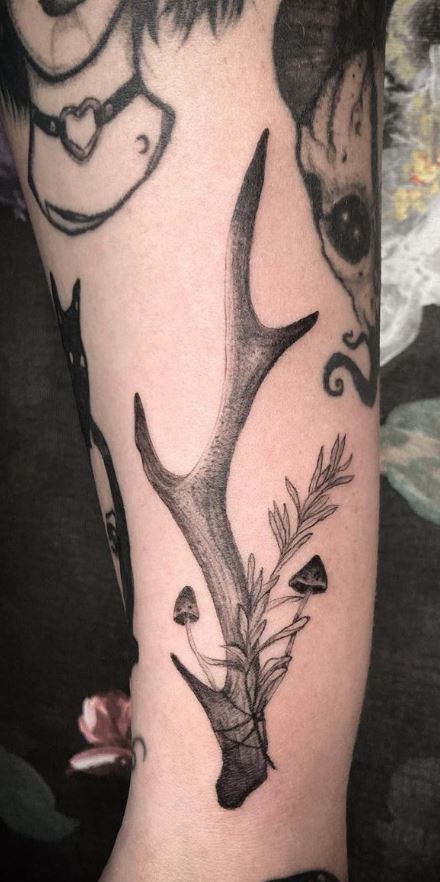 Deer Skull Tattoos
Deer skull tattoos merge the natural beauty of deer with the mystical symbolism of skulls. These designs blend life and death, representing the cycle of existence and the transient nature of life. Deer skull tattoos often incorporate intricate detailing and feature elements such as flowers, feathers, or geometric patterns, adding depth and symbolism to the overall design. These tattoos can symbolize spirituality, transformation, and the acceptance of mortality. They serve as a reminder of the impermanence of life and the need to embrace the present moment fully.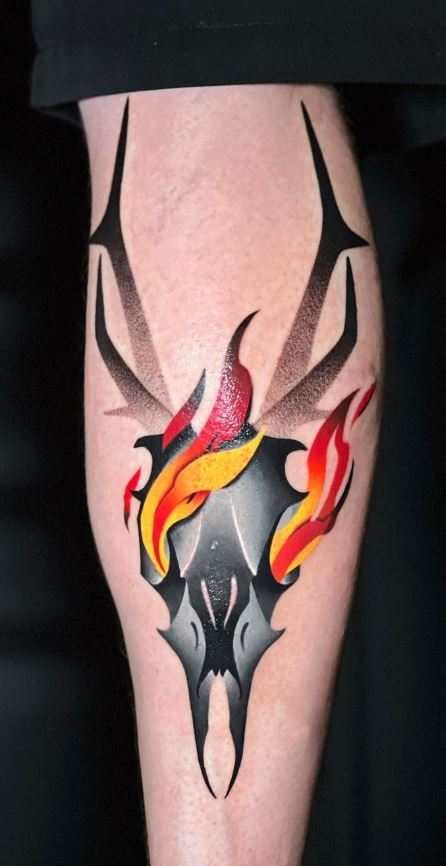 Nature-Inspired Deer Tattoos
Nature-inspired deer tattoos take inspiration from the natural world and incorporate elements such as trees, flowers, mountains, or rivers into the design. These tattoos celebrate the connection between deer and their natural habitat. They symbolize a deep appreciation for the wilderness, a sense of harmony with the environment, and a love for nature's beauty. Nature-inspired deer tattoos often evoke a sense of tranquillity, freedom, and the desire to stay grounded amidst the chaos of the modern world. These designs can be rendered in various styles, ranging from realistic to more abstract interpretations, allowing for a wide range of creative expressions.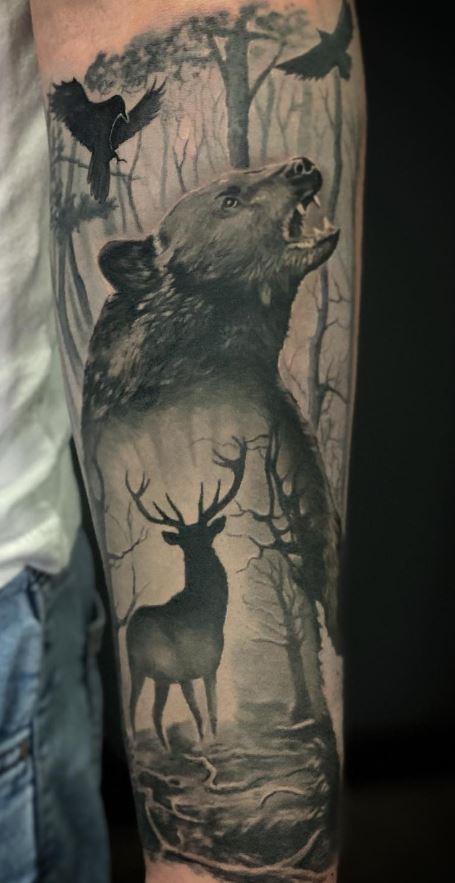 Geometric Deer Tattoo
A geometric deer tattoo combines a deer's natural elegance with geometric shapes and patterns. This style often features clean lines, symmetrical designs, and intricate detailing. Geometric deer tattoos represent a fusion of nature and modern artistry. They can symbolize balance, precision, and the harmonious coexistence of the organic and the geometric.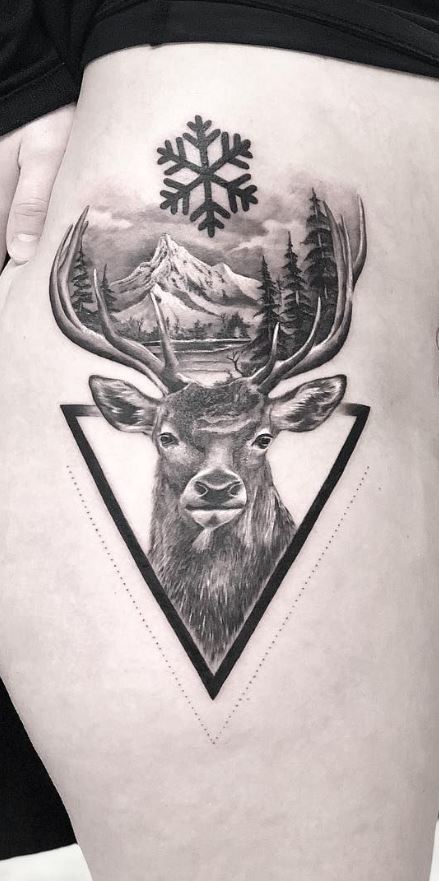 Realistic Deer Tattoos
Realistic deer tattoos aim to capture a deer's true essence and lifelike features. These tattoos showcase intricate detailing, shading, and texture to create a hyper-realistic representation. Realistic deer tattoos can symbolize a deep appreciation for the beauty of nature, a connection to the animal kingdom, and a desire to pay homage to the magnificent creatures that roam our forests.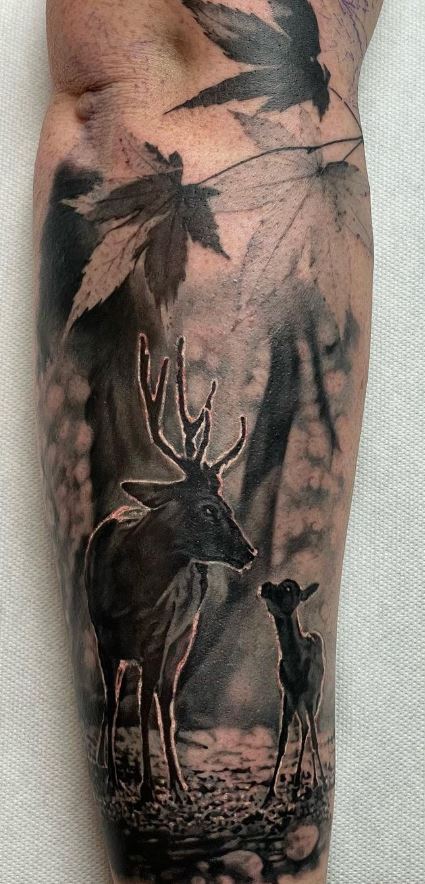 Deer Head Tattoo
A deer head tattoo typically focuses on the head and antlers of a deer. This design choice highlights the majestic presence and distinctive features of the deer's head. It can symbolize power, strength, and dominance. Deer head tattoos are often associated with masculinity and are popular among those seeking a bold and striking tattoo design.
Tribal Deer Tattoo
Tribal deer tattoos draw inspiration from indigenous cultures and their artistic traditions. These tattoos feature bold, black ink patterns, often with intricate geometric or organic designs. Tribal deer tattoos can connect to ancestral roots, spirituality, and the harmony between humans and nature. They can also symbolize strength, protection, and the primal qualities associated with deer as powerful animals.
Minimalist Deer Tattoo
Minimalist deer tattoos embrace simplicity and clean lines. These tattoos often feature a minimalist outline or silhouette of a deer, capturing its essence with minimal details. Minimalist deer tattoos symbolize purity, simplicity, and a desire to embrace a minimalist lifestyle. They are popular among those who appreciate understated elegance and prefer a subtle yet meaningful tattoo design.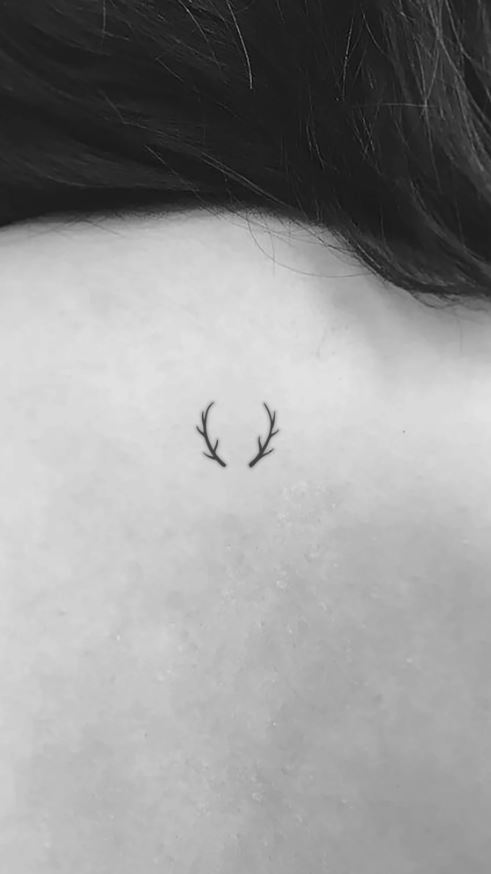 Forest Deer Tattoo
A forest deer tattoo combines the image of a deer with elements of a forest landscape. These tattoos often feature trees, foliage, or other natural elements surrounding or intertwining with the deer. Forest deer tattoos symbolize a strong connection to nature, a love for the wilderness, and a desire to be in harmony with the natural world. They represent a deep appreciation for the serenity and beauty of forest environments.
Small Deer Tattoo
Small deer tattoos offer a delicate and discreet option for those seeking a subtle representation of their love for deer. These tattoos are often minimalistic in design and size, fitting perfectly in small areas like the wrist, ankle, or behind the ear. Small deer tattoos can carry symbolism similar to larger designs, such as grace, peace, or a connection to nature while allowing for a more personal and intimate expression of one's affinity for these majestic creatures.
Floral Deer Tattoo
A floral deer tattoo combines the beauty and grace of deer with the elegance of floral elements. These tattoos often feature a deer adorned with intricate flower arrangements, such as roses, lilies, or other botanical designs. The floral elements add a touch of femininity, delicacy, and a connection to nature's vibrant colors. A floral deer tattoo can symbolize beauty, growth, renewal, and harmony between wildlife and the floral realm.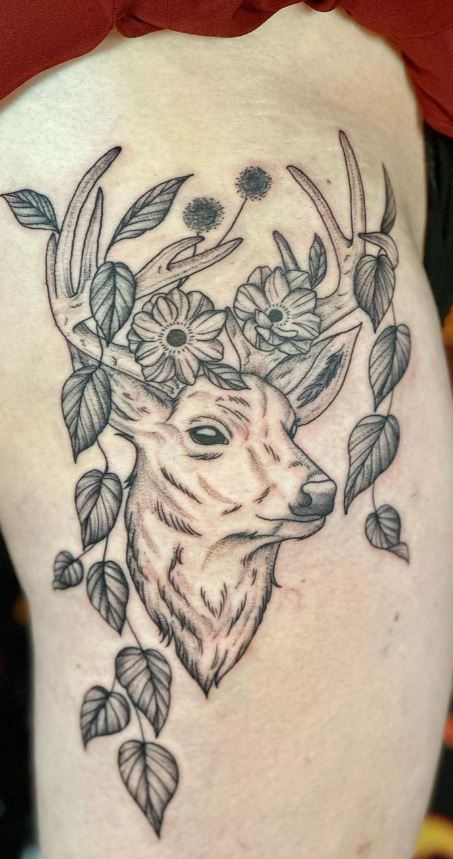 Colorful Deer Tattoo
A colorful deer tattoo is a vibrant and eye-catching choice. These tattoos utilize various hues to bring the deer to life with vivid shades and bright tones. The use of color enhances the visual impact of the tattoo and allows for creative expression. Colorful deer tattoos can symbolize joy, vitality, energy, and a celebration of life's vibrant palette. It's a dynamic choice that embraces the beauty of the deer while making a bold statement through the power of color.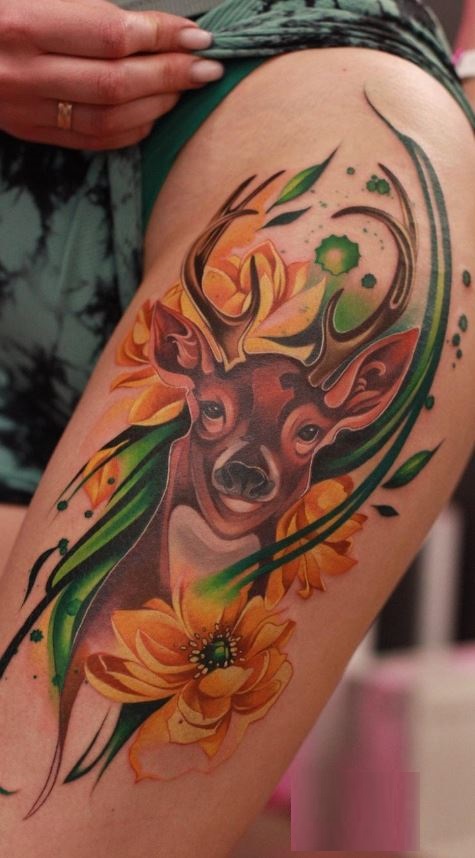 Black and Gray Deer Tattoo
A black and gray deer tattoo is a classic and timeless option. These tattoos are rendered using black and gray ink shades, creating a monochromatic effect. The use of shading and detailing brings depth and dimension to the design, emphasizing the contours and features of the deer. These designs can symbolize elegance, simplicity, and a focus on the animal's natural beauty. It's a versatile choice that blends seamlessly with various tattoo styles and complements different skin tones.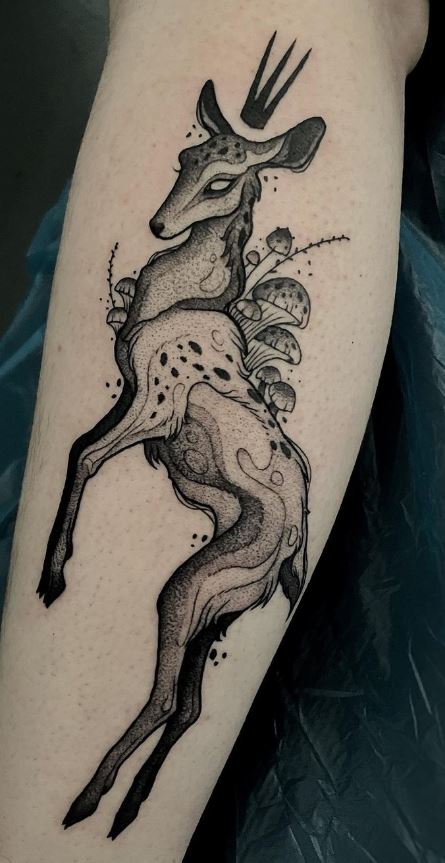 Neo-Traditional Deer Tattoo
A neo-traditional deer tattoo combines traditional tattoo elements with contemporary flair. These tattoos feature bold lines, rich colors, and intricate details, often incorporating decorative patterns, geometric shapes, or artistic interpretations. A neo-traditional deer tattoo offers a fusion of classic and modern aesthetics, capturing the essence of the deer while allowing for creative expression and customization. It can symbolize a harmonious blend of tradition and innovation, honoring the timeless symbolism of the deer in a fresh and dynamic way.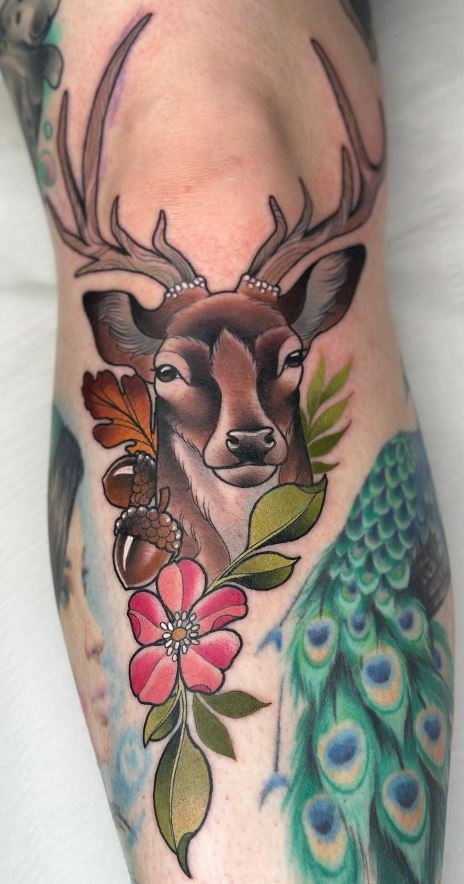 Various Deer Tattoos
Placement
You can place a Deer tattoo on various parts of the body, and the choice of placement can significantly influence the overall look and impact of the tattoo. Here are some popular placements for deer tattoos:
Arm
A deer tattoo on the arm is a popular choice for those who want to showcase their love for deer in a prominent and visible way. This placement allows for a larger and more detailed design, providing ample space to incorporate various elements such as antlers, a forest backdrop, or accompanying wildlife. A deer tattoo on the arm can symbolize strength, grace, and a deep connection to nature. It is a powerful statement and can be a conversation starter, allowing the wearer to display their admiration for these magnificent creatures proudly.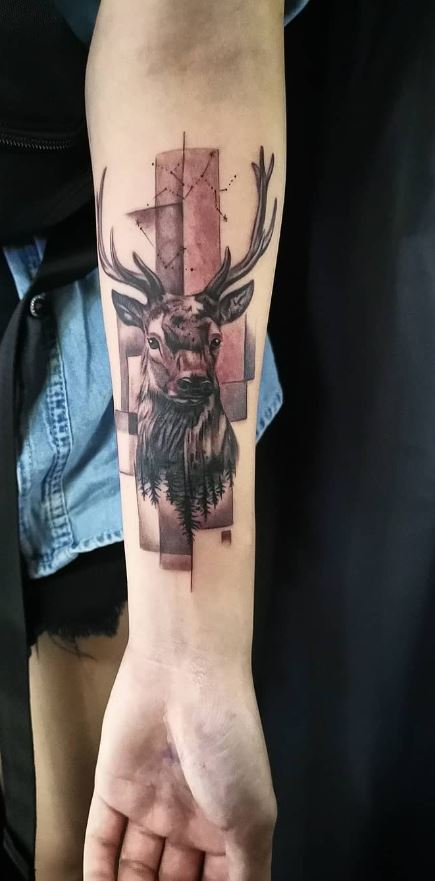 Chest
A deer tattoo on the chest is a bold and impactful choice. Individuals often choose this placement to state their connection to nature and inner strength firmly. This placement offers a larger canvas for intricate designs, allowing for the inclusion of detailed features like the deer's face, antlers, or a vibrant forest scene. A deer tattoo on the chest can symbolize resilience, protection, and a strong bond with the wild. It's a striking placement that allows the wearer to carry their admiration for deer close to their heart.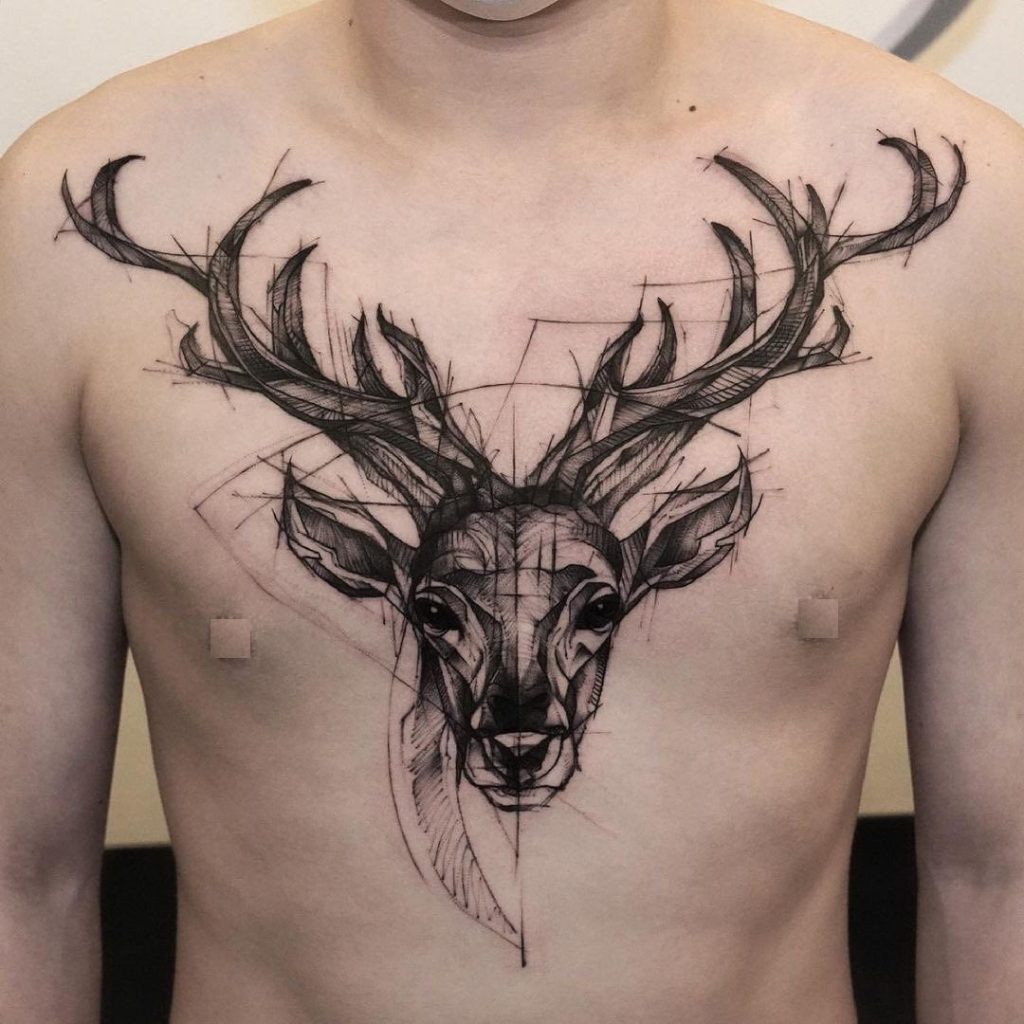 Wrist
A deer tattoo on the wrist is a subtle and elegant option for those who prefer a smaller, more discreet design. This placement lends to minimalist or delicate deer tattoos featuring a simple outline, silhouette, or a small deer symbol. A deer tattoo on the wrist can symbolize grace, agility, and freedom. It serves as a personal reminder of one's connection to nature and can be easily displayed or concealed depending on the wearer's preference.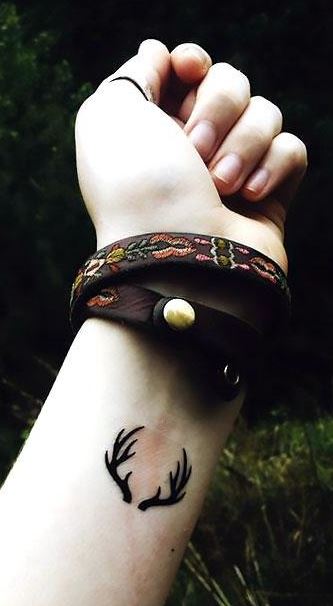 Leg
Placing a deer tattoo on the thigh offers a larger area to work with, allowing for detailed and intricate designs. The thigh provides ample space to incorporate elements such as a realistic deer portrait, a forest scene, or antlers. This placement can create a visually stunning and impactful tattoo, symbolizing grace, beauty, and a deep connection to the wild. The calf area is another popular spot for deer tattoos on the leg. This placement offers a more elongated and vertical canvas, allowing for designs that can wrap around the calf or extend toward the ankle. A deer tattoo on the calf can represent agility, freedom, and a strong connection to nature. It can be a striking and eye-catching design when visible, especially when wearing shorts or skirts.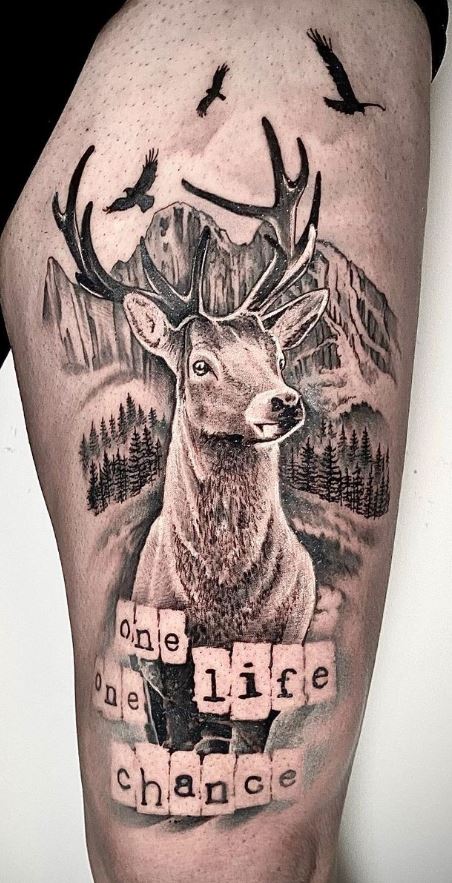 Ultimately, the choice of placement for a deer tattoo is personal, influenced by factors such as individual style, aesthetic preferences, and the desired level of visibility.