Collarbone tattoos are trendy. Perhaps some of the reasons are that the collarbone area is visible, it's a good placement for dual tattoos, and it offers versatility in tattoo size.
Some of the most popular collarbone tattoos are quotations, pairs of birds, flowers, butterflies, and vines. Something to think about when designing and choosing your collarbone or clavicle tattoo is that getting ink over and bone can be a bit more intense than in other places. Notice some of the images have collarbone tattoos near the collarbone but not actually upon it. This may be by choice or to avoid the intensity of the tattooing across the sensitive bone area.
Nevertheless, if your design includes using part of the actual collarbone area, it's not more intense than an ankle tattoo.
Collarbone Tattoos Pros and Cons
Pros
Since it's an unusual place for tattoos, your tattoo will be unique.
There are many options in terms of placement and design, so you can be creative when designing your collarbone tattoo.
If you need to hide your tattoo for any reason, you can easily cover it with a shirt.
Your tattoo will not stretch much if you gain or lose weight because it is right on the bone.
Cons
With such an attention-grabbing tattoo, you might not want all the attention that comes with it.
A tattoo right on the bone is likely to be painful.
You may get some judgemental looks or remarks for having a tattooed collarbone as it is not a socially acceptable location for tattoos.
Tattoos on the collarbone are more likely to fade quicker due to frequent sun exposure.
Are Collarbone Tattoos Painful?
Getting any tattoo will cause some pain depending on your pain threshold, but many say that tattoos on the collarbone are more painful than other spots. Due to the lack of fatty tissues, the collarbone is a sensitive area to get a tattoo.
The level of pain you experience will depend on where exactly you're getting the tattoo. If you are getting it right on the bone, it'll hurt a lot. You will also feel a strong vibration of the tattoo machine.
However, if you're getting a tattoo in the slightly fleshier area just underneath or above your collarbone, it's likely to be less painful. There are plenty of other tattoo locations that are more painful, but getting a collarbone tattoo is certainly no walk in the park.
Designing Collarbone Tattoos
Collarbone tattoo designs range from small word tattoos to large chest pieces. Since it's at a very visible part of the body, you want to make a statement. Most popular collarbone tattoos seem to be wording and sayings, where people opt for delicate, cursive lettering to get their message across.
These tattoos can be simple words or inspiring, detailed sayings that mean a lot to the person getting them. You can also get tiny symbols that have sentimental meaning. Some opt for a single image, while others want a group of small tattoos lined along their collarbone. Currently, flowers, birds, butterflies, and music notes are popular.
Collarbone Tattoos Aftercare
Your collarbone tattoo shouldn't take longer to heal than other tattoo locations on your body. Follow the steps below to ensure that your tattoo doesn't get infected and speed up the healing process.
Remove the wrapping of your tattoo after about 24 hours.
Use antibacterial ointment to the tattoo twice a day, and wash it with unscented soap and water a few times a day.
Repeat this process for several weeks, then continue to apply unscented lotion to the tattoo to prevent it from drying out. (Avoid hot water, sun, and swimming during this time to prevent infection.)
For the first few weeks, be careful about backpacks, purses, book bags, shopping bags, and anything else you might keep on your shoulder.
Collarbone or Clavicle Tattoo Designs & Ideas
Collarbone Tattoos Quotes
Flower Collarbone Tattoos
Collarbone Tattoos Vine
Butterflies Tattoos on The Collarbone
Collarbone Tattoos For Guys
Collarbone Tattoos For Females
Collar Bone Tattoo with Quotation and Anchor
This collar bone tattoo is a great example of using simple black ink to make powerful statement that is accentuated by the anchor symbol.

Musical Notes Collar Bone Tattoo
These collar bone tattoos are a great example of a person making a statement about their values. If you notice, it's also placed just below the collar bone.
Collar Bone Descending Start
This is a wonderful collar bone tattoo that shows off the artist's ability to draw the eye-line down the collar bone.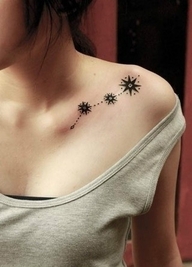 Birds Flying Up the Collar Bone
This collar bone tattoo design is extraordinary; is it one bird in flight up the collar bone are? Or is it several birds in flight? It's nicely visible but has an air of mystery because only the wearer knows for sure.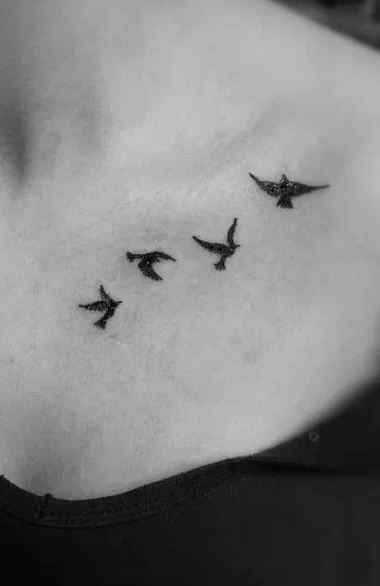 Quotation Collar Bone Tattoo
This is very nice black ink collar bone tattoo illustrating the wearers belief in something that will last forever and a day; finished of with a whimsical butterfly!
Elaborate Collar Bone Tattoo
This person is obviously showing the admiration and love for music where the whole world can view it.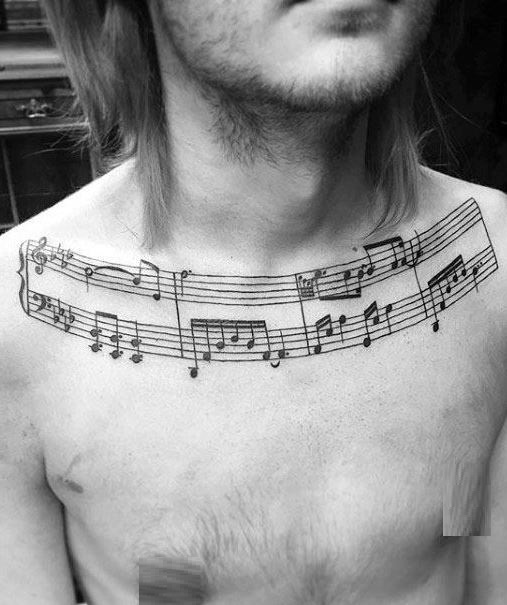 Symmetrical Collar Bone Tattoo
This individual has chosen to pair up matching nautical stars on each side of the collar bones.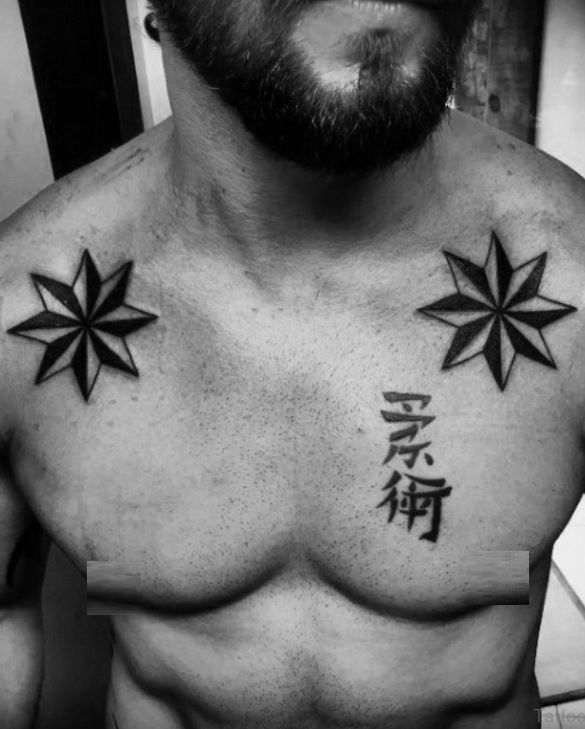 Whimsical Collar Bone Tattoo
This is a great colored dragonfly tattoo. It almost appear to by wandering its way over from her back! Notice that the design for this collar bone tattoo required actually getting inked on the bone area.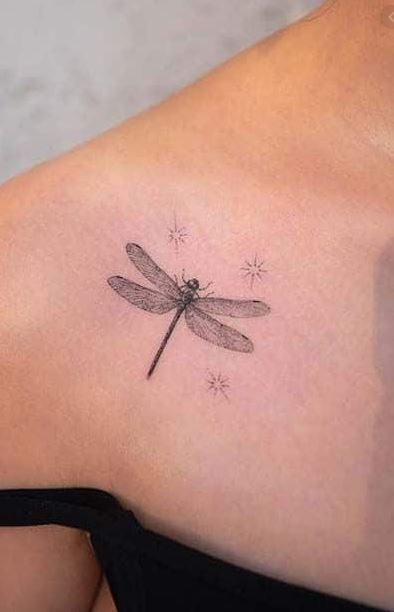 Collar Bone and Chest Tattoo
This is a great collar bone tattoo that is a rather large quotation but was designed well using part of the chest area.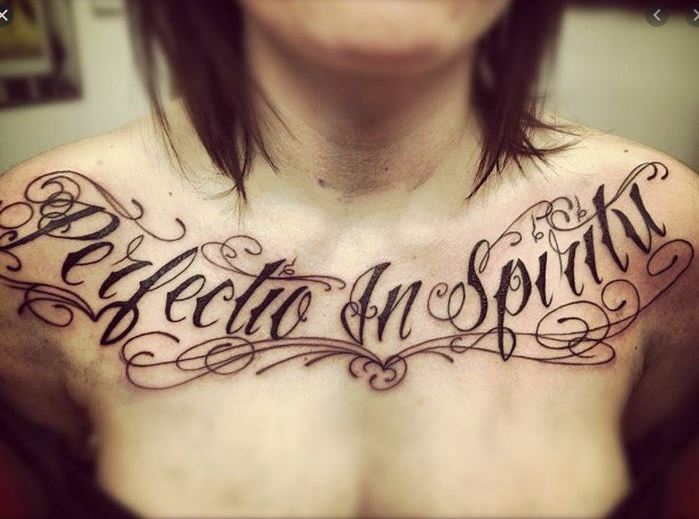 Draped Collar Bone Stars Tattoo
What a beautiful example of colored ink work that make viewer wonder whether the stars continue on over to the back. Collar bone tattoos present a great opportunity for creating that kind of mystery!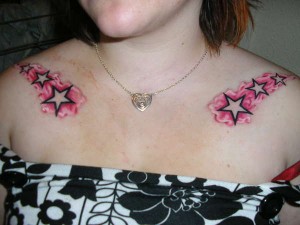 Love Birds Collar Bone Tattoo
This is another example of paired tattoos on the collar bone area. These love birds are facing each other and appear to have some elaborate detail. One could assume these tattoos are very meaningful to their owner.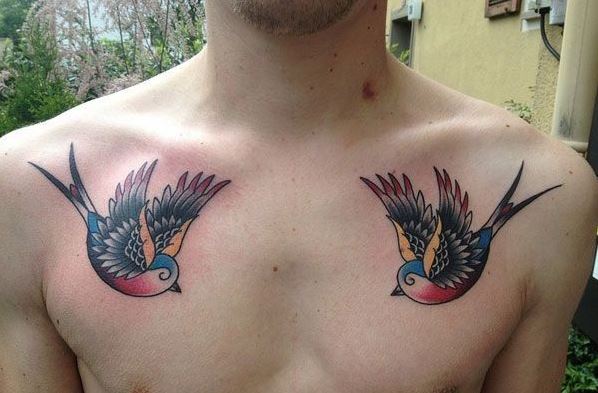 Single Side Collar Bone Tattoo
This monkey hanging from the branch is a great detailed tattoo. Using only black ink and one side of the collar bone; it makes a very bold statement.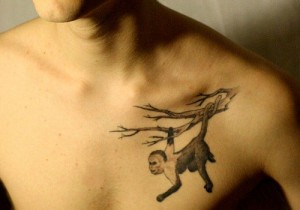 Collar Bone Tattoo – Shoulder to Shoulder
This individual chose to use his entire collar bone area for his quote tattoo. Notice that this placement is just below the neckline of a shirt so it can shown or made invisible; nice placement.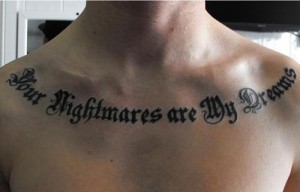 Collar Bone Tattoo – Quote
This collar bone tattoo is a nice illustration of choosing a different style font. One can only guess at the meaning; is it about love or are they a Motley Crue fan?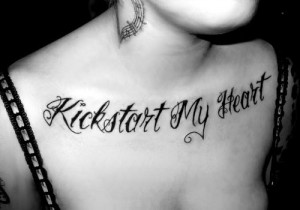 Paired Cherries Collar Bone Tattoo
This is a stunning example of some fine colored ink paired cherries tattooed on each side of the color bone!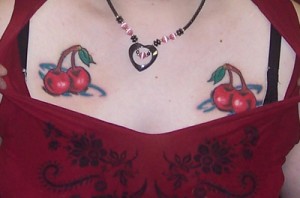 Single Dove Collar Bone Tattoo
This is a great collar bone tattoo ouline in black. This body art leaves room for color later or looks great on its own!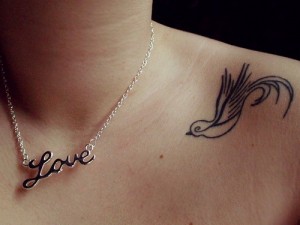 Paired Skull and Crossbones Collar Bone Tattoo
This colar bone tattoo is good example of an body art lover who is obviously creating a themed piece of upper body art!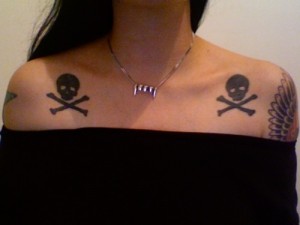 Vined Flower Collar Bone Tattoo
This is an exmaple of the vines and flowers mentioned in the introduction. Notice the draping over the shoulder again; creating that air of mystery. Additionally this design uses flower petals falling down into the chest area; drawing the eyes both upward and over and downward.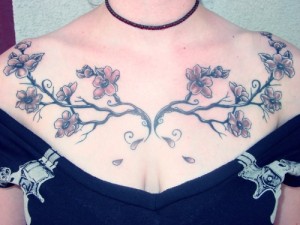 Male/Female Animated Skull and Crossbones
This collar bone tattoo is almost a chest tattoo. Its a good example of the variety in placement of collar bone tattoos.