Carnation tattoos have become increasingly popular in recent years, with their vibrant colours and intricate designs making them a top choice among tattoo enthusiasts. As a symbol of love, beauty, and admiration, carnations hold a special place in many people's hearts, and the tattoo world has embraced this flower with open arms.
Carnation is one of the birth flowers for January. Specifically, the flower is associated with the Capricorn zodiac sign between December 22 and January 20. As a birth flower, carnations can symbolize love, fascination, and distinction, making them a meaningful and thoughtful gift for those born in January.
In this blog post, we'll explore the meaning behind carnation tattoos, their history, and the different variations of designs available. Whether considering a carnation tattoo for yourself or appreciating its beauty, this blog post will provide insight into this beloved floral tattoo trend.
Meanings of Carnation Tattoos
Carnation tattoos are not only visually striking, but they also hold significant meaning. These beautiful flowers have been used for centuries in various cultures and contexts, symbolizing different things depending on their colour and context. Here are some common meanings of carnation tattoos:
Love and Affection: Carnations are a symbol of love and affection. Traditionally people gift them to their loved ones on special occasions, and as a tattoo, they can represent the wearer's deep affection for someone.
Admiration: Pink carnations, in particular, are often associated with admiration and respect. People use them to express appreciation for someone's accomplishments or qualities.
Motherhood: In some cultures, carnations represent motherhood, and people gift them to mothers on Mother's Day. As a tattoo, they can be a beautiful tribute to a mother or a symbol of motherhood for the wearer.
Luck and Prosperity: White carnations are often associated with good luck and prosperity. They can be used as a tattoo to bring good fortune and success to the wearer.
Religious Significance: In Christianity, red carnations are associated with the blood of Christ and are used in religious ceremonies. As a tattoo, they can represent the wearer's faith and devotion.
Overall, carnation tattoos can hold deep personal significance for the wearer, representing their love, admiration, respect, or faith. With their rich history and various meanings, carnation tattoos are a beautiful and meaningful choice for anyone looking for a floral tattoo.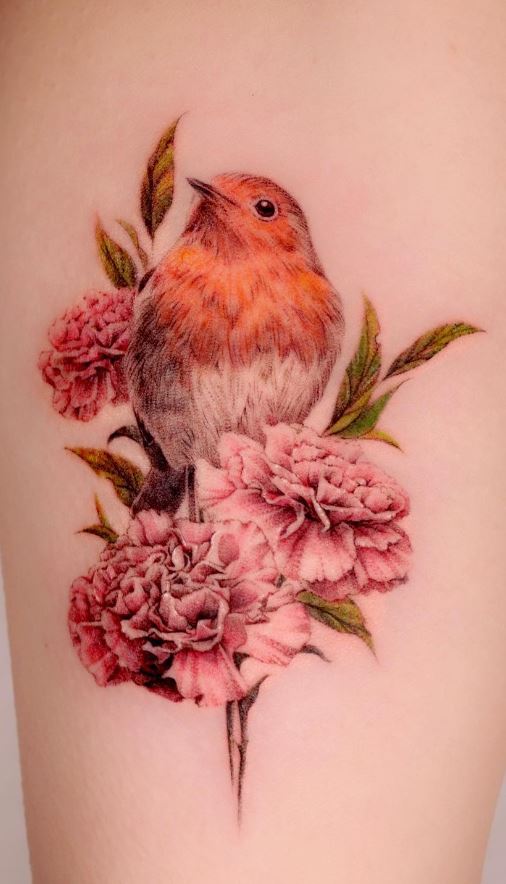 Meanings Behind Carnation Colours 
The colours of carnation flowers can also have different meanings and symbolism. Here are some of the most common interpretations of carnation colours:
Red Carnations: Red carnations symbolize love, admiration, and affection. They are a popular choice for Valentine's Day or as a gift for someone you love.
Pink Carnations: Pink carnations symbolize gratitude, appreciation, and motherly love. They are often given as gifts to mothers or to express thanks to someone special.
White Carnations: White carnations symbolize purity, innocence, and luck. People use them at weddings or as sympathy flowers.
Purple Carnations: Purple carnations symbolize capriciousness, meaning unpredictable or impulsive behaviour. 
Yellow Carnations: Yellow carnations symbolize disappointment or rejection.
Green Carnations: Green carnations are rare in nature and have been associated with St. Patrick's Day and luck.
Overall, the colours of carnation flowers can add a layer of meaning and symbolism to a tattoo design and can help to convey specific emotions or sentiments.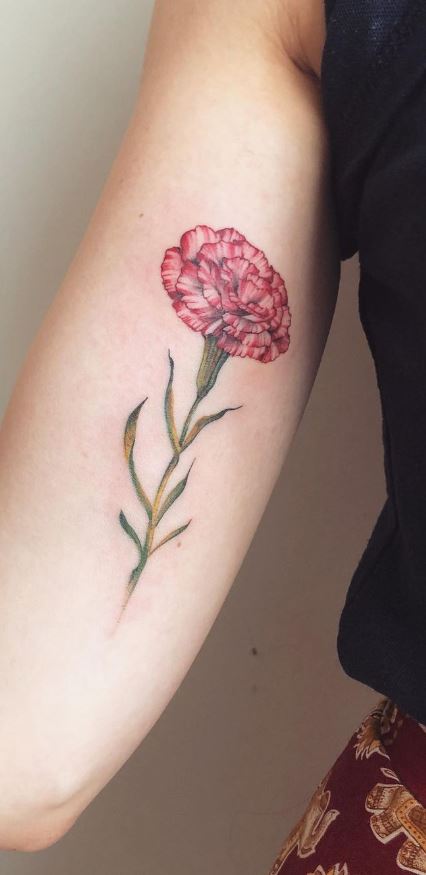 Carnation Tattoo Designs and Ideas
You can design Carnation tattoos in various ways, depending on personal preferences and the symbolism you want to convey. Here are some popular carnation tattoo designs:
Realistic Carnation Tattoos
A realistic carnation tattoo captures the beauty of the flower in great detail, with intricate shading and colouring that makes it look almost lifelike.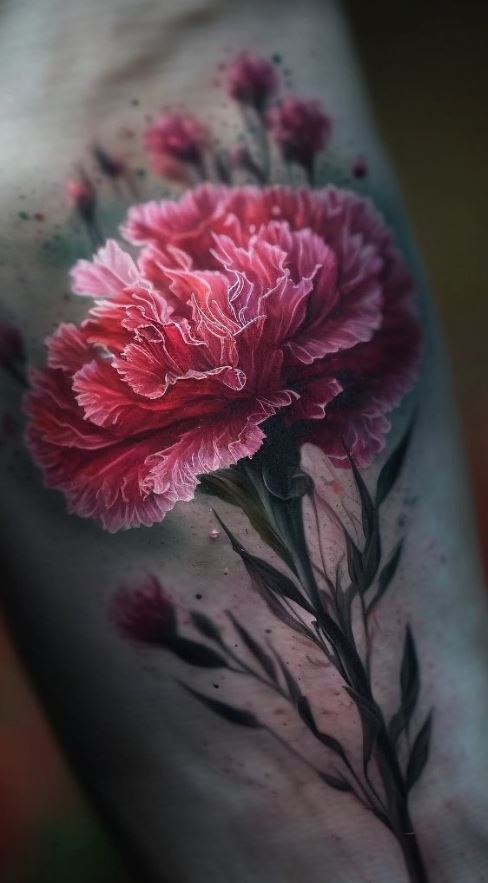 Minimalist Carnation Tattoos
A minimalist carnation tattoo features a simple, clean outline of the flower, usually in black ink. This design is ideal for those who want a small and subtle tattoo.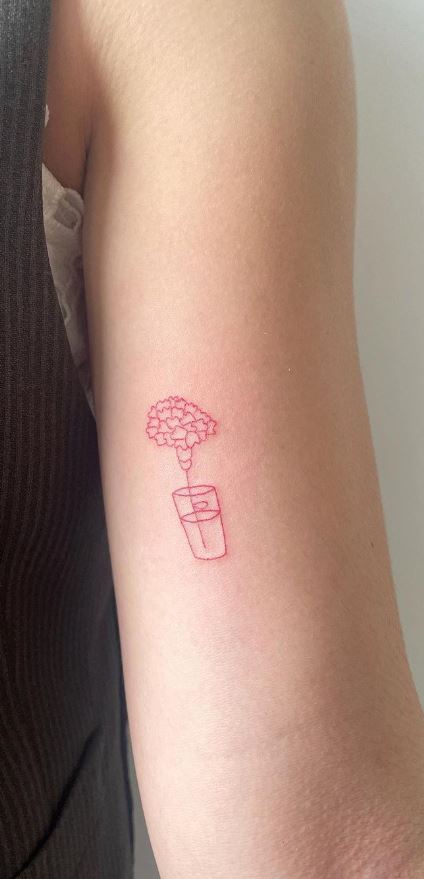 Watercolour Carnation Tattoos
A watercolour carnation tattoo features soft, delicate colours that blend like watercolour paint. This design creates a dreamy, ethereal, beautiful, and unique effect.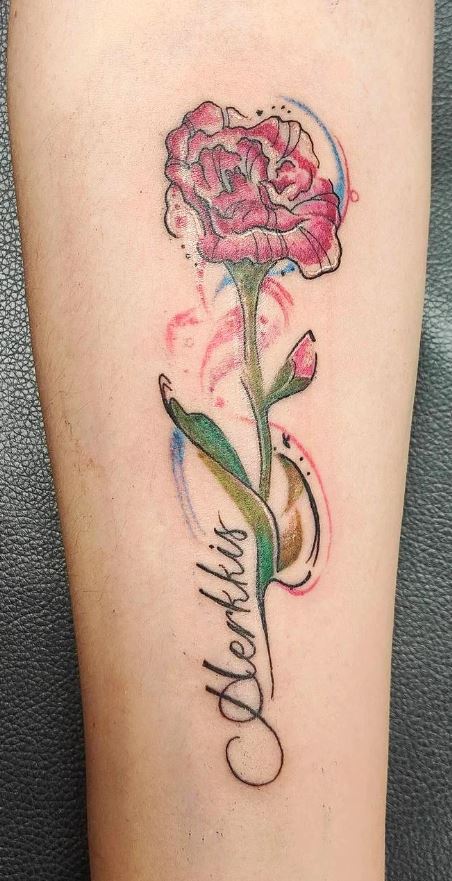 Geometric Carnation Tattoos
A geometric carnation tattoo features sharp lines and shapes that create a more abstract version of the flower. This design is perfect for those who want a modern and edgy twist on a traditional floral tattoo.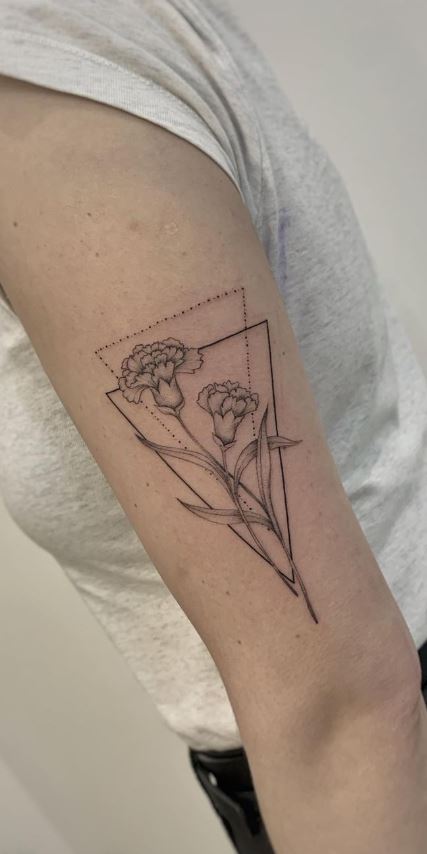 Black and Gray Carnation Tattoo
A black and gray carnation tattoo features shades of black and gray ink, creating a subtle and elegant design. This design is timeless and classic. You can easily incorporate it into larger tattoo pieces.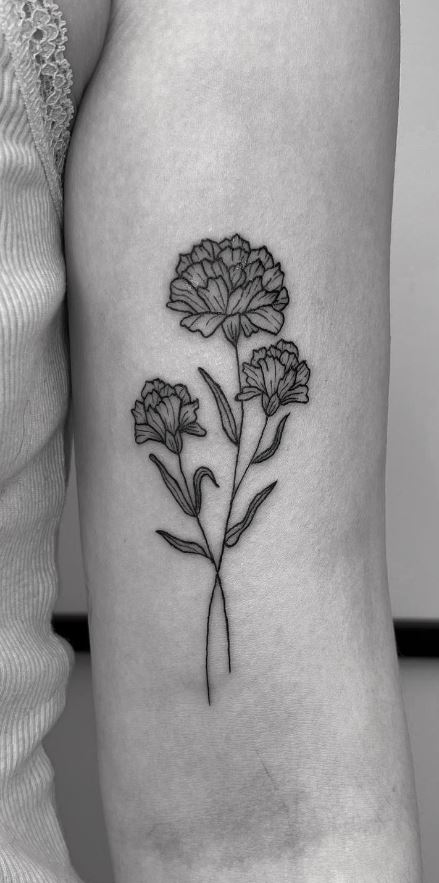 Carnation and Butterfly Tattoos
A carnation tattoo paired with a butterfly can symbolize transformation, growth, and beauty. This design can feature a realistic or stylized version of the flower and the butterfly.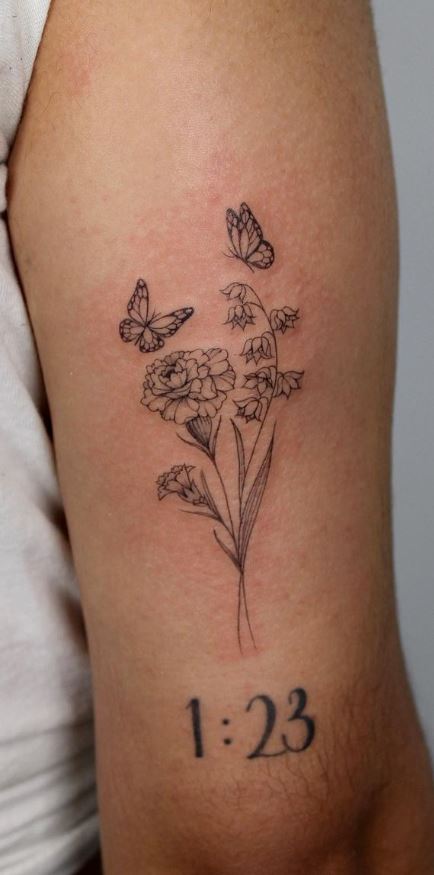 Japanese Carnation Tattoo
Japanese carnation tattoos can be a unique and beautiful way to incorporate this flower into a tattoo design. In Japanese culture, carnations symbolize love, admiration, and good luck. You can use bold lines and bright colours for a traditional Japanese look. This style often incorporates traditional Japanese elements such as waves, koi fish, or cherry blossom trees.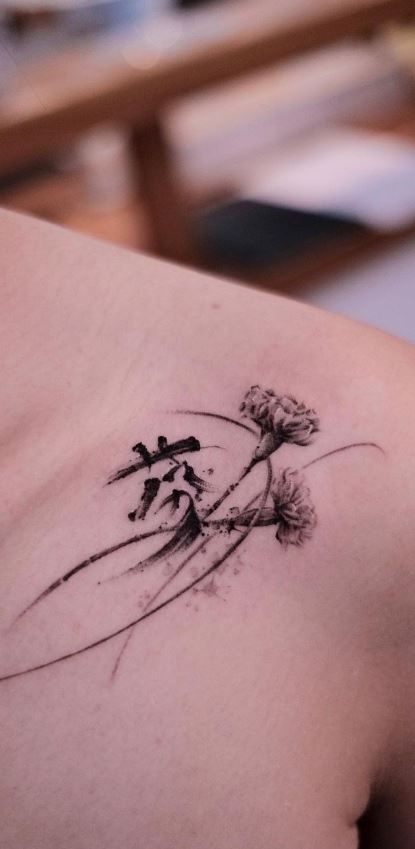 Carnation Tattoo with Names
A carnation tattoo with a name can be a meaningful and personal design that pays tribute to someone special. A carnation tattoo design can feature a banner or ribbon with a name. You can wrap the banner around the stem of the flower or place it above or below the carnation. Another idea is to incorporate the name into the design of the carnation itself. For example, you can write the letters of the name within the petals of the flower or incorporate them into the stem or leaves.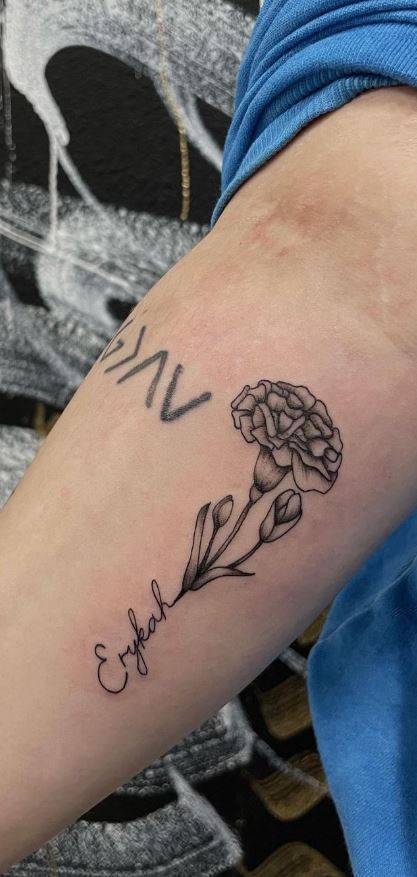 Fine Line Carnation Tattoo
A single carnation tattoo with fine lines can be a minimalist and elegant design that focuses on the intricacy of the flower. You can use fine lines to create the details of the petals and the delicate curves of the stem and leaves.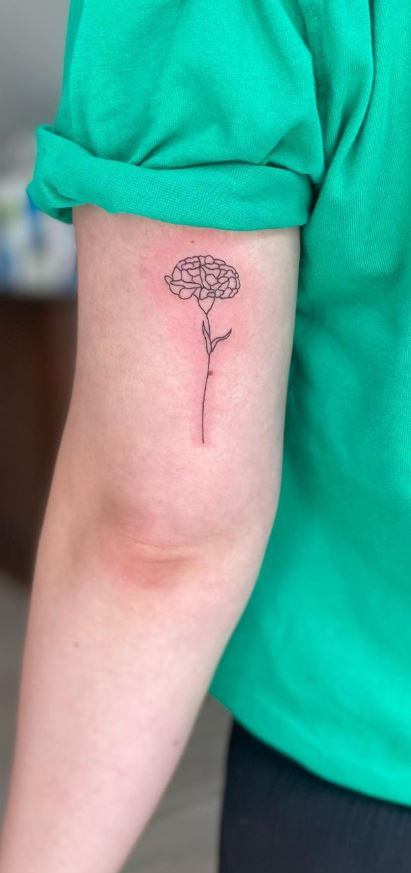 Overall, carnation tattoos offer a lot of flexibility in design, and there are many ways to incorporate this beautiful flower into a tattoo.
Tattoo Placement
You can place Carnation tattoos on many body parts and customize the design to fit the specific location. Here are some popular body parts for carnation tattoos and design ideas:
Shoulder: A carnation tattoo on the shoulder can be a beautiful and feminine design. A bouquet of carnations with fine lines and soft shading can look stunning on the shoulder, while a single carnation with bold lines can create a simple and elegant design.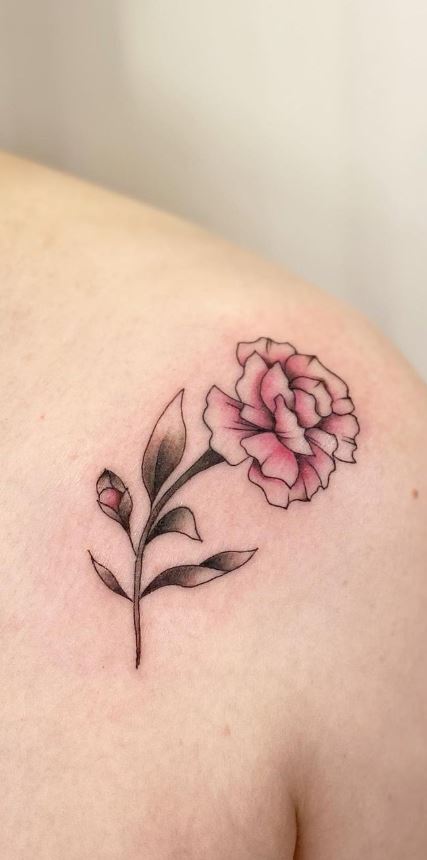 Wrist: A carnation tattoo on the wrist can be a subtle and delicate design, and you can easily cover it up with clothing. A small, single carnation with fine lines can look beautiful on the wrist, while a bouquet can create a more intricate and detailed design.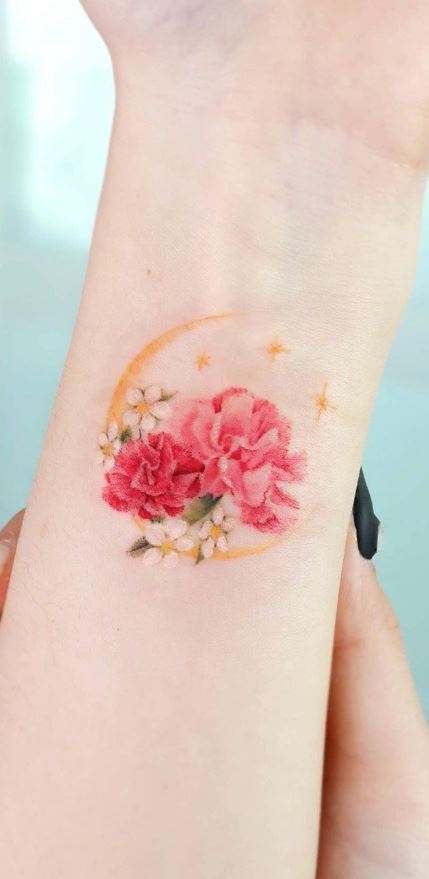 Ankle: A carnation tattoo on the ankle can be a feminine and elegant design. A single carnation with bold lines and bright colours can create a striking design, while a bouquet with fine lines and soft shading can create a more intricate and delicate design.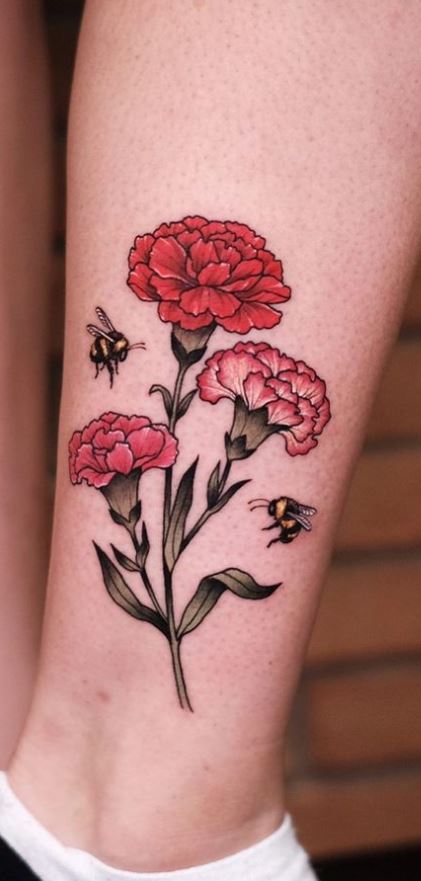 Back: A carnation tattoo on the back can be a larger and more intricate design.
Thigh: A carnation tattoo on the thigh can be a bold and striking design. A bouquet of carnations with bold lines and bright colours can create a stunning design on the upper thigh, while a single carnation with fine lines and shading can create a more delicate and feminine design on the lower thigh.
Various Carnation Tattoo Designs